If you want to be taken seriously online, you have to make sure your content is high-quality and plagiarism-free. Original content also ranks better with SEO, and Google will penalize you if you copy someone else's work.
Thankfully, there are dozens of plagiarism checking tools out there to help. Not only can you check your own work, but search for any of your stuff online that may have been plagiarized. We evaluated and compared the top options to determine which is the best plagiarism checker out there!
ProWritingAid - Best Plagiarism Checker for Artists and Screen Writers
ProWritingAid is another heavy hitter that aims for world-class status. As one of the best grammar and plagiarism checkers, ProWritingAid is perfect for novelists, authors, and creative writers. The tool checks manuscripts, literary works, and other forms of full-length materials. It also tests for proper punctuation, grammar, and style issues.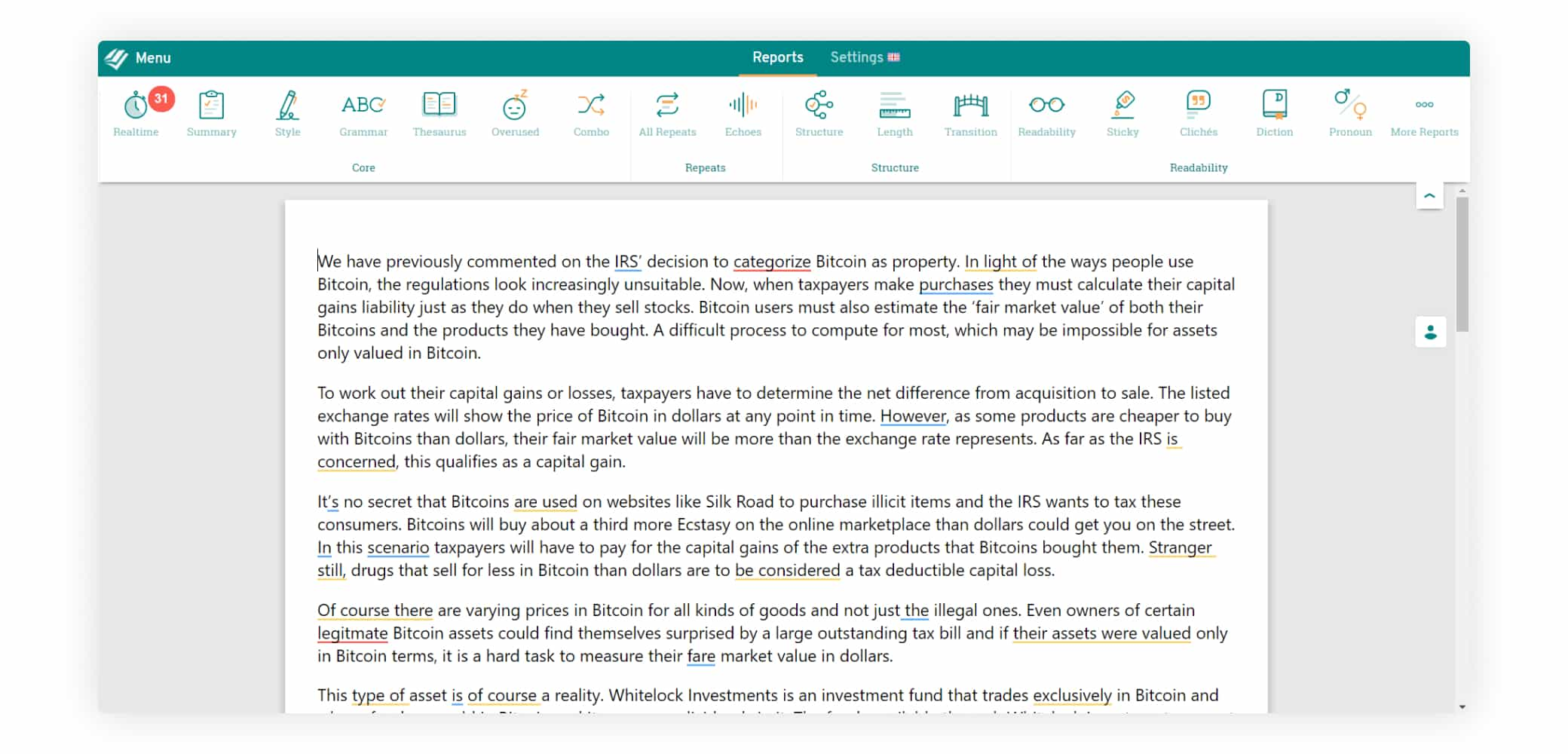 It works right inside MS Word, which makes it very handy to use. It also integrates with Google Docs and Scrivener for easy access. ProWritingAid is compatible with Windows, Mac, and integrates with Chrome and Apple browsers. However, ProWritingAid is somewhat pricey at $10 for ten scans per month.
---
The Best Plagiarism Checker - Grammarly Takes the Cake!
In the plagiarism checker contest, Grammarly wins the race. The program uses sophisticated algorithms to check for proper grammar, punctuation, tone, and plagiarism. Grammarly also checks for conciseness, readability, and also suggests vocabulary enhancements, and genre-specific writing style tips. They have three pricing plans for the Premium service (monthly, quarterly, and annually).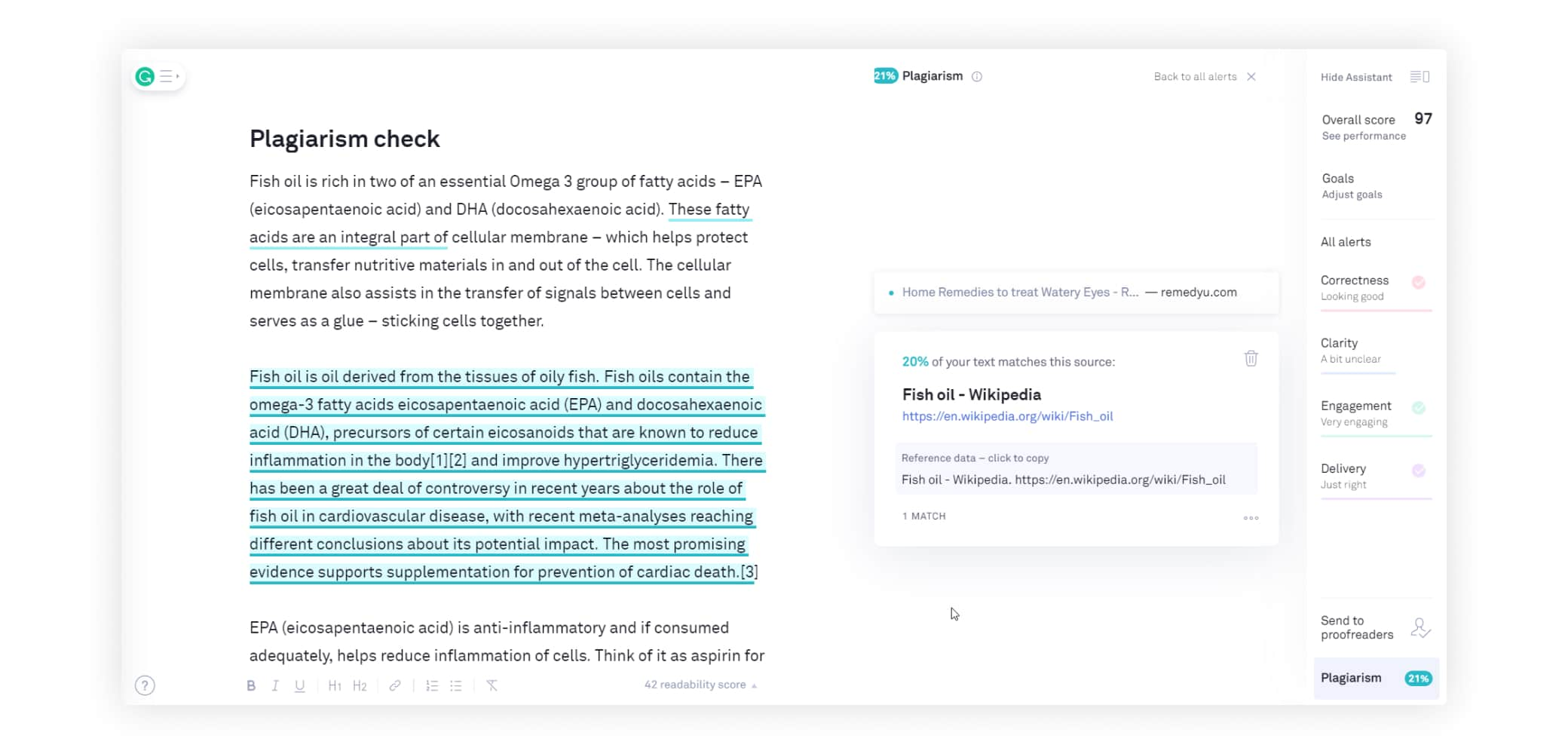 Grammarly works on the web, or you can download an app to your phone, tablet, or other devices. They also offer plug-ins for most browsers and email clients, so Grammarly is continuously checking your content, whether you are drafting a text message, emailing, writing a contract, or putting together a Word document. Grammarly basically always has your back!
When checking copy for free, you can simply paste the text into Grammarly's plagiarism checker tool and see the results. Grammarly is in partnership with ProQuest's academic databases and relies on them as a backbone for the plagiarism piece of their software.
Grammarly's plagiarism checker is by far the most accurate. Writing professionals and publishers swear by Grammarly's plagiarism checker for accuracy. Although you can scan text for free, if you want to review the full results, and get access to all the fancy tools, you will need a paid plan. Grammarly offers three-tiered levels to choose from.
---
Copyscape - Best for Bulk Plagiarism Checking
Another plagiarism checker online that you can try out for free is Copyscape. You can enter a URL and let it compare the content on that page to the rest of the web. The free version is fine if that is all you need to do, but the Premium version offers a lot more bang for your buck.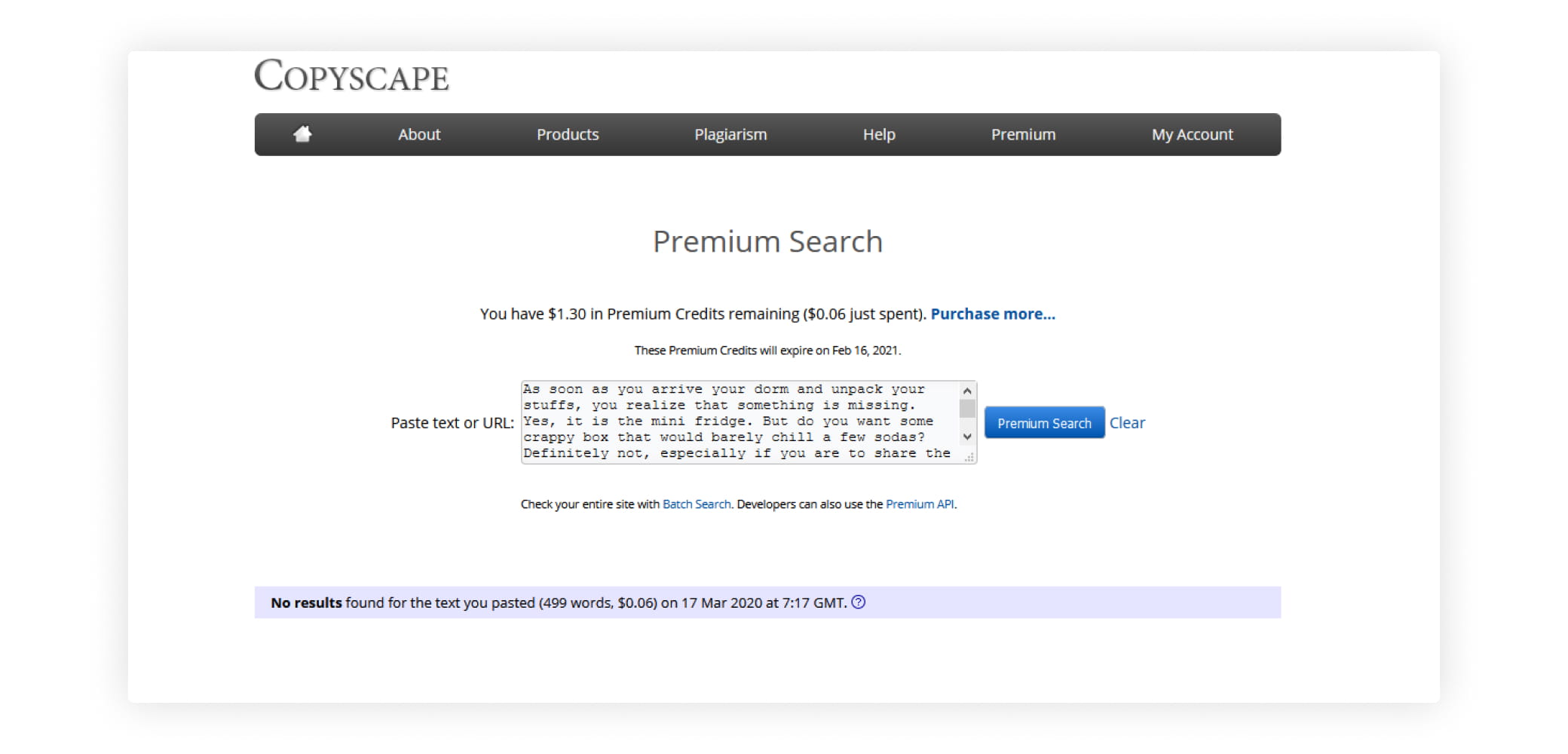 Copyscape includes things like bulk checking, managing plagiarism cases, the ability to copy/paste text to evaluate, testing your entire website at once (up to 10,000 pages), and other tools like an API to check content on your site automatically. They charge 3 cents per search (up to 200 words) and then another 1 cent for each additional 100 words. Copyscape may be a solid alternative to Grammarly, but if you need to check a lot of content, it could get pricey quick.
---
Duplichecker - Best Plagiarism Checker for Free
Another great contender is Duplichecker, which works best for teachers, students, and budding, young writers. It's completely free, so you don't have to pay a dime to use it. To use Duplichecker, you only need to copy and paste your text in and click the button to run the process.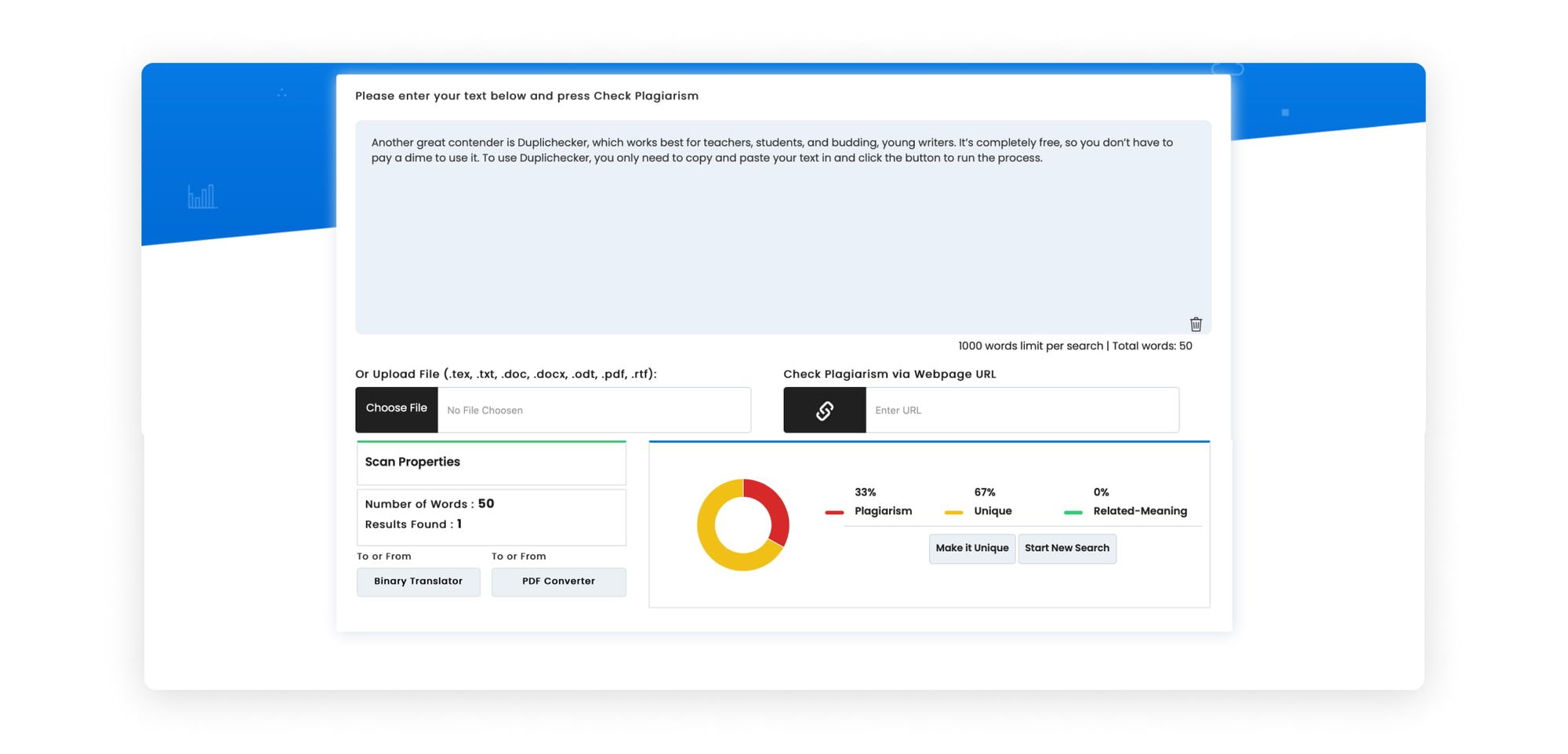 Some of the tools you can use with Duplichecker are a plagiarism checker, a word counter, spell checker, and grammar checker. The interface is a little old-school, but the system works well, and again, it's entirely free to use. The only limitation is you can only check 1000 words at a time.
---
Whitesmoke Plagiarism Checker - Great for Teachers and Students
Whitesmoke stands out as another excellent tool for both students and teachers. It checks content samples against billions of online websites to see if anything has been re-used, copied, or stolen. Although it is not as popular as Grammarly, it is efficient and effective, and the Word and Outlook integrations make it easy to use on the fly.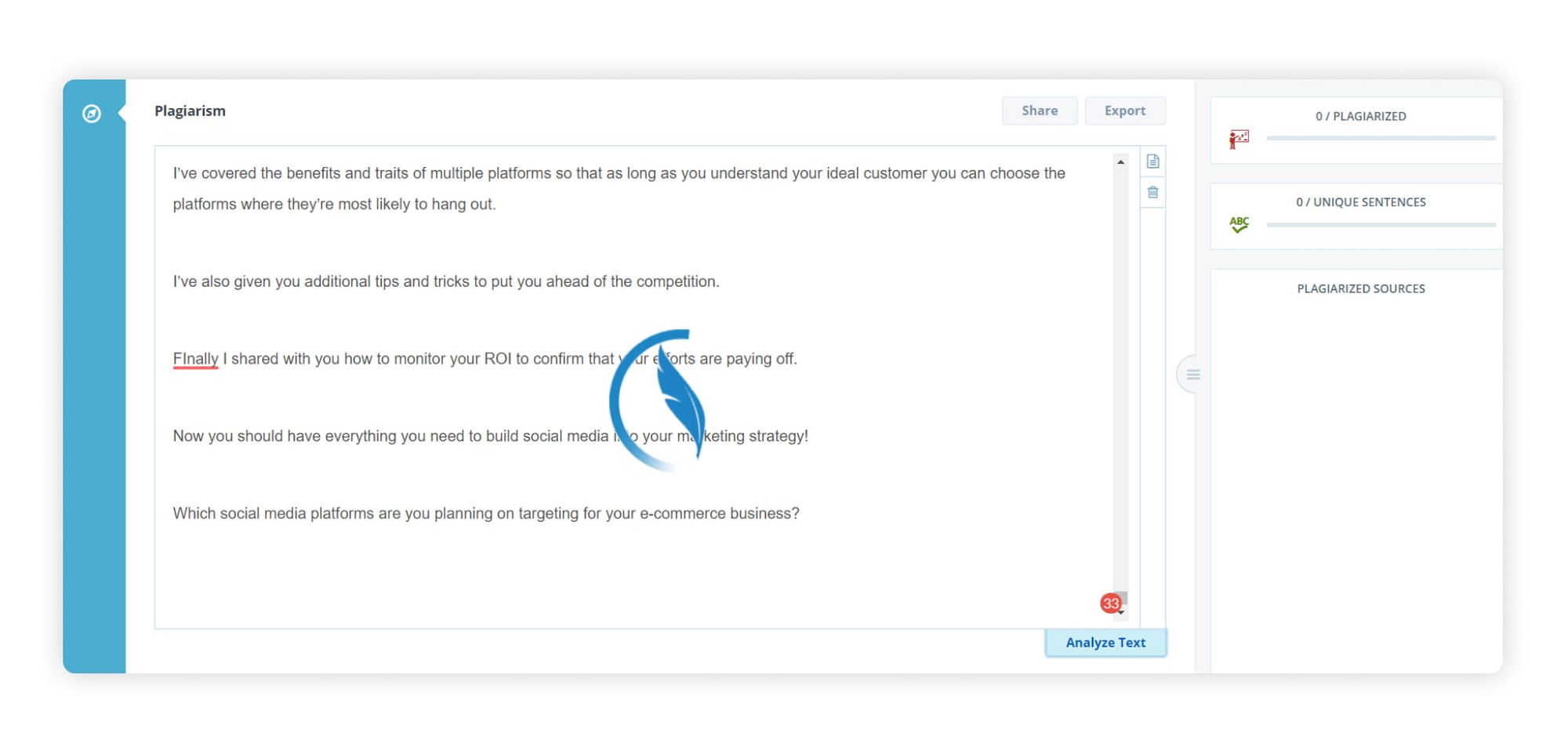 Whitesmoke is a comprehensive program, also checking for grammar and punctuation. They claim that they "detect more errors than any other tool." Whitesmoke is a Windows-based tool and works with all Microsoft-compatible software. It even translates text into 50 languages to boot.
---
SmallSEOTools Plagiarism Checker
Another very effective way to check your text for plagiarism is SmallSEOTools. It is not as powerful or effective as Grammarly, but it is free and includes some bonus features like a grammar checker, word counter, spell checker, paraphrasing tool, and a language translator. They even have a whole cache of SEO tools to help with keywords and density when creating content geared towards website traffic building.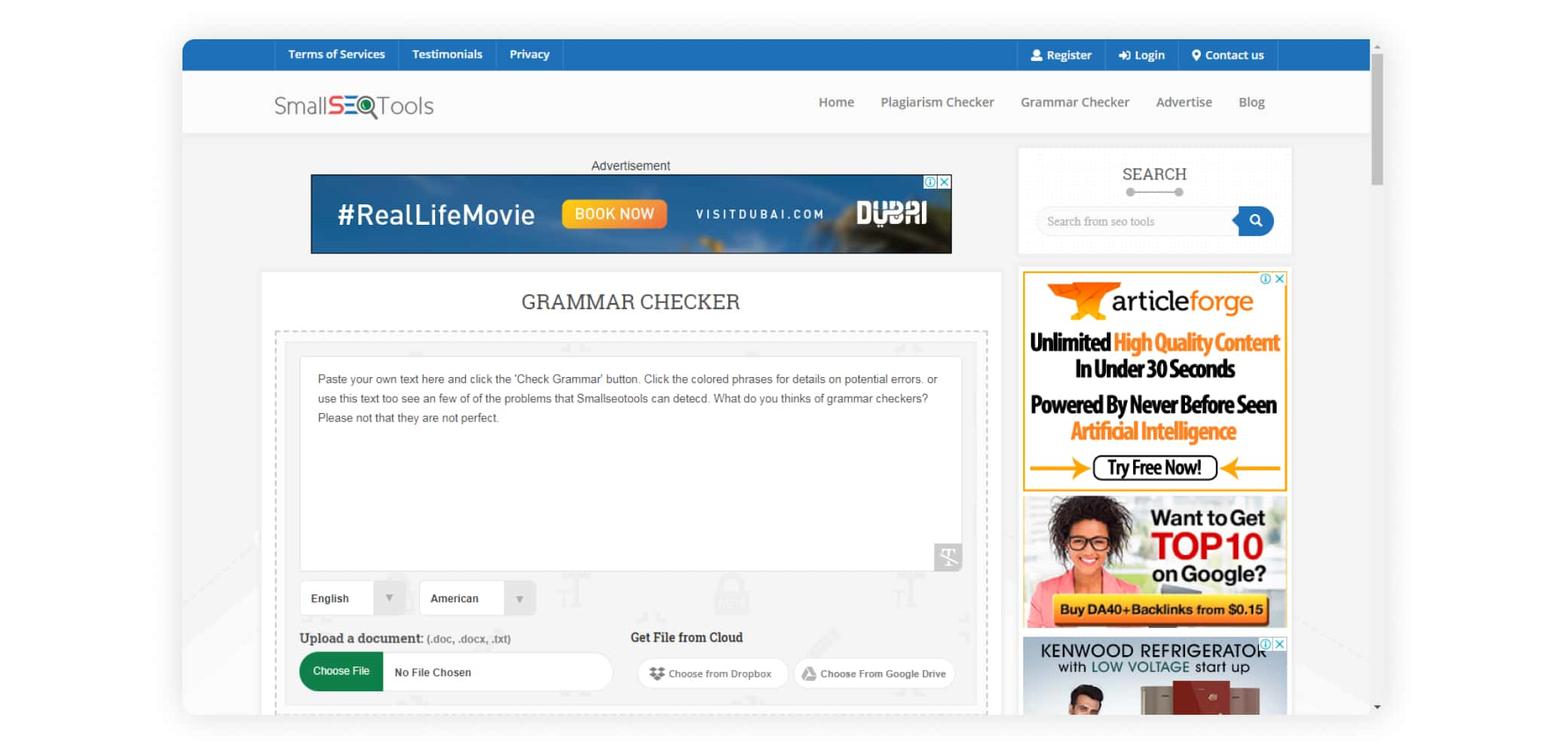 SmallSEOTools also includes some extensive backlink tools to analyze your website for SEO-friendliness, metadata resources, website tracking, proxy, and domain management tools. That is just the tip of the iceberg; this free service offers dozens of other helpful resources to enhance your website and make it easier to find on the web.
---
Copyleaks - Plagiarism Checker
Everyone has competition, and Copyscape's worst enemy is Copyleaks. Not only does Copyleaks scan the internet for any duplication of your content, but it also acts as a copyright protection tool. Even if your content comes out clean, you may find that your original text shows up elsewhere on the internet because someone borrowed it without your permission.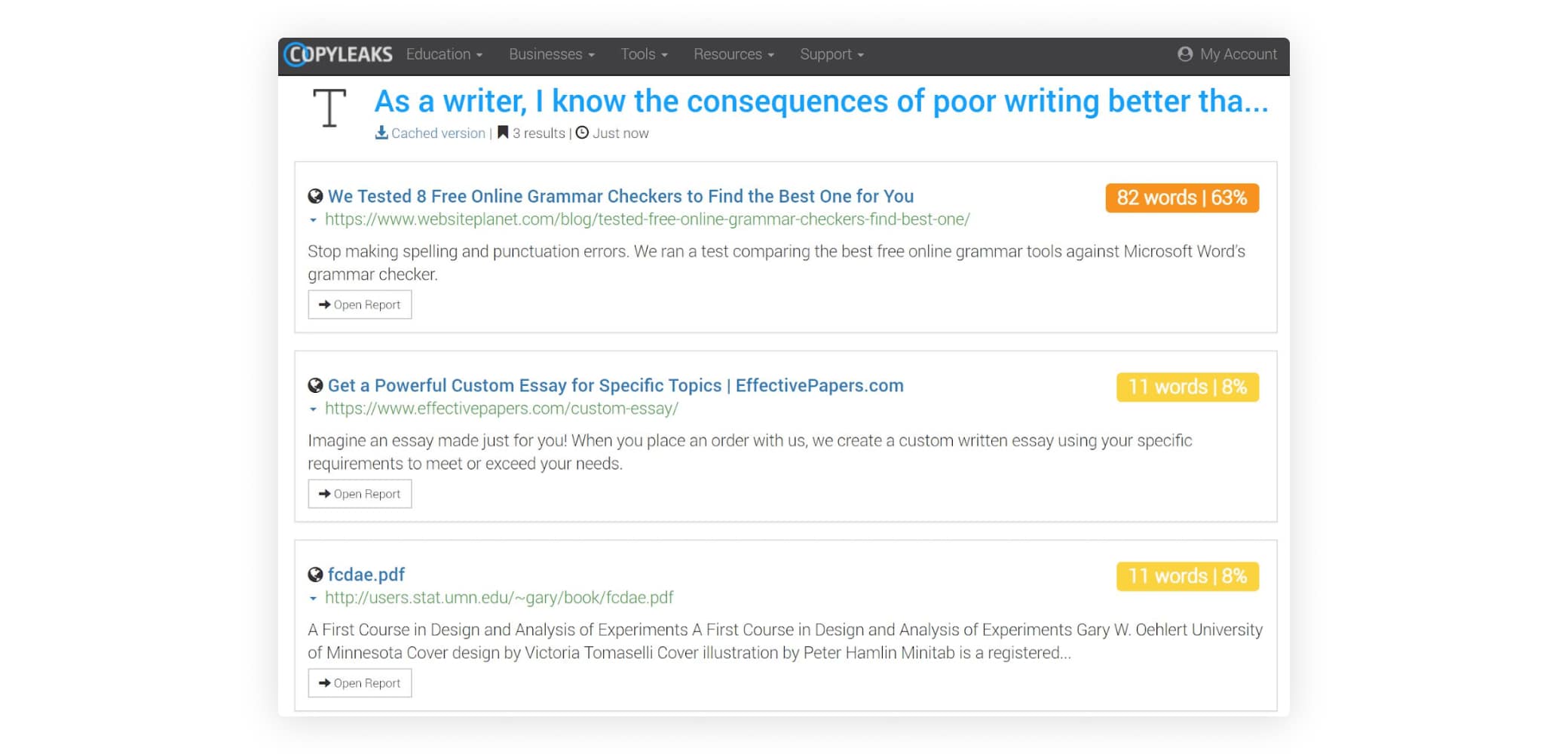 One of the strengths of Copyleaks is that it finds those indiscretions and points them out to you so you can address them. The program allows you to check 100 pages/essays at a time, so it works great for teachers. They have a mobile app and a language translator, but you are limited to only 2500 words in a month unless you pay for the premium version.
---
CheckForPlagiarism.net
The award-winning plagiarism tool built by computer scientists, academics, and writing professionals, CheckForPlagiarism.net, is trendy among teachers, students, researchers, and professional writers. They offer a free and paid version, multiple languages, and they are endorsed by Verisign, The Better Business Bureau, and Truste. They value security and use SSL encryption, firewalls, and offsite backups to keep client's data safe.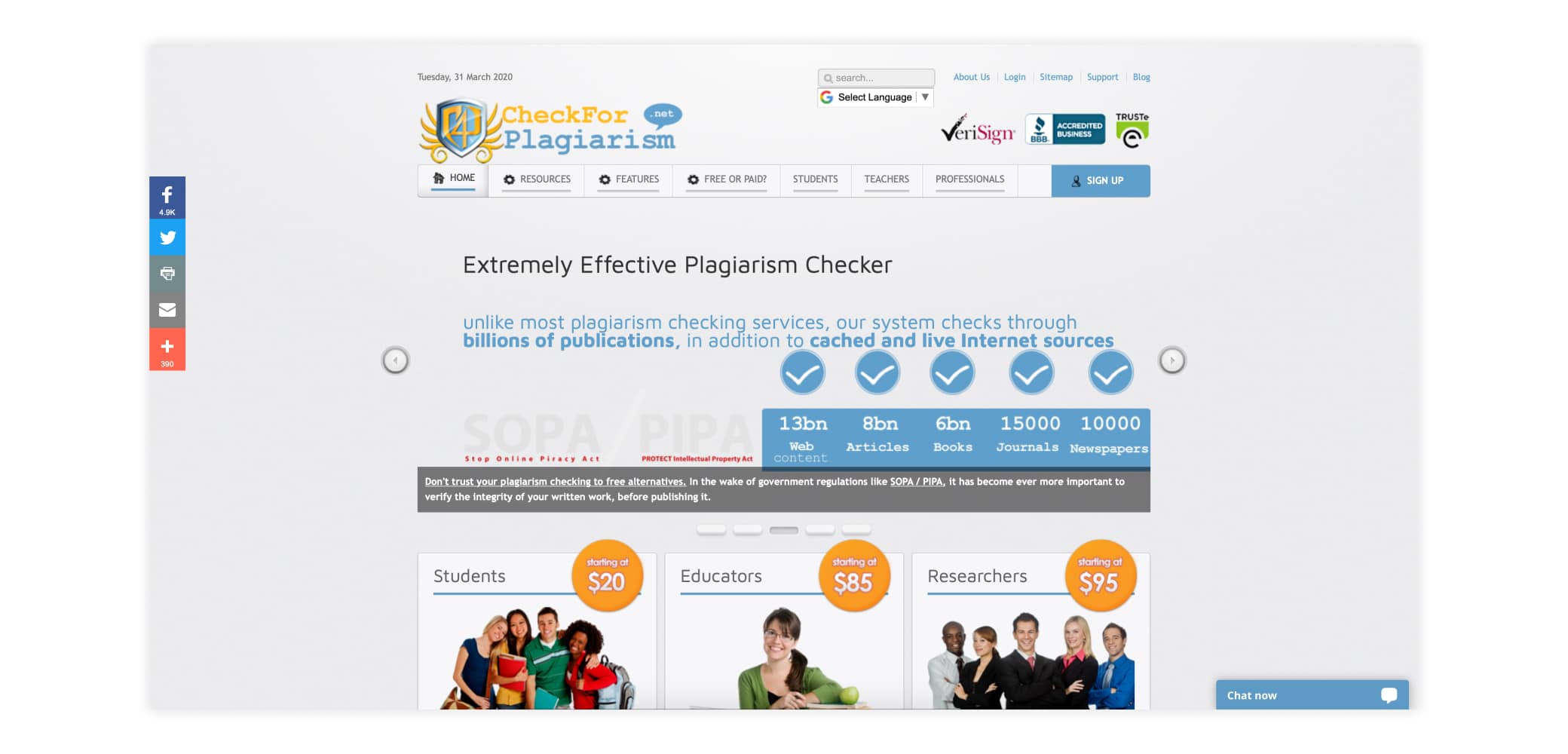 CheckForPlagiarism has different pricing plans for different customers. For example, they charge students only $20, educators will pay $85, and professionals are charged $95 and up. These people take plagiarism very seriously, so if you want a tried and true service that values academic standards and will protect your content with top-notch security, this might be the tool for you.
---
Wrap-Up
Depending on your needs, one or a combination of the tools above should give you everything you need to make sure your content is error and plagiarism-free. Most will help you clean up any mistakes and enhance your verbiage so that you sound your best no matter what you are writing.
Related Articles: