The days when you had to organize your project on a smudged whiteboard are long gone. Today, you can use the best in class project management software to improve your productivity
… for free!
Some project managers seem to have a magic touch: they manage multiple projects simultaneously, collaborate across teams, and delegate tasks – all without breaking a sweat. Amazing, huh?
So, how do they do it? Well, it's not magic. Great project managers are meticulous about using the right project management software to become more productive; these tools help you track tasks completed, the time spent on them, and also give an overview of the overall performance of the team.
In short: they know how to use the right tools.
What's even more amazing is that some of these tools are available for free. You read that right … free! Today, we'll go over a list of the best free project management software.
With Asana, you get a solid, user-friendly tool that will meet most of your needs. It may not be as powerful as some of the competing tools, but it has one of the most appealing user-interface in the industry.
It's easy to use. You can move tasks and assign work with the intuitive drag and drop feature. The only downside to Asana is its perennial reliability issues. This is down to how fast it has grown.
The free version features:
Unlimited projects, tasks, and conversations
Basic search
Basic dashboards
✅ PROS:
Fun to use
Easy and intuitive UI
Strong security
Data sharing and integration
Unmatched in-app guidance
⛔️  CONS:
---
Over the last few years, Trello has grown to become one of the most popular project management tools. It uses the board approach where each board is a project with cards within it. The cards are tasks that can be moved to different progress points.
Here's what you get with the free plan:
Unlimited boards, cards, task lists, users, checklists, and attachments
One integration for every board
Unlimited attachments (a maximum of 10MB each)
You can use Trello for pretty much everything – both personal and work tasks. It's an excellent task management software.
✅ PROS:
Generous free plan
Excellent project management app for both Android and iOS
⛔️  CONS:
Free option has no reporting features
---
Podio is a mashup between a chat and project management software. It's a powerful, flexible tool that's intuitive and easy to use. It's a great tool for large projects since it makes things so simple. It offers seamless integration with apps such as Google Drive, ZenDesk, and Evernote.
Here's what to expect with the free version:
A maximum of 5 users
Seamless integration
Chat capabilities
Unlimited workspaces
Podio is built around the concept of workspaces. These workspaces include apps and projects. It is heavily customizable and allows you to create templates that work best with what you're doing.
✅ PROS:
Amazing template customization
Great UI
Unlimited file storage
Versatile
⛔️  CONS:
Doesn't have sub-tasks or dependencies
It takes a bit of time to figure out
---
When you google project management software, Bitrix24 is bound to pop up. This tool is one of the best free project management software available in the market today. It does a great job offering both lead management and customer relationship management (CRM) tools to small businesses.
The free plan has a cap of 12 users. It comes with some amazing automation features, email marketing integration, and file sharing. The highlights of the free version include:
Task management
Resource management
Kanban boards
5GB storage
Email marketing
Automation features
File sharing
Maximum of 12 users
Bitrix24 tries to do it all, and it can get a bit confusing. The only limitations of the free version are the capped number of users and storage capacity.
✅ PROS:
Availability of the Kanban user interface
Opportunities, activities, and task notifications
⛔️  CONS:
The user interface is complicated
Social networking is not refined
---
Freedcamp provides free, effortless collaboration tools for teams. This fresh, modern-looking project management software is chockful of features. It gives users multiple views that include Kanban boards, Gantt chart, and a list. It also features white labeling for client spaces, invoicing, and CRM capabilities.
Some of the highlights of the free version include:
Discussion boards
Time tracking
Personal task manager
Password manager
Tasks
Sub-tasks
Freedcamp is a user-friendly tool that offers excellent functionality, decent storage, and good support. This is why we think it's one of the best free project management software tools.
✅ PROS:
Unlimited storage
Great customer service
An easy on the eye interface
⛔️  CONS:
Rough around the edges
The website and knowledge base are underwhelming
---
Best Project Management Software for 2021
Monday.com
Monday.com is hands down the best project management service we've tested overall. The interface is intuitive and attractive, making it a pleasure to use. It includes helpful integrations to link Zoom, Slack, Zapier and Google Calendar.
Little wonder why we included it in our list of The Best Project Management Software Apps in 2020.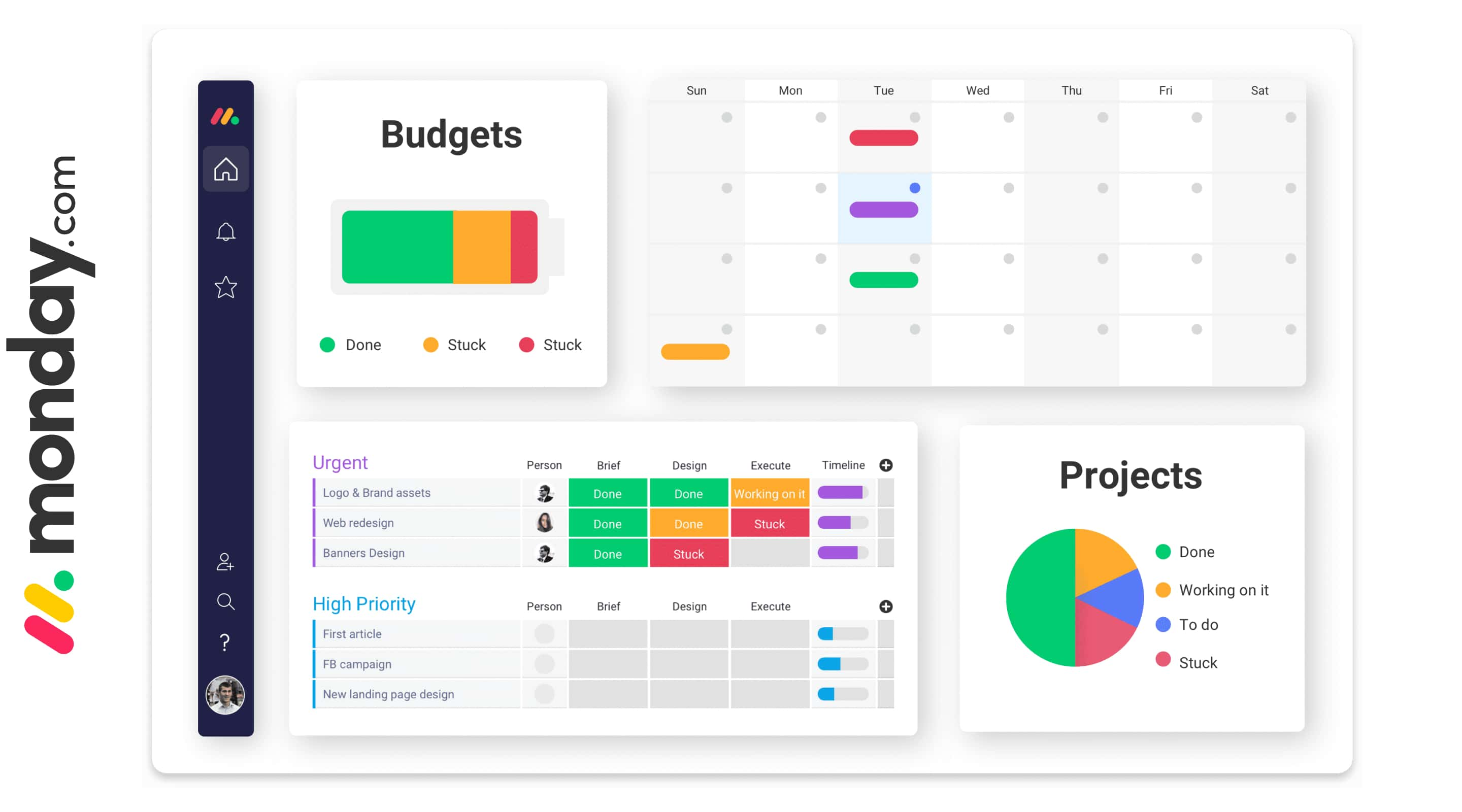 Monday.com is an ideal tool for teams to use to collaborate, track their progress, and view informational dashboards.
The views include charts, graphs, and even a Kanban view to easily check-in to see where things stand. The product is designed using "boards" where each project is tracked, and tasks can be assigned to each member with a status designation to code where it currently stands in the flowchart.
Unlike some other programs, Monday.com has built-in budget management, time and expense tracking to make billing easier. The software is jam-packed with features and customizable templates that make team collaboration effortless, empowering them to achieve their goals and have fun while getting things done.
---
What Is Project Management?
Let's define project management and examine why it's so important. A project can be as simple as organizing a party, or as complex as building a space rocket.
So, what is project management?
It is simply managing the teams, tasks, and tools needed to execute a project successfully.
At any one time, you want to know:
what tasks have been assigned
what tasks have been completed
the time spent on each task
and the overall progress of the team.
Without proper project management, you're simply inviting chance and chaos to take control of your project.
So, why is it important, and how can it help you meet your goals?
You can't achieve much without a project plan. Even when you do have one, you still need to put in place proper processes to guide its execution. This is where project management comes in. It helps create and execute your project plans according to the stated requirements.
You need the right tools to do this effectively.
---
How to Choose the Best Free Project Management Software?
You're ready to become a Rockstar project manager, eh?
So, what's the best project management software for you? And the answer is… it depends on what you're trying to accomplish. And the thing is that there's no one-size-fits-all solution.
Both projects and teams vary widely in their scope and composition. This is why you need a solid understanding of the processes and workflows in your organization.
It all boils down to this… understand your project and the people involved and then pick a tool that works best for you.
Here's how to go about it:
Outline your needs
You need to come up with a list of things your team needs. Be honest about where your current system fails. Identify the features that you need in a new system. Be clear about the type of project management methodology you want to use. Finally, involve the users in the process.
Check Out Available Options
With your needs in mind, you can now identify tools that can work for your project. Narrow down your list to about 5 good options. We have made it easier for you with our list below.
Take the Tools for a Test Drive
Try out the tools on your list and make sure to evaluate them against your project needs. Invite clients and team members to take part in this process. This will allow you to get a real-life feel of the tools in action. Check if it fits with the communication and collaboration style of your team.
Evaluate Costs
While you can get project management software free, you still need to consider implementation and adoption costs. For example, if the solution takes too long to implement, then it may not be the right choice for you if the project is short-term. A whopping 80% of IT projects fail at the implementation stage. You don't want this happening to you.
Weigh the cost of having the tool against not having it at all. This will help determine whether it's a good choice.
Conclusion
The goal of project management software is to help you run projects efficiently and save you money. The tools we've compiled help you manage tasks more effectively and clarify your goals so that you move your project forward. Fire up your favorite tool and start smashing those goals.
Manage your deadlines, deliverables, and resources more effectively by utilizing one of the best project management software for Mac.
Related Articles: