Most of us wish we had more hours in a day to accomplish the massive list of to-dos on our plate.
Thankfully there are some excellent time management apps to help keep us on track, more productive and less stressed.
Read on for the detailed analysis of each app.
The 5 Best Time Management Apps
To make things easier for you to choose, we have compiled a list of the five best time management apps on the market today. Remember, time management doesn't just mean keeping track of your to-do list; it also applies to automating routine tasks and making your life easier.
Todist is so much more than a time management app that keeps track of your to-do lists. It has powerful built-in features like syncing across all your devices on 12 different platforms. Todoist can also add your tasks to your calendar to create reminders, so you don't forget anything. The free version is packed with great features, but to really get the most out of this app, you will want to purchase the premium version.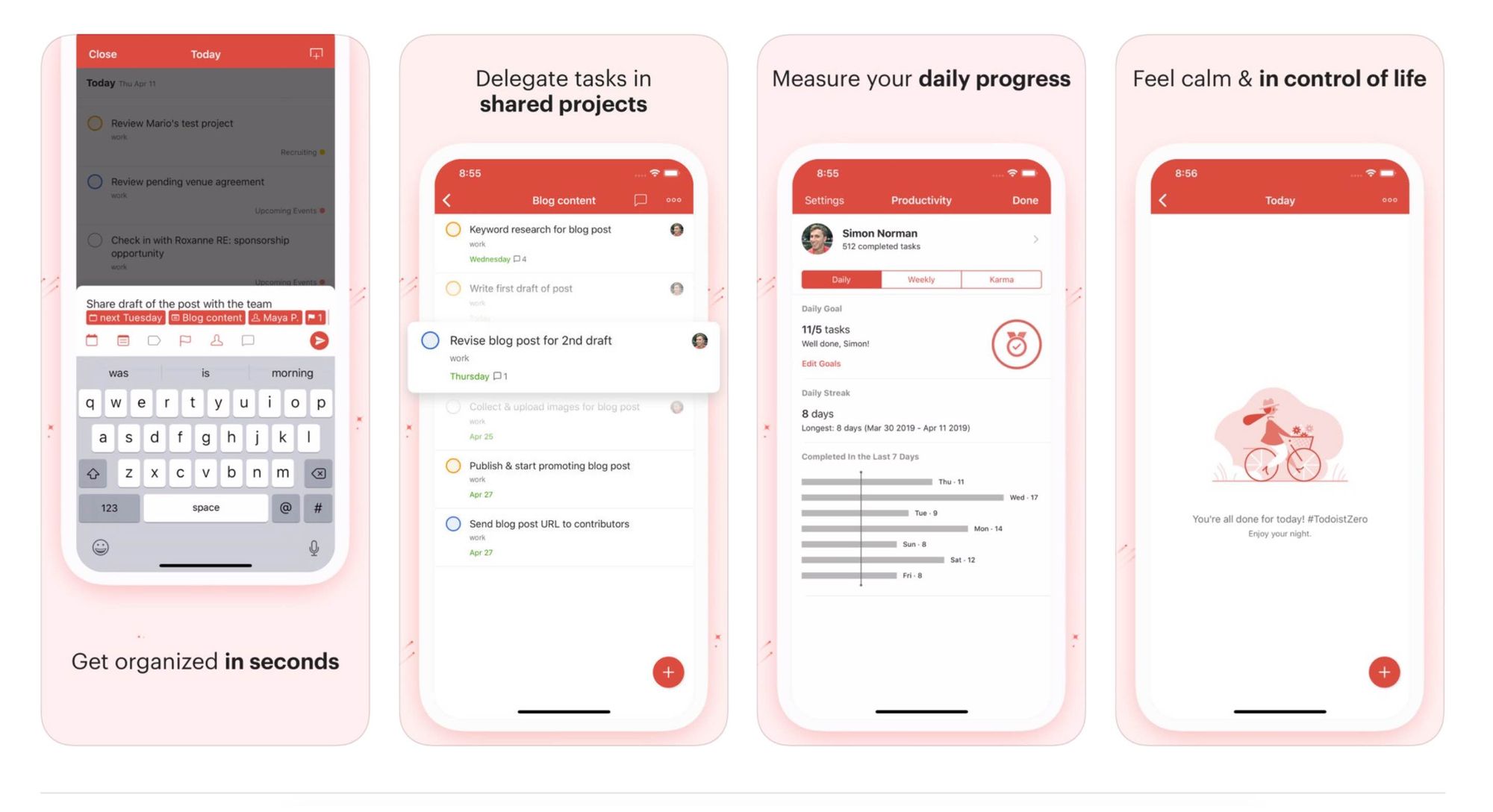 The premium version offers things like the ability to organize your tasks into color-coded lists, share them with family members or colleagues, and prioritize each item with flags. You can also use filters and labels to help organize things even further. The premium version also allows you to set up reminders, use colorful themes, and create templates.
One of the most rewarding features is the productivity report showing how much you have accomplished over time. The layout and interface for Todoist are attractive and user-friendly.
The 5 best to-do list apps in 2020.
---
Throughout the day, we are constantly bombarded with distractions that take us away from our work—here's Pocket to the rescue. Pocket is a bookmark management app that lets you save videos, articles, and other digital content for later when you have time to sit and enjoy it.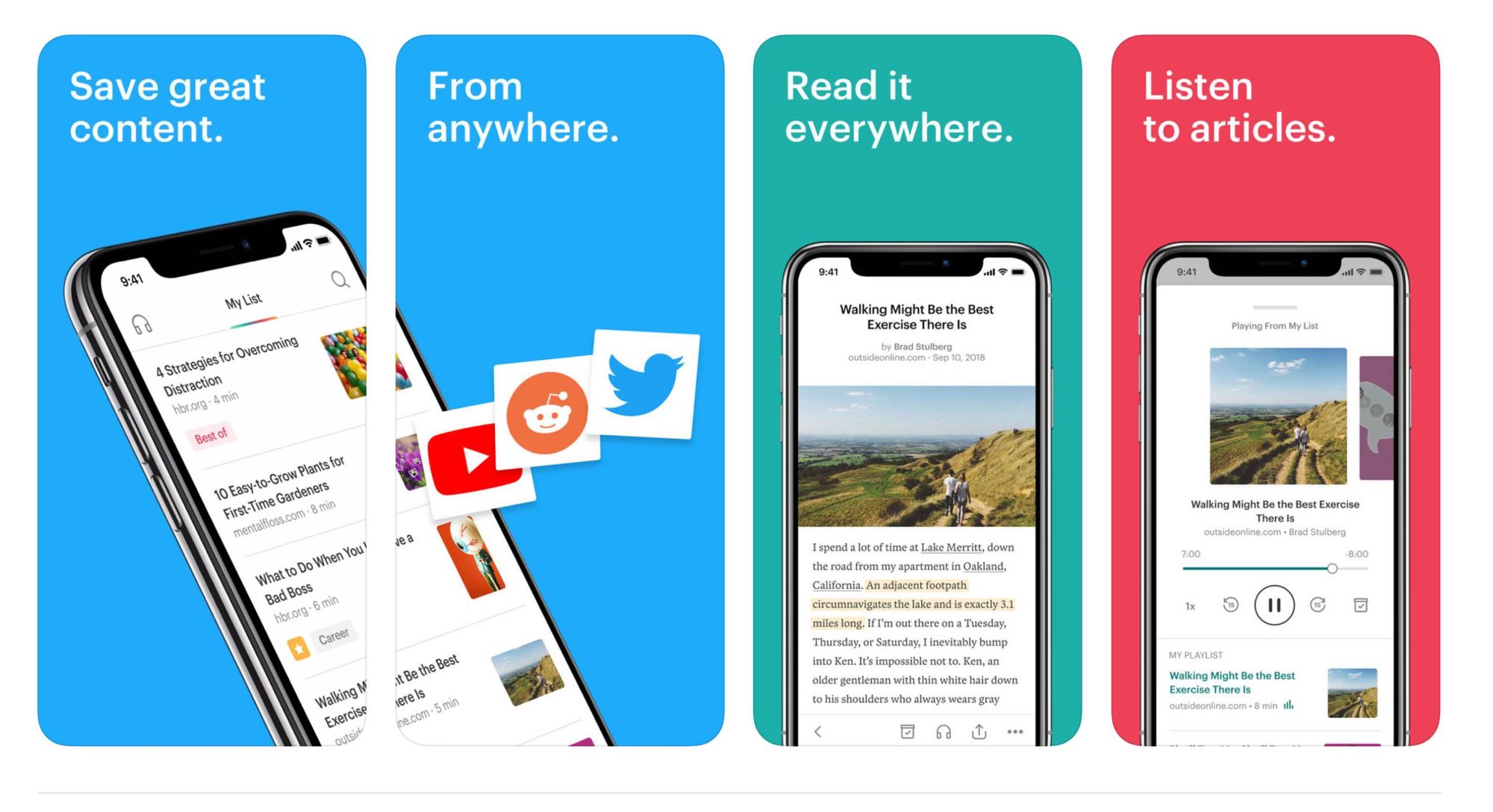 Some of the best features of Pocket are:
The ability to download content and store it offline.
Syncs across all devices.
Helps you find content related to your favorites.
Cuts down on your distractions and help you stay focused.
The only real drawback to Pocket is the ads. If you purchase the premium version though, the advertisements go away.
The 10 best productivity apps in 2020.
---
Workflow combines a bunch of useful shortcuts all in one place to help you get more done efficiently. The app grabs things like voice recorder, playlist creator, phone dialer, email, messages, reminders, and news, to create a custom dashboard for you to work from and accomplish a variety of tasks from one easy interface.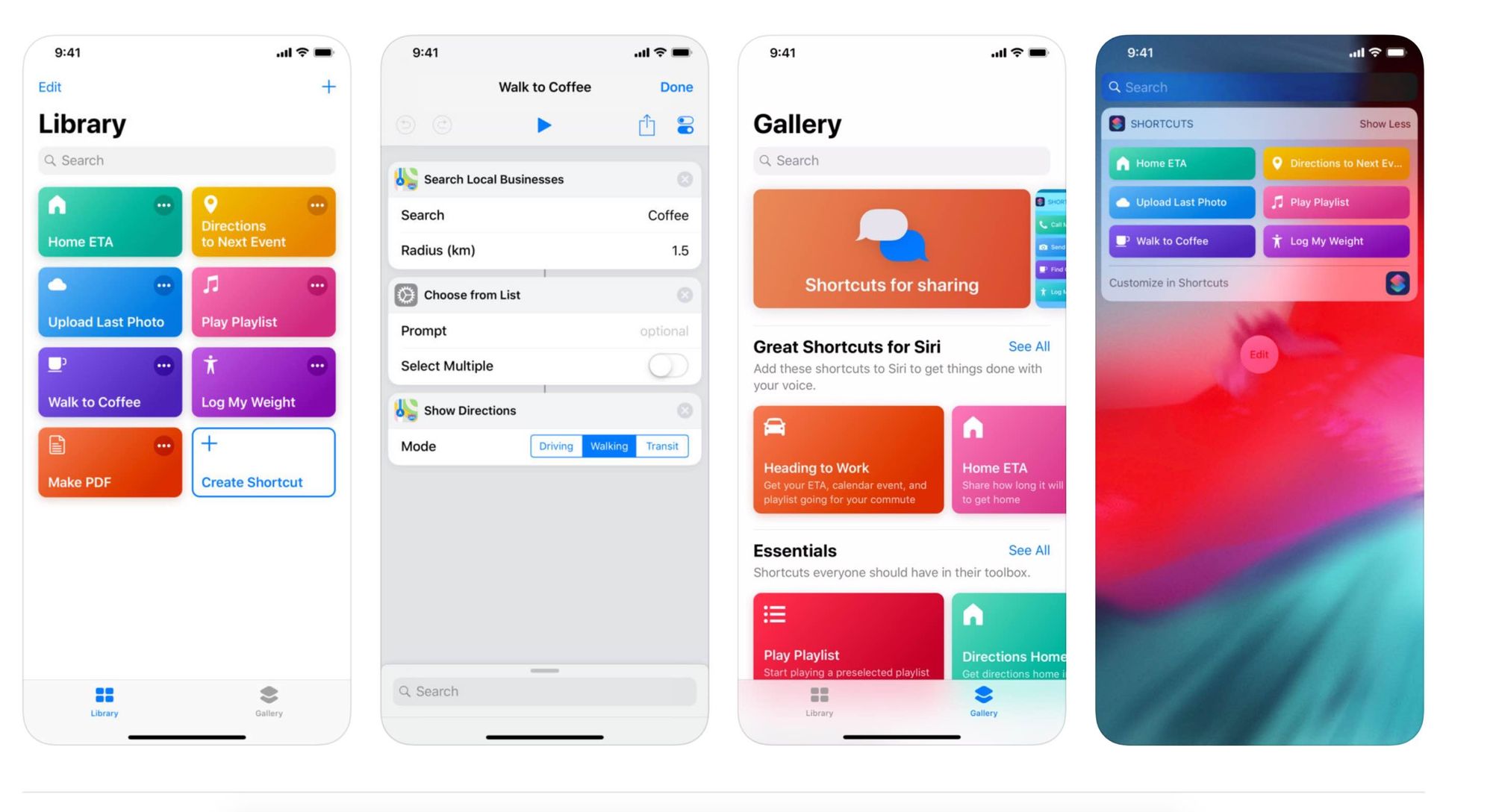 It integrates with dozens of popular apps. The biggest limitation is that it only works on IOS.
The 10 best project management tools in 2020.
---
Whether you need to track your time for billing or just want to know where your day went, Tyme 2 is the app to use. It includes a stunning interface that is super user-friendly. You can quickly set up new projects, tasks, and start using timers to track how much time each item takes. If you forget to start the timer before you did the job, no worries, you can always add in manual time entries.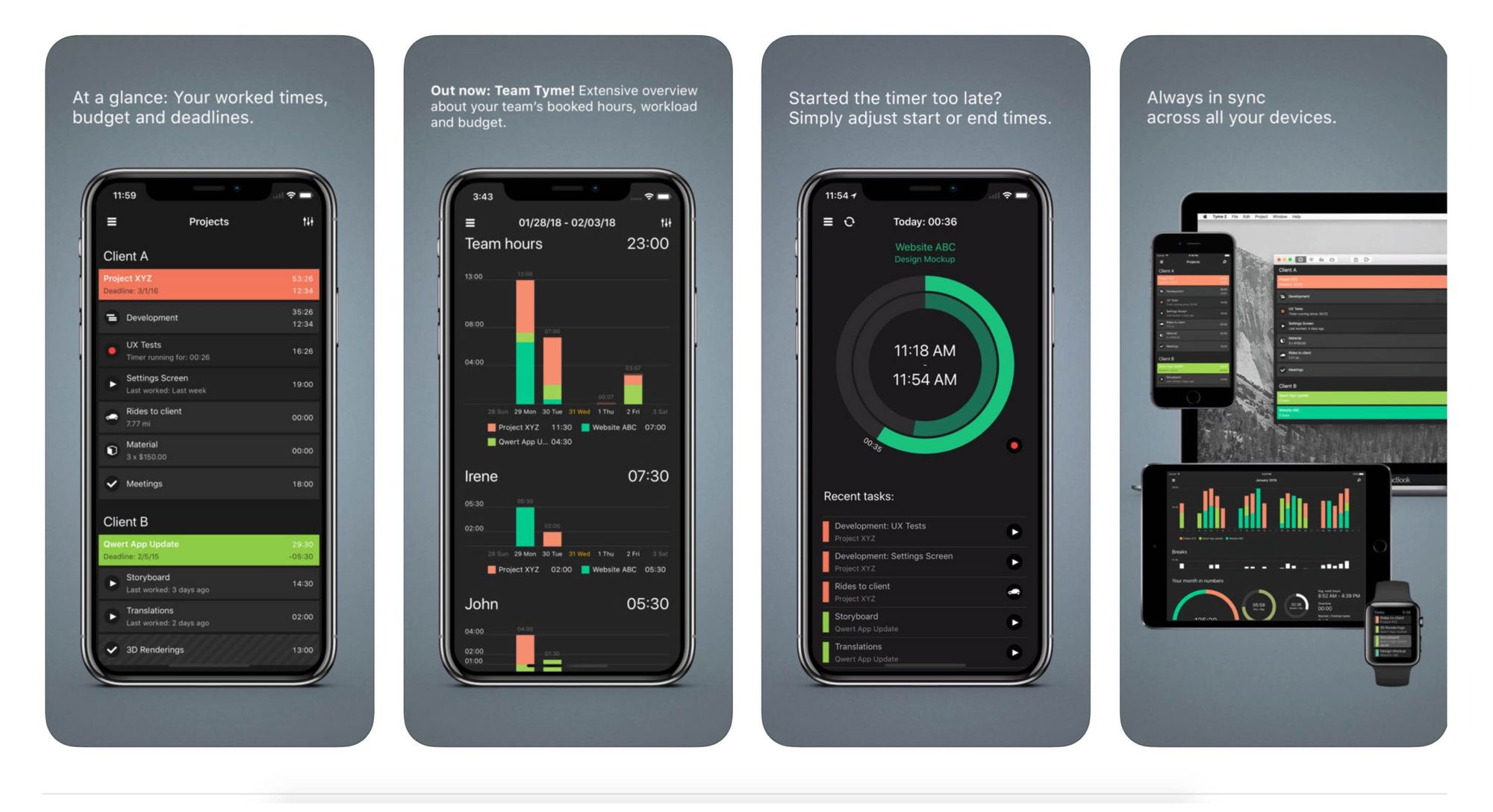 Tyme 2 allows you to collaborate with other users and share projects. Additional features include:
The ability to show timed entries in your calendar.
Export your work to a spreadsheet.
Set up auto-start timers, so you don't forget to start tracking your time.
Reminders.
Location-based timers that start when you arrive on site.
Keep track of billable and non-billable tasks.
Track mileage and other expenses.
Plugins for invoicing.
Productivity statistics.
Tyme 2 looks great on the Mac, iPad, iPhone, and Apple Watch, but the downside is it's only for Apple users. To date, they do not have a version for Windows or non-Apple devices. This app is so good; it might be time to switch phones so you can use it.
The 5 best budget apps in 2020.
---
1Password is the ultimate password vault that lets you save all your passwords for email, websites, databases, and more in one program. You open it with one secure password, and all your stuff stays safe. 1Password uses military-grade encryption and syncs across all your devices. Using 1Password, you don't have to remember any passwords except one and the app automatically signs you into all your favorite websites.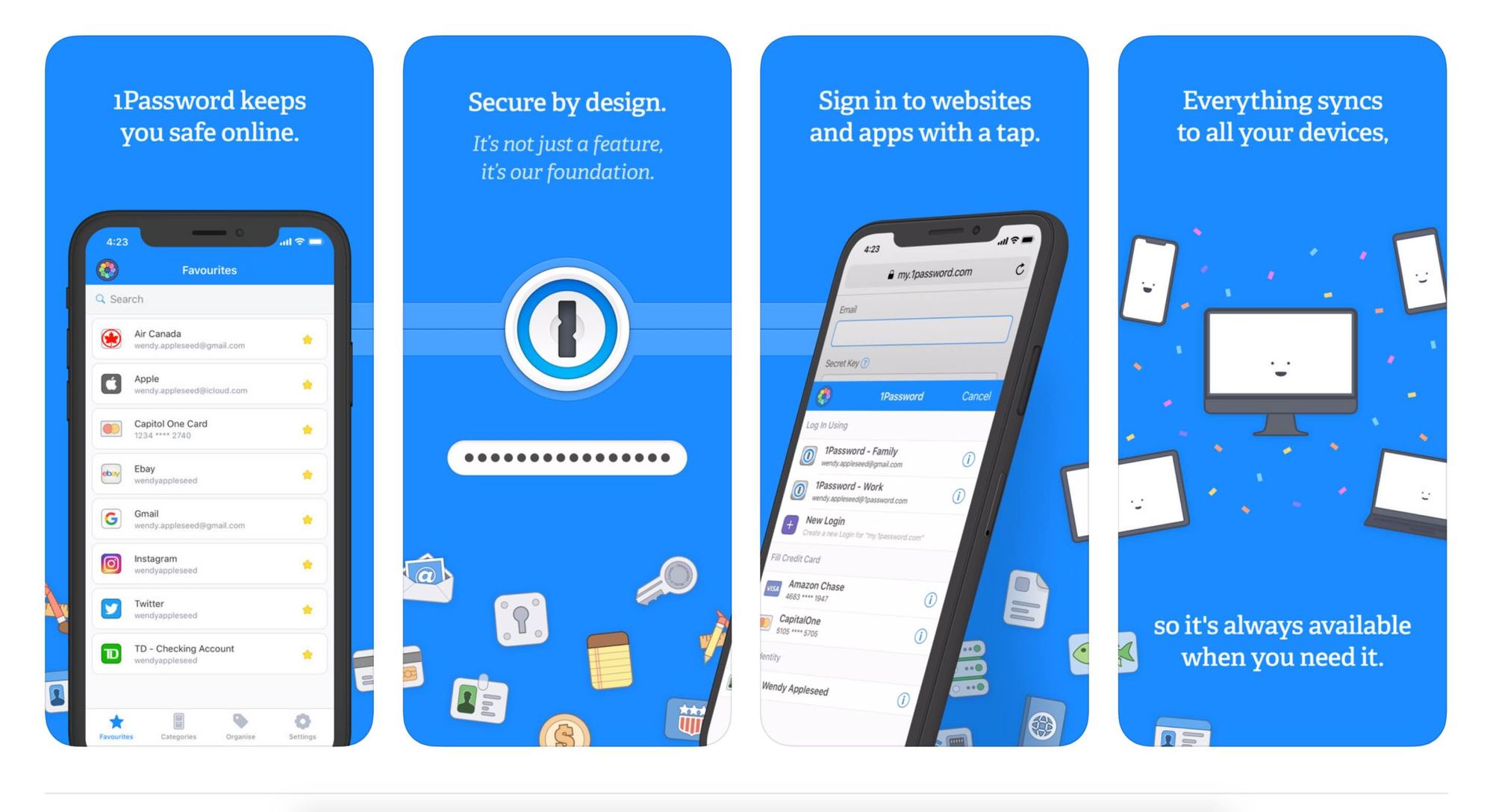 Never lose time by forgetting a password or having to reset it. The app allows you to create custom passwords based on letters, numbers, and symbols. The only drawback is you have to purchase the monthly plan; you cannot just buy the app outright.
The 10 best password managers in 2020.
What is Time Management Exactly?
The simple answer is that time management is how we choose to spend our time. Each of us gets an allotment of 24 hours each day to spend as we want. However, some people can accomplish a lot more in that space of time than others.
We start every day with goals in mind. To reach these goals which combine work, family, and personal items, we have to consciously manage what we do and when. Sometimes this is easy, and sometimes much harder. If we fill our agenda with more things than we can comfortably achieve, stress sets in, and the more stressed we are, the less productive we become.
People who use time management tools tend to get more done in less time. Those of us who consciously organize our day and prioritize our tasks, find it easier to be more efficient in tackling life. There are so many useful tools available that can help maximize your time and help you get more done.
The Benefits of Time Management
We can define time management as helping to make you more efficient or saving you time by automating tasks that would soak up your day if you had to do them manually.
The vast options in time management software are all geared towards helping you be more productive. For many people, this will apply only to work situations. For others who juggle a lot of personal tasks with work life, will require even more help to squeeze every minute out of every day.
Some of the benefits of time management are:
Less Stress - when you accomplish more, you feel a lot less stressed about life.
More Free Time - when your work and personal to-dos are checked off the list, you have more free time to spend with friends or family or indulging in some "me" time.
Increased Productivity - getting more done faster, feels good, and being able to manage your workload easier and more efficiently is a big bonus.
Fewer Mistakes - when you find yourself managing your time well, you make fewer mistakes and don't have to re-do things. You also save wasted time that could potentially eat up hours.
More Control Over Your Time - employing a time management strategy gives you complete control over every minute of your day and that is very empowering.
Regardless of how much you have to do in a day, you can always use help. These five best time management apps will help ease the stress, make you more productive and automate tasks that soak up your day.
Related Articles: