Having your food delivered is serious business, so we hashed out the best apps for the job.
Nothing beats some solid comfort food to instantly lift your spirits… nothing! And this is what the ever-increasing number of food delivery apps are banking on. They'll bring that mouth watering steak you've been craving right to your doorstep.
I know what you're thinking… yet another food delivery app/apps review. Hear me out: we're not just throwing out some random apps you should try. We went out of our way to get you the best of the best in the food app/apps business. No jokes here.
Here's what we have for you at a glance:
But before we get into that, let's first go over the benefits of using these apps.
Benefits of Using Food Delivery Apps
Increased convenience
You get to enjoy hot, restaurant-quality food any time without leaving the comfort of your office or home. Food delivery apps also make the ordering process much simpler. You don't have to fiddle around looking for restaurant phone numbers or wondering how long the delivery will take. Everything is just a click away.
Reliable Delivery
Food delivery apps provide a safe and secure way for people to order food from a variety of restaurants. Most have a food tracking app that provides more precise delivery information than the restaurant would.
Seamless Transactions
Sharing your credit/debit card number over the phone or scrounging for money to give the delivery person when they arrive can be chaotic. Many food delivery service providers allow credit card processing.
Reduced Guesswork
Delivery apps provide every detailed information regarding delivery times and items. They're unlikely to get your order wrong. Some use geolocation utilities to give an estimated delivery time that is usually very accurate.
Discover New Restaurants
You'll discover new restaurants in your area while using the apps.
The Top 5 Best Food Delivery Apps
1. Grubhub (iOS/Android)
Grubhub is available in more than 900 US cities and has partnered with more than 140,000 restaurants. The app allows you to search by type of food and sort by rating, price, distance, delivery fee, and delivery time. You also get access to daily deals and your past orders when you click on the My Grubhub option.

You can download Grubhub for iOS or Android to start using the app. Enter your location to view all the restaurants in your area. The app allows you to save delivery locations such as home or work to speed up the ordering process. Another cool feature is that you can schedule a meal for delivery ahead of time.
Grubhub supports most payment methods including Apple Pay, Google Pay, and PayPal.
✅ PROS:
Free to use
Easy to use
Many payment options
Presence in a lot of cities
⛔️ CONS:
Can be expensive for restaurants
The delivery tracker is not very accurate
Some restaurants charge a delivery fee and have order minimums
---
You've probably used Uber's popular rideshare service. The company decided to venture into the food delivery service near me with Uber Eats. Uber Eats is a standalone delivery app that's available in many US cities including Los Angeles and Chicago.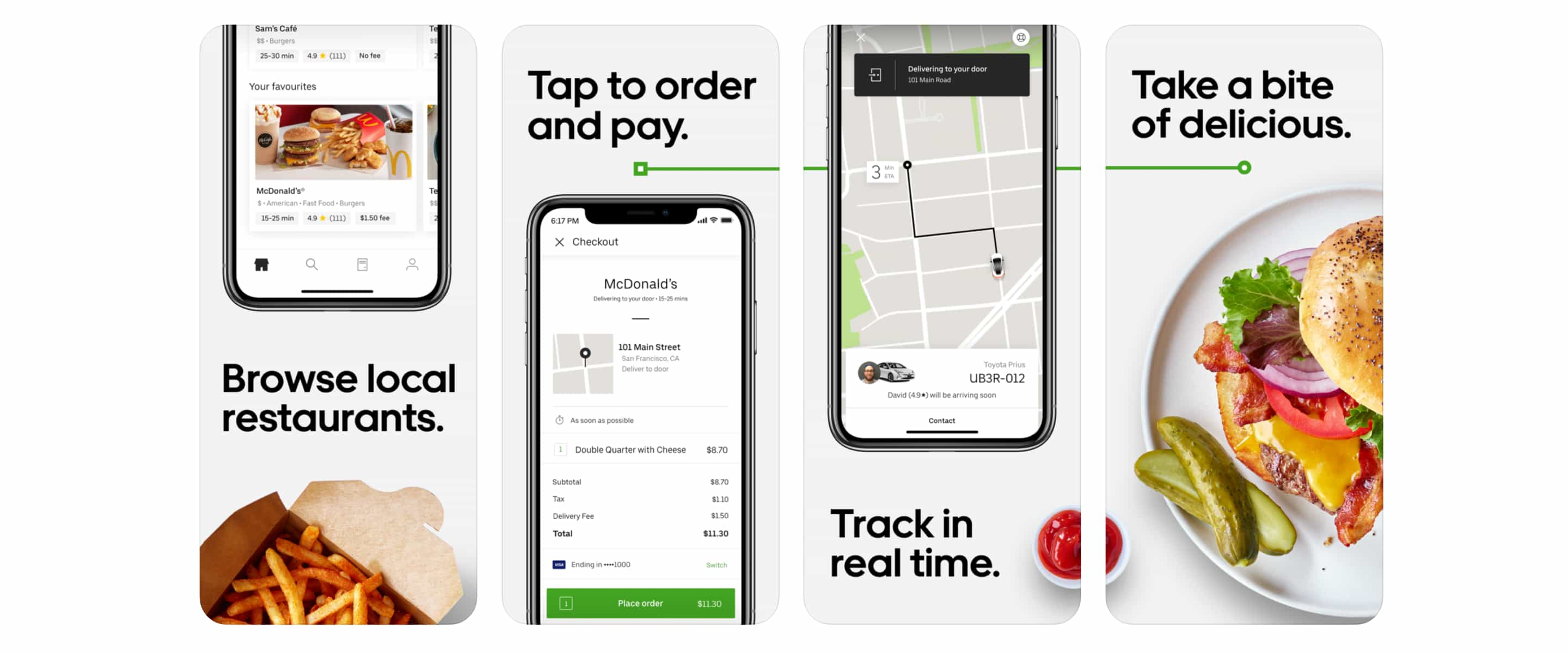 The app works in a similar way to the ride hailing app. You get estimated delivery times and a variety of payment methods. The app is intuitive and easy to use even for new users. The company charges a 15% commission on the total cost of the order.
✅ PROS:
Excellent customer service
Great user interface
Access restaurants who don't deliver
⛔️ CONS:
Limited selection of restaurants in some areas
Poor coupon options
No built-in tip percentage
---
3. DoorDash (iOS/Android)
DoorDash was recently ranked as one of the most popular food delivery apps in the US. The company has more than 310, 000 restaurants in 4000 cities around the world. More than 80% of these are in the US. DoorDash also delivers alcoholic beverages from restaurants, breweries, and stores.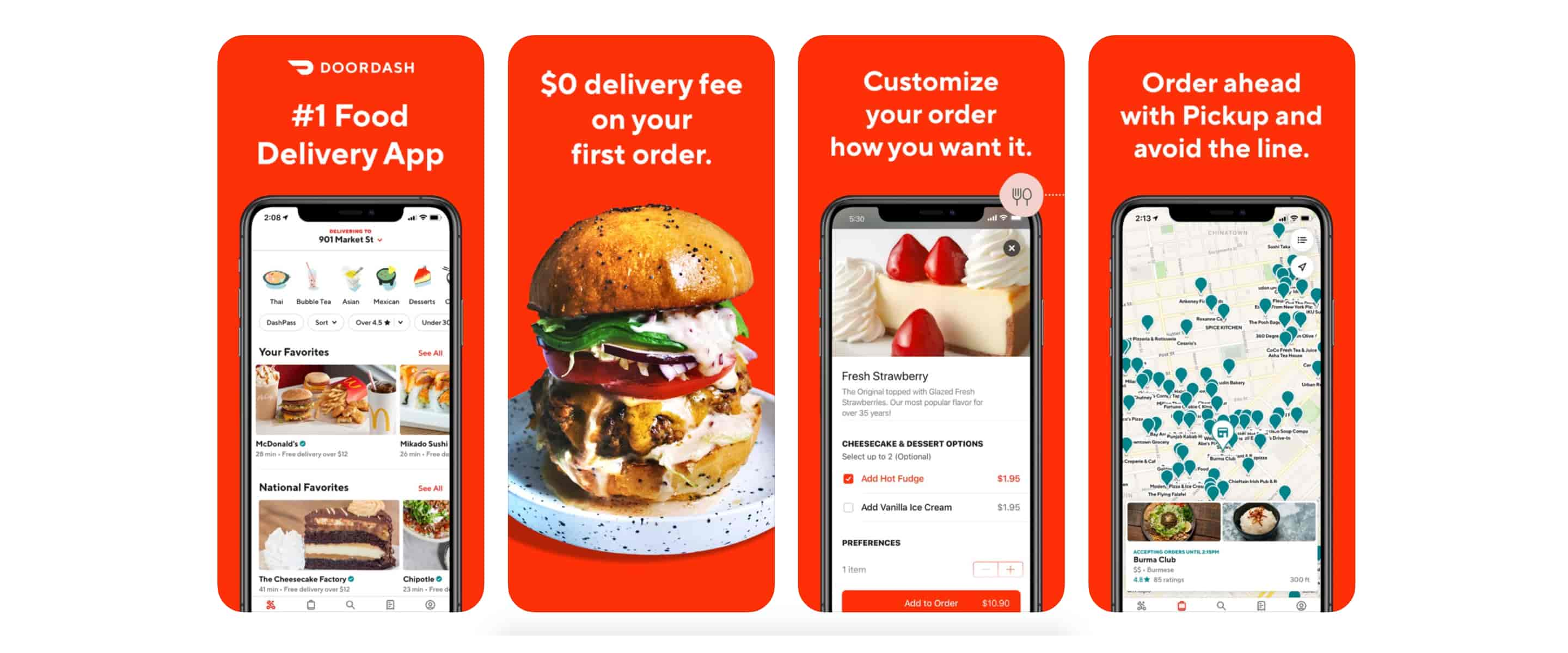 The menus available on the app depend on what time of the day it is. You'll see the breakfast collection in the morning followed by lunch and then dinner. One of the popular features of the app is the "Delight Score". Restaurants are rated based on food quality, delivery time, restaurant popularity, and customer satisfaction.
The DoorDahs Deals feature is particularly appealing. You get suggestions for restaurants outside your neighborhood that you might want to try. Reviews are strictly moderated to reduce fake reviews. This is a nice touch. While DoorDash may not be as big as the competition, it's definitely worth a try.
✅ PROS:
Most reviews are genuine
Easy to use
Growing fast
Has a subscription option
⛔️ CONS:
Costs vary widely from one restaurant to the other
Slow refunds
---
With a presence in more than 4,200 cities in the US, Postmates definitely deserves a spot on our list. But here's the thing: Postmates is a little different from the other food delivery apps. You see, they deliver just about anything to your doorstep, even alcohol.

The app has more than 500,000 restaurants on its roster. It has a clean user interface and is easy to use. You can sort your searches by Fastest, Recommended, Popular, and Type of Cuisine. Delivery charges range from $1 to $10 based on a percentage of your order.
Postmates regularly gives users great deals and you can always join a Party to get free deliveries. Joining a Party means ordering from a place where other people in your area are ordering from. The company has a subscription option for frequent users. It costs $10 per month or $100 per year. With a subscription, you get food delivery free of charge on all orders over $15. You'll also not have to deal with price spikes when you order food for delivery during peak hours.
✅ PROS:
24/7 service
You can order from drugstores live Walgreens and CVS
Has a subscription service
⛔️ CONS:
---
This is yet another food delivery app that goes beyond restaurant meals. You don't only get food app delivery. You can get groceries, lunch, laundry, or even a bottle of wine delivered to your doorstep. One of the stand out features of Delivery.com is that you can get both your dinner and your laundry at the same time. Like Postmates and DoorDash, you can order alcohol as well.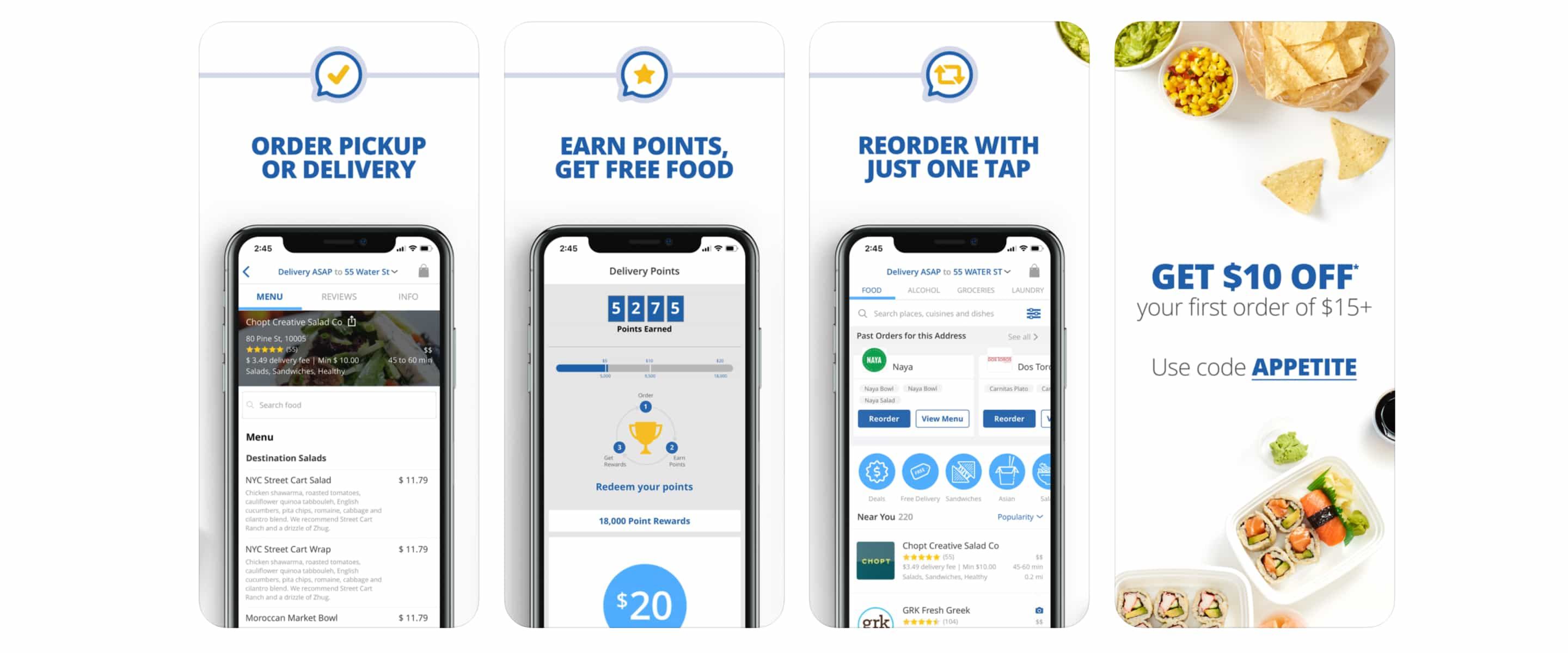 The service is available in more than 100 cities in the USA. It's easy to navigate through the app since everything is put into collections and categories. As you use the app, you earn points that can be exchanged for free shipping or a discount. Delivery.com allows you to create a shopping. If you're not sure what you want to have for lunch, the app recommends meals and cafes based on your previous purchases.
Note that some stores have order minimums and the delivery for each order is different. Delivery.com is a great option if you're looking for an all-in-one delivery service.
✅ PROS:
No delivery fees
Not restricted to food
No price markups
⛔️ CONS:
Some restaurants have order minimums
---
Conclusion
Whether you're looking for near restaurants to me or simply want to grab a meal but don't have time, food delivery apps can come in handy. Pick one of the above to enjoy a tasty treat even when you're busy.