Staying organized and on schedule is a big priority for most of us.
That is why we have assembled our list of the best 5 calendar apps for 2020.
Read on for the detailed analysis of each app.
Features that Make a Calendar App the Best
A good calendar app should not only keep you organized and on time but also provide you with extra features to improve your life and your efficiency. It doesn't hurt to throw in an appealing design and smooth operation along with reliability and seamless integration. We feel that the features that make a calendar app great are:
A nice, clean interface, especially on small screens.
Choice of views (monthly, weekly, daily, event).
Simplicity combined with powerful usability.
Notifications and alerts that work seamlessly with your task manager.
Siri and Google integration for voice commands.
Syncing across multiple devices.
Maps built-in so you have directions to your meetings and events at your fingertips.
Last but not least, it should be easy to use but also packed with helpful features and some goodies as well.
Now let's take a look at our favorite calendar apps for 2020.
Our Roundup of Calendar Apps
We have done a lot of research and compared all the available calendar planner apps for iOS, Android, and Windows platforms. We have categorized each app for a specific type of user. We also considered the app as an overall solution for both power users and novices.
1. Fantastical 3
The Best Calendar App for iPhone
Fantastical 3 is a favorite calendar app for many iPhone users. It was built from the ground-up to support iOS and syncs seamlessly across all your devices, including Apple Watch. It looks great on every screen with multiple views and a dark mode to boot. Some other features we love about it are:
Siri integration - you can use natural language to create events and reminders.
Coordinate schedules with co-workers quickly and easily.
Year, month, week, and day views.
Integrates with Office 365, Google, Exchange, and iCloud.
Merge duplicates and connect to multiple calendar platforms at once.
Group your calendars into views called "sets" to toggle them on and off.
Mini-window view to see a month view with a list of events below.
Location-based reminders.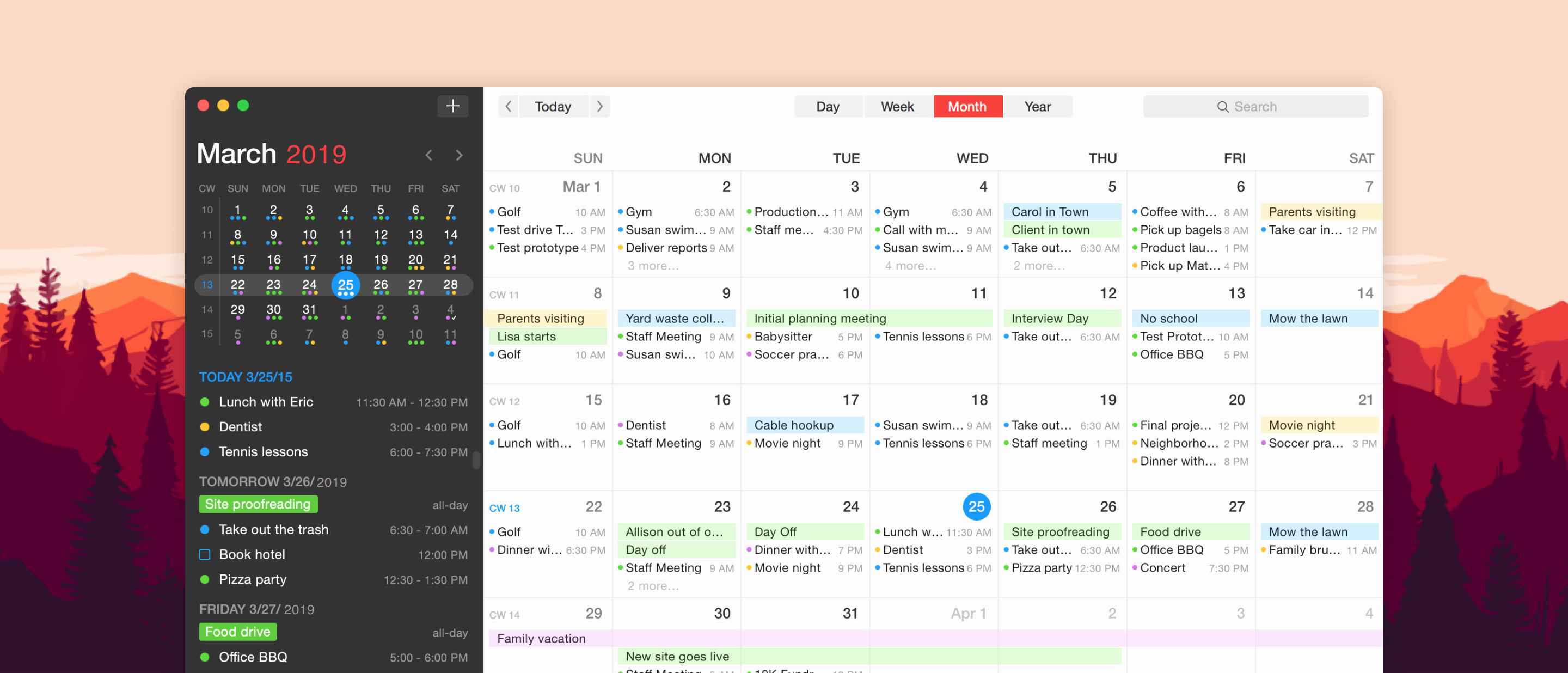 We see only two negatives with this calendar app. The first is that it is kind of pricey ($50/Mac). Although you can download a trial version for the Mac, all iOS versions are paid only ($5/per device). Sorry Android and Windows users, this app also only works on iOS.
---
2. Google Calendar
The Best Calendar App for Android
The Google calendar app pops up on a lot of top reviews and with good reason. The Google platform is stable and robust and syncs across all Android and web-based platforms. The best part about this one is that it is a totally free calendar with no subscription and no fees ever. It works beautifully on iOS and Android platforms. The schedule view is particularly well-designed and easy-to-read with events interspersed with cute artwork. Some of the other top features are:
A variety of appealing views including month, week, day, and schedule.
Integrates with Gmail to create events for reservations, flights, and hotels automatically from email.
The ability to set to-dos, reminders, and habit-forming goals.
Links to other calendars like iCloud.
Uses the Google services backbone.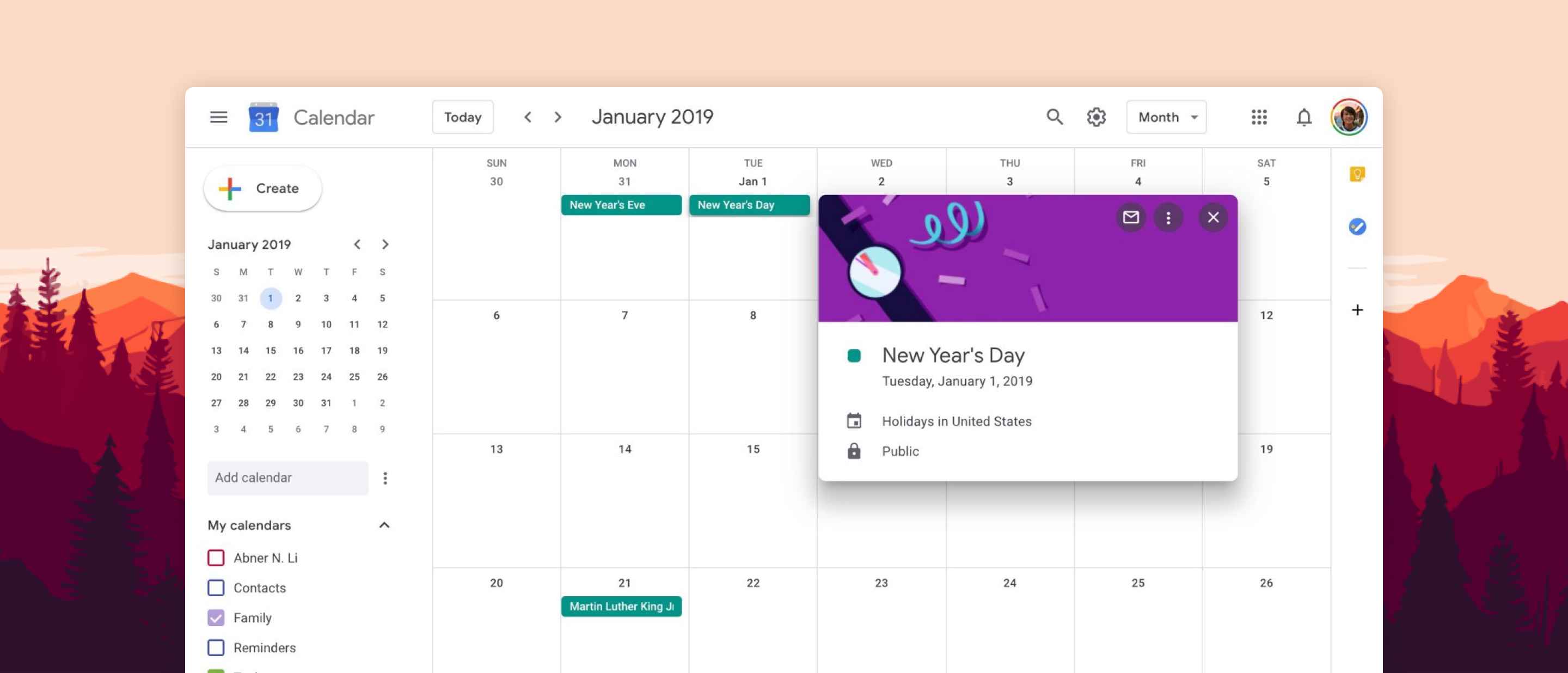 The downside to this calendar app is that some users have experienced issues with syncing across devices, and reminders and notifications not working.
---
3. Cozi Calendar
The Best Shared Calendar App for Families
Cozi Calendar is hands-down the best shared calendar app for families. Keeping track of multiple busy schedules can be overwhelming and impossible. Cozi Calendar makes it easy by color-coding everyone and storing each member's appointments, activities, and schedules in one place. This gem works on the web, Android, iOS, and Windows platforms. Some of the best features of this calendar app are:
Simple yet flexible views to quickly see what is on your agenda for today.
Syncs across all devices (both PC and Mac/iPhone, Android and Windows mobile platforms).
Handles reminders and to-do lists effortlessly.
Family journal feature to keepsake special family memories and share them with others.
It even keeps track of family grocery lists and recipes for dinner!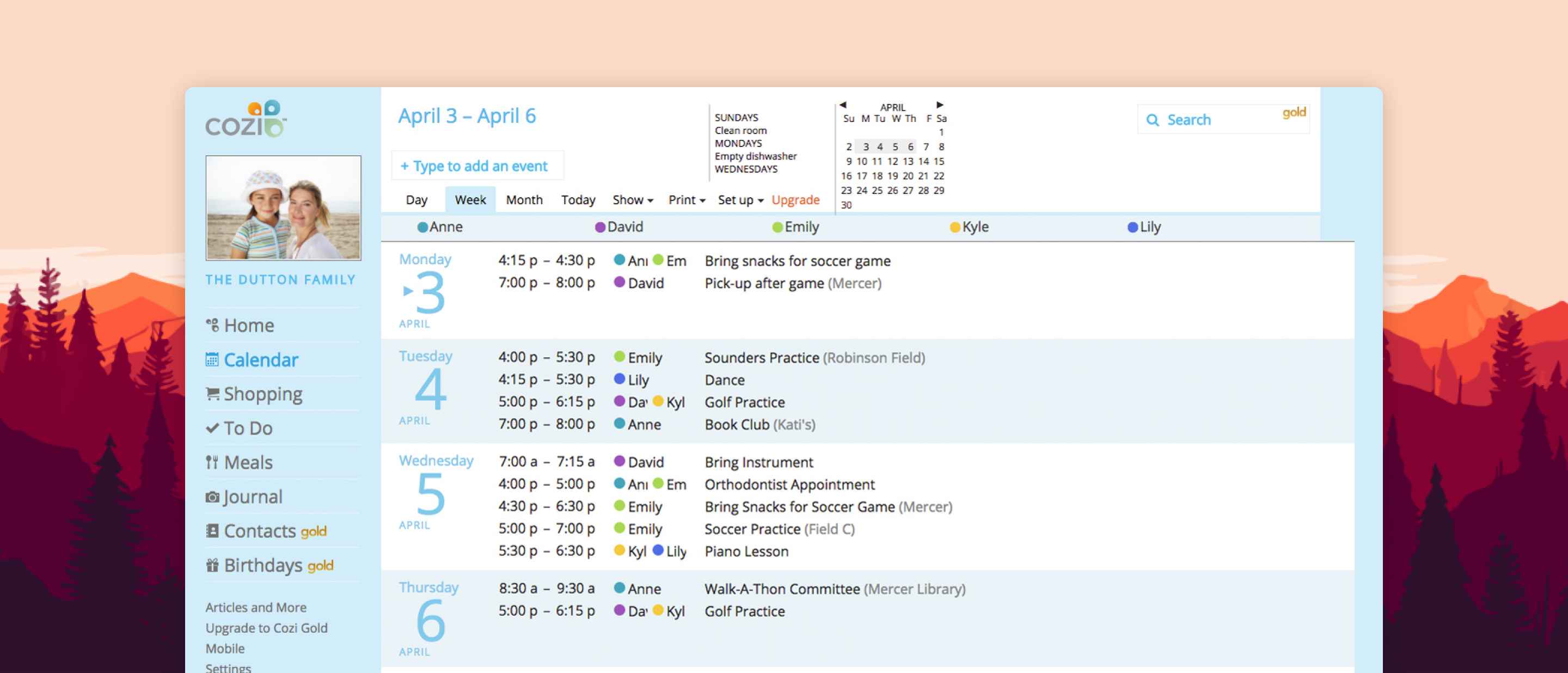 Cozi is free to use and designed for families. Therefore, it is not a great fit for business use or with collaborative teams. The app does include advertisements, but you can pay $29.99 a year to make those go away.
---
4. 24me
The Best All-Around Calendar, Note-Taking, To-Do List App
They call 24me a virtual assistant, but it is really a fancy Apple calendar on steroids. This unique offering syncs with a wide variety of calendars such as Exchange, Google Calendar, iCloud, and others. 24me integrates everyday items like notes, tasks, and events needed to keep you organized and efficient. The highlights of this app are:
Combines task lists, calendars events, and notes in one place.
Allows you to connect to banks, social media, utilities, and other service providers to perform routine tasks like paying bills within the app.
Beautiful design with easy-to-read features.
Military-grade security to keep all your personal stuff safe.
Add video, images, and rich text to notes.
Smart reminders and notifications.
Voice control inside the app.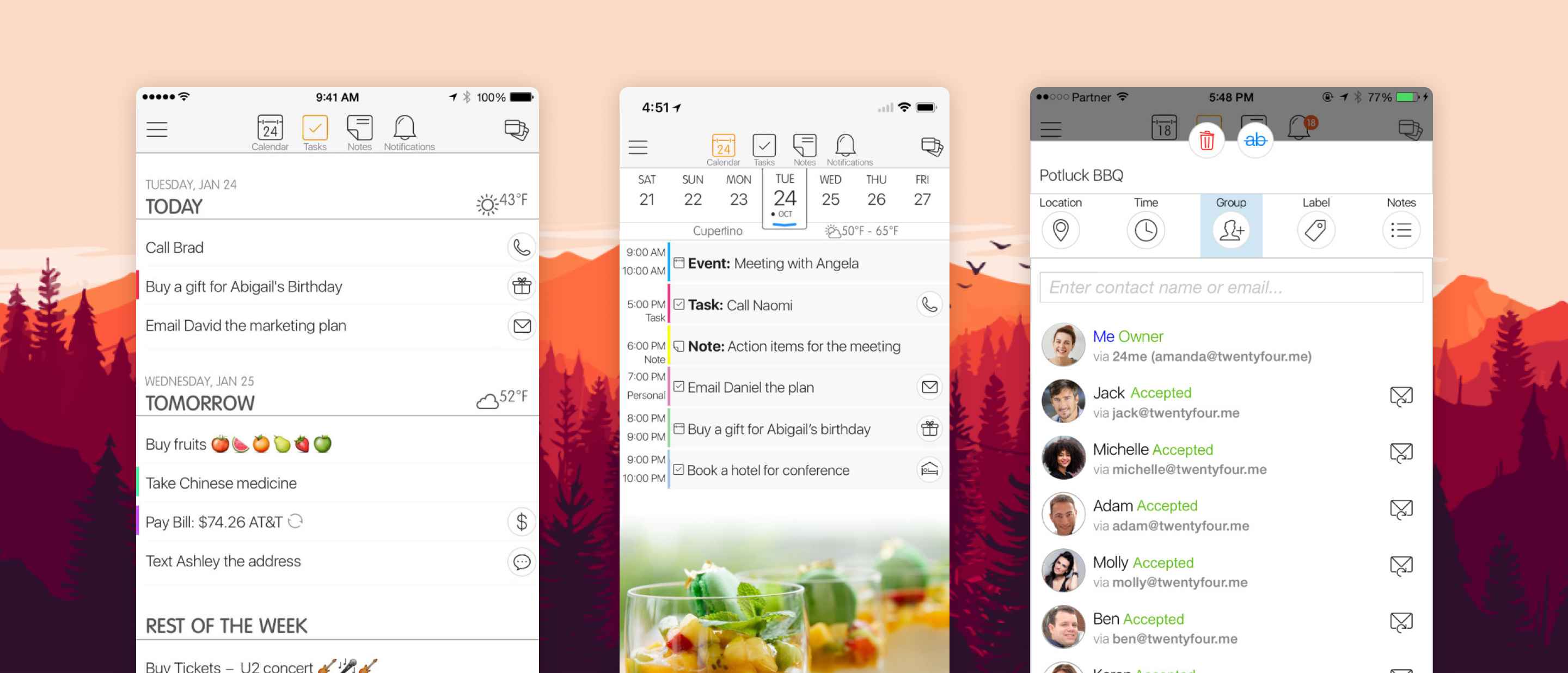 The navigation takes a little getting used to, and the sound effects can be annoying, but those can be turned off. This app has it all covered and can even alert you to things like traffic jams and bad weather.
---
5. Any.do
The Best Calendar Apps for Windows 10
Any.do is more than just a calendar app; it's also a task-list and planner app. Any.do offers a powerful free calendar version, but for only $2.99/month, users can enjoy the pro features. The simple interface makes it a joy to use on mobile devices. Add events, reminders, and to-dos in seconds. It is clear that this app was designed to work well on small screens. Some other cool features of this calendar include:
Integration with other calendars like iCloud.
Color-coded events for a user-friendly interface.
Syncs seamlessly across all devices.
Excellent mobile interface with some themes to keep things interesting.
Smart reminders and progress tracking.
Recurring and location-based reminders (pro version only).
Invite others to share in your calendar events for collaboration.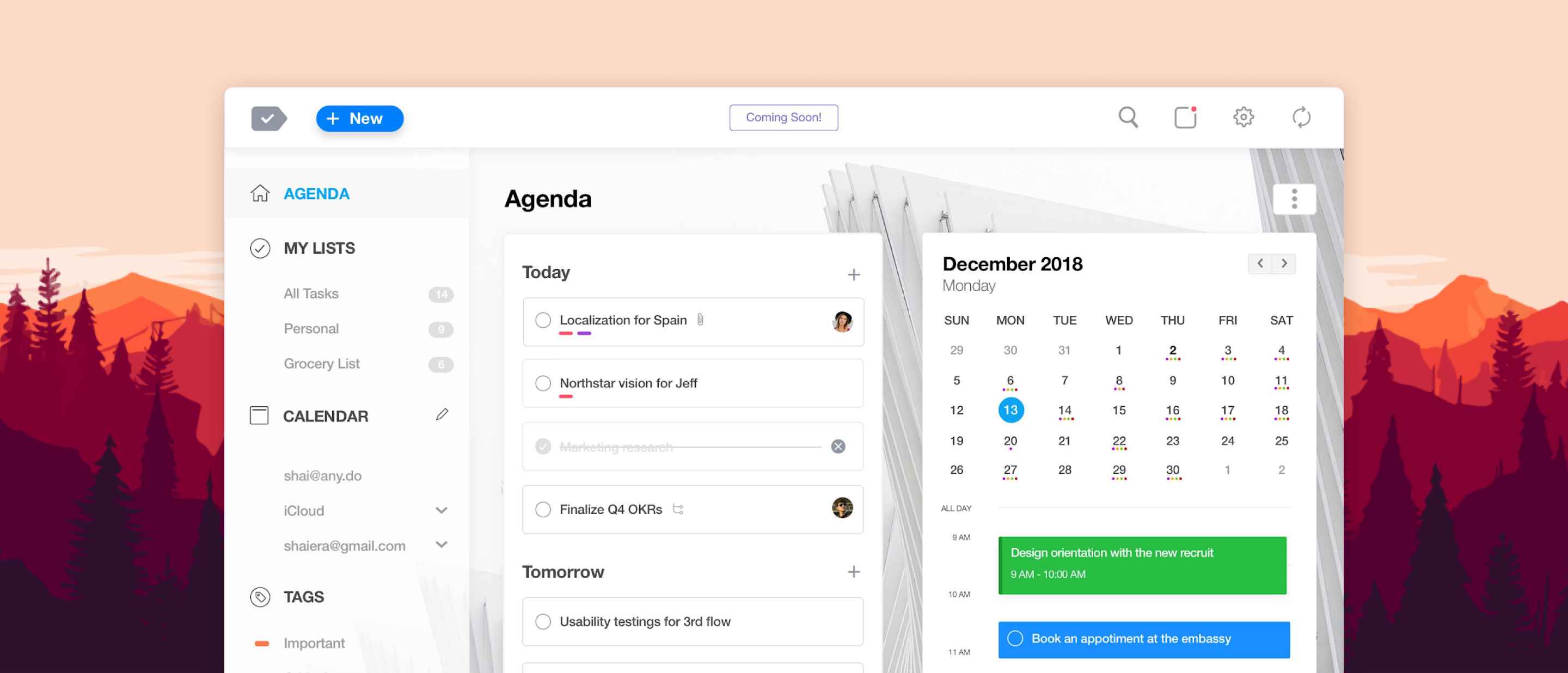 Some users might not like the plain design or tiny fonts used throughout the app. You can always upgrade to the pro version to use additional themes and customize views. Currently, there is no Siri integration, so voice commands won't be possible.
---
Wrap-Up
Overall, each of the calendar apps we reviewed did a good job of organizing events, meetings, and reminders in a user-friendly interface with some extras thrown in for good measure.
If we had to pick our all-time favorite app that combines the most attractive design with useful features, it would be Fantastical 2. It looks great on the Mac, iPhone, and Apple Watch, but it won't work for Android and Windows users. If you want a calendar app that works seamlessly across all platforms and has the best combination of features and style, then Google Calendar is your best choice. Most of us use our calendar app more than any other, so it really comes down to a personal choice and what appeals to you.
Related Articles:
Launchberg editors pick and review products independently. We may earn affiliate commissions when you purchase an item via our links—it helps support our testing.