In this fast-moving world, the name of the game is efficiency. To be the best, you need to know what the best project management software is to get the most out of your team.
We've chosen the best project management software for 2020. Our top 13:
Read on for the detailed analysis of each service, compare them, review their pros and cons and choose the best one that fits your needs.
What is Project Management?
A project is something that you want to achieve. Projects typically include objectives, goals, deliverables, resources, and a timeline. Project management refers to starting the project, assigning duties and tasks, overseeing and tracking the progress of the project, and then completing it on time.
What is the Difference Between Agile vs. Waterfall?
Agile and Waterfall are two different styles of project management. Each has its own benefits and drawbacks. The Waterfall process works by a linear approach with each new task beginning after the last one completes successfully. Although Waterfall is easy to use, it is less flexible and not well suited for large projects. Agile, however, is client-focused and flexible, based on incremental achievements along the way. Generally, Agile teams are self-reliant, motivated, and passionate about the project.
Why Should I Use Project Management Software?
Any project big or small may contain a lot of moving pieces, team members, timetables, and details that you need to keep track of. It can quickly become overwhelming, trying to do this manually. Project management software helps to automate things with email reminders, shared calendars, task lists, assignments, and goal tracking. Keep reading to find the best productivity apps to use on your next project.
How to Choose the Best Free Project Management Software?
With so many options on the market, choosing the best free project management software can be confusing. Some apps are hosted online, and some get installed on your server or computer. When evaluating project management software, it's essential to know that some programs are simpler and easier to use while others are more robust but may be more challenging to learn.
Let's discuss what features are the most important to the majority of users, and this will help you decide which software option makes the most sense for you.
The Most Important Features
These features are critical in a full-featured project management app or software tool. We have put them in order of importance for most users, but for your team, certain aspects may rise higher on the list.
Task Management - the ability to create and manage tasks throughout the entire project. Being able to assign multiple users to one task is important. The ability to create dependencies and recurring tasks is also critical in a good piece of project management software. Importing tasks from a spreadsheet or other program is also helpful.

Collaboration Tools - project-specific collaboration is another essential component with project management tools. Many of the top programs include discussion areas, built-in notifications, the ability to instant message group members, and a space to share documents, files, and ideas.

Educational Tips & Tutorials - good software will include built-in help to get every member up to speed and make using it a breeze for everyone. Other helpful resources might consist of videos, tutorials, guides, and even email or online support.

Document Management - most projects will include dozens of files, images, and documents. You must have the ability to store and share them in one centralized location. Another superb feature is the ability to add notes and annotate files directly within the program.

Mobile Device Support - users will expect the software to support mobile devices natively. With everyone on the go and not in the same location, you need to make sure your program supports mobile applications.

Email Integration - the best project management tools include email integration, where you can send and receive emails within the system. There is no need to go outside the platform to communicate with your team, third-party resources, or clients.
Relatively Important Features
The features below are nice to haves and pretty vital if you want the best experience with your project management.
Time Management - some systems include the ability to track resource time (think time clock) to see how much time was needed for each phase of the project.

Third-party Integration - integration has become synonymous with great apps, all working together for the greater good. The ability to connect to and share resources with Google Apps, MS Outlook, Salesforce, and Dropbox is useful.

Scheduling - a big part of project management is setting timelines, milestones, and schedules. For small projects, this might be less of a priority than large, complex ones.

Customization - a lot of teams like the ability to customize interfaces, views, reports, and other things that help brand the tool to their specifications.

Reporting - tracking goals is essential, but it's also necessary to see the results in various types of reports like Gantt views, schedules, and other report types. Each app has its own variety of reports.
What is the Best Project Management Software?
Now let's get down to brass tacks and find out which is the best project management app for your business. Keep in mind; there may not be a perfect one-size-fits-all solution for every team, every company, and every project. You may need to test drive a few before deciding.
Monday.com is a well-liked project management software for large and small teams alike. It can handle anything you dish out at it. Users report, the interface is "fun" to use. Unlike some other programs, Monday.com has built-in budget management, time and expense tracking to make billing easier. The software is jam-packed with features that make team collaboration effortless.
Monday.com works off the Agile methodology and even includes a client portal to share files, updates, and project news. Making Monday.com even more attractive, the software includes resource and portfolio management and customizable templates.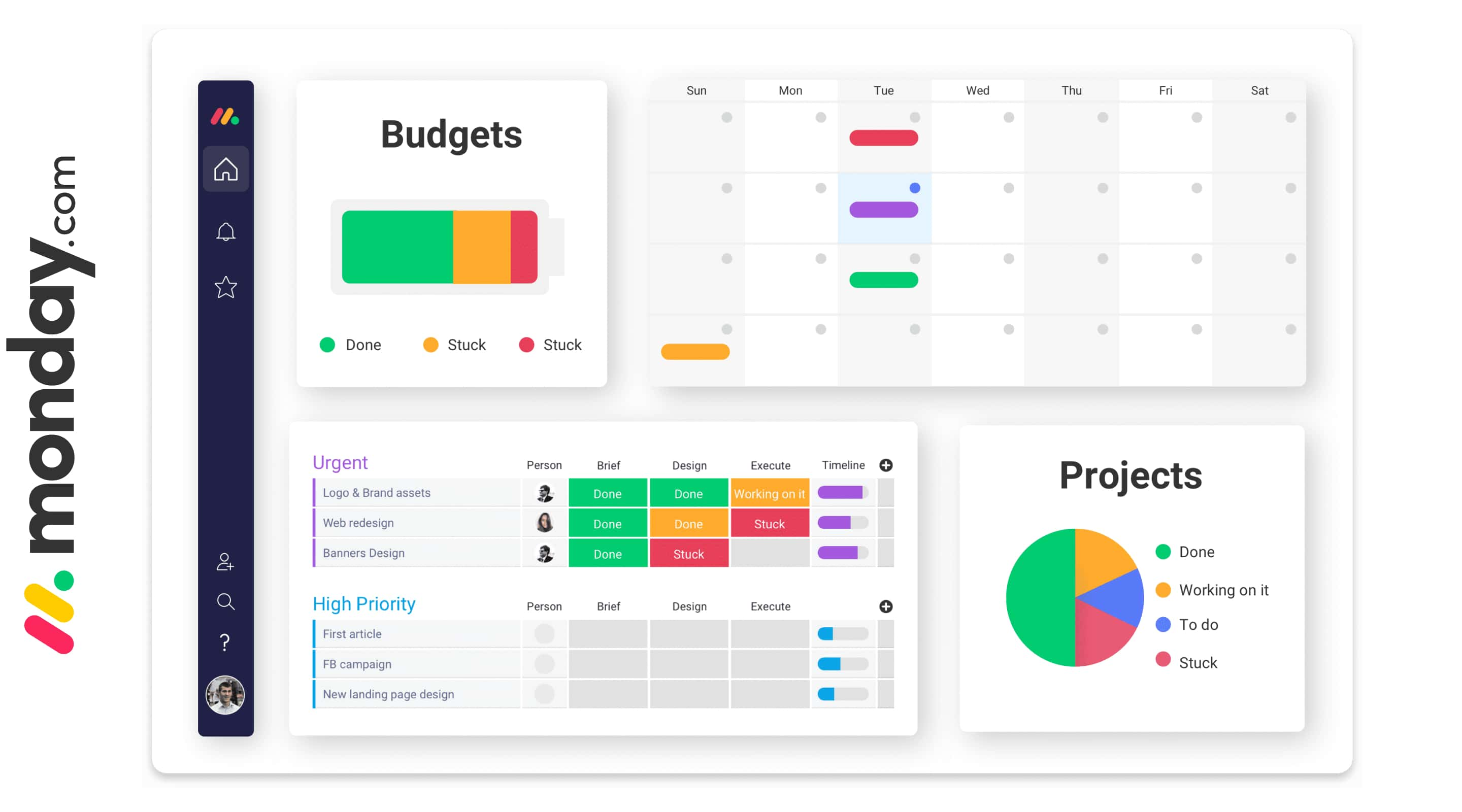 You can easily assign tasks to team members and then track their progress as they move through the workflow. Monday.com offers four payment tiers: Basic, Standard, Pro, and Enterprise. Each one is based on the number of users, and you can get a discount by paying for a full year in advance. There is very little not to like about Monday.com.
✅ PROS:
Workflow management.
Mobile device friendly.
Robust support options.
Budget management.
Time and expense tracking.
Customizable.
Powerful reporting capabilities and different views.
⛔️ CONS:
---
Jira is a powerful project management software that is great for Agile teams. It was developed as a bug tracker for developing software, and although it has evolved, at its heart, it is still positioned best for those applications. The interface may be confusing for some users. It's not built for large teams, as the collaboration features are a bit lacking.

Jira does use the Kanban view and Gantt charts for reporting. However, it has no support for resource, time, and expense tracking and cannot handle budgets. Jira integrations can also be complex and time-consuming. Jira is serious software for development and bug tracking, but it may not be for everyone.
✅ PROS:
Great for Agile teams.
Filter the Kanban view by due date.
Milestone tracking.
Perfect for bug tracking and software development.
Messaging and collaboration features.
⛔️ CONS:
Fewer features than other programs.
Not great for large teams.
The cloud-based version is slow.
No timestamp (for tracking changes).
Confusing interface.
Mobile app is lacking in features and design.
No filtering for views.
---
The Hive project management software is a cloud-based alternative to Asana, Monday, and Trello with a similar-looking interface. Devoted users rave about the capabilities of Hive, including infinite sub-tasks, Gantt charts, and intuitive collaboration tools. The support staff for Hive is top notch and responsive. So, if you get stuck, help is only a click away. What people like best about Hive is how easy it is to stay in touch with team members using the built-in communication tools. At a glance, it is clear who is doing what. Hive includes chat, task management, sharing files, and supports automation.

Along with Gantt charts, the Kanban and calendar views let team members see things "their way." Hive uses a straightforward pricing plan of $12/month per user. They do have some add-on resources you can purchase to enhance the software even further. Other than a few user complaints, we think Hive is the bee's knees.
✅ PROS:
Very easy to use and intuitive.
Includes powerful collaboration tools.
Feature-rich.
Affordable.
⛔️ CONS:
Fussy Gmail integration.
Missing dependencies feature.
There is no desktop app.
No version tracking included.
The mobile app is missing some features.
---
Designed for small to medium-sized businesses, Paymo is another cloud-based project management tool. Paymo's best feature is that it is flexible and continuously improving. Paymo is also known for world-class quality support. The application workflow is fluid and easy to understand for most users. You can switch between dashboards with a simple click.

Paymo is perfect for small businesses because it has everything you need and nothing extra that you don't. Larger teams and big companies may find it lacking in some features. The time tracking feature is especially attractive and makes client billing a breeze. Although Paymo includes collaboration tools for your internal team, it lacks in options when trying to interface with clients. Overall, it's a pretty simple program to use and it has many features that would suit freelance teams and other small project-based groups perfectly.
✅ PROS:
Scalable for any size project or team.
A built-in time tracker.
Billing integration.
Kanban view.
Good value for the price.
Includes interface customization like color schemes.
⛔️ CONS:
UX may be difficult for some users.
No desktop or mobile app available.
No export available for offline viewing.
Lacking in some popular features.
Can't duplicate projects.
Very few options to share data with clients.
---
Where Paymo lacks, Nifty shines. Nifty is another one of our best project management software candidates, and it excels in the area of client collaboration. Nifty takes the ordeal of project management out of email and into a single platform where both team members and clients can meet, collaborate, track progress, and share ideas. The roadmap view is perfect for quickly seeing where things stand and what comes next. Nifty splits things into timelines, workloads, and deliverables, making it easy to gauge where you are at a glance.

The biggest complaint with users is that Nifty lacks integration with other apps/platforms that would make it a great project management tool. You can try Nifty for free, but the Basic plan lacks a lot of useful features. The other three tiers support unlimited users and different levels of storage space, and more features are added as you move up the ladder.
✅ PROS:
The ability to track milestones.
Very easy to use.
Brings together teams and clients in one place.
Clean UI.
Track active and expired tasks.
Document sharing.
⛔️ CONS:
Can be glitchy.
Missing in-app support/documentation.
No color coding for tags.
No way to integrate with Google Docs.
Mobile app is not up-to-speed.
---
YouTrack is another software development and project management solution. Although it is a workflow option, it was built specifically for bug tracking. Team members can use attributes, tagging, screenshots, highlighting, and group similar issues together, making it easy to collaborate and provide feedback on a specific task or issue.

The "Smart Search" feature is great for locating a specific issue or notation. It is not great for projects outside the realm of software development, however. The interface appears unfinished and lacks in design and user-friendliness.
✅ PROS:
Best for software development and bug tracking.
Tagging to filter views.
Custom workflows.
Smart Search feature.
Email integration.
⛔️ CONS:
Not ideal for other types of projects.
No mobile support.
Unflattering design.
---
One of the best project management tools on the market is Asana. Using a combination of dashboards (with Kanban views), projects, tasks, and conversations, Asana stands out as an exceptional option for team collaboration and project management as a whole. Users love the customizations to filter views.

Asana integrates with many other systems such as Google Drive, DropBox, Github, and MailChimp. Collaboration is made easy through Team Pages and "Smart Box," where you can select what notifications you want to receive. The free version is pretty robust out of the box, but you get even more with an enterprise plan. Asana pricing is pretty standard.
✅ PROS:
The free version is feature-packed.
Kanban view and clean interface.
Progress tracking.
Task dependencies.
Automation.
Administrative controls.
Third-party integrations.
⛔️ CONS:
The Kanban view is limited compared with other competitors.
Enterprise plans can be pricey.
No time tracking.
---
Wrike is a well-respected cloud-based application for project management. It includes task management, workflow views, and schedules, cost tracking, and it can integrate with Google Apps, Microsoft Excel, Dropbox, as well as many other programs. Wrike has a simple interface, and is intuitive, making it easy to use for most team members. Email integration allows users to turn messages into tasks and add documents directly from email.

They do offer a free version and then paid versions based on numbers of users. With large teams, the cost can get expensive quickly. Although it tracks time, you cannot invoice from the time tracking feature. Wrike may be an expensive tool to use unless you need to set up a project in a hurry.
✅ PROS:
Quick and easy setup.
Nice interface.
Easy to use.
Mobile friendly.
Timeline view.
⛔️ CONS:
Hard to find timer.
You need the business plan to get all the best features.
Expensive.
No live chat.
---
Notion is more of a shared workspace than a project management software. It is a great tool for collaboration if document management and communication are your objectives. It uses a Kanban view (similar to Asana), where cards may be used to move items/tasks through the workflow.

Although a good idea in theory, Notion appears to be trying too hard to be an all-in-one solution to replace your note-taking app, project management software, document management app, collaboration tool, and all-around workflow management. Notion has four-tiered payment plans, including a free version.
✅ PROS:
Document management.
Integrations.
Real-time updates.
Good collaboration tools for notes.
Database and spreadsheet integration.
⛔️ CONS:
Confusing interface.
Unsophisticated.
Trying too hard to be everything at once.
Reliance on templates.
No customization.
---
Zoho Projects is another great contender for small teams and projects. The free plan supports up to five users. You can use Zoho Projects for time tracking and billing, and it integrates easily with Google apps. The collaboration tools are impressive, offering real-time instant messaging, forums, and Zoho Meeting integration.

Zoho also provides built-in time tracking and management with a deadlines feature. The Kanban view is limited, however, but the resource management feature makes up for it. One of the best things about Zoho Projects is the robust support offered with the program.
✅ PROS:
Powerful collaboration tools (between clients, vendors, & team members).
Robust reporting tools and multiple views (Gantt charts, calendar, Kanban).
Third-party integrations (Dropbox and Google Apps).
Scheduling/project planning.
Clean interface.
Inexpensive to use.
⛔️ CONS:
Resource planning and Gantt views are confusing.
Not great for large projects/teams.
---
Trello is a lightweight workflow management program that is great for small teams and simple projects. It is not a heavy hitter in terms of features, but what it does, it does well. It has a clean interface and is easy to use. It uses the Kanban card system for the management of projects and tasks.

Trello has its own mobile apps and works on iOS, Android, Mac, and Windows. It also integrates with a variety of other programs. It comes in three flavors, Free, Business, and Enterprise and can get costly as you go up in users.
✅ PROS:
Quick and easy setup.
Good for workflow monitoring.
Kanban view.
Good for small teams and projects.
Built-in notifications.
Automation.
⛔️ CONS:
No reporting features.
Third-party integration is fussy.
No time tracking features.
---
Redmine is slightly different than the other options in that it is an open-source piece of software that needs to be installed. Therefore, unless you have an IT person on staff who can install it and maintain it, you will probably want to pass on this one. The benefits of using Redmine are that it is flexible, customizable, and includes time estimates, Gantt charts, dependencies, and how-to documents.

Redmine is geared more towards bug tracking and software issues rather than project management and can be complex to learn and maintain. That being said, it is the best free project management software.
✅ PROS:
Free.
Open source.
Customizable.
Good for software development and bug tracking.
⛔️ CONS:
Needs to be installed.
Sparse support/self-managed.
---
Basecamp is another project management solution that is an odd mix. The interface can be confusing and messy, but it is feature-rich and includes some client-centered features that are refreshing. The free version is usable, but you get much more with the paid options. Plus, the subscription-based plans are not based on the number of users. Managers will appreciate the centralized administrative area to keep track of the company as a whole and all projects and resources.

Basecamp is packed full of powerful features like document management, live chat, document editing, and a forum called "Campfire," for collaboration. The notification system inside Basecamp is fluid and works seamlessly through email. Basecamp sets out to replace its rivals Google Drive, Slack, and Asana and does a pretty good job, although the interface and menu system may not appeal to all users.
✅ PROS:
Campfire area to leave messages/discussion.
Email integration.
Document management capabilities.
Task scheduling.
Easy setup.
Email notifications.
Mobile support.
⛔️ CONS:
Lack of customizations.
No milestones.
Fussy menu system.
No reporting.
Pricey.
---
Wrap Up
There are dozens of project management software options available to you, and undoubtedly, the decision is a personal one based on your needs, the size of your project and how your team likes to work. With the roundup list above, you should be able to zero in on the best project management software with the features and paid plan that works best for you.
Related Articles: