Every company should use network monitoring tools. Overseeing your computer network's performance and usage enables you to identify issues in your systems before they can wreak havoc on your operations. In turn, you can avoid exorbitant maintenance costs and ensure that operations are running smoothly all year round.
Here, you'll discover why network monitoring is important. You will also find out some of the most effective tools for managing your data centers.
Having hundreds of options available, finding the most ideal tool for your business is easier said than done. We've scoured the web for you and narrowed down the list to help you get started.
Below you will find five of the best tools for network monitoring.
A PRTG network monitor lets you monitor your entire IT infrastructure 24/7—websites, servers, local area networks (LANs), cloud services, and more. It notifies you of potential problems before users start taking notice, allowing you to resolve them effectively and efficiently.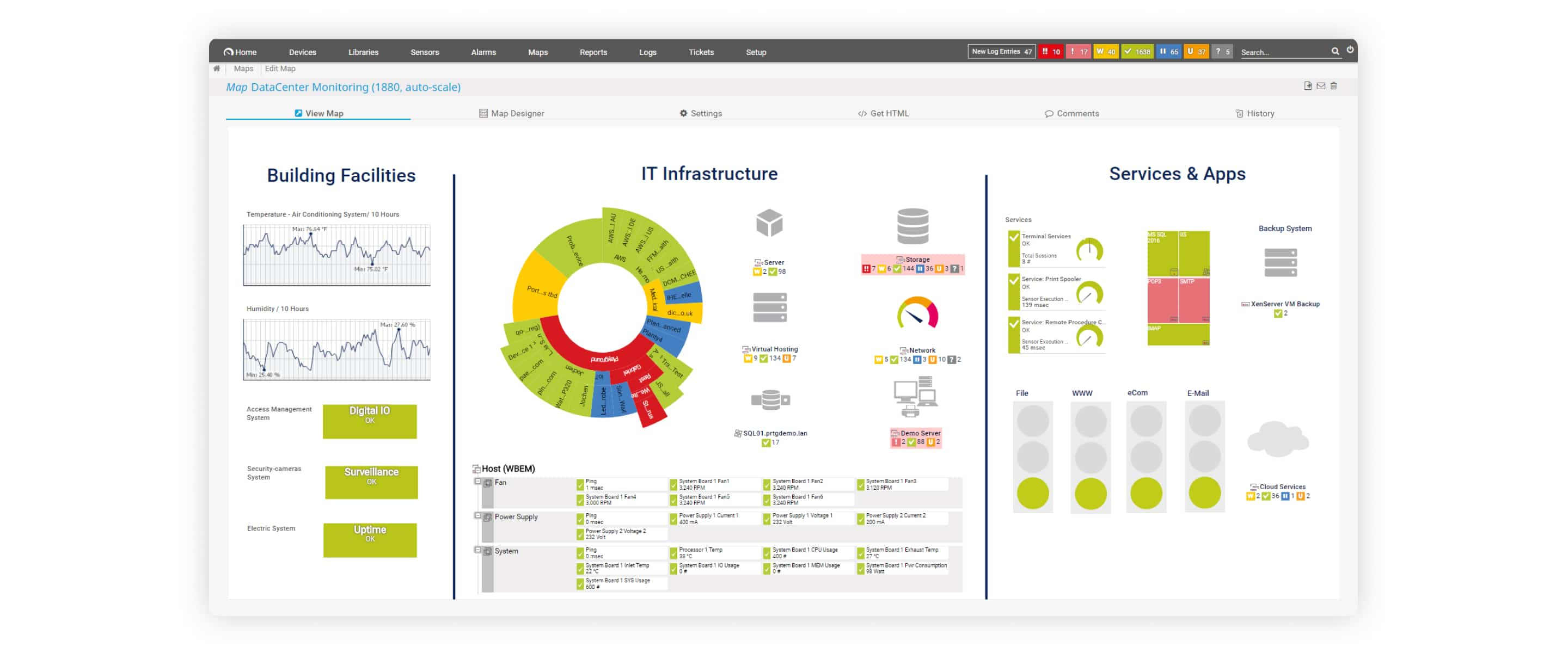 It has a 30-day free network monitoring trial. You'll get the software's full version within that period. After a month, your PRTG network monitor reverts to the free version. You may then opt to upgrade to a paid license if you like the software. This ready-to-use monitoring tool fits businesses of all sizes. It scales as you grow, adapting to your changing needs.
✅ PROS:
FREE 30-day full-version trial
Customizable network maps
Threshold-based alert system
⛔️ CONS:
Windows-only solution
Mobile app needs fine-tuning
Lacks support for geographical mapping
---
Ideal for businesses of all sizes, the SolarWinds Network Performance Monitor is an intuitive, scalable solution. It is perfect for robust networks as well, especially since it supports multi-vendor monitoring. The tool automatically detects devices that are connected to your network. All of the detected devices can even be viewed through the network topology map. From there, you can see how your infrastructure is connected, allowing you to pinpoint issues more efficiently.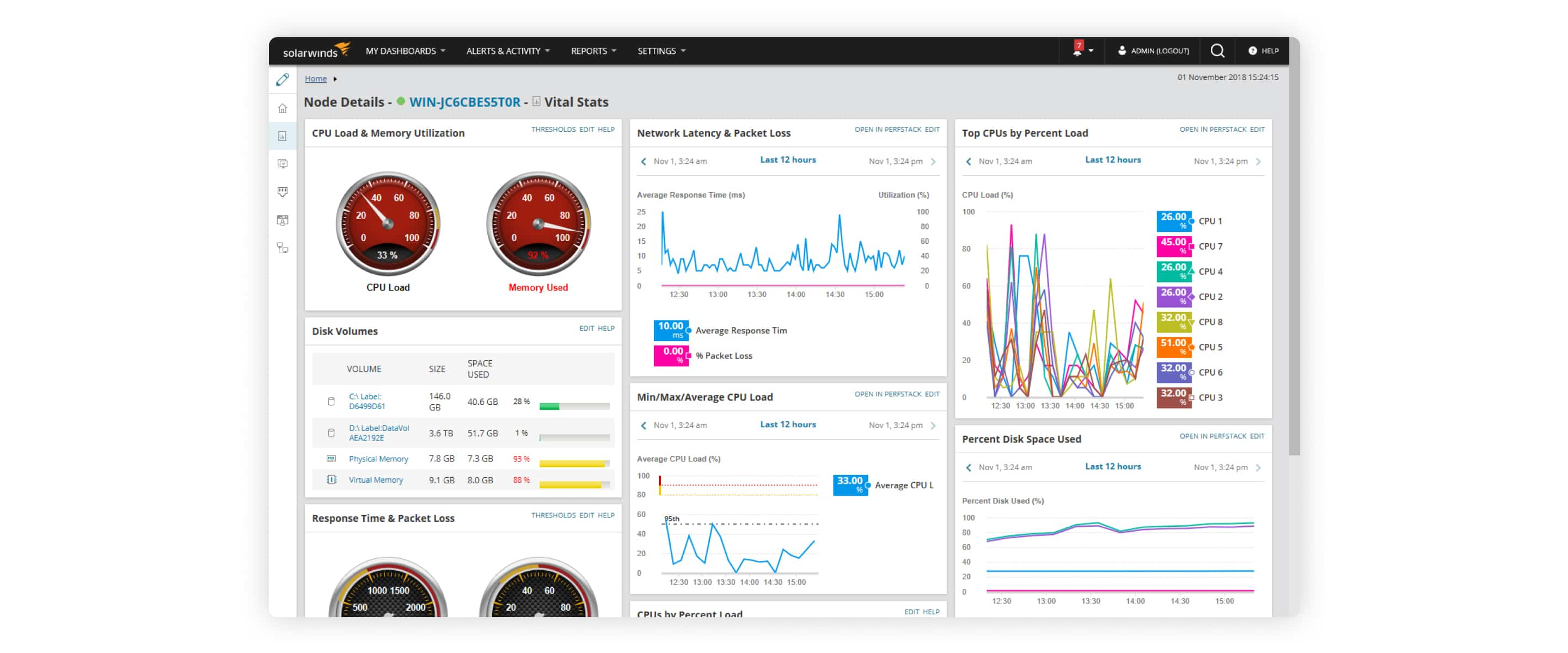 Try the free 30-day trial if you want to test this network performance monitor. SolarWinds can also provide an interactive demo at your request.
✅ PROS:
FREE 30-day trial
Intelligent network maps
Customer alert system
⛔️ CONS:
Custom charts and reports take time
Custom maps can only be done via Atlas tool
Database is restricted to MSSQL
An open-source network monitoring solution, Zabbix can monitor any kind of IT infrastructure—cloud services, apps, servers, and networks, to name a few. It is enterprise-ready, which means it can fit any complex, large-scale IT environment.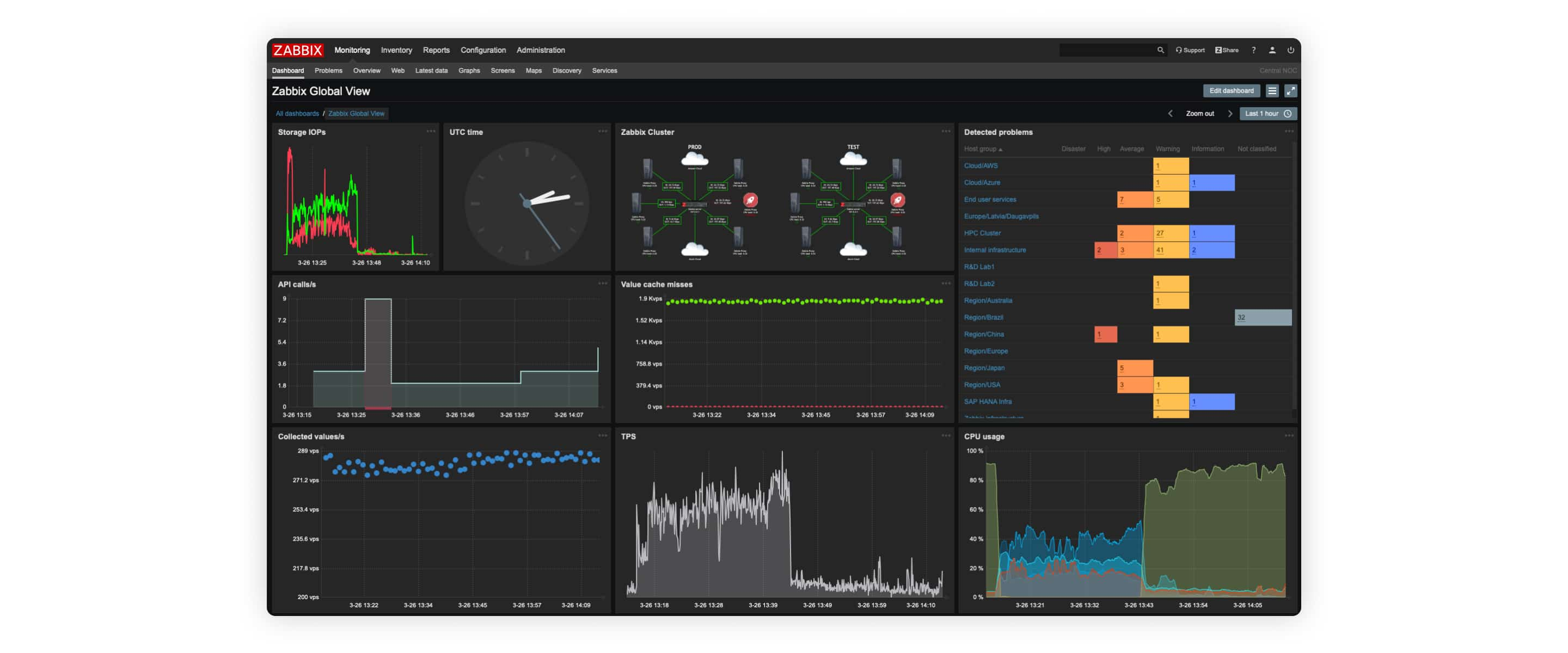 Zabbix is a free network monitoring tool, which you can easily access for free. It offers predesigned templates for various vendors such as Hewlett Packard, Dell, and Cisco, so you can easily configure the tool for convenient monitoring. You can get more of these templates from the thriving Zabbix community.
✅ PROS:
Available for FREE
Advanced problem detection
Smart notification system and remediation
⛔️ CONS:
Customizing Zabbix metrics can be time-consuming
User interface isn't very friendly
Steep learning curve
Another open-source network monitoring solution you should consider is Nagios Core. Designed with flexibility and scalability in mind, this tool offers a wealth of APIs so you can extend its core features and functionality. Performance graphing, distributed monitoring, and auto-discovery are some of the add-ons you can integrate with Nagios Core.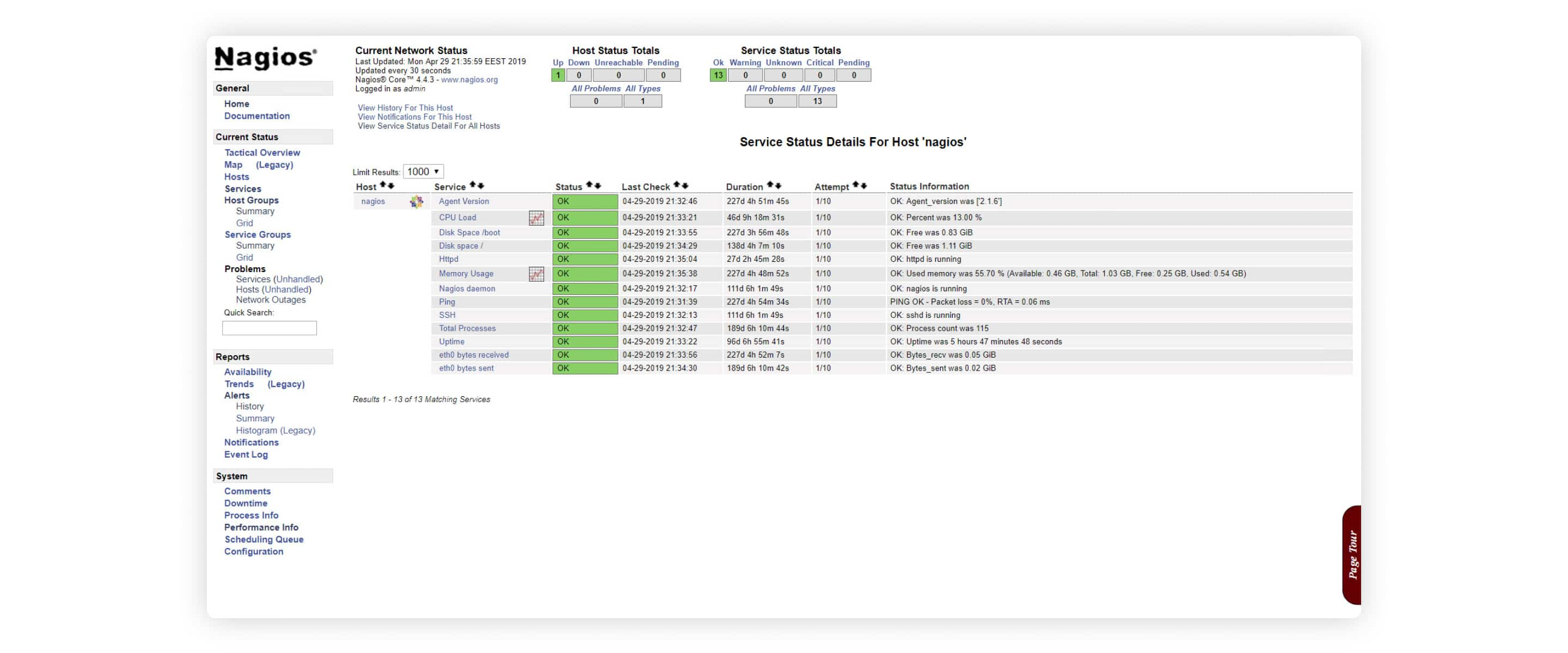 Nagios Core makes it easier for you to track performance events using its alert systems. You can receive emails or text messages. All alerts are color-coded so you know which ones need to be prioritized.
✅ PROS:
SNMP protocol is simple, easy, and transparent
Advanced visualizations
Strong community support
⛔️ CONS:
Configuration isn't user-friendly
Enterprise environments need better support
User interface needs improvement
---
ManageEngine OpManager allows you to be proactive about managing your network performance. You can monitor key metrics such as packet loss, latency, and jitter to resolve any issues before they affect your operations. The intuitive GUI makes it convenient for you to monitor metrics without having to go through different menu options.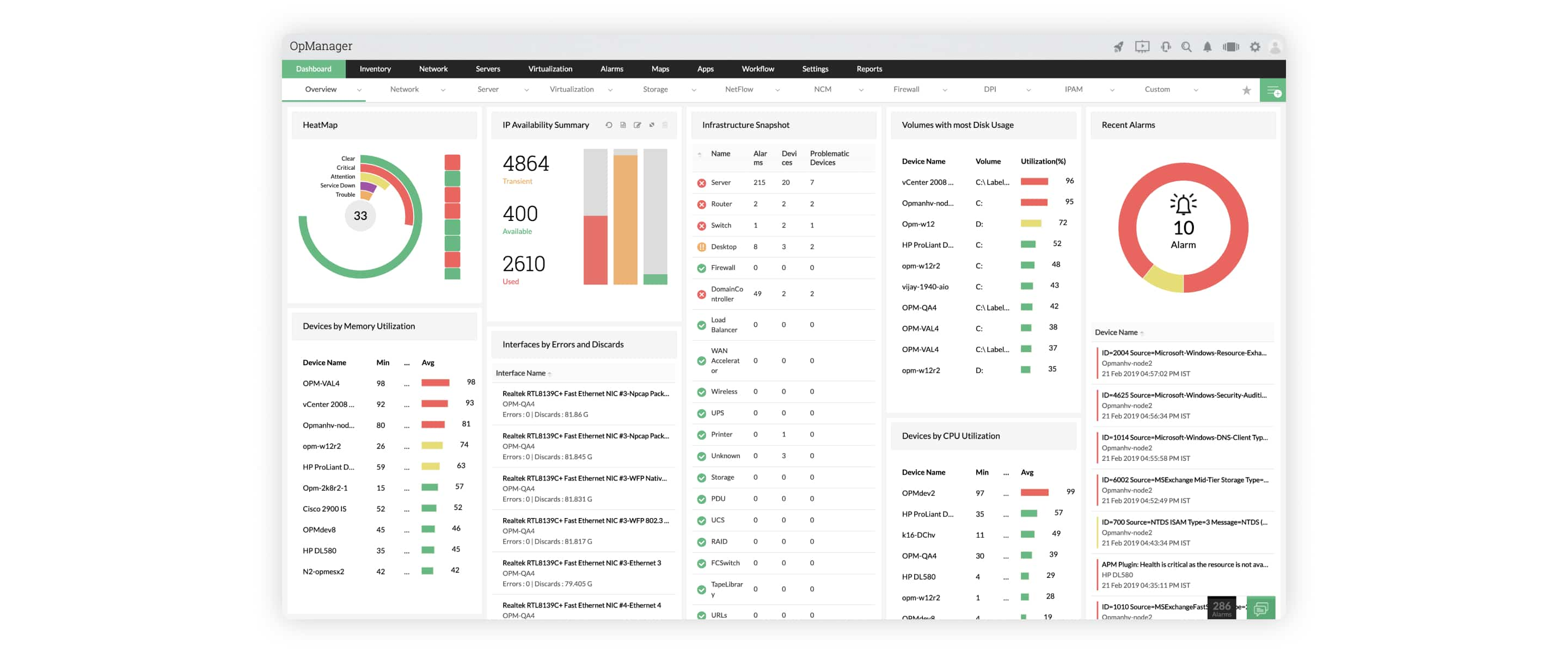 OpManager gives you in-depth visibility and greater control over your network infrastructure. The dashboard is highly customizable. Equipped with over 200 widgets, you can set up the most ideal monitoring system for your organization. It lets you carry our multiple operations simultaneously such as firewall management, bandwidth analysis, and switch port management.
✅ PROS:
Affordable, easy to use
Customizable dashboard
Custom alerts
⛔️ CONS:
Interface might be a little complicated for beginners
Configuring the SNMP requires network knowledge
Legacy products can be difficult to add
---
What Is Network Monitoring?
Network monitoring is a vital IT process in which all network components—firewalls, servers, routers, and switches, to name a few—are monitored using specialized tools. Businesses of all sizes must take a proactive approach to network monitoring. In doing so, you can identify bottlenecks and performance issues at their initial stages.
The critical process is simplified through network monitoring software. Armed with the right tools, you can oversee and analyze your networks in real-time. You can fully understand the performance metrics through data visualizations and reports. Then, you can respond to issues appropriately as soon as you detect them. Proactive network monitoring enables you to avoid downtimes and unnecessary financial losses.
How to Choose the Best Network Monitoring Tool
Every company has varying requirements for network monitoring solutions. Given that the market has a multitude of tools and solutions to offer, you must carefully select the most suitable option for your company.
Here are a few factors that might help you with your decision.
Intuitive and highly automated
A network monitoring tool should allow you to dedicate time to other value-added tasks instead of keeping a permanent eye on your infrastructure.
Look for intuitive, highly automated tools so IT personnel won't actually have to keep constant watch over their network components 24/7. Choose tools with early-recognition functionalities, customizable notification systems, automatic reports, and other features that can help you save valuable time.
If you're looking for a robust solution, you need more than a free network monitoring tool. Paid software comes with a wide range of features and functionalities that help you ensure your system's health. Since these tools don't come cheap, you have to make sure the one you pick is a worthwhile investment.
You can start with tools that provide full-scale versions of the software for a limited number of days. It should be enough time to decide if a tool makes a suitable match for your organization. At the same time, it's the perfect opportunity to test the vendor's support team.
Ideally, you should choose a service provider that can offer great support whenever you need it. This way, you can guarantee that your IT team has the support it needs if complications arise.
Overseeing all your network components doesn't have to be complicated—that is, if you look for a network monitoring service that's simple and user-friendly. It's important to find tools that you can easily customize to fit your company's unique demands. This gives you easier access to much-needed data or insights.
Some solutions, for instance, provide ready-to-use templates for hardware and software system components. You can customize them if you want to.