From sudden heat waves to cold snaps, dressing for the unpredictable weather during this time of year can be quite challenging. Having a weather app to inform you of the latest forecast often makes the difference between a good day and a bad one.
Gone are the days when we used to wait for the local news or paper to deliver the weather forecast. Anytime and anywhere, you can check the latest forecast using a mobile weather app. If you find your built-in weather app too basic, you have a myriad of other options to choose from. Some are available for free, while others cost a few dollars.
To help you find the best weather app for your needs, we've made a list to narrow down your options.
The 5 Best Weather Apps of 2020
Best App for Current Weather Conditions: Weather Underground
Weather Underground is an incredible app for hyper-local weather forecasts, as well as long-range reports. The app can draw accurate local weather data thanks to its network of over 270,000 weather stations.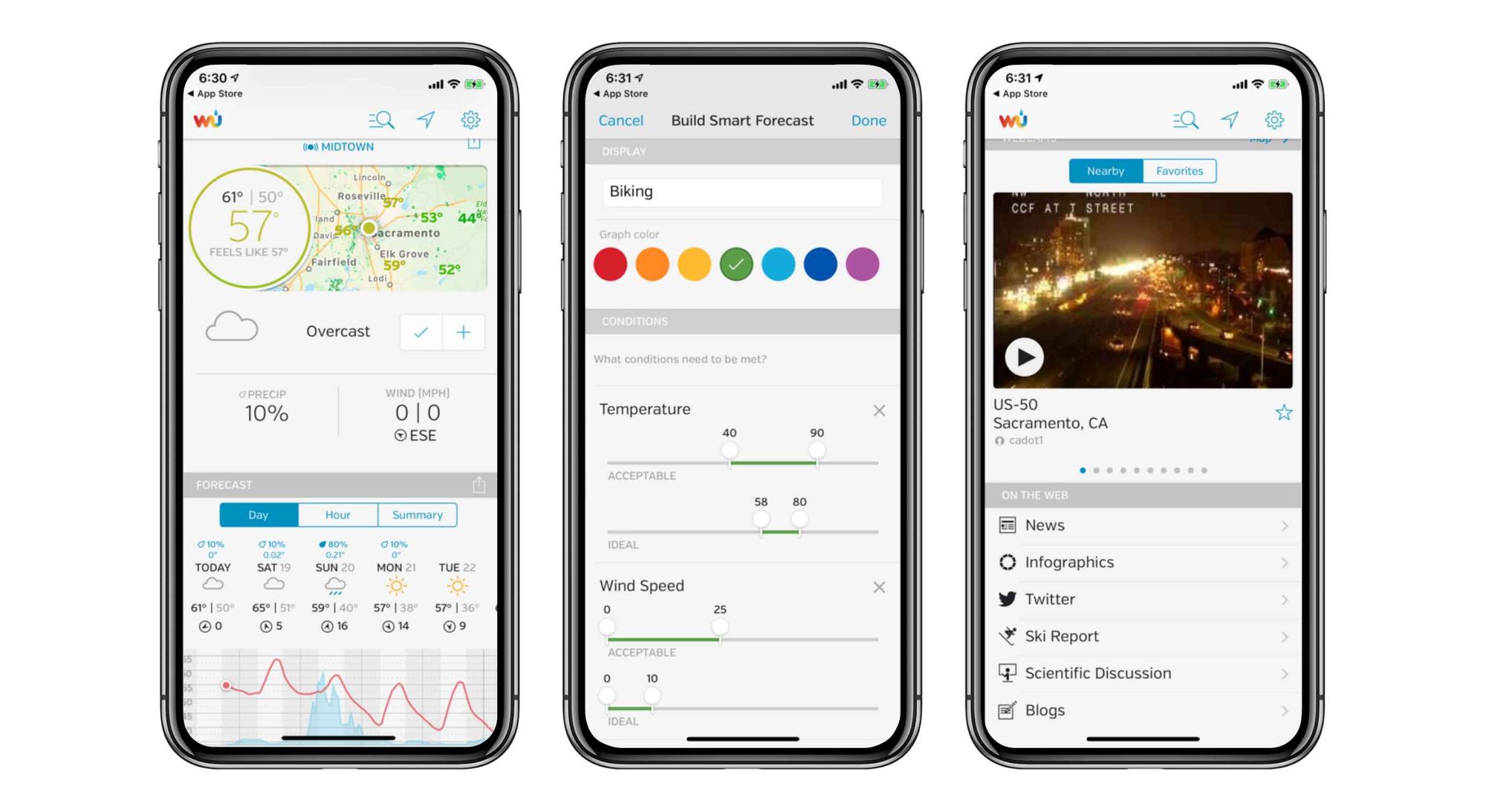 Also known as Wunderground, the app can deliver data on severe weather conditions. Since it can send weather alerts, it makes an excellent choice for locations prone to extreme weather conditions. The app even has interactive radar maps and satellite tracking for hurricanes, storms, and wildfires. It's available for free, but it comes with ads. If you're looking for an ad-free experience, you can pay an annual fee of $1.99.
✅ PROS:
Compatible with iOS and Android
Delivers hyper-local forecasts with maximum accuracy
Educates you about weather and health hazards (pollen data, UV risk, etc.)
⛔️ CONS:
Interface isn't user-friendly
Has a lot of ads
---
Best Weather App for Android: Accuweather
Another weather app that delivers hyper-local and accurate data is Accuweather. An invaluable addition to your mobile, it is the best Android weather app. Its best feature is called MinuteCast. It can deliver to-the-minute forecasting data, informing you when it's going to rain and when it's going to stop. This makes it ideal for places that experience sudden downpours.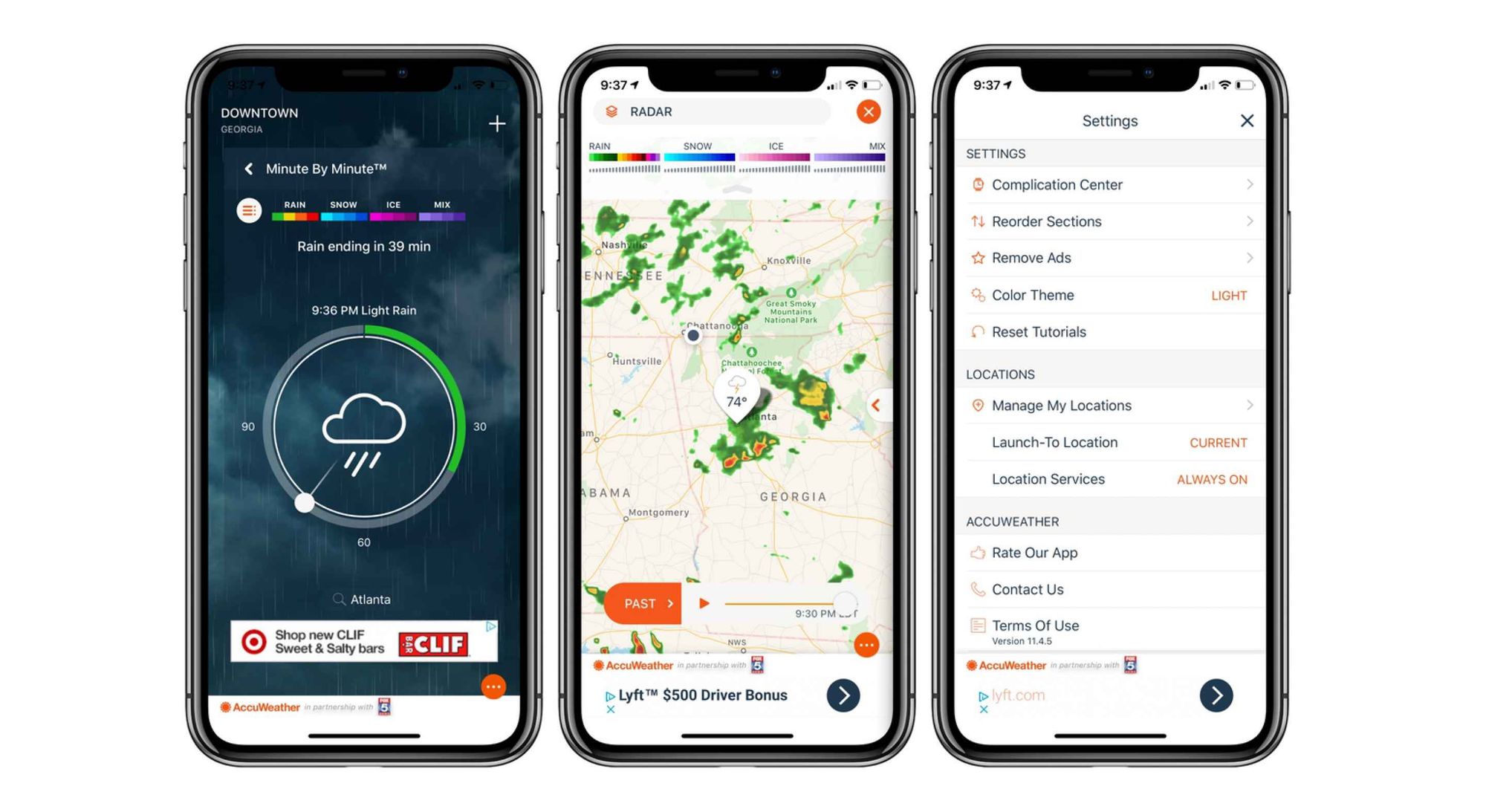 Accuweather is available for free. Certainly, the app covers all the basics, but it also has additional features such as radar and Android Wear support that make it even more worthwhile.
✅ PROS:
Compatible with iOS
Available for free
Has Android Wear integration
⛔️ CONS:
Consumes a lot of battery life
---
The Weather Channel is the best free weather app for Android and iOS. For decades, the network has been the go-to source of weather data. Now, they've got an app which can provide you with the latest weather forecasts all for free. The app provides you with a 15-day forecast, which is updated every hour. Not only that, it provides data of oncoming storms, safety alerts, health risks, and even allergy advisories.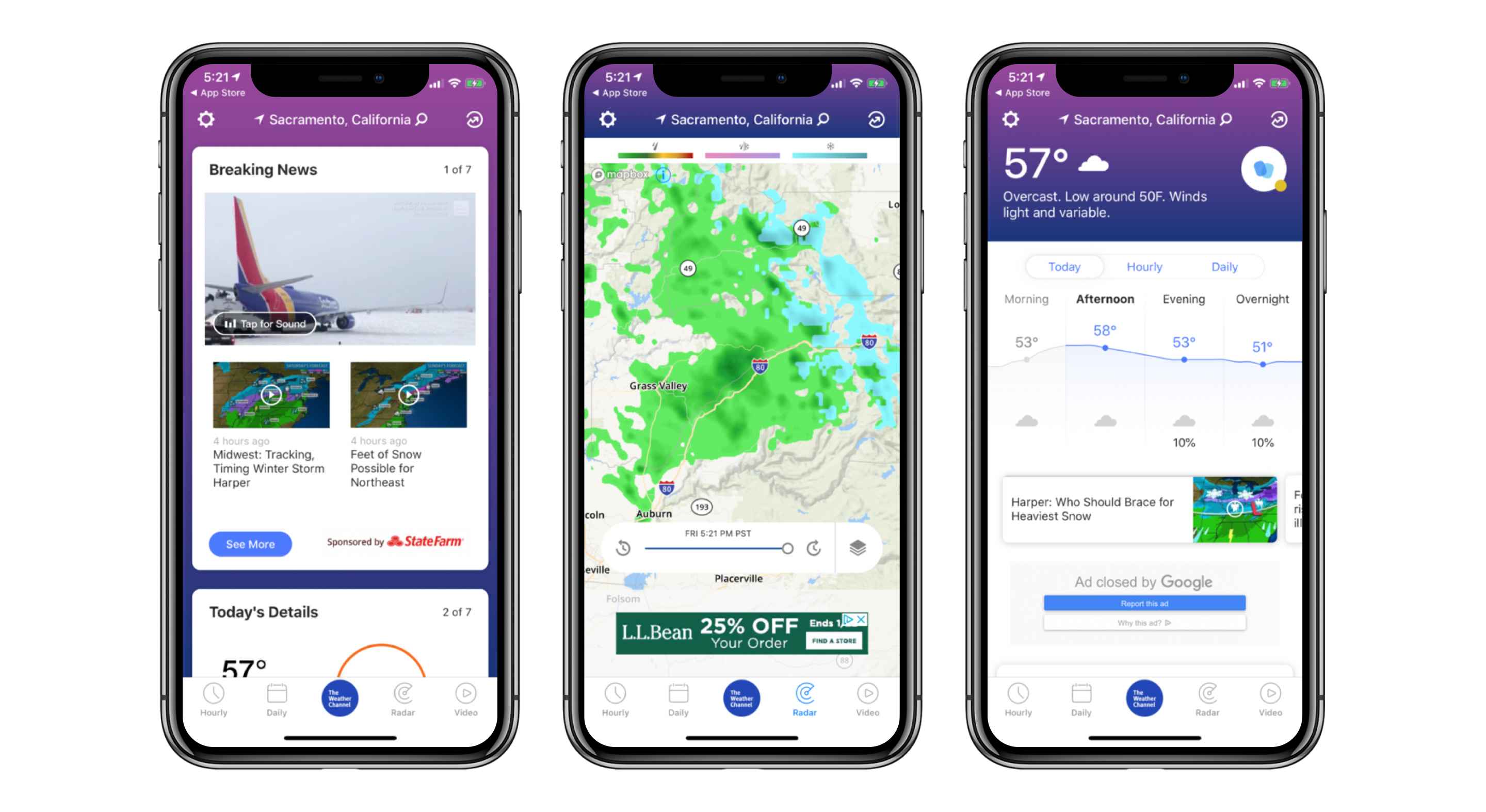 Downloading the app won't cost a dime. However, like other apps, its free version comes with ads. If you want to get rid of ads, you can opt to pay an annual fee of $3.99.
✅ PROS:
Compatible with iOS and Android
Has in-depth weather forecast data
Provides weather safety and health alerts
⛔️ CONS:
---
Best Weather App for iPhone: Dark Sky
An excellent weather app to download on your iPhone would be Dark Sky, primarily because of its stunning, easy-to-understand interface. It shows you accurate, minute-by-minute forecasts from their own weather service through excellent visuals.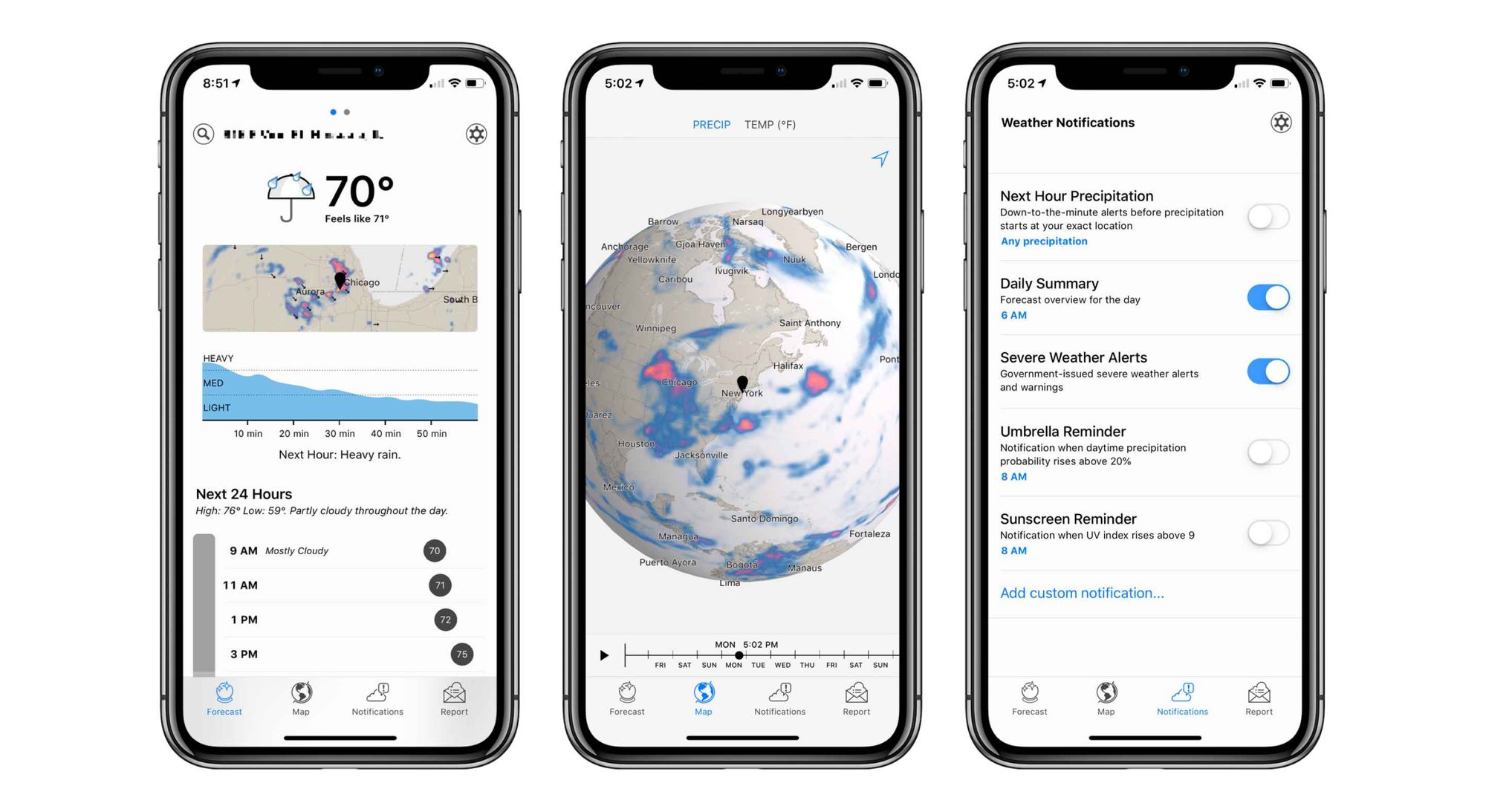 Dark Sky can tell you when it's going to rain, how bad it's going to get, and when the sun's going to come out. Unfortunately, the app isn't available for free. It costs $3.99 on the App Store, which might be a bit pricey for some. On the bright side, it is a one-time fee. You don't have to pay more money to enjoy all of its benefits. If you have an Apple Watch, you can integrate the latest Dark Sky version with your wearable device for added convenience.
✅ PROS:
Compatible with Android
Simple yet stunning interface
Integrates with Apple Watch
⛔️ CONS:
Interface isn't customizable
Lacks in-depth forecast data
Isn't FREE
---
Best Weather Radar App: RadarScope
RadarScope is easily one of the best weather apps with radar. It's the go-to app for storm chasers, professionals and amateurs alike. That's because it delivers comprehensive information on upcoming storms and various other weather patterns. Having access to the National Weather Service data, NEXRAD data and 233 radar points, RadarScope will be the first to let you know when a dark cloud is forming overhead.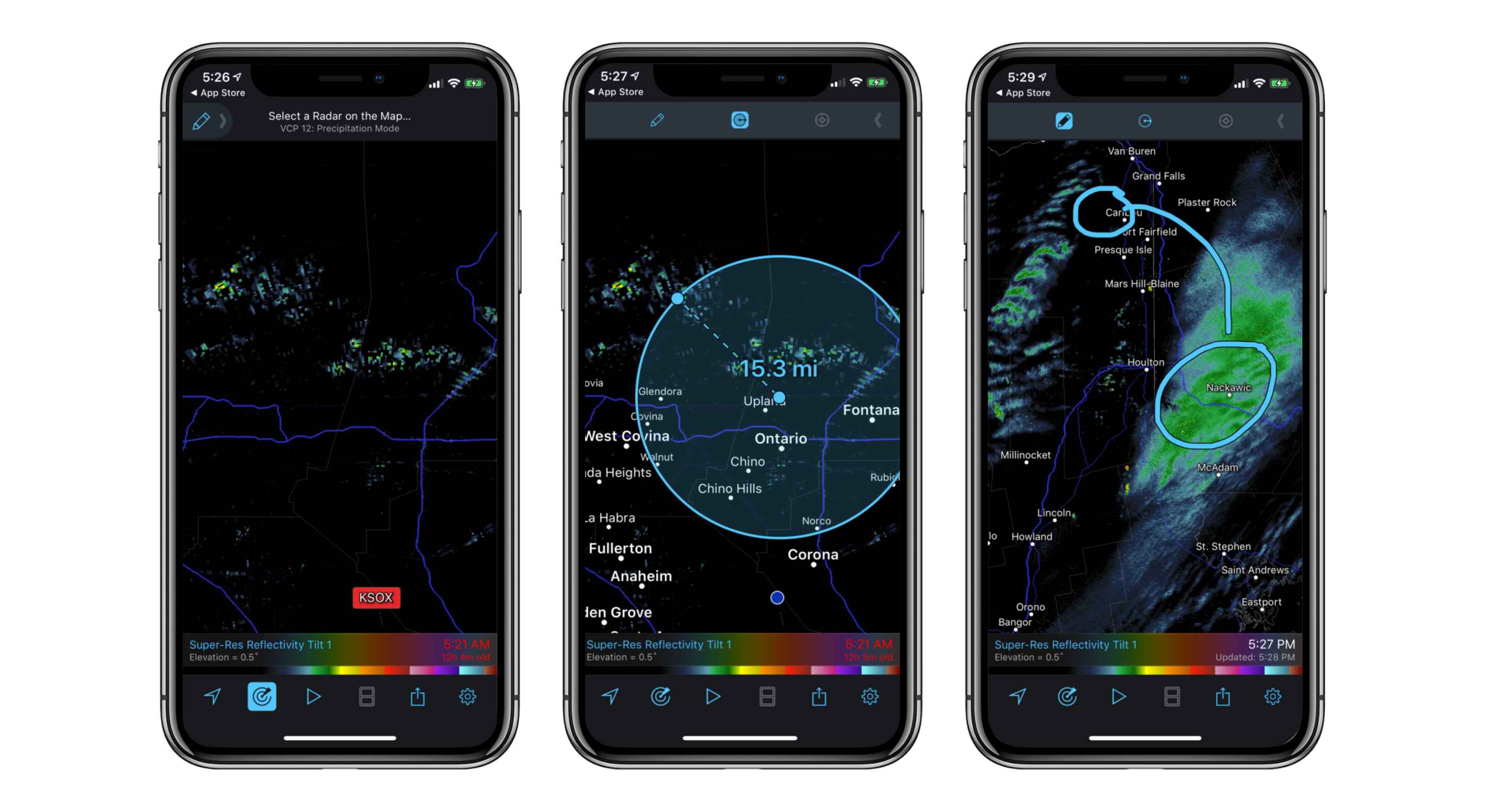 The app is available on nearly every digital platform, including Apple TV. Its price varies on each platform, but it ranges from $9.99 to $29.99.
✅ PROS:
Compatible with iOS, Android, Microsoft, and Mac
In-depth weather forecast data
Customizable weather data
⛔️ CONS:
---
How to Choose the Best Weather App
What is the best weather app for you? It's mostly a matter of personal preference. Ultimately, your decision should depend on what you want from your app. Here are a few factors that you need to consider before downloading a weather app.
Accuracy of weather data. The trustworthiness of a weather app depends greatly on the source of its data. Some of these apps merely relay forecasts from government agencies like the National Oceanic Atmospheric Administration (NOAA). Others are sophisticated enough to deliver their own predictions about the weather.
Thus, it's always wise to look into the accuracy of various apps. You can, for instance, compare their weather forecasts against each other.
Current conditions. If you want an app to show you the current weather conditions instead of future forecasts, you're in luck because most apps can provide that data for the closest major airport. The caveat is that it's only ideal if you live close to the city.
If you live miles away from it, the app's forecast on your location can be way off sometimes. In such cases, you ought to look for an app with a good network of personal weather stations. This way, you have a better chance of finding out the weather from your current location instead of an airport miles away.
Radar. Let's say you need an app that can tell you if you need to bring an umbrella today. Then, you should look for an app that provides updated radar data. Most radar apps are available for free. Not only that, nearly all radar data within the country come from the same source—the National Weather Service.
There are other options out there that provide nitty-gritty details. Such an app can do more than inform you about appropriate clothing choices. These apps can, for instance, educate you on different hazards of extreme weather conditions. However, you might have to invest a few dollars to download them.
Whether you're an Android or an iPhone user, when you're searching for the right weather app for your needs, you shouldn't merely look into the top-performing apps on the market. Make sure to do your research on all your options. Using the criteria we provided, find an app that best meets your needs. Best of luck!