In this digital age, having your own website, whether for personal or business use, is more and more becoming a viable way to establish and maintain an online presence. Fortunately, with the myriad of online tools available today, it has become easier to create your own website using website builders, even if you don't have a background in coding or web development and design.
Here, we've put together a guide on how to create a website and a review of the best free website builders out there.
Let's take a look at the eleven best website builders that you can use.
Top 11 Best Website Builders in 2020
Having an idea of your website's purpose will help you determine what features you would like to have, and this, in turn, will guide you in choosing the website builder to use.
Here, we've listed our top picks for website builders and why we love them.
As the most popular online site generator with over 100 million users, Wix manages to stay ahead of its competitors by continuously innovating and introducing useful features and apps that you can add on your site. These add-ons include online bookings and forms, job boards, table masters, social media buttons, interactive maps, and hundreds more.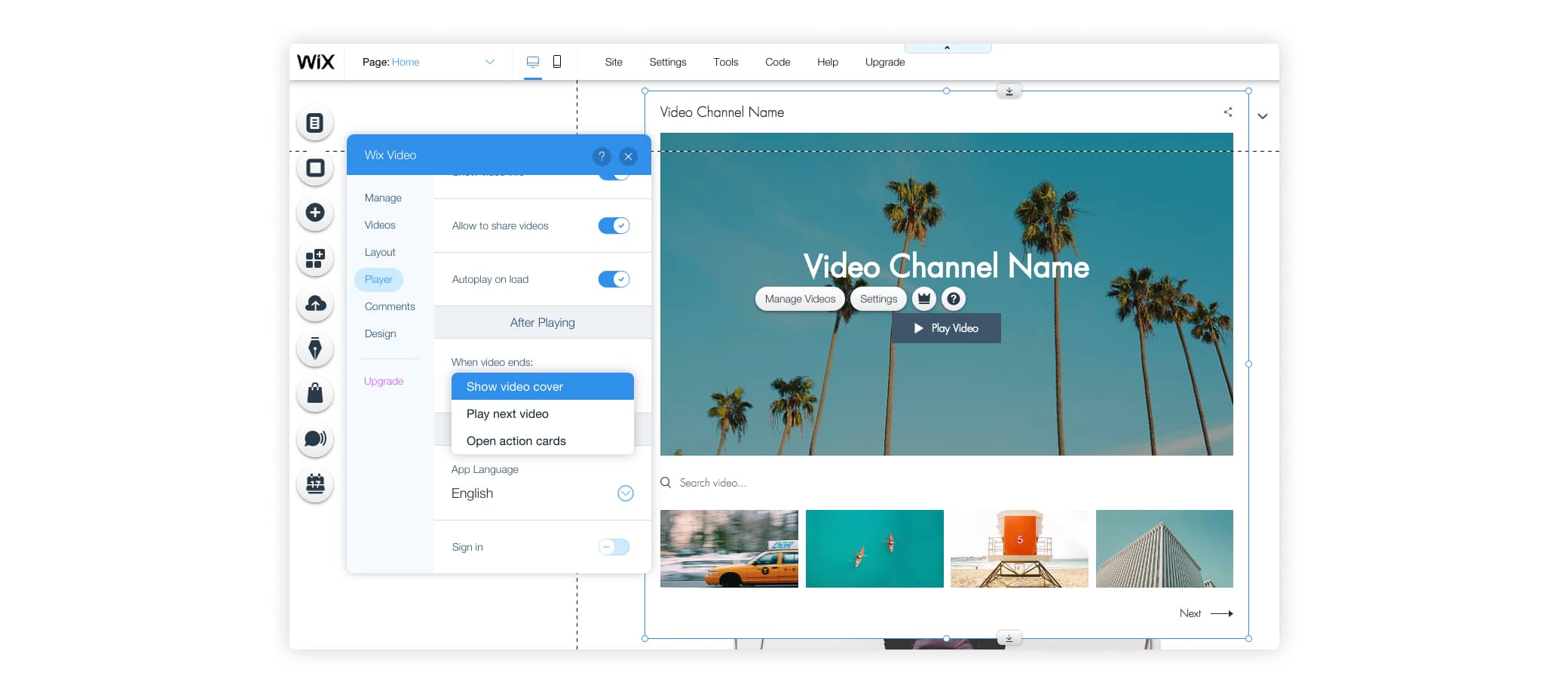 Wix also features artificial design intelligence (ADI) that makes it possible to create a website in just five minutes. This site builder also boasts over 500 design templates to choose from, giving you more options to design your site to best reflect your brand.
✅ PROS:
Very flexible to a wide range of industries
Wide range of available features
Customizable site elements
⛔️ CONS:
Not recommended for very intricate structures
Doesn't allow switching templates
---
With experience in the site-building industry spanning almost two decades, Squarespace boasts premier-grade web infrastructure that allows for sophisticated blogging features such as post scheduling, podcast creation and management, and multi-author functionality.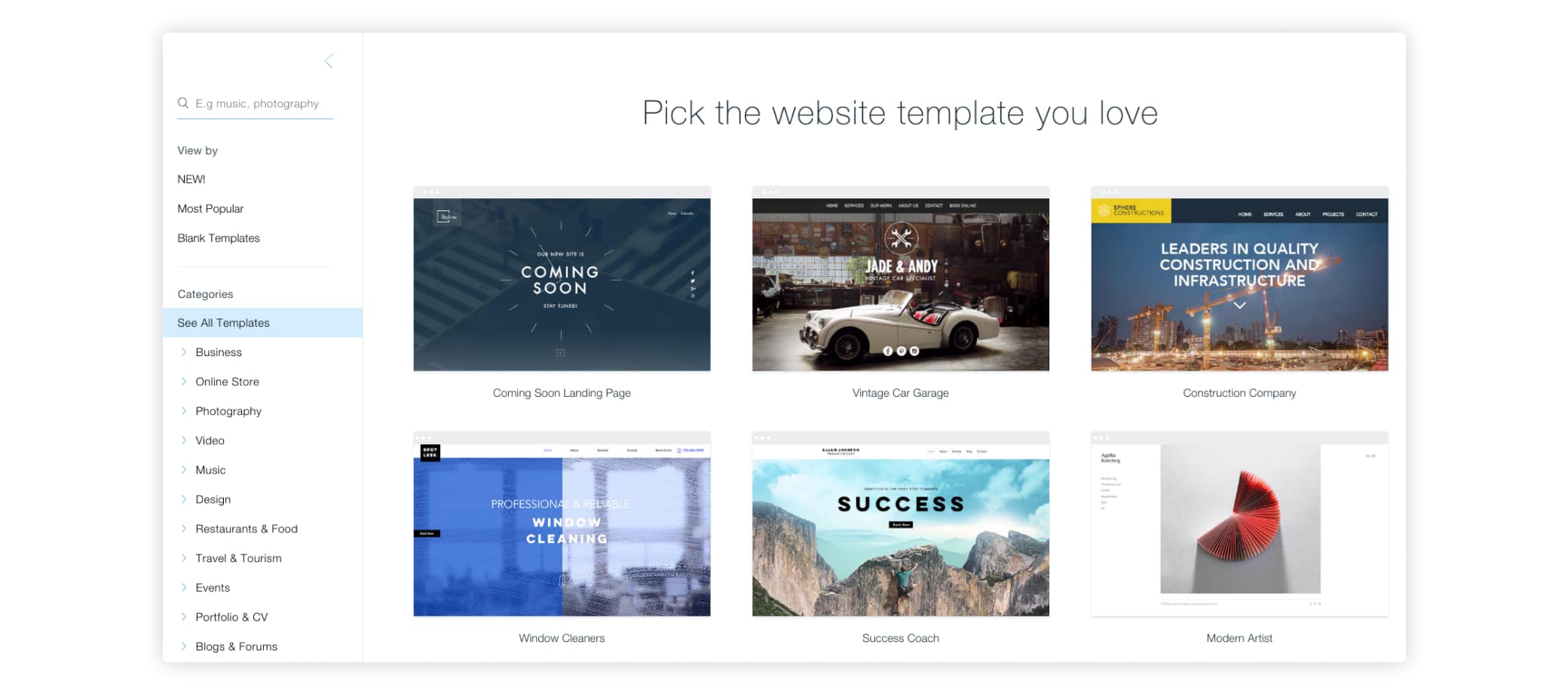 It also features search engine optimization and analytics, all the while maintaining a polished professional look. Squarespace provides another level of convenience with its mobile editing app, which lets you edit your site on the go.
✅ PROS:
Superior blogging features
Switch templates without content loss
Tons of mobile-compatible themes
⛔️ CONS:
Limited third-party apps integration
Requires constant saves
---
Weebly sets itself apart from the other site builders with its extremely easy-to-use website editor. It is also capable of supporting large websites with over a hundred pages, thanks to its efficient content managing system.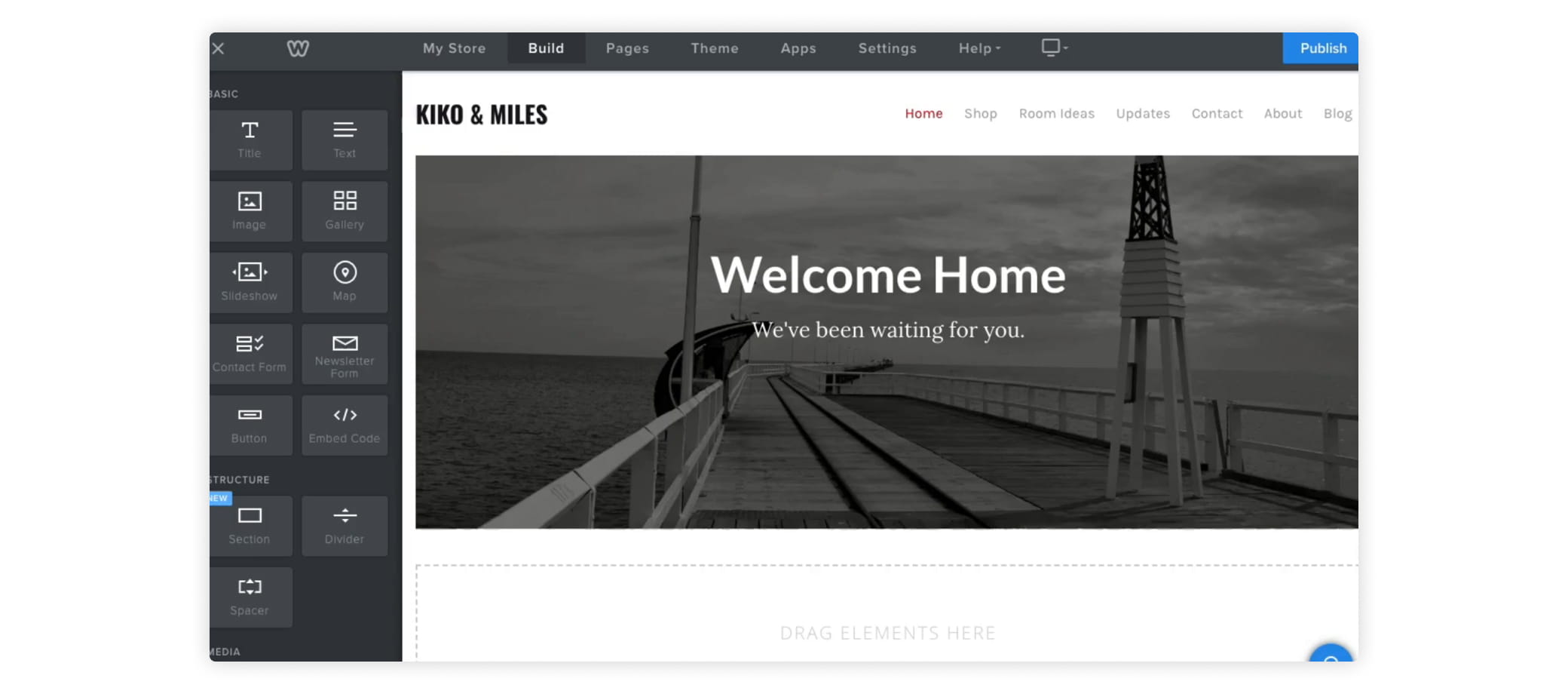 Weebly also features an integrated e-commerce platform for those seeking to expand their business online.
✅ PROS:
Beginner-friendly
Perfect for setting up an online store
Added functionality with practical apps
⛔️ CONS:
Not ideal for multilingual websites
Limited design flexibility
---
Like the other site builders on this list, Duda offers great templates and SEO tools. But what gives it an edge over its competitors is its feature that enables you to create multilingual websites using the builder.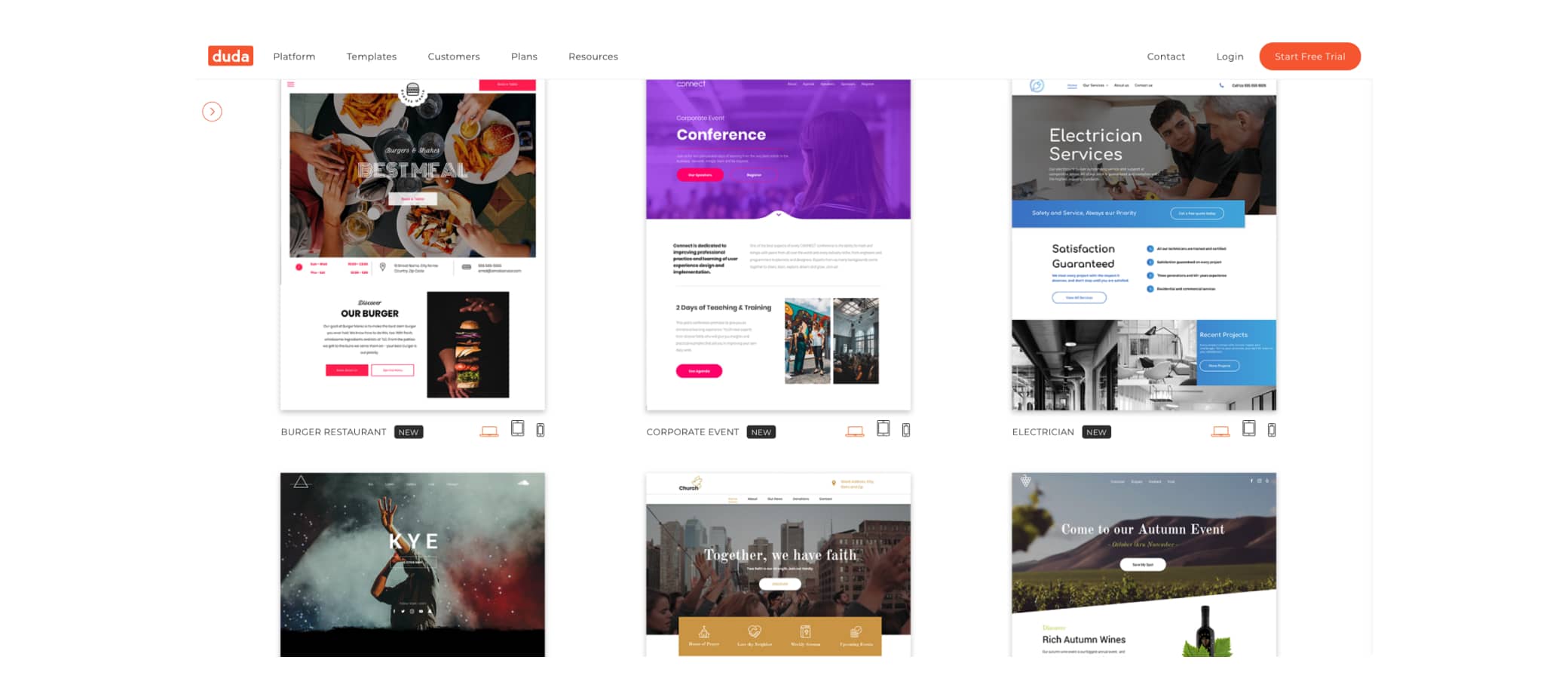 It also offers website personalization tools that let you customize content for your site's visitors depending on certain factors like geolocation, time of day, and device type. Speaking of customization, you can also customize your 404 page to make every visit dynamic.
✅ PROS:
Personalized content for visitors
Detailed analytics
Allows content import
⛔️ CONS:
Doesn't allow porting the site to another host
---
HostGator is a simple yet powerful website builder. It has a drag-and-drop tool that lets you build your website from scratch in no time. As it has a simple, user-friendly interface, non-tech savvy users with no design experience won't have much issue. While it is a popular hosting choice, it isn't a very popular content management system. For example, it has basic features for blogging, but it can't schedule posts. It can also only post comments from Facebook.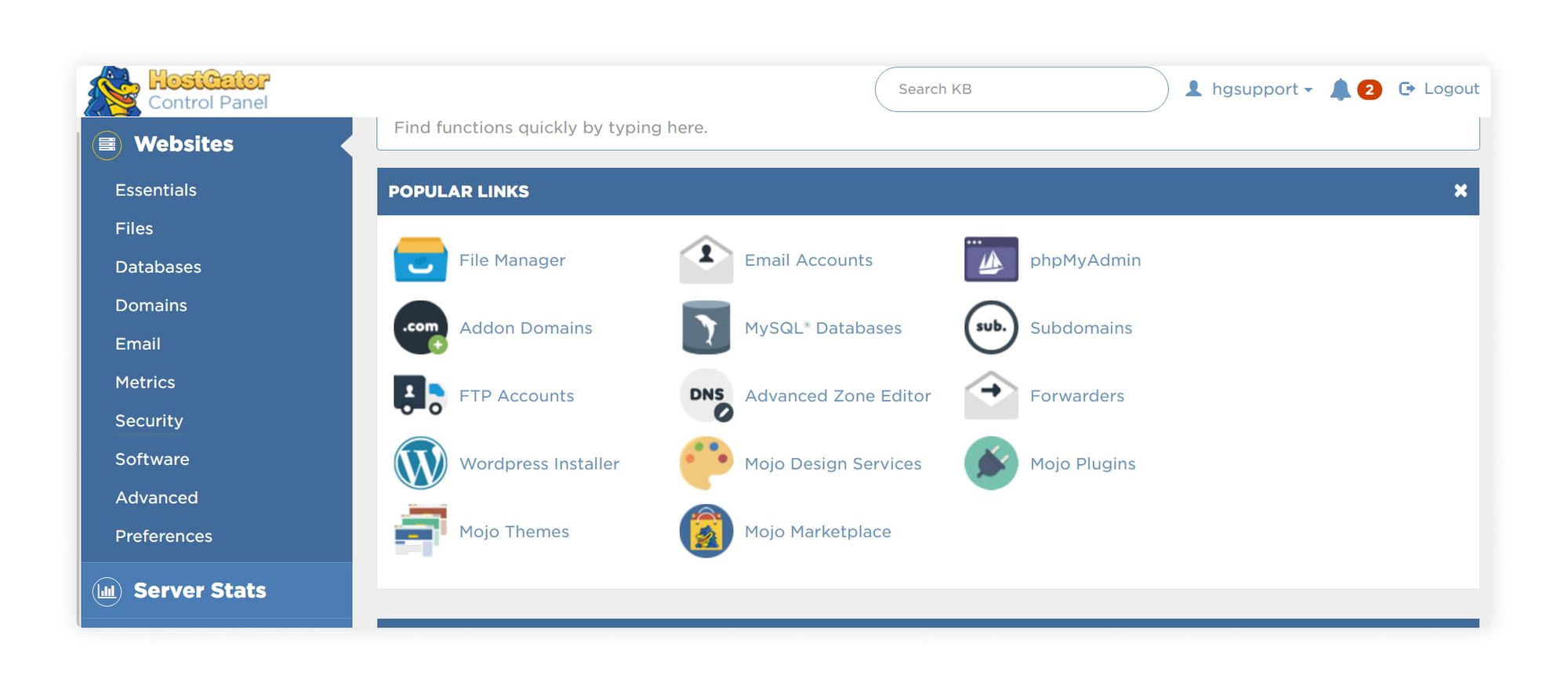 It has three price plans, starting at $2.75 per month. All of the plans feature 24/7 support, free migration, one-click installs, unlimited MySQL databases, and more. However, to get priority support, you will need to purchase the advanced plans.
✅ PROS:
Drag-and-drop interface
Mobile-friendly builder
24/7 support
⛔️ CONS:
Limited social media integrations
Basic blog features
No free version
---
6. Shopify
Shopify is arguably the best website builder for e-commerce, with a clear, intuitive, and easy to use platform. From its interface, you can organize your products, customize your online shop's look, receive payments, monitor orders, and respond to shoppers. You can also choose from 100+ professional store templates.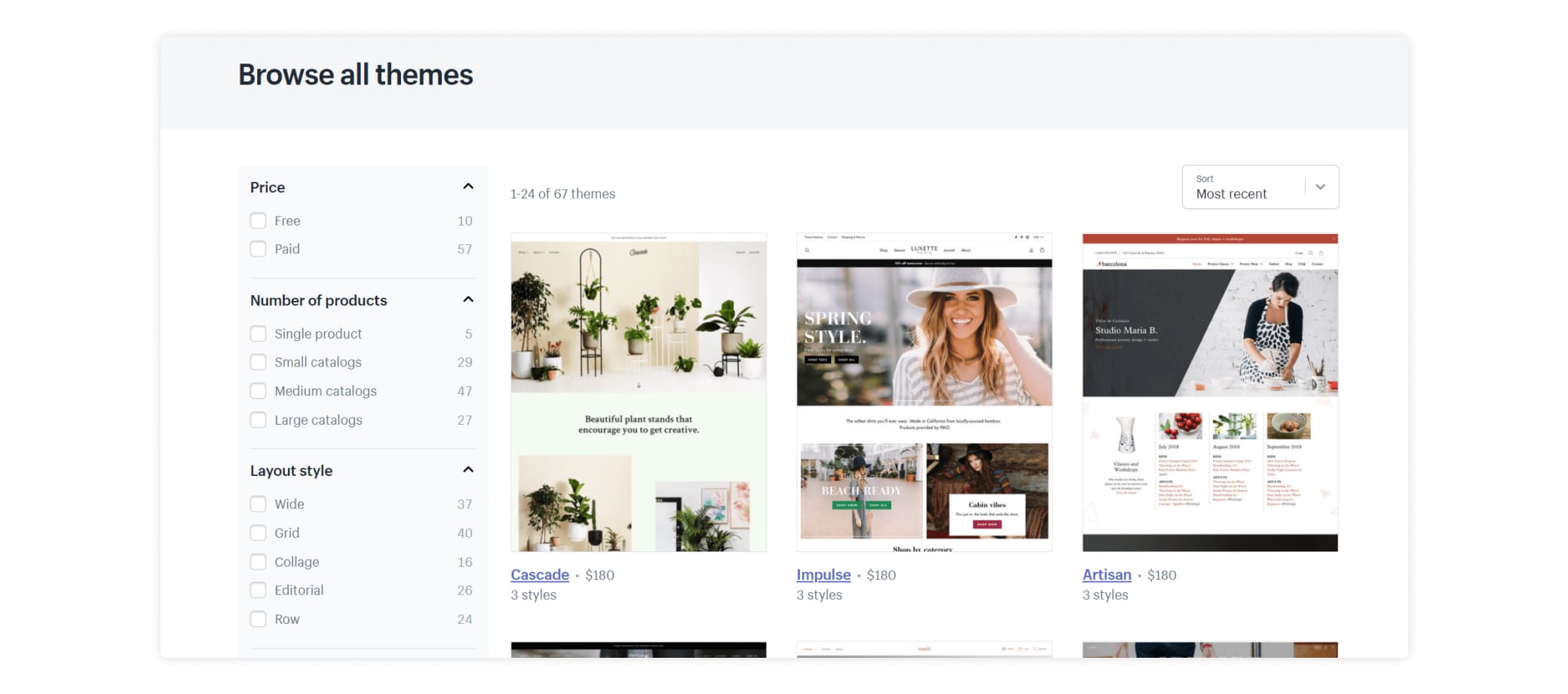 It provides all the tools you need to launch your store online or offline. For instance, it integrates with social media tools as well as marketplaces like Amazon. It even offers multiple payment capabilities, including credit card. It has three pricing plans designed for startups, growing businesses, and large enterprises: Basic, Shopify, and Advanced.
✅ PROS:
Integrates with 3200+ apps
24/7 support
90-day free trial
⛔️ CONS:
Transaction fees
URL structure isn't great for SEO
Lacks email hosting
---
7. GoDaddy
GoDaddy might have started as a domain registrar, but now it offers an extensive range of services from web hosting to building. It uses artificial design intelligence (ADI) to help you build websites faster and better than ever before. It is excellent for small-scale businesses that have a few products to sell.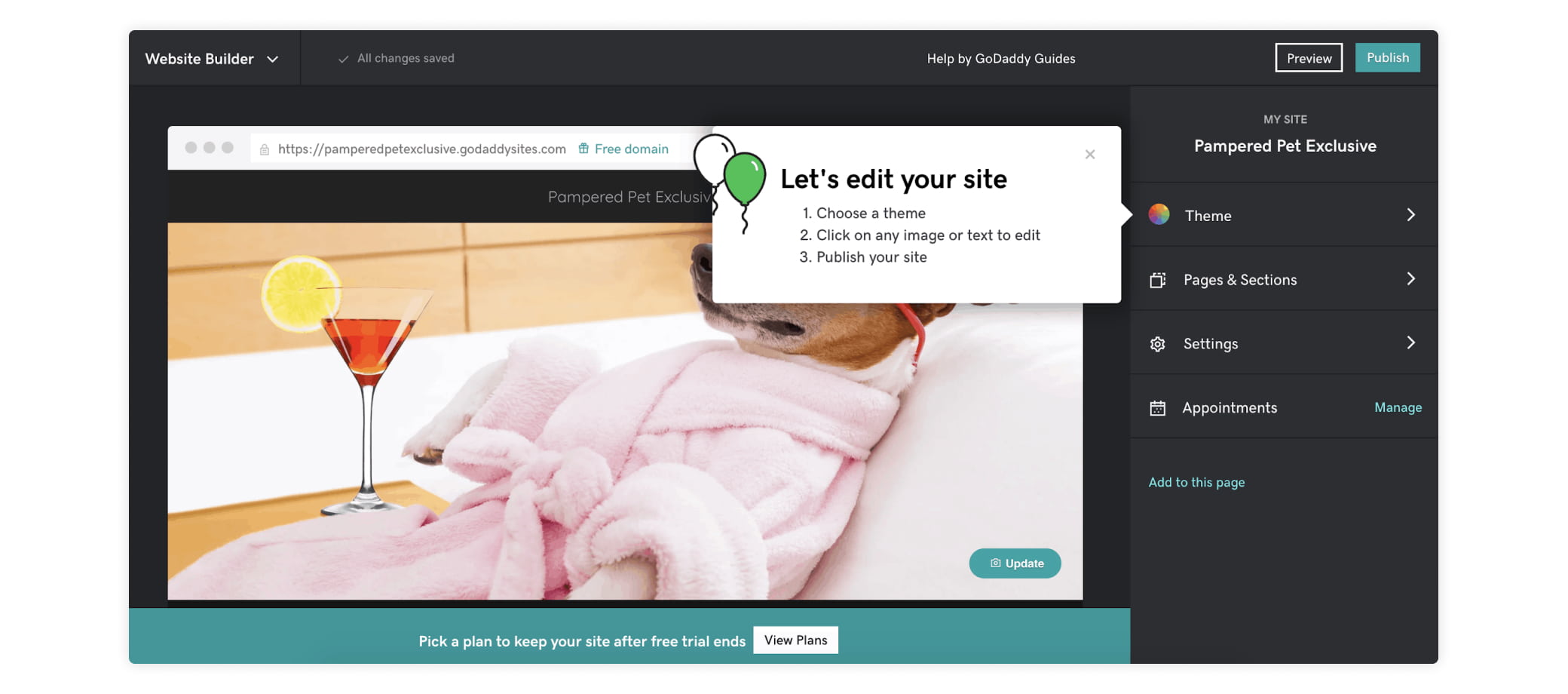 While it is simple, easy-to-use, reliable, and affordable, its website builder has limited customization options. On the bright side, it has become so much better at incorporating modern designs, SEO, and more. It has good security features as well, including SSL certificates, malware scanning, backups, and 24/7 security monitoring. GoDaddy offers a variety of hosting plans, ranging from basic budget-friendly packages to expensive high-powered tools for enterprises.
✅ PROS:
Unlimited disk space
Large domain name registrar
24/7 phone support
⛔️ CONS:
Few customization options
High restoration fees
Limited live chat support
---
8. Jimdo
Like Wix, Jimdo also has an interactive ADI named Dolphin to help you create your own website in a few minutes. You can also opt to use the Creator mode to have more flexibility when it comes to design changes and customization features.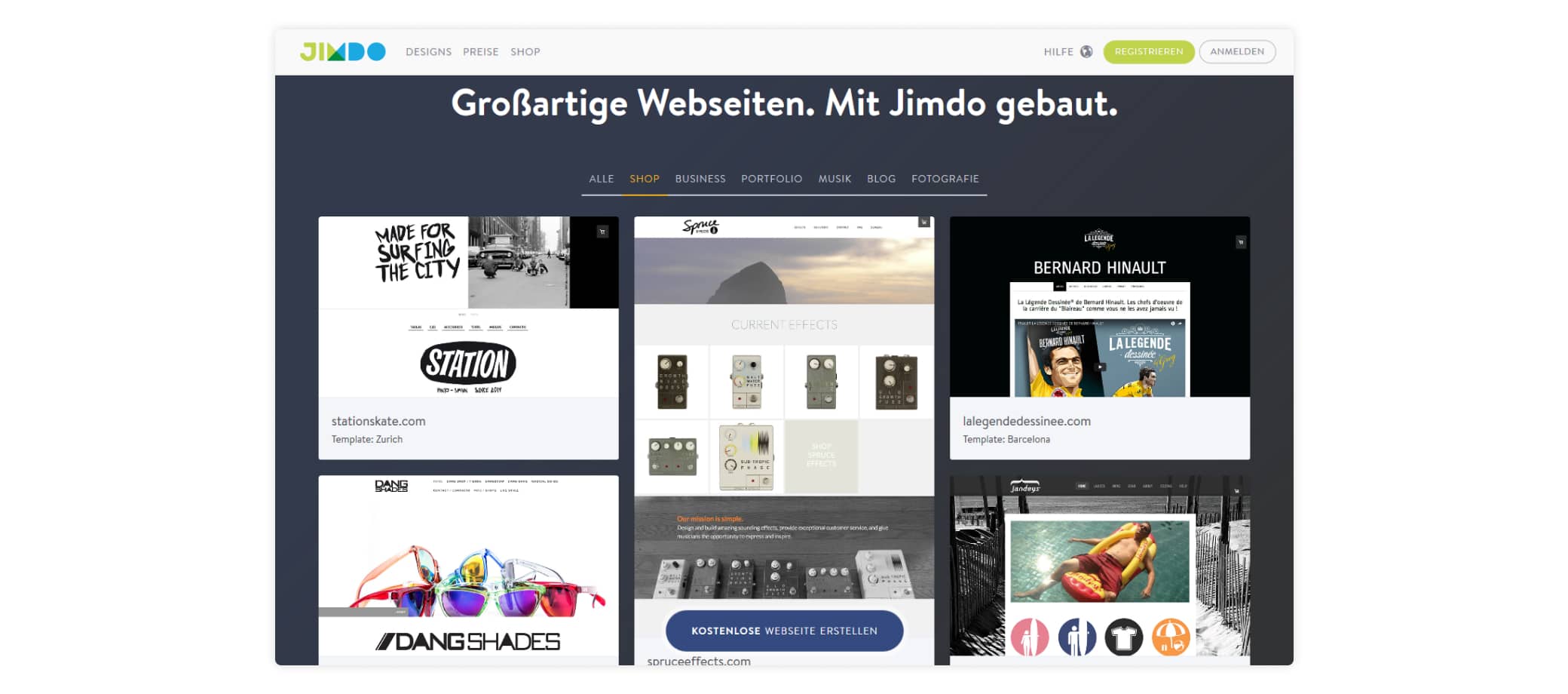 Since Jimdo prides itself on its convenience, it also allows for website creation using mobile apps.
✅ PROS:
Intuitive interface
Meets security standards
Excellent SEO capabilities
⛔️ CONS:
Doesn't allow for direct image cropping or editing
Limited templates
---
Webflow is one of the top website builders on the market as it offers the customizability of front-end coding, minus the need to actually code. Its user interface might seem intimidating for first-time users, but with frequent use, you'll know how to leverage every tool to build your high-quality website.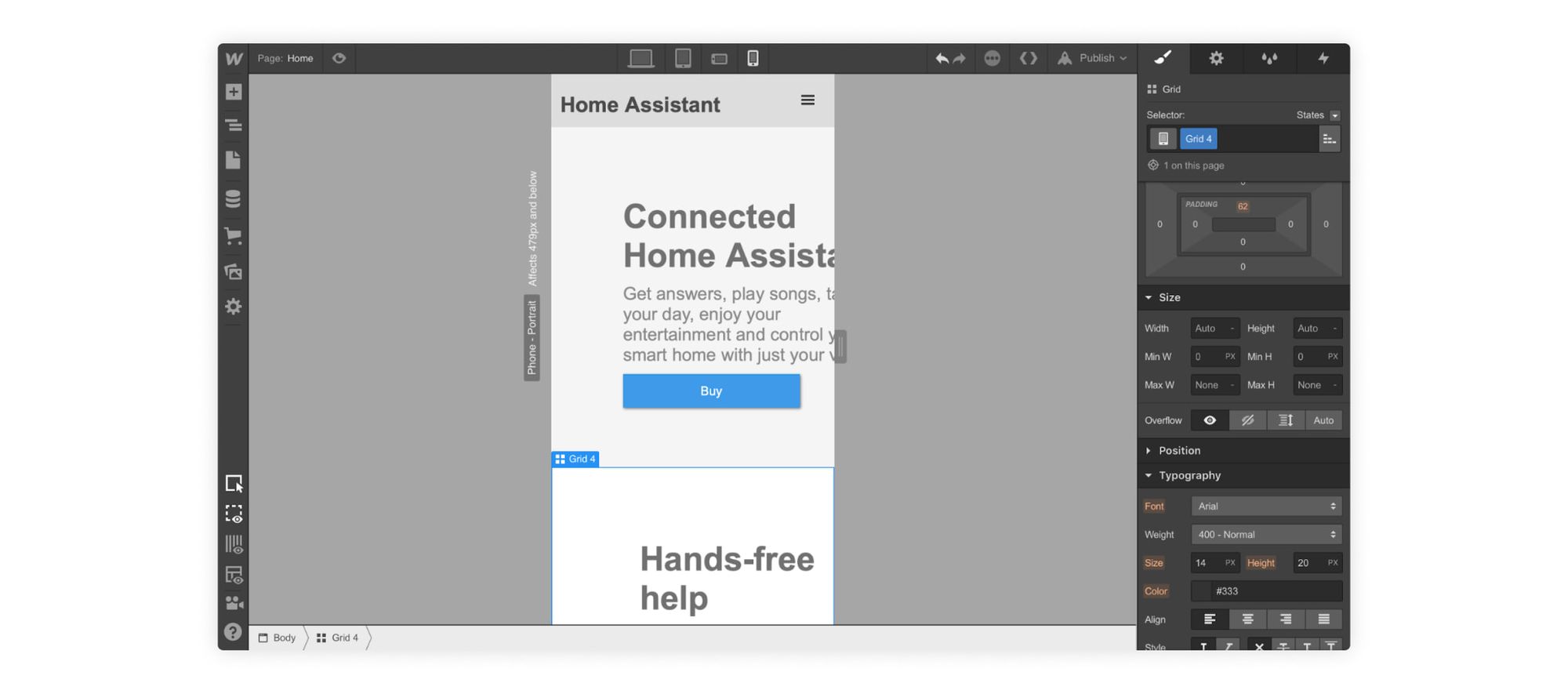 It has built-in tools such as metadata controls, canonical tags, and 301 redirects that will optimize your website for search engines. Its hosting network is powered by Amazon Web Services, the platform behind Netflix, Pinterest, and Slack. As it requires zero maintenance, you won't have to install updates or packages yourself. Webflow comes with a free version, and best of all, you can use it to your heart's content as it won't expire in a few days. When you're ready for more advanced features, you can get the paid plans, starting with a basic $12 per month package.
✅ PROS:
Has a free version
Wide variety of templates
No coding knowledge required
⛔️ CONS:
No live chat support
No phone support
Expensive paid plans
---
WordPress is easily the best free website builder on the market. As it is open-source software, you can build any kind of website you want from company websites and e-commerce stores to blogs. Due to its origins in blogging, it utilizes a powerful content management system. Even with minimal website management knowledge, you can successfully manage your web pages and upload new content.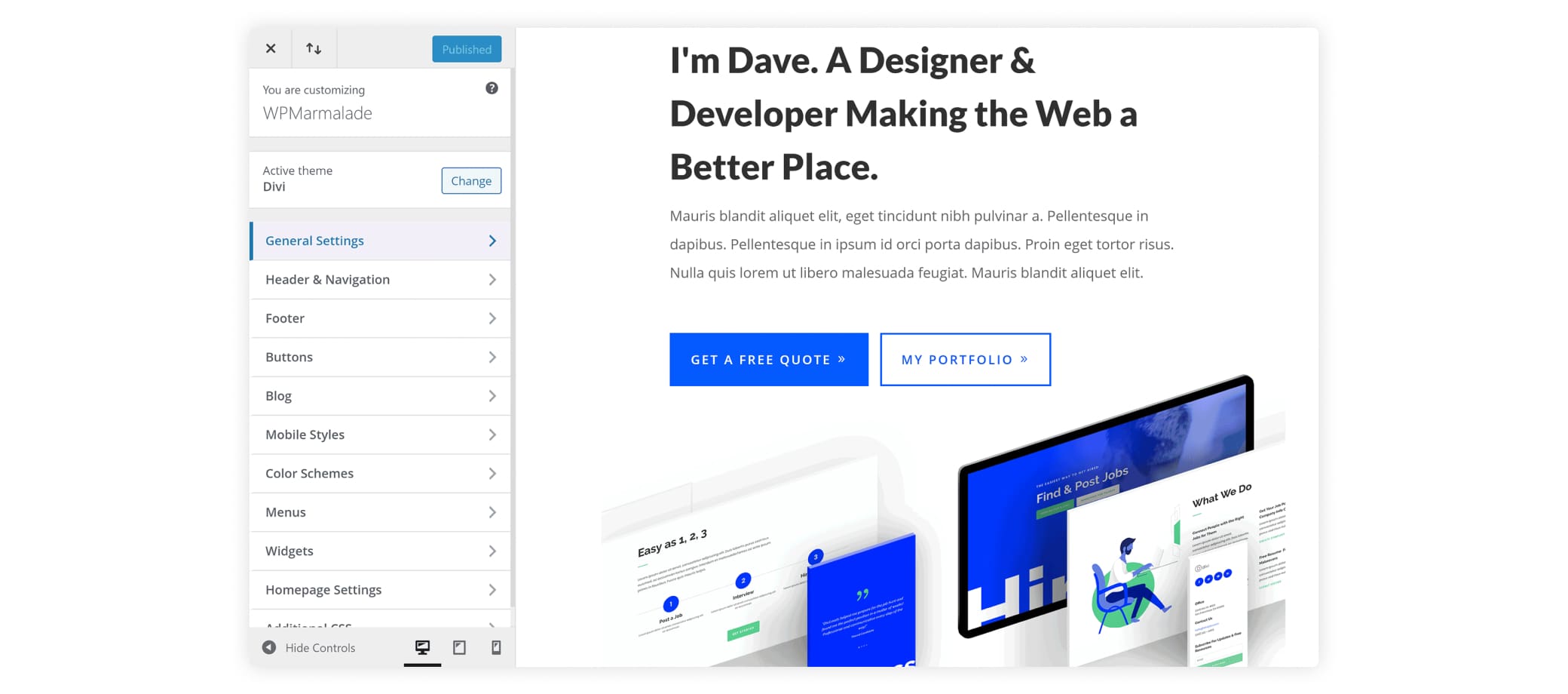 This open-source platform gives you exceptional customization options. There are thousands of pre-made themes, but the level of customizability will depend on the options available on the template itself. With thousands of free and paid plugins, you can customize your WordPress site to achieve the look you want and the functionality you need. It has three budget-friendly plans, each one giving you a custom domain, more storage space, and priority support.
✅ PROS:
Free
Wide variety of themes
Integrates with many third-party tools
⛔️ CONS:
No drag-and-drop tool
Web design knowledge is necessary
Security is a challenge
---
Format is the best online website builder for portfolios. Equipped with proofing features and integrations with apps like Adobe Lightroom, it's the ideal platform for photographers, illustrators, and other creative artists who are looking to display their works online. All of its templates, layouts, and pages are mobile-optimized, which ensures that your website will look good on any device and screen size.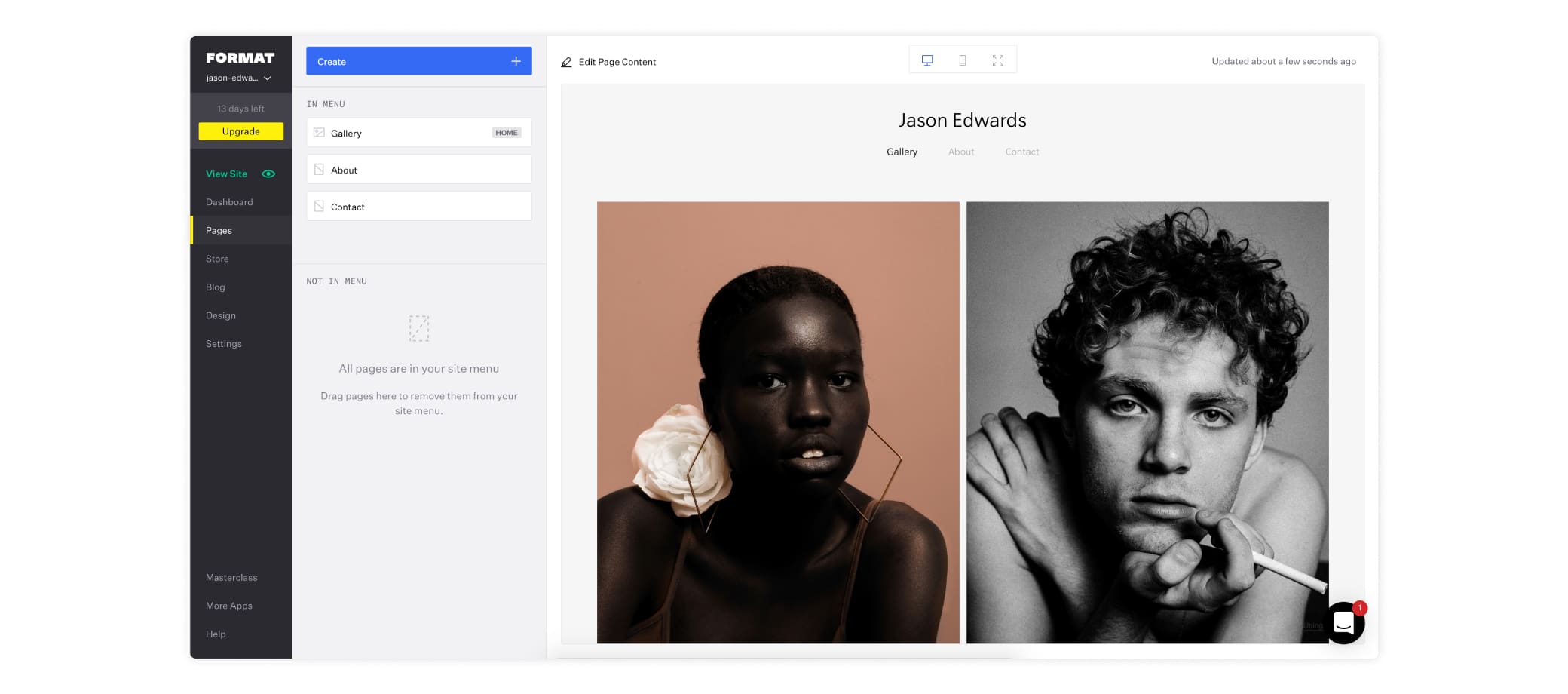 This specialized website builder lets you add blogs and online stores. Knowledge of code isn't necessary for building websites with Format. With its intuitive design editor, you can make a website in a matter of minutes without writing a line of code. It may not have a free plan, but it does have a 14-day trial. Within that limited time, you can test all of its features and decide if you need such services.
✅ PROS:
Modern, mobile-friendly templates
SEO-friendly features
24/7 support
⛔️ CONS:
Only ideal for portfolio websites
No free plan
Template customization is a little confusing
---
How to Make a Website
Nowadays, creating a website doesn't require a background in coding since most website builders feature easy setup and provide many customization options for a more personalized site. Thus, you can eliminate most of the technical steps in building your site and focus more on its content and look.
To get you started, here is a quick step-by-step guide for building your own site:
1. Plan your website
All successful endeavors start with a plan, and building a website is no different. What do you want your clients to know when they access your site? What do you want them to do on your site? Determining the purpose of your site guides you in planning for its template, layout, structure, and content. It will also help you determine if you need to incorporate some apps into your site in order to facilitate some functions such as processing payment.
Tip: A mind map is a good place to start when planning a website. The ideas you connect with the central idea can serve as your website's sections and pages.
2. Choose a domain name
The domain name is the web address that you're going to share with your clients and advertise on your accounts to get people to visit your site. For clarity and better recall, it is ideal that your domain name is also your website name and your company name. With so many sites available today, generic domain names are likely to have been taken, so it's advisable to get a little creative with your domain name.
Take note that when using free website builders, you can only use the free subdomain feature—that is, your domain name will be attached to your chosen builder's address (e.g., yourdomainname.websitebuilder.com). If you want it to only include your domain name, you can opt to subscribe to their plans for a reasonable price.
3. Select a website builder
When selecting a website builder, keep in mind the main purpose of your website. Different web builders offer different perks, and some specialize in certain functions such as e-commerce functionality while others focus on a variety of designs and templates. Later in this article, we'll dive deeper into the best website builders available today.
One of the things you might want to consider is the free email accounts you can acquire once you purchase domain names from certain web builders (e.g., [email protected]). This will help you leave a more professional impression when emailing your clients.
4. Prepare your content
Once you've decided which web builder you're going to use, it is time to build your site's content. You already have an outline of ideas for how your website is going to look from step one. Now it's about actualizing those ideas. If you're making a site with blog articles, it is best to have a couple of them ready for when you launch your site. If you're going to feature photographs or other images, be sure to have them at hand. For business sites, ideally, you should already have a logo prepared along with the company information and contact details.
5. Layout and customize
After preparing your content, it's time to lay them out on your website. Most website builders offer templates to make it easy to settle on a design that works best for your brand. Do take note that since these templates are readily available, it is likely that your site will look similar to many other sites on the internet. This is where your prepared content comes in. You can customize your website to make it more distinct by doing the following:
Set up a personalized yet informative landing page
Add more navigation elements and pages
Switch the stock photos with your own images
Change the font style, size, and colors
Customize the color palette
Embed links to your social media accounts
Set up a payment system (if applicable)
This may seem daunting at first, but don't fret—most website builders make it easy for you to customize your site and will provide easy guides for customization.
6. Preview and test
Once you're satisfied with your website's look and content, make sure to preview it first and test out the pages before launching it. Most website builders have the preview button in editor mode. Getting too excited and jumping straight to publishing your website may leave some kinks unchecked, and this will leave a negative impact on your site's visitors. Some of the issues to watch out for are grammar and spelling mistakes, buttons and links that don't function, inconsistent formatting, and site loading time.
When testing your website, be sure to test it both on desktop and mobile. To accommodate the smaller screen of phones and tablets, some features may be compressed or hidden, so it would be best to keep a lookout for that and adjust accordingly. You should also test it out on different browsers as some browsers may change how the formatting or certain elements are displayed.
Tip: It is also helpful to have other pairs of eyes review your site as they can help you identify your blind spots and give you feedback on your site's appearance and ease of navigation.
7. Publish your website
Once you have performed the final checks and determined that everything is in order—all links and buttons are working, no more mistakes in sight—you can proceed to the moment you've been waiting for: launching your site. This is the easiest step since all you need to do is press that Publish button and your site is online, ready for viewing by anyone on the internet.
8. Promote and maintain your site
After publishing your website, try to expand your audience reach by promoting it on your social media accounts and keeping it updated. The great thing about websites is that you can continually edit it and improve on the design and features as you go along. Adding more content is a sure way to keep your audience engaged and eager to visit your site regularly.
---
While it is true that some premium features can only be unlocked if you purchase a plan, you can still create a website for free since most builders have a free plan available. You can still get some good features, like the ones we have mentioned above.
Nowadays, having your own website can go a long way in reaching people all over the world and adding credibility to your brand. With all these great website builders available on the internet, making a website can be very quick and easy. Just keep in mind what you intend to use your website for and follow our quick guide. You'll have your website up in no time, and with constant maintenance, you'll be able to have a robust online presence.