Looking to capture images, video clips, or your favorite websites? We'll help you pick the right snipping tool for Mac.
You're probably familiar with the incredibly handy Windows snipping tool. It's awesome, right? Wouldn't it be amazing if you could have a similar tool on your Mac?
We have some good news. We've covered how to capture screenshots on a Mac before. Today, we'll go over some of the best snipping tools for Mac to make taking screenshots easy as pie. They include:
1.Snagit
2.Lightshot
3.SnapNDrag
Best Snipping Tools for Mac
Snipping tools enable you to capture much of what you do every day on your computer screen. Some of the reasons you might need a snipping tool include:
Making visual tutorials
Sharing your screen with friends
Sending screenshots for work
Keep a record of important documents that you cannot download.
If you're looking for the perfect snipping tool Mac, check out our list below.
We have to admit, Snagit is the gold standard of screen capture software. It's very popular with corporate customers for its aesthetic interface and powerful features. The editing and screen recording capabilities are pretty impressive. One of the highlights of the app is the intuitive user interface.
A small control panel appears at the top of your screen. It allows you to capture screenshots, change settings, and customize hotkeys. The editor features nifty tools like callouts, arrows, blur, and others. You can also create animated gifs and videos straight from the app. The process of capturing and editing images and videos is so seamless the average Mac user will take to it like a duck to water.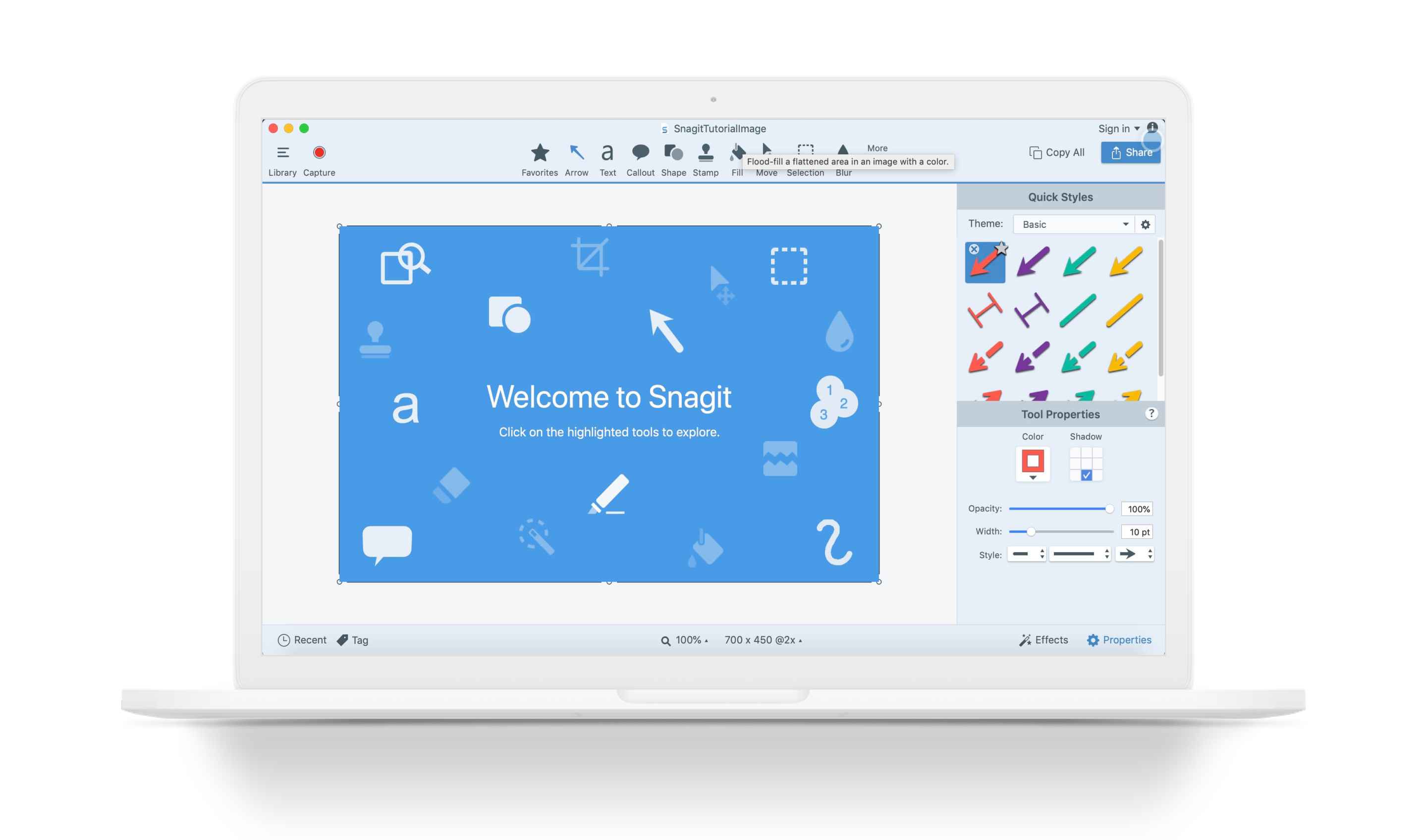 Snagit allows you to capture your screen in several ways. You can capture the entire screen, a specific region, or a specific application. You can also import images from scanners and cameras. One of the coolest features of this snipping tool for Mac is the ability to capture text from an image and paste it into a text editor. To access the full range of features, you have to pay $50, which is a tad expensive when compared to other tools.
So, what's our verdict?
We love Snagit. It's hands down the best Mac snipping tool on the market. The software comes with tons of features and is easy to use. It's our MacBook snipping tool of choice.
✅ PROS:
⛔️ CONS:
Video editing is cumbersome.
---
Lightshot is an extremely lightweight screen capture tool. It's also one of the easiest to use. If you're worried about how to use snipping tool on Mac, then this is the right tool for you. All you do is press the print screen button on your keyboard and select your area of interest. The app will do the rest.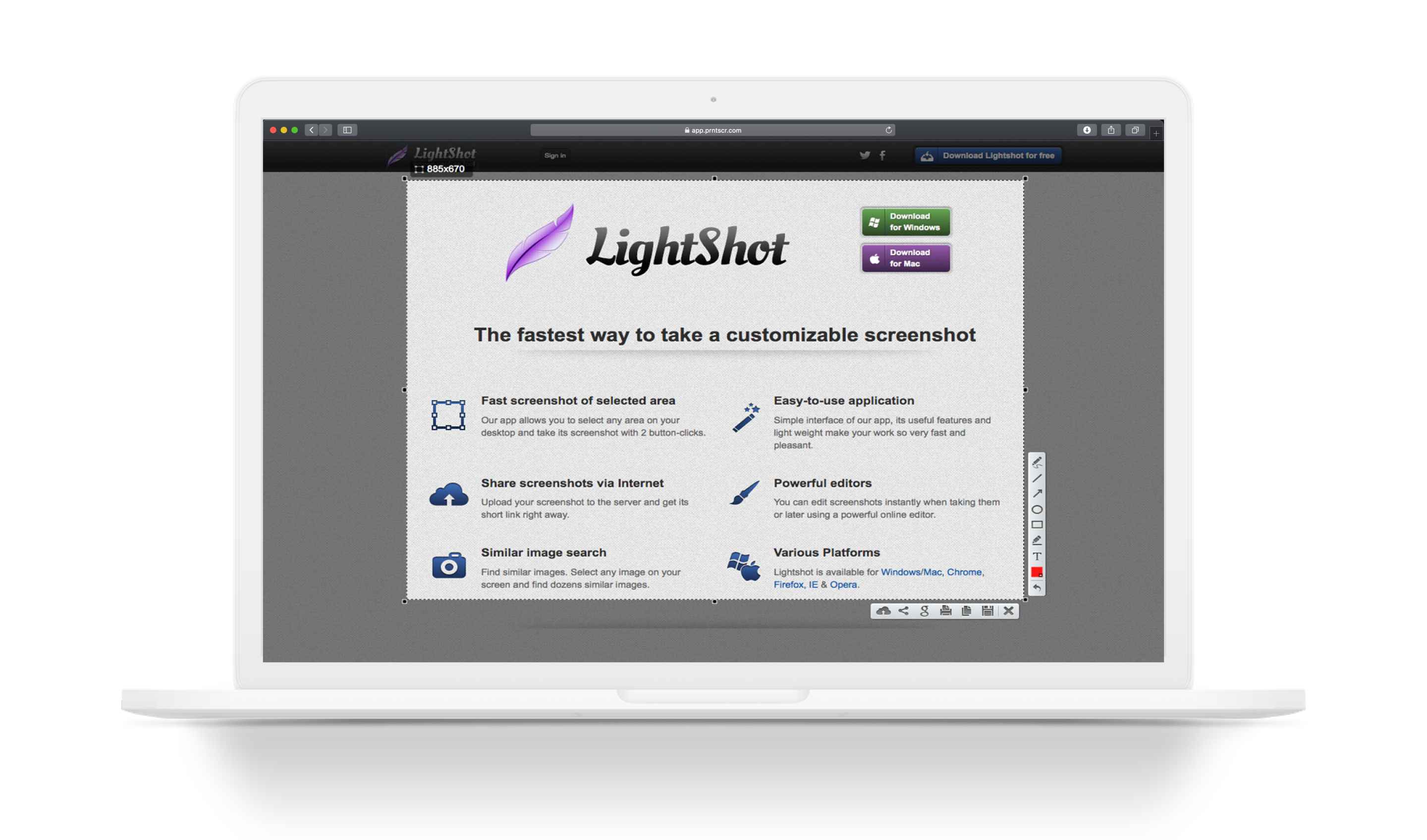 You can edit your screenshots by adding text, colors, shapes, and others. The software has a simple interface that you only interact with on the screen capture screen itself. The most outstanding feature is the ease with which you can capture, save, and upload screenshots. In fact, it's the only tool that allows you to take one screenshot after the other in quick succession. The tool is completely free and enables you to:
Print screenshots
Search for a similar image on Google
Upload images to Prntscr.com
Copy and save
So, what's our verdict?
Lightshot is a great snipping tool on macOS. It can be used by any person with a basic knowledge of computers. Even though it's not as feature-rich as some of the options on our list, it's still useful and convenient. The app even earned a place in our list of top 10 snipping tools in 2019.
✅ PROS:
Lightweight and easy to use
It's fast
It's free
Ability to save to social media or the cloud
⛔️ CONS:
Does not have capture modes.
Doesn't have a separate editing screen with advanced tools.
---
SbapNDrag is a handy MacBook snipping tool that allows you to grab a snapshot of the full screen, a window, or a specific section of the screen without worrying about key combinations.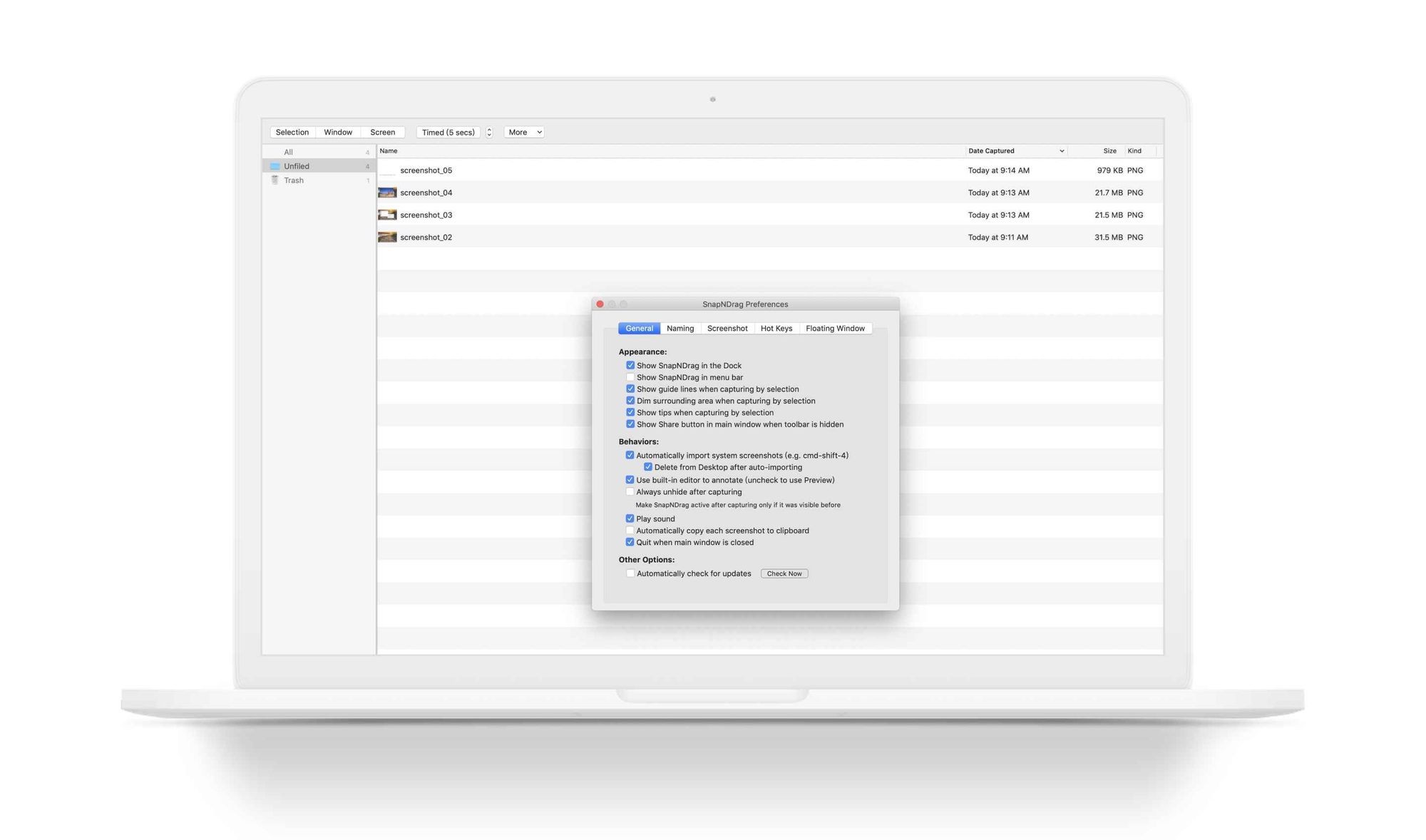 You can use the free version or fork out $10 for the pro version. The pro version allows you to resize images, assign global hotkeys, and turn off adverts. Some of the features in the pro version include:
A library for our screenshots
Sharing your screenshots to Twitter, Facebook, email, and more.
Annotate your screenshots
Multiple output formats (PNG, JPEG or TIFF)
Border and scaling
Batch rename
Custom keyboard shortcuts.
If you use screenshots in your work, then the paid version would be a perfect choice.
✅ PROS:
Easy to use
Free version available
⛔️ CONS:
Limited features on the free version.
---
Conclusion
Taking screenshots on your Mac need not be complicated. You don't even have to memorize shortcuts. Our carefully selected list of tools will help you get the job done without breaking a sweat.
Related Articles: