Admit it, number-crunching can be a real slog. I mean, who wants to sit at a desk all day poring through piles of financial statements and doing calculations? But here's the thing - it's a necessary evil. After all, you don't want to end up clad in orange bunking with Bubba for running afoul of the IRS.
Table of Contents:
How to Choose Accounting Software Like A Pro
Top 10 Best Accounting Software in 2020
Accounting Software FAQs
So, what's the solution? You guessed it, using the right accounting software. Bookkeeping doesn't have to be a dreaded bugbear. Yep, you don't have to be a hardcore number cruncher to run your business efficiently.
Today, we've rounded up the best accounting software this year:
Our picks will make accounting and bookkeeping much easier. Is that something you'd like for your business? Now, before we get into the meat and bones of our list, we'll teach you how to pick out the right software.
How to Choose Accounting Software Like A Pro
Accounting tools are a dime a dozen. In fact, you can pick one with your eyes closed. But this is where many business owners run into trouble. They soon hit a snag because the software doesn't work the way their business does. And if that's not enough, they realize this after they've paid an arm and a leg for a fancy piece of software.
You see, accounting software is not a one-size-fits-all affair. You want software that fits your business like a glove. Here's how to take the guessing out of the accounting software selection process.
1. What Features Do You Need?
Start by looking at how your business operates. Take stock of the different accounting software available on the market to see whether they're a good fit. For example, you might want to go for those specially designed for small businesses. You could also opt for a tool designed for your specific niche. You'll find applications designed for restaurants, retailers, manufacturing, and other sectors.
2. Consider Cloud Applications
You might want to consider cloud-based accounting software. Such a solution allows you to access your accounting application from any location as long as you have an internet connection. You also don't need to invest in hardware to run them. You also don't have to worry about securing your data.
3. Stick to Your Budget
It's easy to get drawn in by the bells and whistles of expensive software. These extra features may not be worth the additional cost if you won't be using them. Make a list of the features you need and shop around with these in mind. Make sure to pick an accounting solution that strikes a balance between your budget and requirements.
4. Pay Attention to the Add-ons
Can you extend the functionality of the software using add-ons? For instance, you should be able to integrate it with your CRM, accept payments, integrate e-commerce software, add remote access functionality, connect it to your tax software, and others. Does it come with an API to allow for customization of functions? Find out what the limitations of each software are so you can pick one that can grow with your business.
5. Involve Your Accountant
Don't be a lone-ranger. Involve your accountant in the purchase decision. After all, they'll be a primary user of the software. They'll be able to help you pick software that works best for your organization.
Top 10 Best Accounting Software in 2020
1. Best Accounting Software Overall: Botkeeper
Botkeeper represents the future of accounting. This software provides automated bookkeeping support to organizations using a combination of artificial intelligence (A.I), machine learning, and skilled accountants.
The software comes with 24/7 support and gives incredible insights to businesses. You get access to a beautiful dashboard with unlimited reports to help you make the right decisions for your business.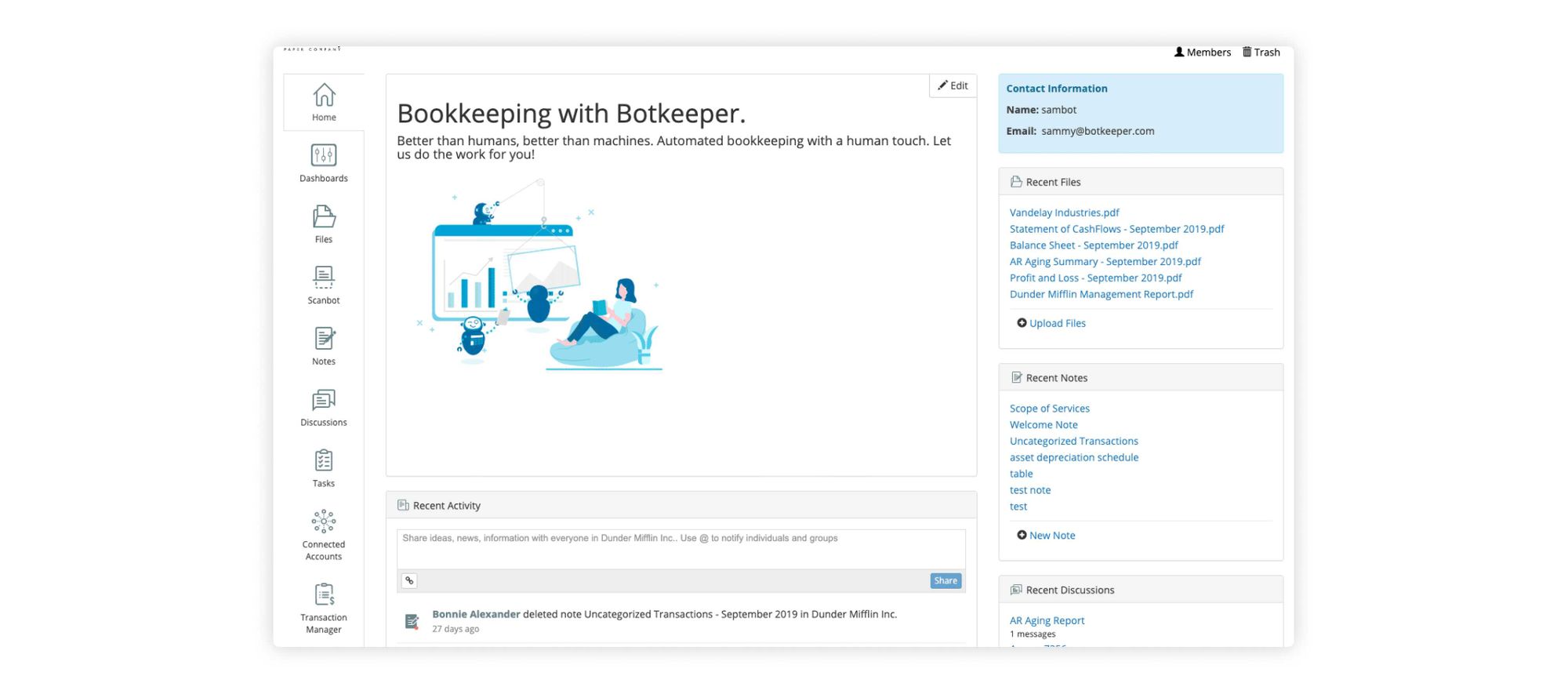 Botkeeper works for both small businesses and Fortune 5000 companies across all industries. The software combines all your data sources and applies processes, rules, and calculations to give you insightful reports. It eliminates costly and error-prone manual accounting.
✅ PROS:
Excellent support
Customizable
Easy to use
Beautiful dashboards
Insightful reports
⛔️ CONS:
Difficulty editing dashboards
Problems with syncing
Setup can be laborious
---
Sage Business Cloud Accounting is a cloud-based accounting and invoice management software for small businesses. The software comes with core accounting, expense management, project accounting, and compliance management.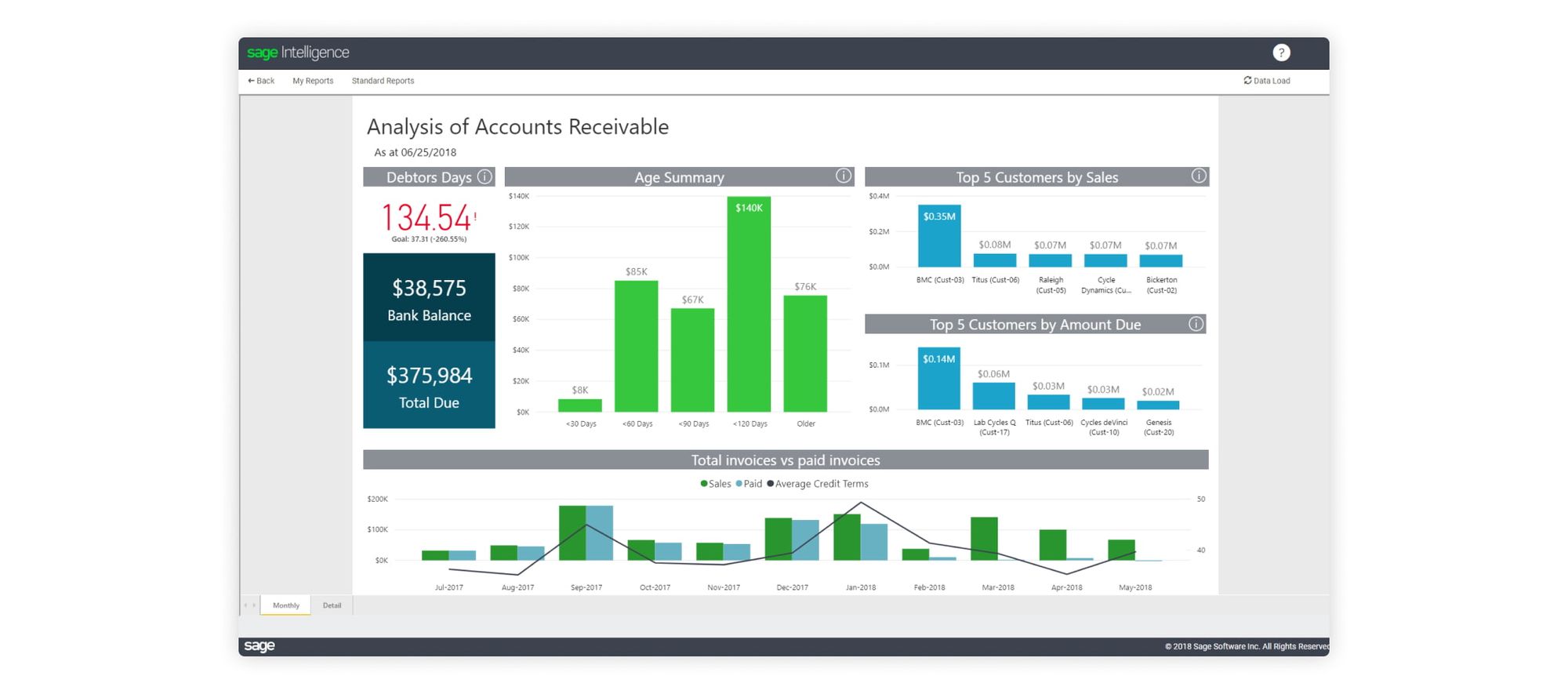 You'll get the tools you need to manage all documentation and processes for business payments such as estimates, price quotes, invoices, and statements all in one package. You can also integrate Sage with major banks across the United States. This makes it possible to import all payment transactions seamlessly into accounting software. Sage also allows you to process payments from various payment services including PayPal.
Xero has some shortcomings as well. It lacks some features you might consider important such as time-tracking and purchase orders. The software comes with two plans. The entry-level plan for businesses that want to manage their cash flow. It will set you back $10 per month. The higher tier package comes with invoicing, cash flow management, and accrual entries. It costs $25 per month.
Sage Business Cloud Accounting is a great choice for small business owners who don't need unnecessary bells and whistles in accounting software.
✅ PROS:
Excellent setup tools
Flexible user permissions
Excellent inventory tracking
Sales tax rates automation
Great mobile app
⛔️ CONS:
Dated user interface
Rigid reports
No time tracking, payroll, purchase orders, or dedicated expense tracking
Slow
No add-ons
---
3. Best Free Accounting Software: Wave
We get it - every penny counts when you're a small business owner. It's the same when you're a freelancer or a soloprenuer. It's not that you can't afford to pay for accounting software, it's that you don't want to have to pay. If you still want the luxury of using best-in-class bookkeeping software, then you might want to give Wave a shot.
Wave is a free accounting software tool that enables you to have your cake and eat it too.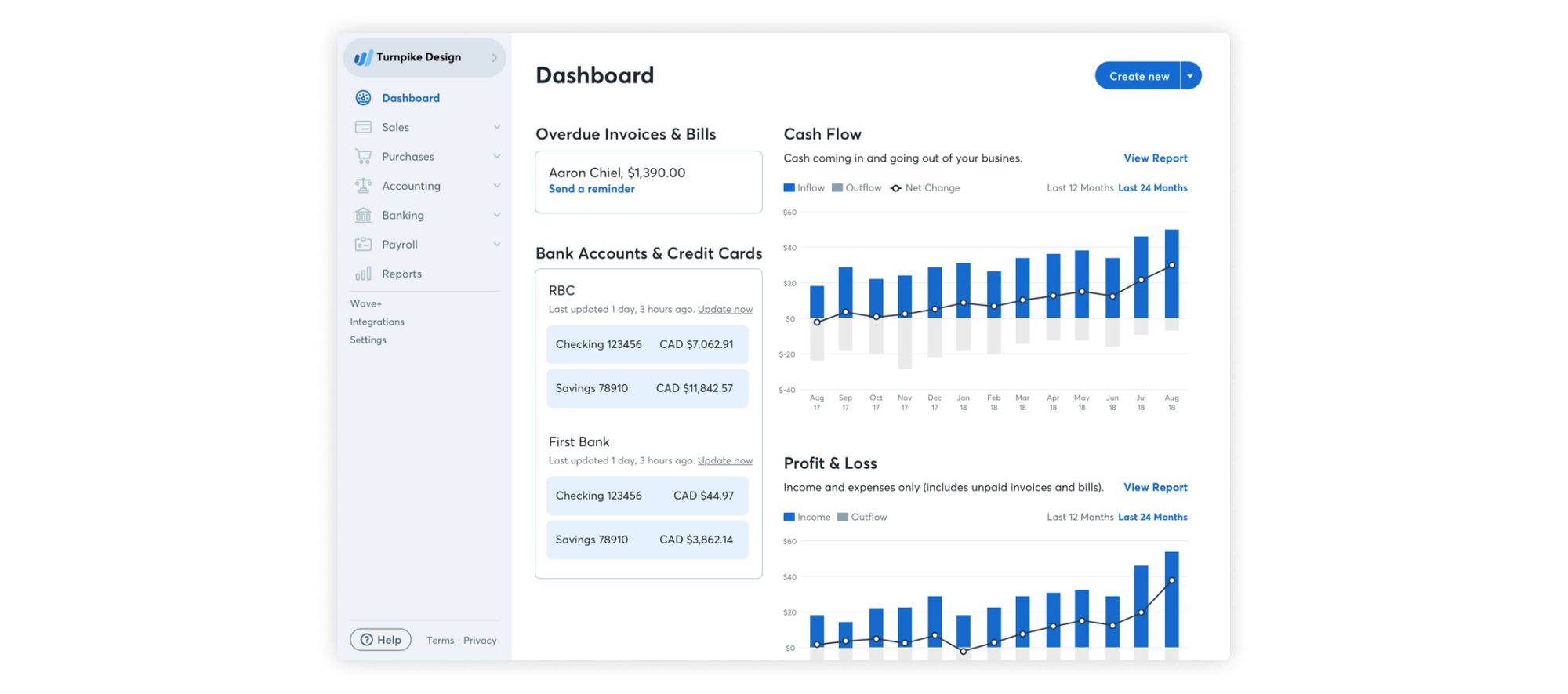 It's a smart choice if you need a personal accounting software tool that gives you a little room to grow. You don't have to pay anything for the core accounting features. However, the lack of a time tracking tool may be a turn off for some freelancers.
✅ PROS:
Free. You only pay for payments and payroll
Feature-rich for small businesses
Excellent management of invoices and transactions
User-friendly
Multicurrency
Instant Payouts
⛔️ CONS:
Lack of time-tracking features
Lack of a comprehensive mobile app
Payroll is not as robust as the competition
---
4. Best Accounting Software for Small Businesses: Intuit QuickBooks Online
QuickBooks Online from Intuit is widely regarded as the best accounting software for small businesses. It has a wide range of features, a friendly interface, and is used by many small business owners.
The software comes with both accounts payable and accounts receivable features. It can also help you track projects and inventory. It's an excellent choice for almost every type of business.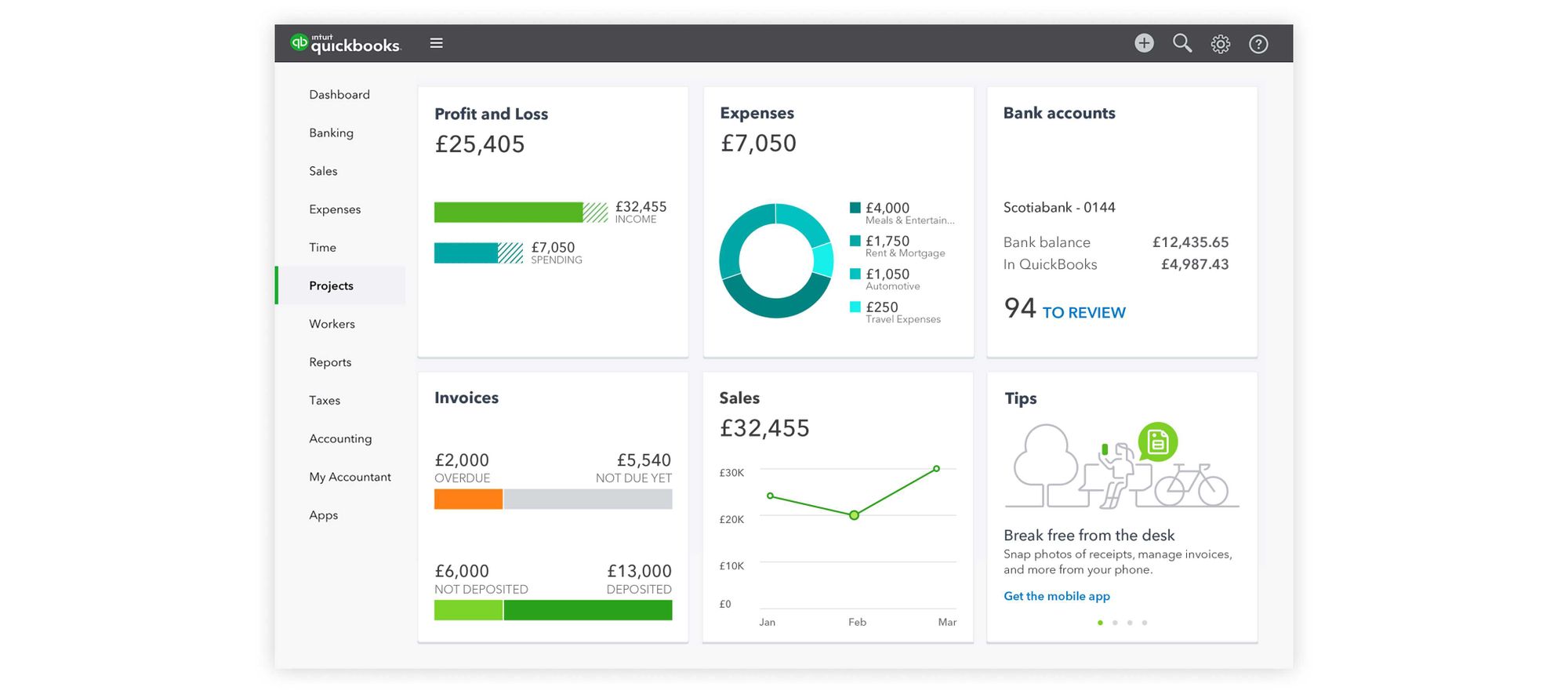 The software is scalable so you can rest assured that it will grow with your business. It's possible to customize the software to suit your unique needs by integrating with hundreds of apps.
QuickBooks Online gets regular updates. You can access the details about new features and improvements on the company's blog. The software comes with 5 subscription options. The self-employed plan costs $10 per month. The simple start plan costs $20. The essential plan costs $40. The plus plan costs $70. Select a plan based on the features you want to have access to.
✅ PROS:
Feature-rich
Cloud-based so it's easily accessible
Easy to use
Excellent invoicing features
Seamless integrations
Excellent tax support
Great mobile app
⛔️ CONS:
Can be unintuitive with some features
Costly
Customer support is not that great
---
5. Best Accounting Software for Freelancers: FreshBooks
FreshBooks started as an invoicing software. Today, it's one of the most popular online accounting software. It's used by both small and mid-sized businesses and is known for its aesthetic properties and usability.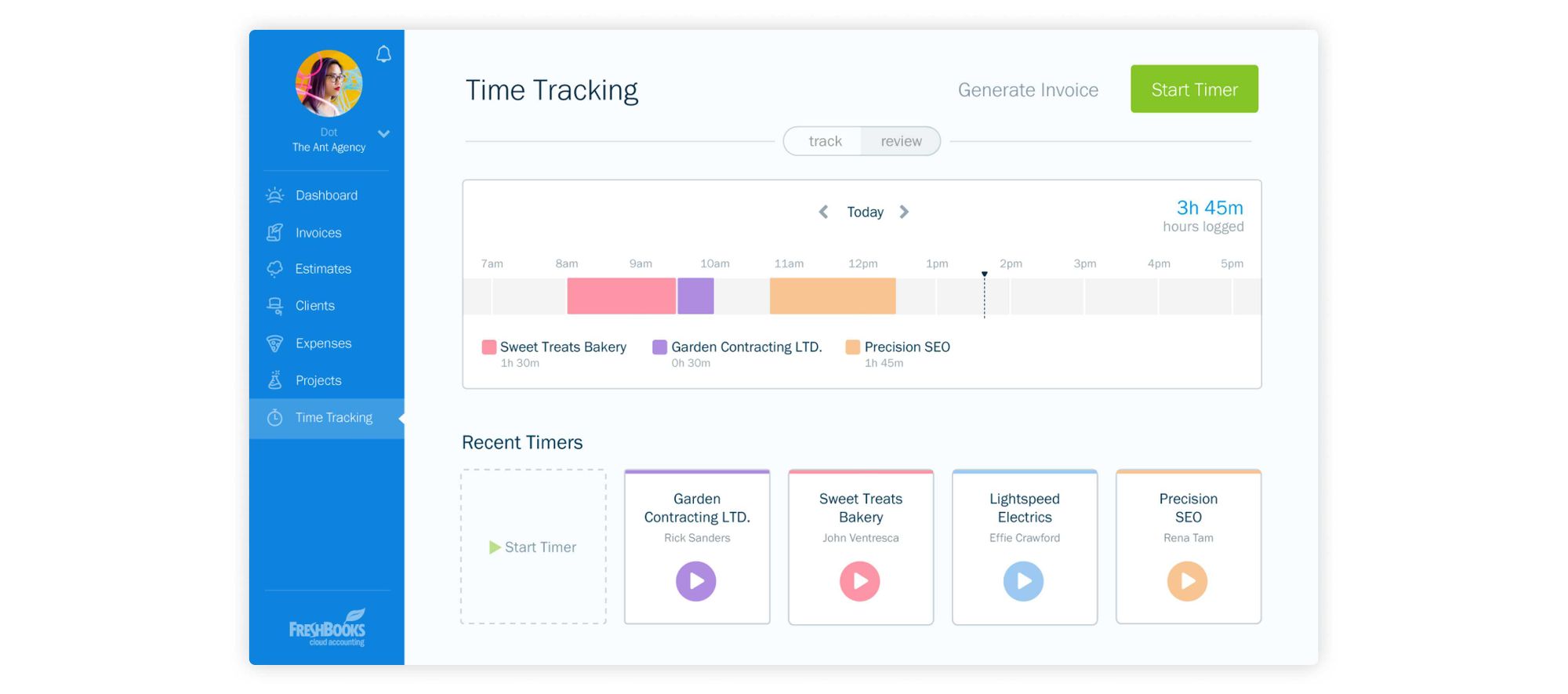 Pricing starts at $15 for the Lite Plan, $25 for the Plus Plan and $50 for the Premium Plan. All the plans offer the same features. The difference is in the number of users. You can get a 30-day free trial for any of the plans.
Overall, FreshBooks gives business owners an intuitive, well-rounded, and attractive accounting experience that supports expenses, invoices and estimates, projects, and time tracking.
✅ PROS:
Great user experience
Good client records
Time tracking feature
Great mobile app
Estimate and retainer functionality
Proposals and projects
Simple service and product records
⛔️ CONS:
The dashboard is deficient
Lack of quarterly tax estimates
Limited customization of invoices
---
6. Best Accounting Software for Online Businesses: ScaleFactor
This is a cloud-based accounting software meant for small and mid-sized businesses. It helps with the automation of complex accounting workflows and the translation of financial information into actionable insights.
The key features of ScaleFactor include bookkeeping, audit and compliance management, invoicing and billing, expense management, and others. The software allows you to capture expense details and categorize them under suitable headers. ScaleFactor helps you to keep track of cash flow and sends alerts whenever there are anomalies.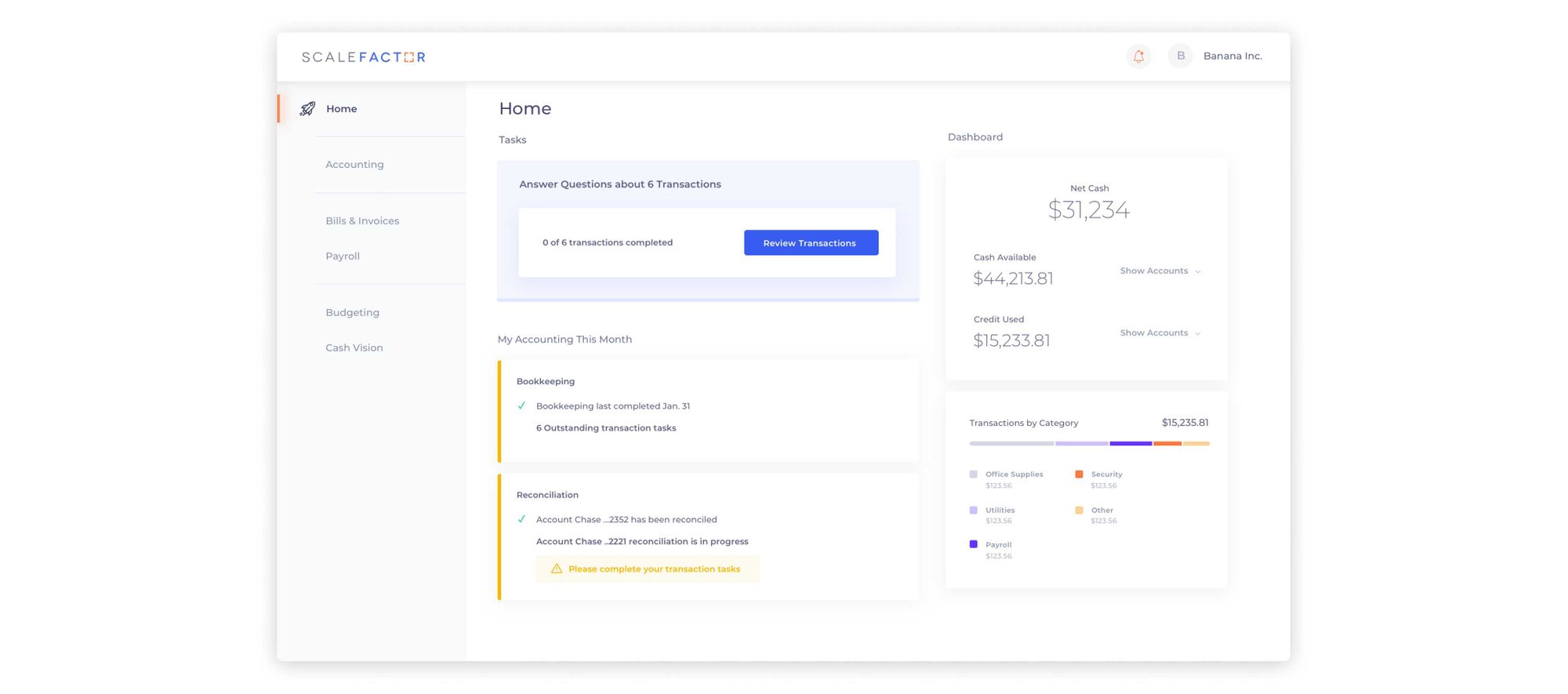 You can use the bank reconciliation feature to process paper checks and ACH in realtime. The software provides excellent integration features. You can connect it to existing CRM, HR systems, and credit card accounts. This allows you to sync transactions across your applications in real-time.
✅ PROS:
Great user-interface
Feature-rich
Hassle-free onboarding
Seamless data entry
⛔️ CONS:
Not enough training material
Can get glitchy
---
7. Best Accounting Software for Online Sellers: GoDaddy Bookkeeping
GoDaddy – does it sound familiar? Yep, it's the world-renowned domain name provider. Many people don't realize that they also provide businesses with tools for balancing their books. With GoDaddy Bookkeeping, the company offers affordable and reliable accounting software. The tool is perfect if you're looking for a bookkeeping tool that's not too sophisticated.
GoDaddy Bookkeeping is a cloud-based solution that users can access from anywhere. All you need to get started is a GoDaddy account. There's also a mobile app for iOS and Android for those who want to record and refer to their accounting records on the go.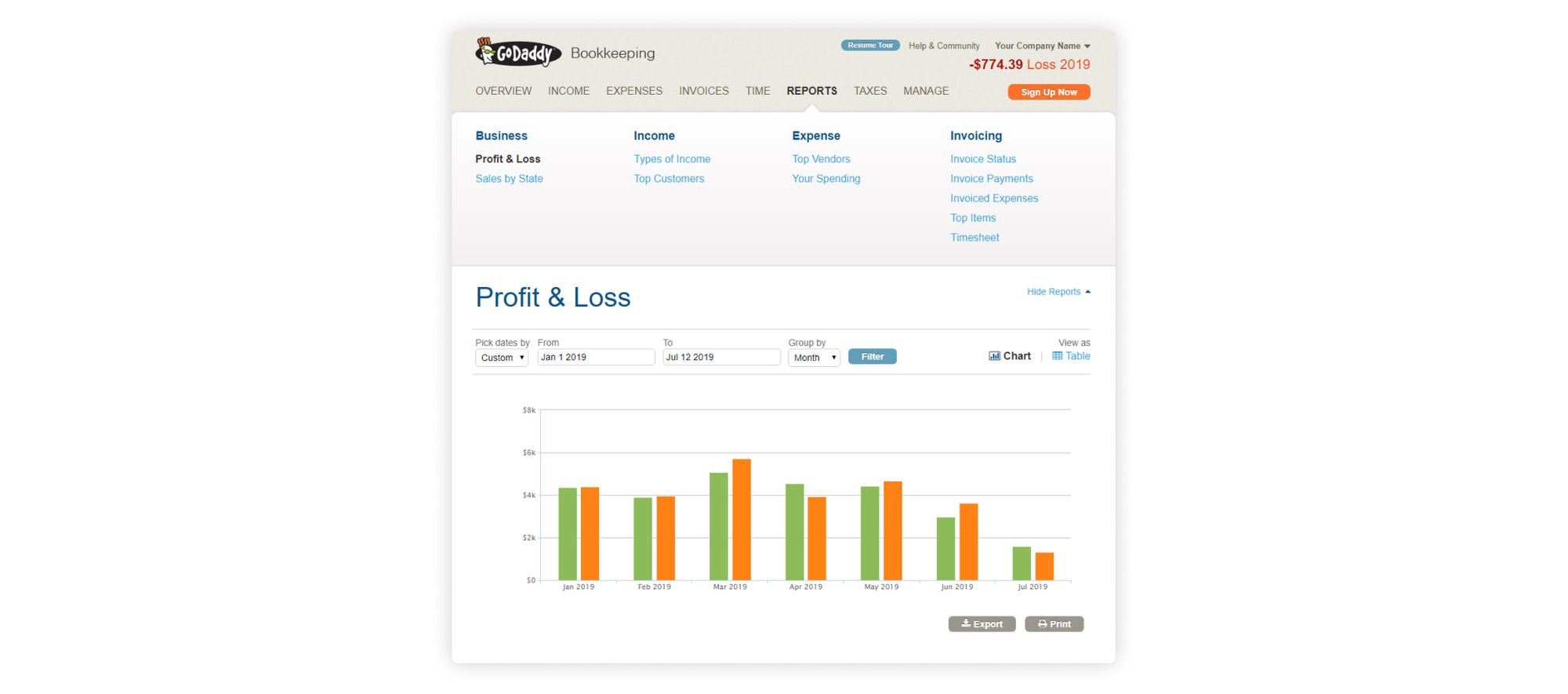 The software integrates seamlessly with online retailers like Amazon and eBay. It's one of the best accounting software for e-commerce. Some of the key features include invoicing, a dashboard, estimates, expense tracking, contact management, reports, time tracking, and others.
GoDaddy Bookkeeping has 3 plans – Get Paid at $4.99 per month, Essentials at $9.99 per month, and Premium at $14.99 per month.
✅ PROS:
Inexpensive
Easy to use
Good dashboard and invoicing tools
Integration with PayPal, eBay, Amazon, and Etsy.
Calculates tax estimates
⛔️ CONS:
No bill payment or project tracking
No multi-currency support
No-individual log-in for users
---
8. Best Accounting Software for Growing Businesses: Xero
Xero is a cloud-based accounting software for small businesses. The company, which is based in New Zealand, was founded in 2006. Xero has more than 2 million users and is trusted by more than 16,000 accounting firms. It's a robust accounting tool with a host of sophisticated features including ample reports, countless integrations, and unlimited users.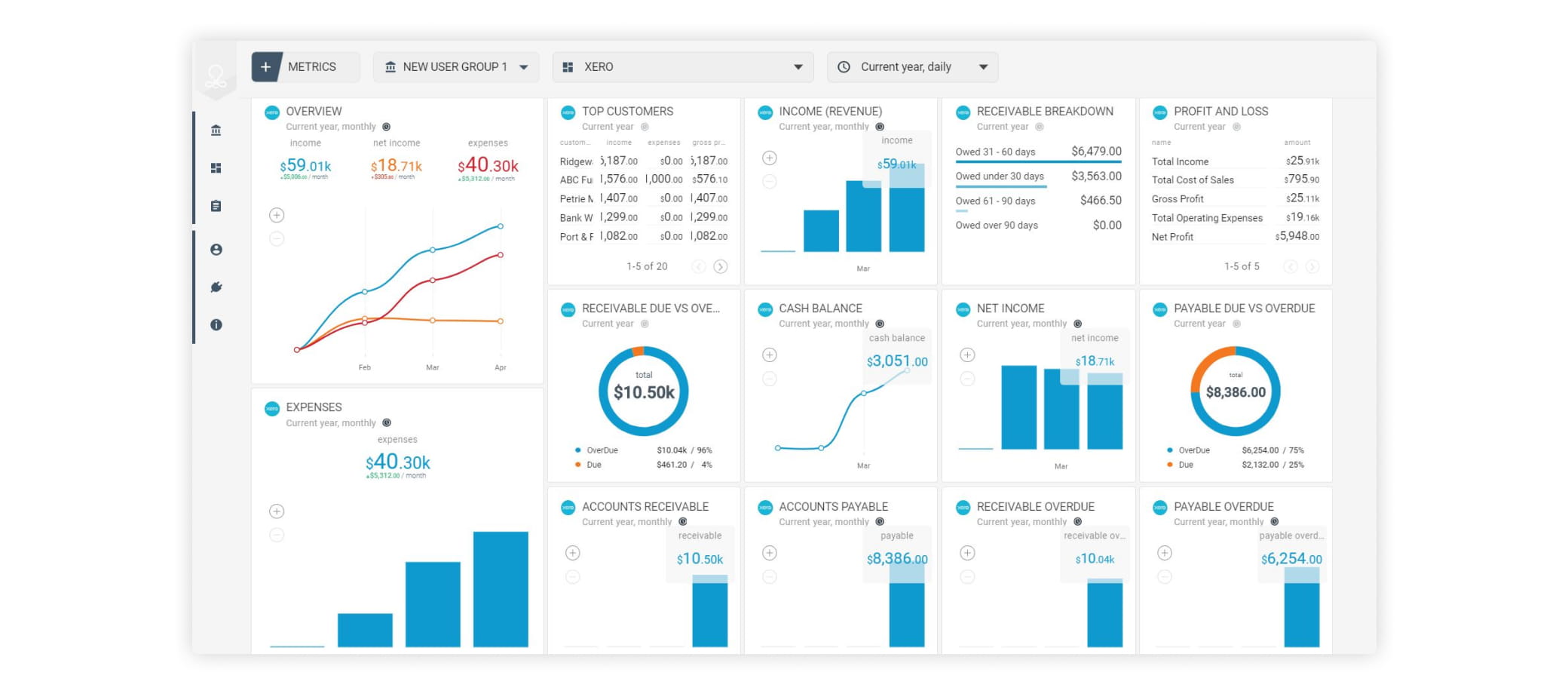 The software simplifies the standard accounting process for small business. It supports almost every financial element you can think of for double-entry accounting. It handles sales, bills and expenses, purchases, payroll, and inventory. You can create records for employees, suppliers, customers, and items. Xero also comes with a fixed assets management feature – most of the competition doesn't.
The company has recently added project management and enhanced expenses, mobile bill-tracking, HubDoc integration, better navigation, Gusto payroll tool partnership, and other features.
The company offers a 30-day free trial and 3 pricing plans. Xero Early costs $9 per month and comes with a monthly limit of five quotes and invoices, five bills, and reconciliation for up to 20 bank transactions. Xero growing costs $30 per month. It comes with unlimited quotes, invoicing, and billing. Xero Established costs $60 per month. This version offers multi-currency support, projects, and Xero Expenses.
Xero is one of the top choices for small businesses.
✅ PROS:
Good dashboard
Affordable
New report filters
Inventory tracking
Complex reconciliation tools
Interactive quotes
Great online support
Updated expense tracking
Gusto integration
Project tracking
⛔️ CONS:
No chat and phone support
Mobile apps can be better
---
9. Best Accounting Software for Personal Finances: Quicken
Quicken is personal accounting software that allows you to take control of your finances. It has been around for more than 30 years now. In that time, it has gone through constant transitions to keep it relevant. The software works on both Mac and Windows computers; it has mobile apps for both iOS and Android. You can also opt to use it solely online if you don't want to download the software.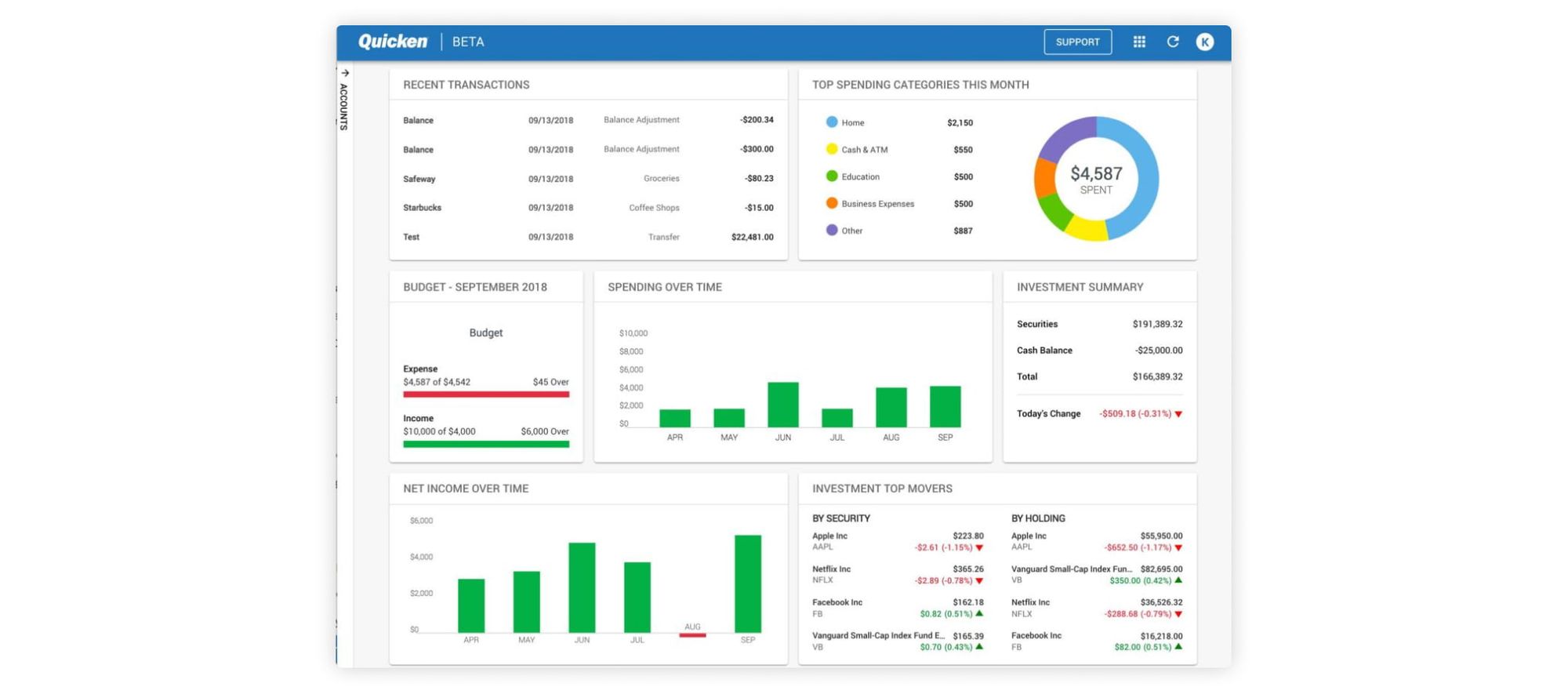 You can track account balances and your household budget on the go by synchronizing data from all your devices – both PC and mobile. Quicken is a reliable, full-featured tool that comes with expense tracking, retirement planning, budgeting, personal property management, investment tracking, reporting, and more. It keeps track of your spending so you know exactly where your money is going.
The tool has 4 plans – Starter, Deluxe, Premium, and Home and Business. Pricing starts at $34.99 per year to $89.99. This is a reasonably attractive pricing structure compared to the competition. It has more personal finance management tools than the competition but the mobile app is not as feature-rich as you'd expect. Quicken is hand down the best personal accounting software on our list.
✅ PROS:
Feature-rich
Excellent UI
Great mobile app
Strong budgeting features
Plenty of financial reports
⛔️ CONS:
Limited automation
Moderate learning curve
---
10. Best Cloud-based Accounting Software for All: Zoho Books
Zoho Books does everything the big boys (QuickBooks and Xero) do but at half the cost. It's a complete accounting package with excellent invoicing and allows you to access your accounting records from a browser. It's one of the best small business accounting software.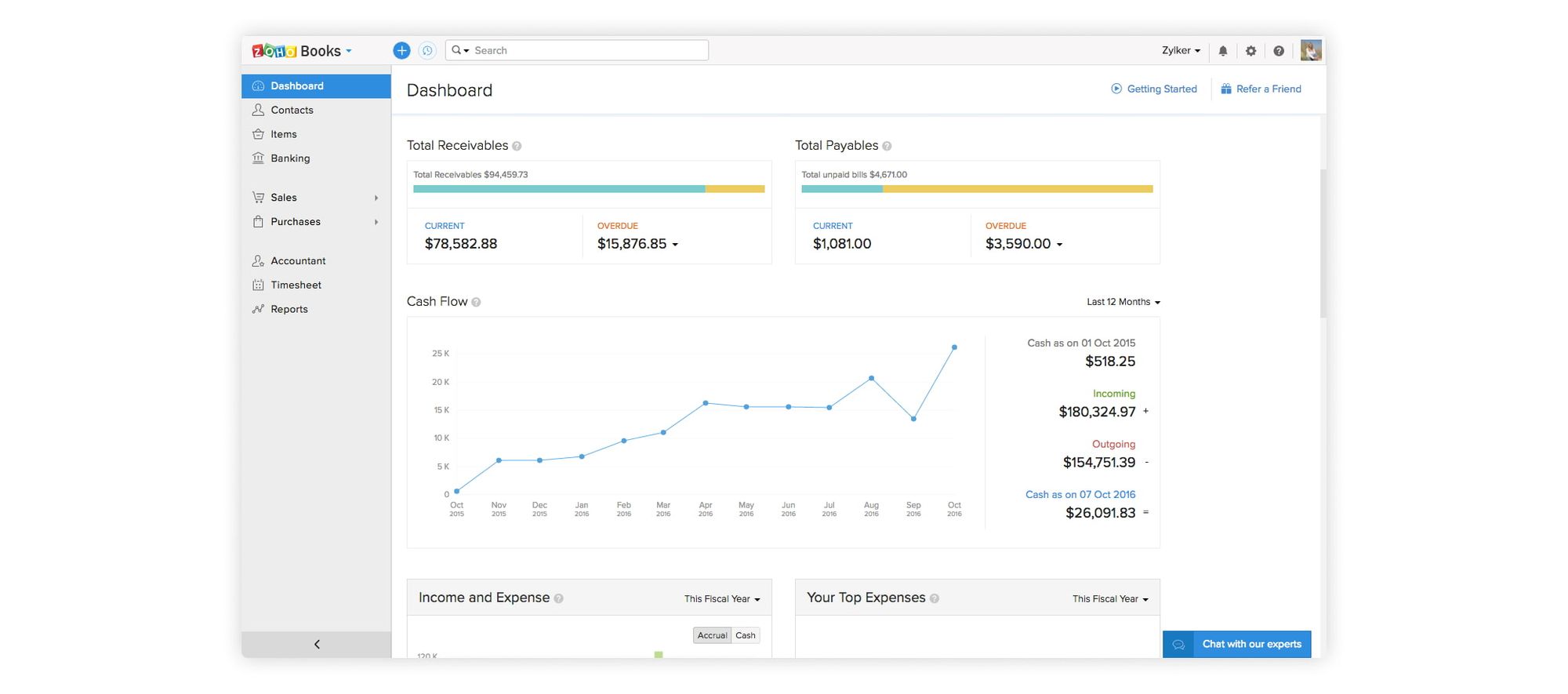 Some of the Zoho Books features you'll find appealing include automatic payment reminders, recurring invoices, and client portals. These portals make it easier to follow up with customers on payments and quotes. The software is also scalable so you don't have to switch to new accounting software as your business grows.
You can take Zoho Books for a test-drive with the 14-day free trial. After the period lapses, you can subscribe to one of the three premium plans. The Basic Plan costs $9 per month, the standard plan costs $19 per month, and the Professional Plan costs $29 per month.
Overall, Zoho Books is a great choice if you're looking for a cloud-based small business accounting software. It comes with an exceptional user interface and an even better price. The rich selection of tools is bound to keep you using it for years. The only gripe you might have with Zoho Books is the limited payroll offering.
✅ PROS:
Competitive pricing
Good mobile apps
Easy to use
International invoicing
Great customer support
Excellent invoicing features
⛔️ CONS:
Limited payroll
Not suitable for large businesses
---
Accounting Software FAQs
What is accounting software?
Accounting software is a computer program that enables you to manage your personal and business financial transactions. It allows businesses to use the resources in their accounting departments efficiently and reduce mistakes.
What are the main criteria for choosing accounting software?
Consider your needs and accounting skills
Decide what works best for you between cloud applications and installing software
Have a budget in mind
Check out the add-on features
Consider the input of your accountant.
What is the best accounting software for small business?
The best bookkeeping software is what works best for your needs. You can pick one from our selection above.
Can accounting software help reduce costs?
When accounting software is fully-integrates with other departments, it can help reduce costs significantly. Invoices are generating and sent to customers and payments recorded automatically. This eliminates costly manual processes.
Is there a free accounting solution?
Yes. Most accounting software providers have a free version with limited features. But you can also get completely free bookkeeping software for business or personal use. In your search for the best free accounting software, make sure to scrutinize the features. You want a tool that meets all your needs.
What's the best nonprofit accounting software?
QuickBooks for nonprofits (QuickBooks Premier) is one of the best accounting solutions for charity organizations.
Conclusion
Accounting has changed. It's no longer the grubby affair your grandpa had to grapple with. Our list of best accounting software tools is ideal for both entry-level and small business accounting. You're bound to find the right fit for your business.
Launchberg editors pick and review products independently. We may earn affiliate commissions when you purchase an item via our links—it helps support our testing.