Do you want to build a secure financial future but don't know how or where to invest money? Thankfully, there's an abundance of investment apps on the market that can help you invest with confidence, even with very little experience, time, and money.
Experienced and first-time investors are trading financial advisors and stockbrokers for investment apps.
We've made a list of the six best investment apps that can help you find the right opportunities for growth.
Find the Best Investment App for Your Needs
There are different kinds of investment apps on the market. Some cater to the needs of specific investors, while others cater to all types. To help you get started, we've made a list of the top six best investment apps. One of these might be ideal for your needs.
Best investment app for banking features
Online investing has never been easier and more convenient. Ideally, you should start investing your money as soon as you start earning it. This might seem impossible, but it truly isn't, especially with the help of an app called Stash. Whether you're young and just starting out or you're middle-aged and building a family, this app can help you out. You can buy fractional shares with Stash. For as little as $5, you can start investing your money.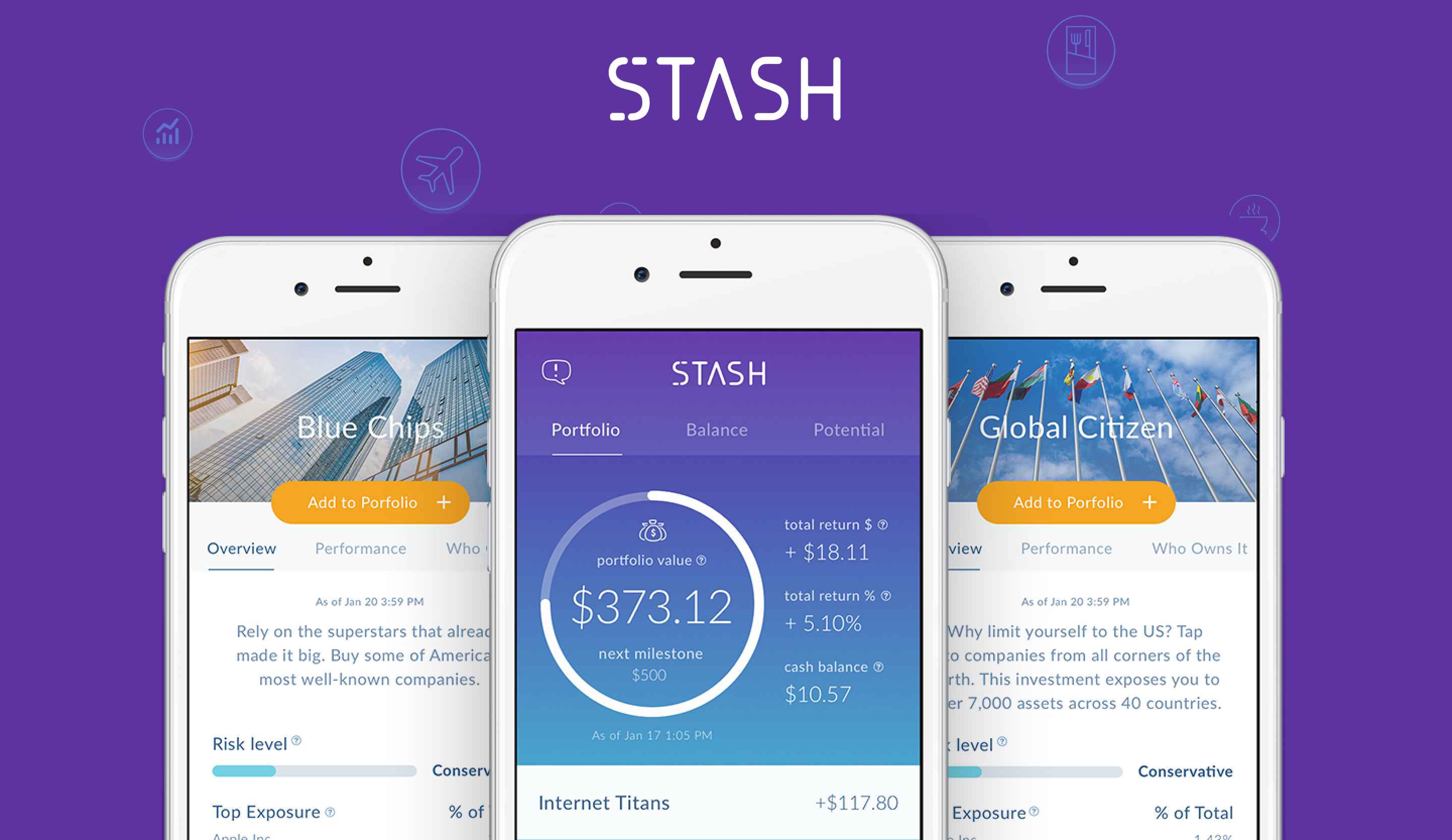 Perhaps the best thing about this app is its auto-stash tool, which helps you set up recurring investments. Stash is an excellent app for investors who are still trying to fully grasp all the jargons of the investment world.
✅ PROS:
Has personal financial advisors
Low barrier to entry
Low account minimum
⛔️ CONS:
Has higher fees for larger account balances
Has a risk of investing too little
Limited account options
---
Best investment app for data security
M1 Finance is an all-in-one smart money management platform that enables you to save more, earn more, and invest wisely. Whether it's low-cost ETFs or individual stocks, it lets you tailor your portfolio to fit your needs. You may also select one from 80+ expert portfolios.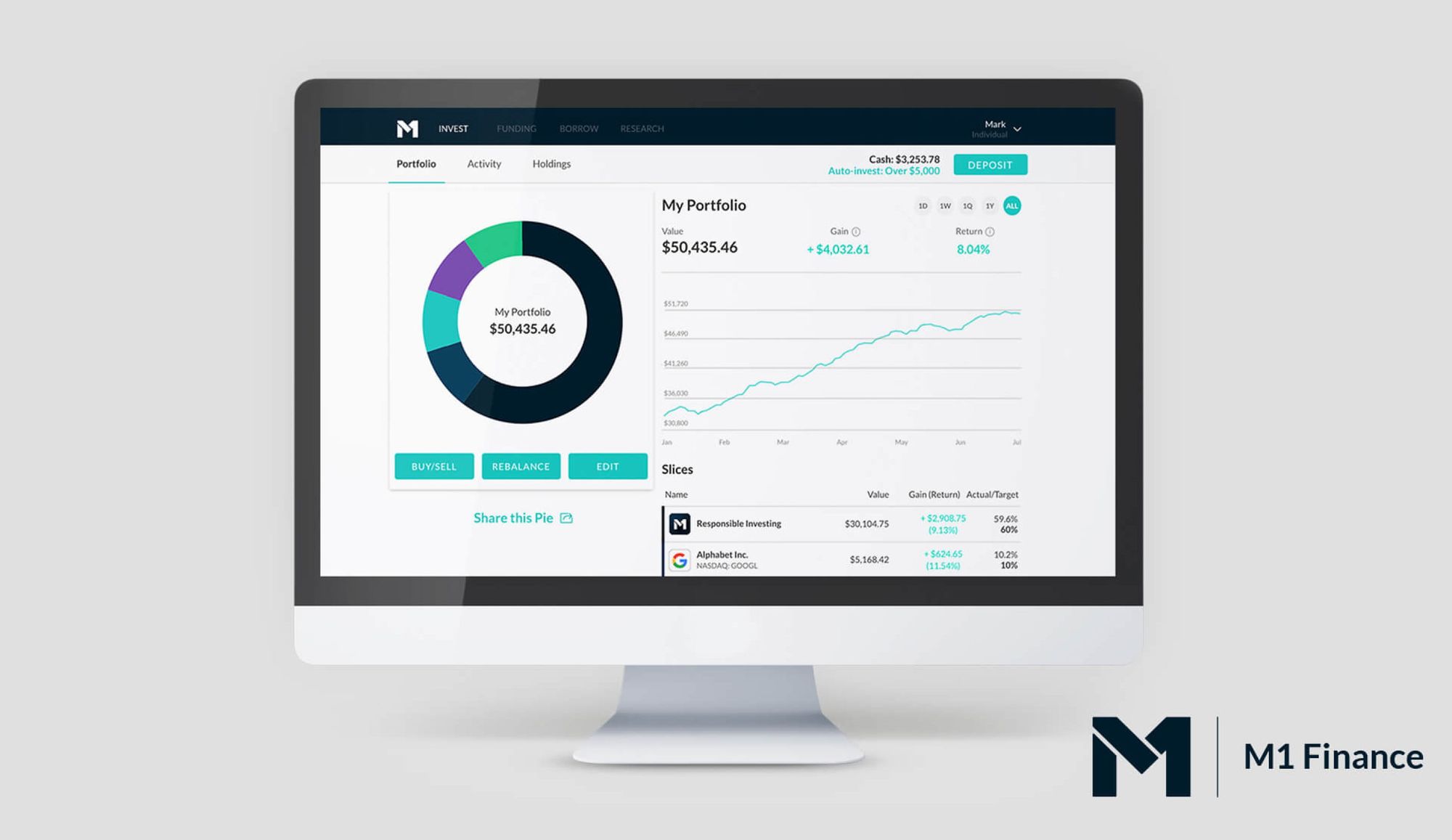 There are two types of accounts: Basic M1 and M1 Plus. The former is a free checking account with no trading commissions and trading fees. It lets you borrow at an interest rate of 3.50%. The latter costs $125 per year, and it lets you borrow at a rate of 2%. You can access M1 Finance from your PC or smartphone. Its user-friendly mobile app is also available on iOS and Android.
✅ PROS:
No commission or management fees
Has retirement account options
Low account minimum requirement
⛔️ CONS:
Limited investment options
Single trading window per day
---
Best investing apps for beginners
One of the best investment apps for first-time investors and college students, Acorns. Students rocking a .edu email can use Acorns for up to four years from the date of registration. It helps you save and invest money wisely. If money is tight, you can invest as little as you can scavenge using Acorns. It accepts as little as $1 per month. All you have to do is link a debit or credit card to your account, and Acorns will do the rest. It can automatically round up your spare change so you can invest them later in ETF portfolios.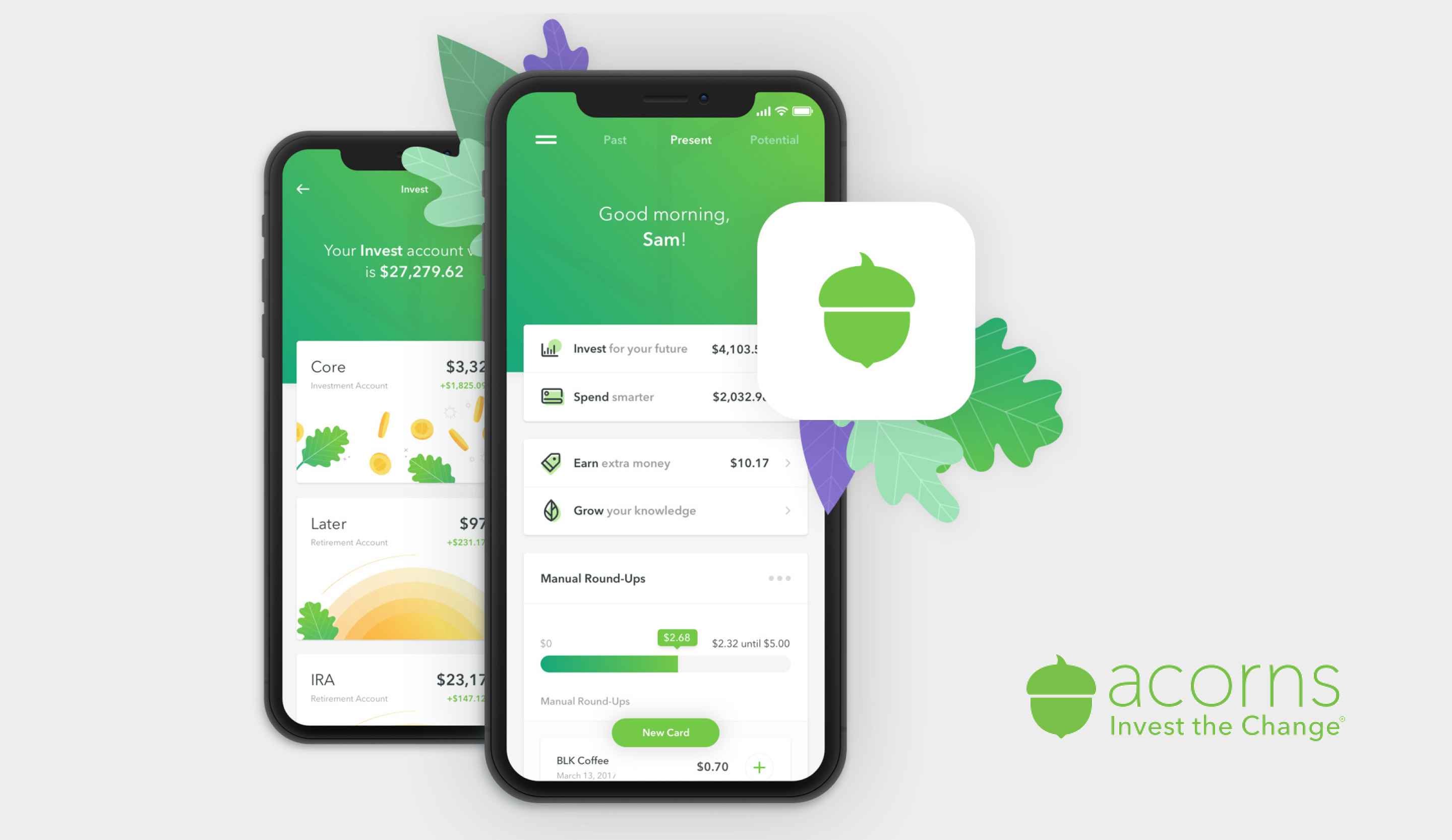 Acorns has bank-level security, as well as 256-bit encryption, to protect your data from potential threats. The app doesn't require a minimum balance; however, you do need at least $5 to start investing.
✅ PROS:
Invests spare change from transactions automatically
Offers educational content
Zero minimum balance
⛔️ CONS:
Small investment selection
Has higher fees for larger account balances
Has a risk of investing too little
---
Best online investment app for beginners
Ideal for new investors to active traders, TD Ameritrade is arguably the best trading platform app today. It doesn't require a minimum investment, and it has a wide trade commission-free investment selection. Not only that, it offers extensive and cost-free research tools and investor support that even advanced traders want to get their hands on.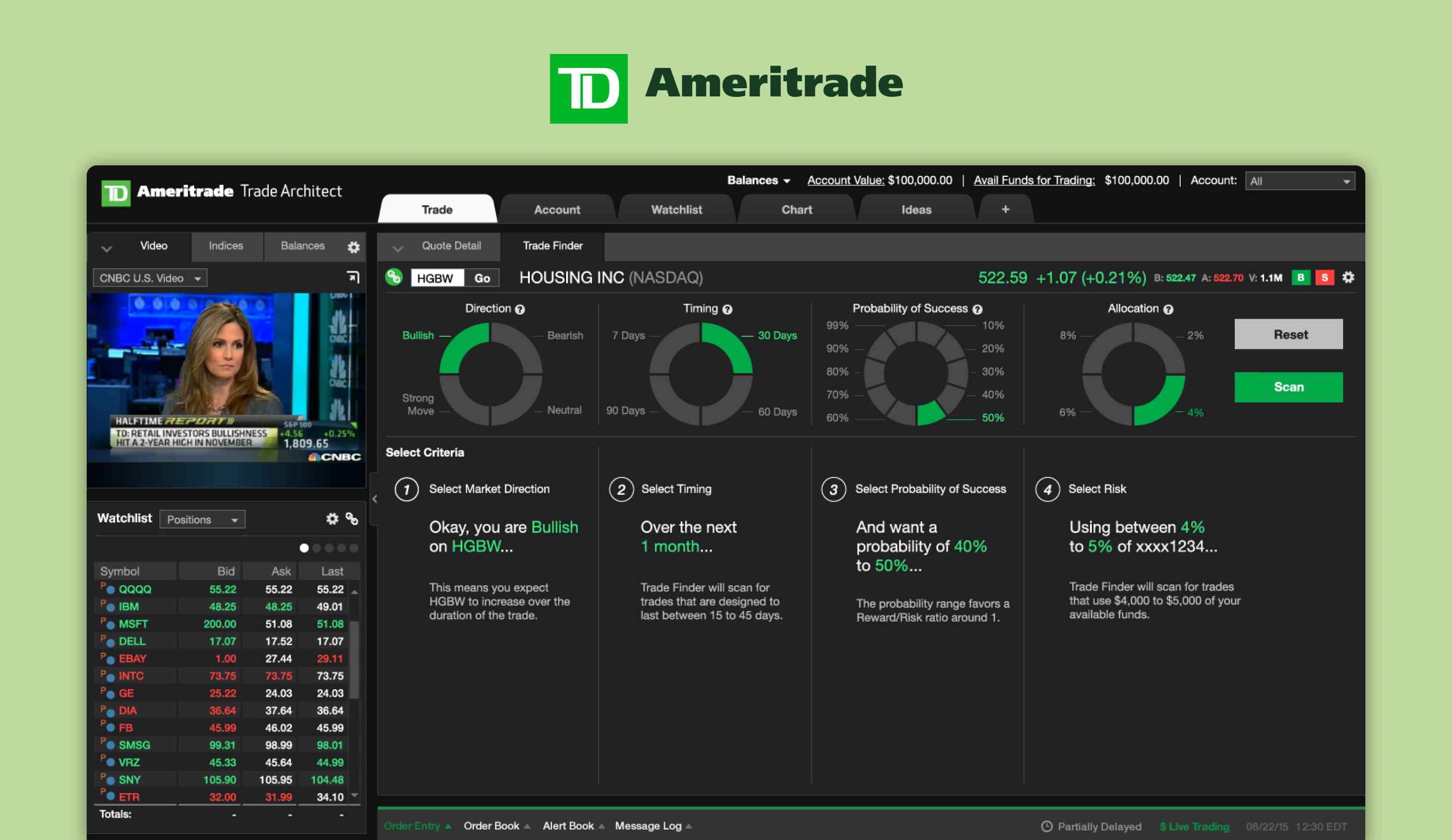 If you have very little experience, you can do broker-assisted trades. However, they will come with a price. You can take interactive webcasts and online courses to build your knowledge. With TD Ameritrade, you can also get objective research from third-party companies. The app is available on iOS, Android, and Blackberry devices. It also has a web platform.
✅ PROS:
Has a large investment portfolio
Has free research tools
High-quality trading
⛔️ CONS:
High trade commission
Expensive broker-assisted trades
---
Best investment app for active investors
Much like Sir Robin of Locksley aka Robin Hood, a famous character who empowered the poor with financial security, the app gives its users a shot at a more financially stable future.
Robinhood is an online stock trading platform with zero transaction fees. You can trade ETFs, stocks, and cryptocurrency for free all from a simple, user-friendly interface. Unlike some of the apps mentioned, Robinhood doesn't offer personalized recommendations. It does, however, offer research tools that will help you find the best stock to invest in.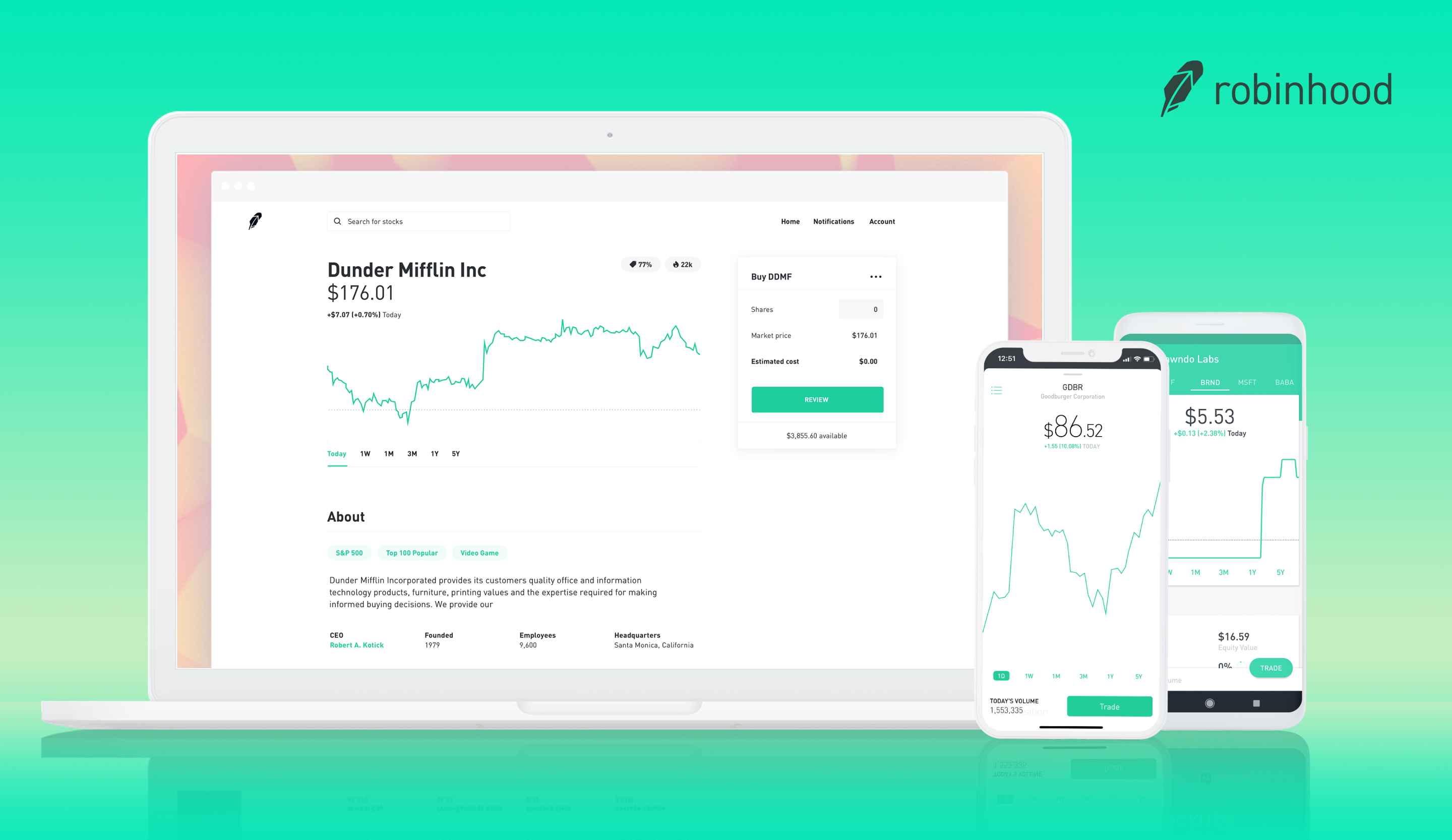 If you want to trade stocks without the exorbitant fees and you want a hassle-free way to keep tabs on the market, Robinhood is the app for you.
✅ PROS:
Zero commission on stock trades
No transaction fees
Has price movement notifications
⛔️ CONS:
Doesn't offer tailored investment recommendations
No retirement accounts
Limited tools for research
---
Best investment app for parents
The best trading platform for casual and first-time investors is Stockpile. It allows you to buy fractional shares of a company. If you don't have the savings to purchase an expensive tech stock, you can buy a fraction of it for a much lesser price instead. With Stockpile, even your kids and teens can start finding the best investments and placing trades that you approve of. What makes Stockpile different from the rest is that it allows you to send a stock gift card.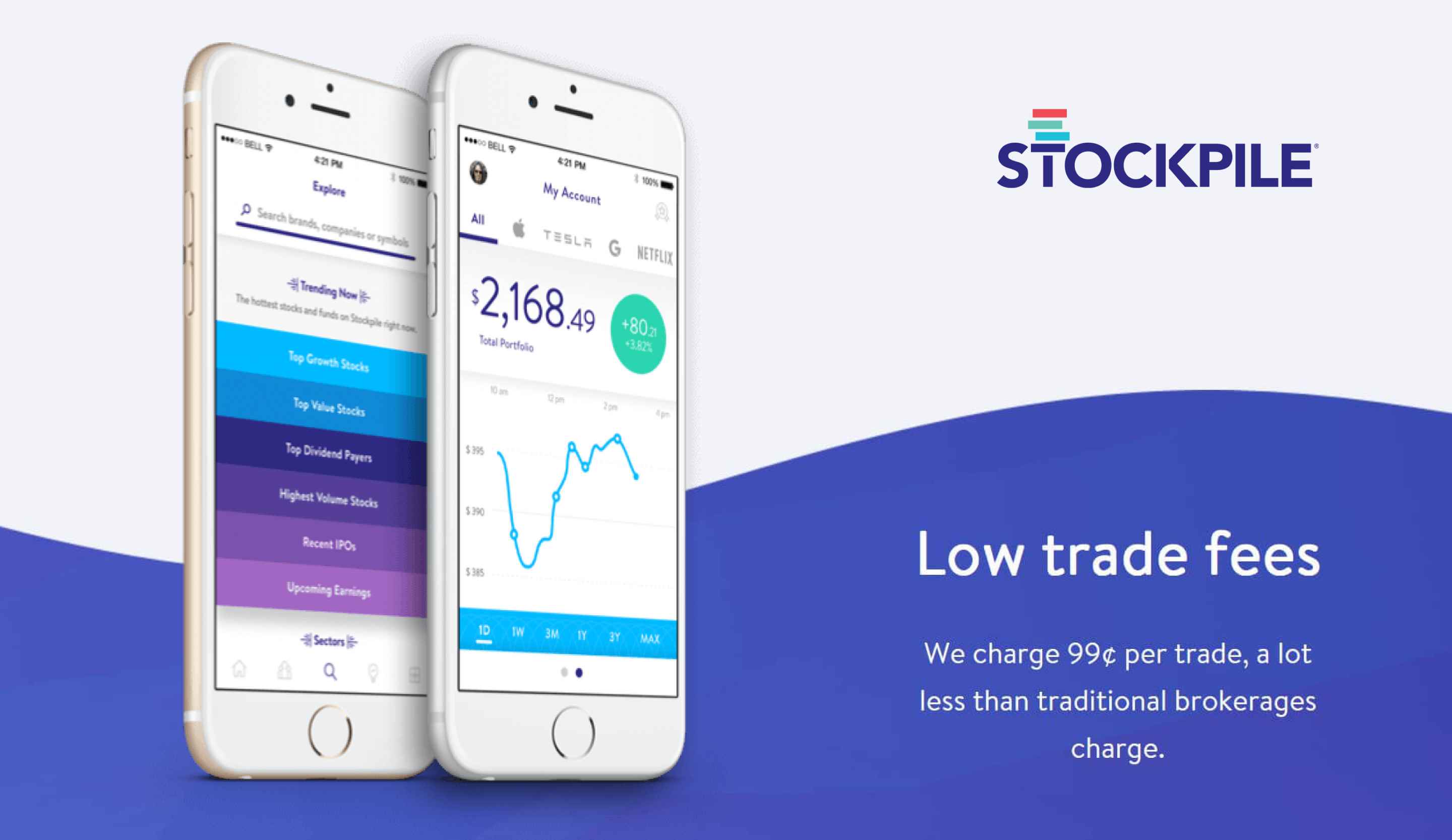 Stockpile costs 99 cents per trade. However, the platform has zero monthly fees and a zero account minimum policy, which makes it super easy for you to begin investing your money.
✅ PROS:
Allows minors to make investments
Has stock gift card options
Zero monthly fees and account minimum
⛔️ CONS:
Lengthy processing time
Limited tools for research
Has no live customer support
---
How to Choose the Best Investment App
Finding an investment app might be more challenging than making an investment. Today, you have countless options on the market, with each one bringing something unique to the table. But don't worry. We've rounded up six of our favorites to give you an idea of the features that make them the best.
Here are a few common features of the best investment apps on the market:
Helps you save. There are apps that will help you save spare change by automatically setting aside small amounts of money from transactions. Higher savings will lead to higher investment levels. With an app like this, you can build good habits and grow your money for the future.

Has educational resources. An ideal investment app for first-time investors offers a comprehensive set of research tools that will give you a clear idea of what you should be investing in.

Has low barriers to entry. Investment apps reduce the barriers to entry, making it easier for everyone to invest, even with very little financial resources. Some apps accept as low as $5 per month.

Offers free trades. The best thing about investment apps compared to traditional investment channels is that they offer little to zero trade fees. If an app charges exorbitant fees, it's not one of the best on the market.

Has a wide range of stock options. Some of the best investment apps on the market can offer more than 1000 investment options, including ETFs, cryptocurrency, and more.
Investing might seem overwhelming, but it doesn't have to be. By choosing the ideal investment app for your needs, you can take full control of your finances and build a secure financial future. Whether you're a first-time investor or an experienced one, you can benefit from having a wealth of investment resources and opportunities at your fingertips.
Related Articles: