Tired of receiving emails for products or services you no longer use?
After purchasing a product online, you might have unknowingly subscribed to the company's email list. It probably won't bother you at first—but spam tends to creep up on you. Before long, your inbox will be full of promotions, notices, bill alerts, and all kinds of easy-to-ignore marketing offers.
Below you will find some of the most convenient ways to free your inbox from unsolicited emails that you never signed up for.
How to Unsubscribe From Emails
There are different ways of removing clutter from your inbox. They vary depending on their levels of effectiveness and ease of use.
These are some of the most convenient ways to clean up your inbox:
Hit the unsubscribe link on the email
Businesses that practice email marketing efforts must adhere to CAN-SPAM, a set of guidelines for sending commercial messages. Simply put, it requires companies to provide subscribers with an easy way out in case they are no longer interested in receiving email alerts, and comes with tough sanctions for violators.
Simply scroll down to the bottom of the email to find an unsubscribe link. Most of the time, all you will have to do is click on the link to prevent further email notifications or alerts from entering your inbox.

Other service providers, however, might have different unsubscribe features. You might, for instance, be asked to tick a box to unsubscribe. Perhaps you might even be given a chance to opt-out of specific types of content and select ones you still want to receive.
Respond with an email
Not all businesses use email messaging services. Small companies or solo entrepreneurs without a large budget most likely send emails manually. Their emails usually won't come with unsubscribe links that automatically remove you from their list. In such cases, you will have to respond to their email with an "Unsubscribe" subject line or something similar.
Given that you will be relying on a person to read your email and remove you from their opt-in list, it might take a while. If the company takes forever to acknowledge your email, you may need to resend your message a few more times.
Use your email provider's unsubscribe link
Check your email provider for an unsubscribe link. Gmail now sorts social and promotional emails into different tabs, preventing them from making their way into your main inbox. Even though it does keep your inbox less cluttered, mail from these tabs can easily pile up if left unattended.
Most marketing emails on Gmail will come with an unsubscribe link. You should find it right below the subject line. Similarly, Microsoft Outlook provides its users with an email unsubscribe link right at above the details of the sender. Simply click on the link to remove yourself from the email list and mark the message as spam.

Yahoo Mail, on the other hand, gives you different methods of unsubscribing to mail. Its mobile app gives you the option to unsubscribe from unwanted mail or mark it as spam. The desktop version doesn't provide you with a link, but it does have a spam icon. Found beside the delete button, you can hit that icon to prevent the sender from emailing you.
Set up a filter to get rid of junk mail
Sometimes, brands make it too tedious to unsubscribe from emails. You will have to go to their site, log in, and reset your email preferences. Prevent unsolicited emails from entering your inbox by setting up a filter instead. On Google, you can configure your settings in a few seconds.
Open the email you want to unsubscribe to. Select the drop-down menu with three vertical dots, then click on the "Filter messages like these" option. From there, you will see a pop-up tab with the option "Create filter," which should lead you to another tab with the list of actions you want to perform.
To remove junk mail, tick the box that says "Delete it," as well as the one that says "Also apply filter to 1 matching conversation." Once you're done, hit "Create filter."
Sign up to an email unsubscription service
If you want to take yourself off a bunch of email lists, an unsubscription service is the easiest way to do it. There's a wide range of apps that can help you unsubscribe to junk mail without any cost. However, in exchange, you will have to give them access to your inbox. For this reason, it's important to choose your service provider wisely. Look for a credible, trustworthy partner who won't sell your data to other businesses.
---
Top Email Unsubscription Services
You might have wondered, "Is there an app that can unsubscribe me from a chunk of unwanted emails?"
Unsubscribing to a series of unwanted emails has never been easier. Now, you can use unsubscription services to clean up clutter and prevent unwanted emails from entering your inbox.
Here are some of the best services you can use to unsubscribe from junk mail:
Clean Email is an all-in-one tool that helps you to not just unsubscribe from noisy marketing newsletters and block senders you don't want to get emails from, but also to automate this whole process. Just set up the rules you want to be applied to your future emails and voila, your Inbox will always be as clean as a new pin!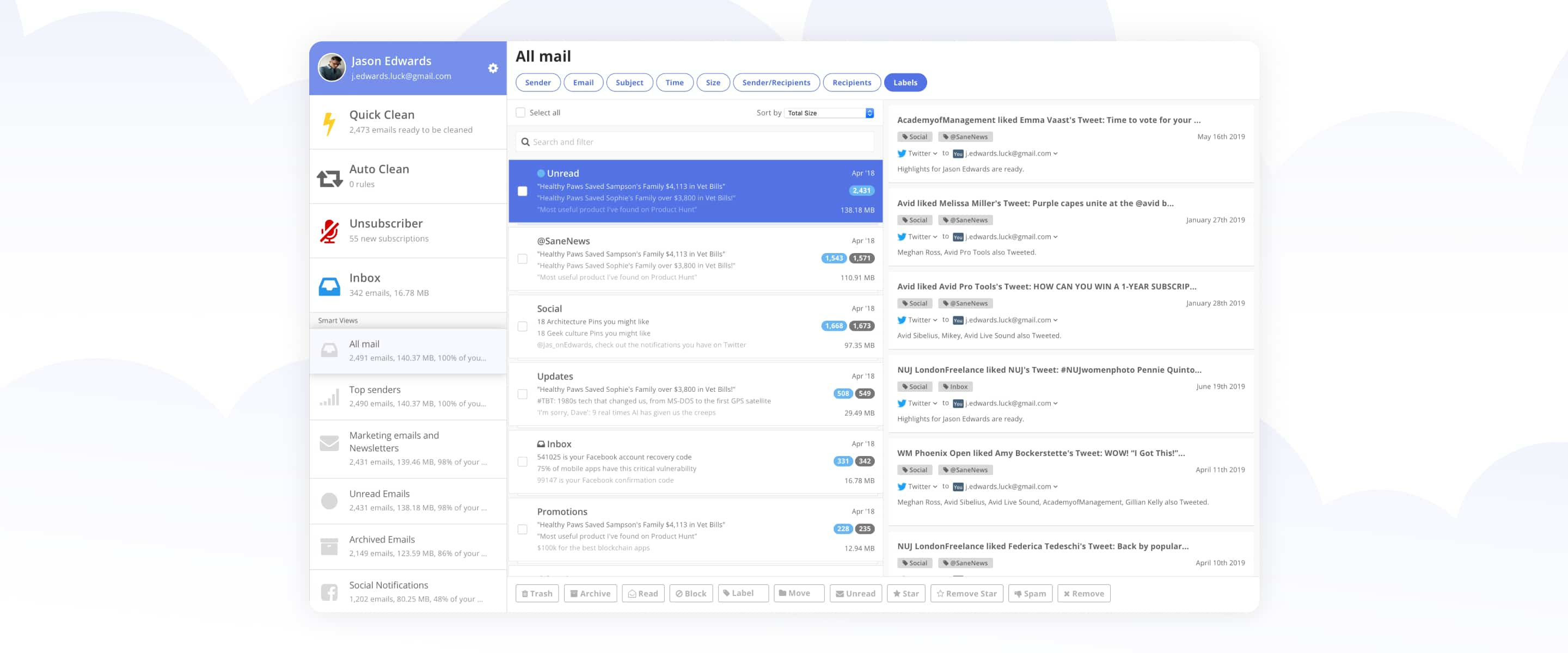 Moreover, Clean Email simplifies email management through smart views with rules and filters, allowing you to delete, archive, or label thousands of emails just in a few clicks. Its ability to organize reduces the frustration of having a cluttered inbox, and weekly activity reports help you to track your activity and control the process.
Though this email cleaner is a paid service, it's verified by Google, Yahoo, and AOL as a trustworthy application.
---
Using Unroll.me won't cost a dime. You can sign up for free, and instantly start removing emails you no longer want to see from your Gmail, Yahoo, Outlook, or AOL account.
It lists all of the social and promotional emails you've subscribed to, making it easier for you to select the ones you don't want to receive anymore. It gives you three options: Unsubscribe, Add to Roll up, and Keep in Inbox.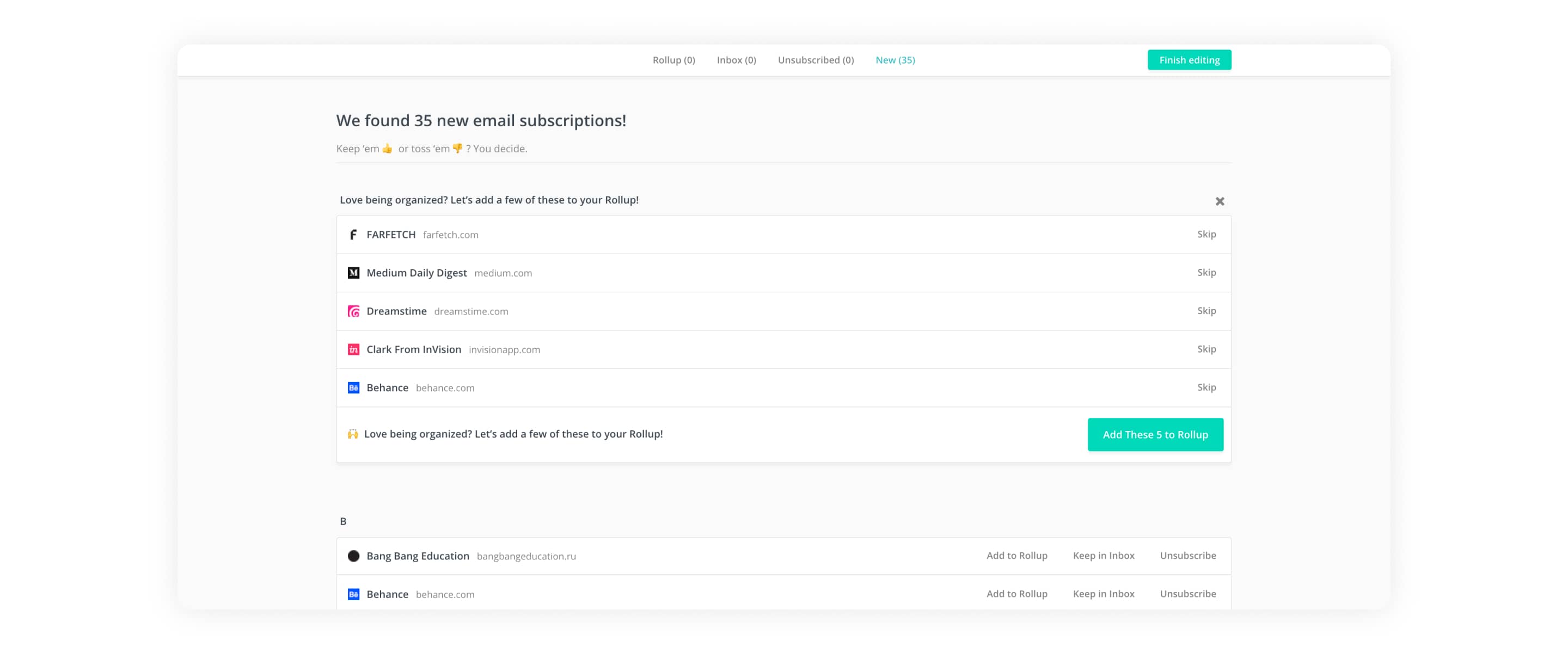 Emails that you still want to receive can be added to The Rollup, a single email which improves the visibility of your email subscriptions by collating them. Instead of scrolling through your inbox, you can receive your daily dose of emails in a list or grid format.
As long as it's free, there is a question, how they are making money, right? The company was in hot water for selling user data to third-party companies and benefited from that for a long time. Currently, answering the question their website says that they extract purchase information from your emails and "provide companies with insights into industry trends, corporate performance, and the competitive landscape"; however, it seems they're not interested in your personal emails, at least they say so.
---
The Leave Me Alone unsubscribe app shows a list of all your email subscriptions in one place and ranks them based on email frequency, which helps you figure out which ones are worth hanging on to. Not only that, it allows you to unsubscribe from emails with a tap of your finger.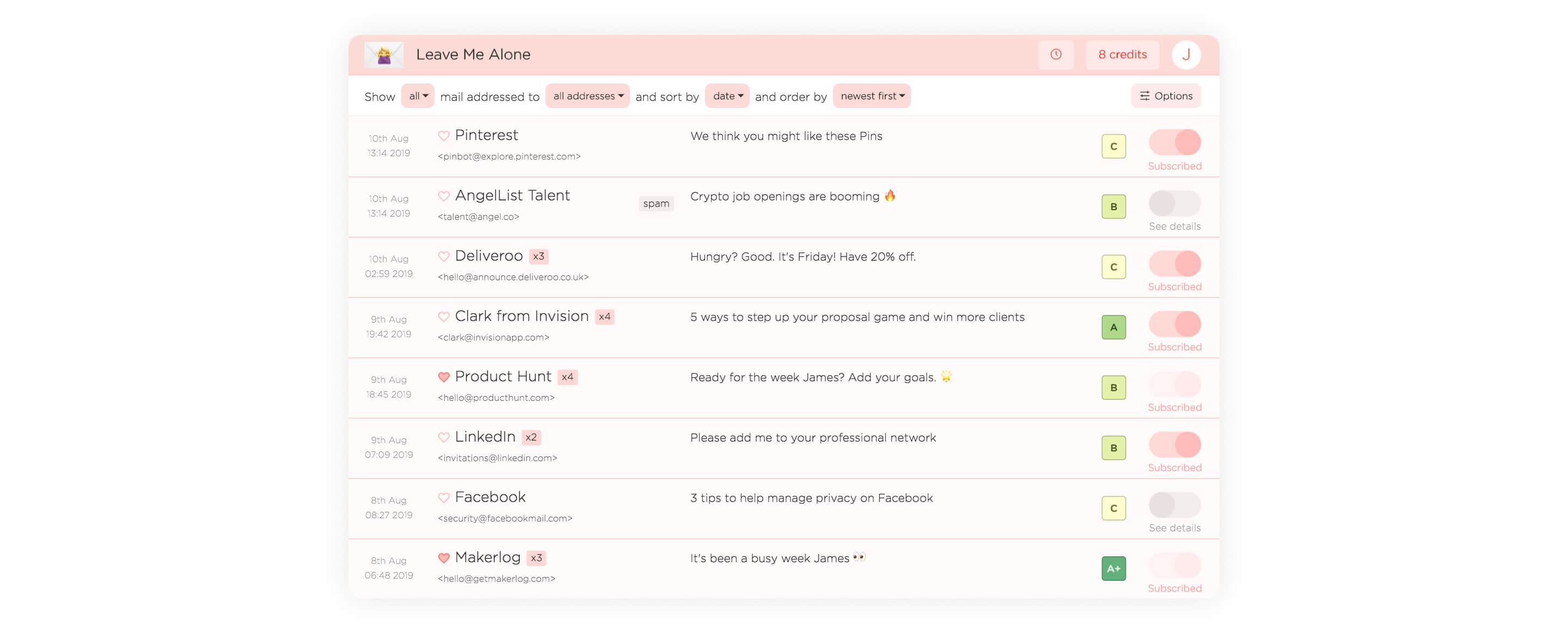 Leave Me Alone lets you connect all of your email accounts and remove unwanted subscriptions at once. It's also a paid service, which starts at $2.50.
Whether you want to unsubscribe from a few or mass emails, you won't have to break a sweat to do either. You may respond to the email manually if the brand isn't using an automation service. You can also do it by clicking on the unsubscribe link offered by your service provider or the one added to the email itself by the sender.
However, if you want to remove yourself from mass email lists, the easiest way to do it is through an unsubscription service. It's the easiest way to clean up the clutter and keep your inbox organized.