VPN's, otherwise known as virtual private networks, are becoming synonymous with protecting your personal information online.
With online privacy and data security under constant threat from both bad actors and the very services we use every day, isn't it time you invested in a VPN? While most people still browse the web openly, a VPN could be the only thing that could save you from having your personal information scrapped, stolen, or sold in 2019.
We've chosen the best VPN services in 2019 for you. Our top 10:
Read on for the detailed analysis of each VPN.
---
What is VPN?
Virtual private networks work to enhance the security of your personal information online by blocking unwanted eyes from surveilling your online activity. In other words, a VPN creates a secure and encrypted connection between your computer and a VPN service provider's own network.
When you're connected to a VPN, all your Internet traffic passes through the VPN provider's network, effectively making it look as if you really are using their network.

This protects you from the unwanted scrutiny of data scrapers and even your Internet service provider itself, who are often allowed to sell your browsing history for profit!
By using a VPN service, you can control how your information appears online while protecting yourself from unwanted attention. Even if most people still don't use VPN's, anyone concerned with only privacy can get ahead of the curve now by choosing a VPN service provider. So what is a VPN? A VPN is the best way to protect yourself and your data every time you're online.
"If you're concerned about surveillance, cybercrime, or data privacy, its time to start using a VPN"
While VPN's can't protect you from your own mistakes, such as downloading ransomware or a computer virus, using a VPN can protect you from mass data collection. VPN's can protect your privacy by making it more difficult for advertisers to profile you or figure out where you are.
So long as you continue to browse websites connected via HTTPS, your data will remain encrypted even after leaving your VPN's service provider's server. If you're concerned about surveillance, cybercrime, or data privacy, its time to start using a VPN, but first, you'll need to figure out how to choose the best VPN service for you.
How to Choose a VPN Service?
There are many different VPN service providers out there, offering a range of products and services of varying quality and at different prices. Not all VPN's are created equal, and some are even designed with specific users in mind. Before choosing the best VPN service, you need to know how to evaluate VPNs and what indicators to look for when making your decision.
First things first: if you're looking for a VPN, you need to be aware that since the explosion in popularity of VPN's, impostor companies have popped up selling fake VPN services. Don't get caught in a scam. Not only will you likely be paying for nothing, but your so-called VPN provider may also even be the very one selling your personal information online!
While there are free VPN's out there, the price isn't the only thing you should consider when deciding on a VPN service. Speed and the amount of allowed simultaneous connections are important too. Other important benchmarks to use when evaluating a VPN are reputation from other users, performance, the type of encryption used by the VPN, transparency, ease of user experience, and support.
---
Avast SecureLine VPN offers users one of the most streamlined and user-friendly interfaces on the market. Its clean and simple security tools can be operated by almost anyone, and a wide array of geographically diverse server locations spread over six continents makes it convenient no matter where are in the world.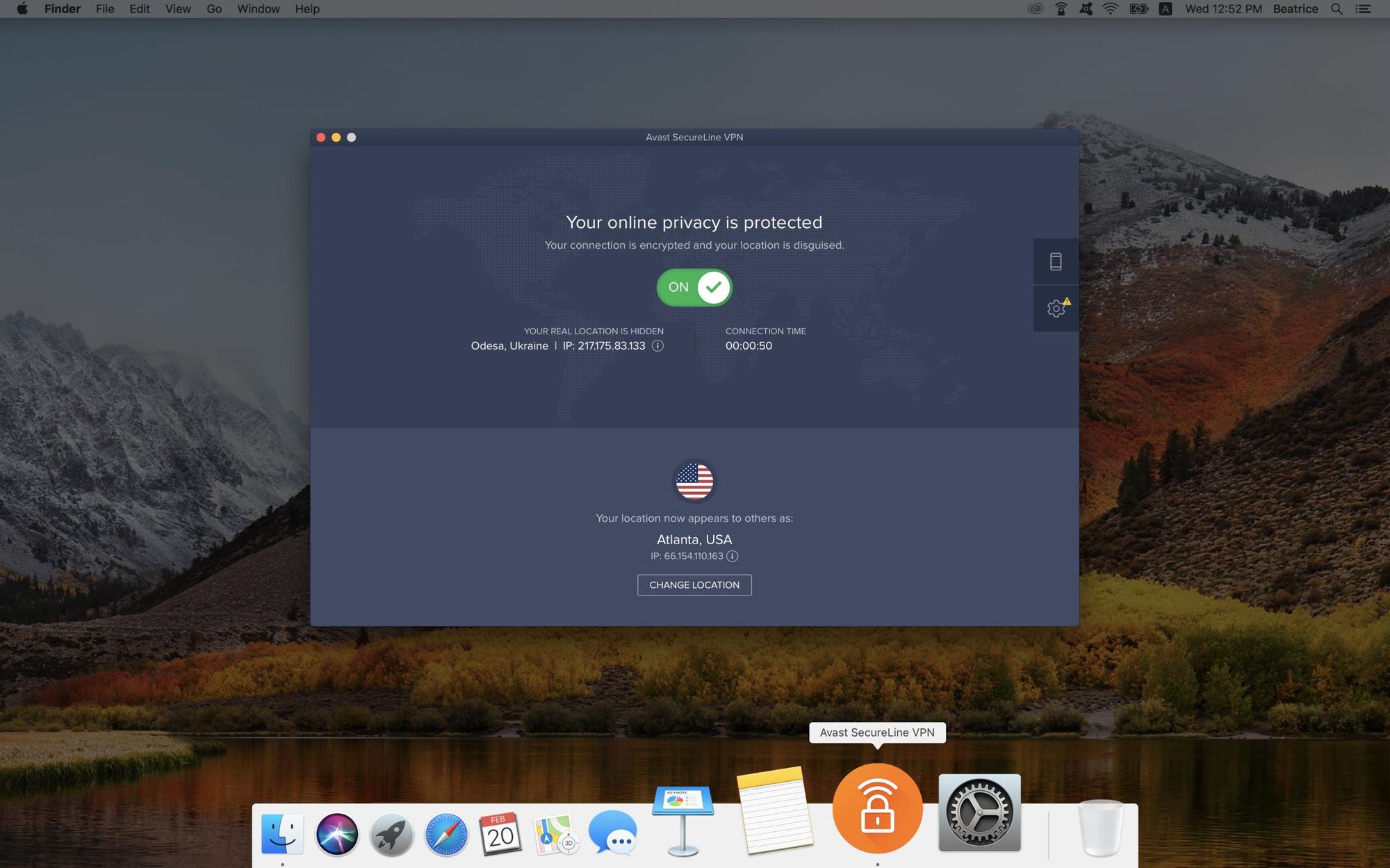 If Avast VPN's best features are its ease of use and diverse server spread, its downsides are its cost, speed, and limited security options. While all VPN's reduce speed and performance somewhat, Avast VPN is known for vastly reducing connection speeds in comparison to some of its competitors.
👆 SPECS:
Price: $79.99/1 year
Number of servers: 55
Server locations: 34 countries
Maximum devices supported: 5
Number of IP addresses: N/A
✅ PROS:
Trustworthy Brand
Well Encrypted And Secure
US Netflix Accessible
Torrenting Is Allowed
Fast Customer Support Through Call Center
Great Usability On Both Desktop And Mobile
Found No DNS, IP Or WebRTC Leaks
⛔️ CONS:
Lacks Advanced Security Features
No Killswitch
No Router Support
High Price
---
Express VPN is an excellent product offering a stringent no data logging policy with one of the fastest upload and download speeds on the market. With over 2000 servers located in 94 different countries, Express VPN offers one of the largest and most diverse server spreads. Besides that, Express VPN also offers users unlimited bandwidth across multiple devices.
While some VPN's do not support torrenting or P2P file sharing, Express VPN has no such policy - it even supports Netflix!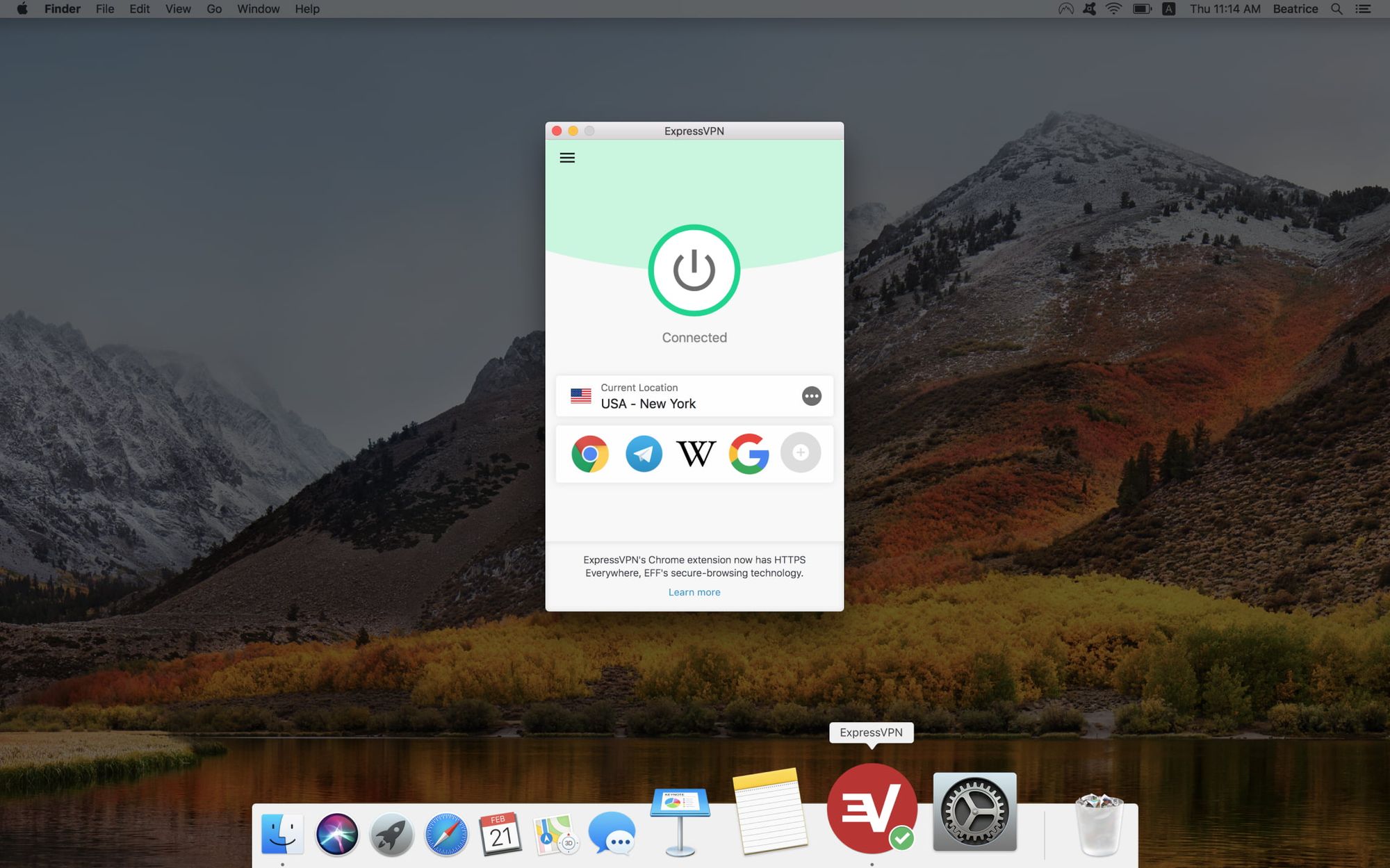 The only cons when it comes to Express VPN are its high monthly costs and limit to 3 simultaneous connections at a time. Another potential downside is Express VPN's lack of transparency, but depending on your point of view, anonymity in the VPN business can also be a very good selling point!
👆 SPECS:
Price: $99.95/1 year
Number of servers: 2000+
Server locations: 148 in 94 countries
Maximum devices supported: 3
Number of IP addresses: 30,000
✅ PROS:
Simple Cross-Platform Client
Zero Logs, Solid Encryption, OpenVPN, Kill Switch
Good Speeds for Gaming, Streaming
Unlimited Bandwidth for P2P
Consistently Unblocks Netflix, so You Never Miss an Episode
Accepts Bitcoin
Ensures Complete and Total Privacy as It's Host Country is not Part of the Five-Eyes Alliance
Will Protect Your Privacy and Give You Unrestricted Internet Access in China and Russia
⛔️ CONS:
No Ad Blocker
Logs Non-identifiable Metadata
Only Supports a Maximum of Three Devices
---
VPN Unlimited from KeepSolid is a cheaply priced VPN operating out of New York. VPN Unlimited is a highly capable VPN service offering users industry standard AES-256 encryption for maintaining a high-security profile. In fact, VPN Unlimited's Wise technology scrambles and obfuscates network traffic, allowing users to bypass VPN detection software in countries like China.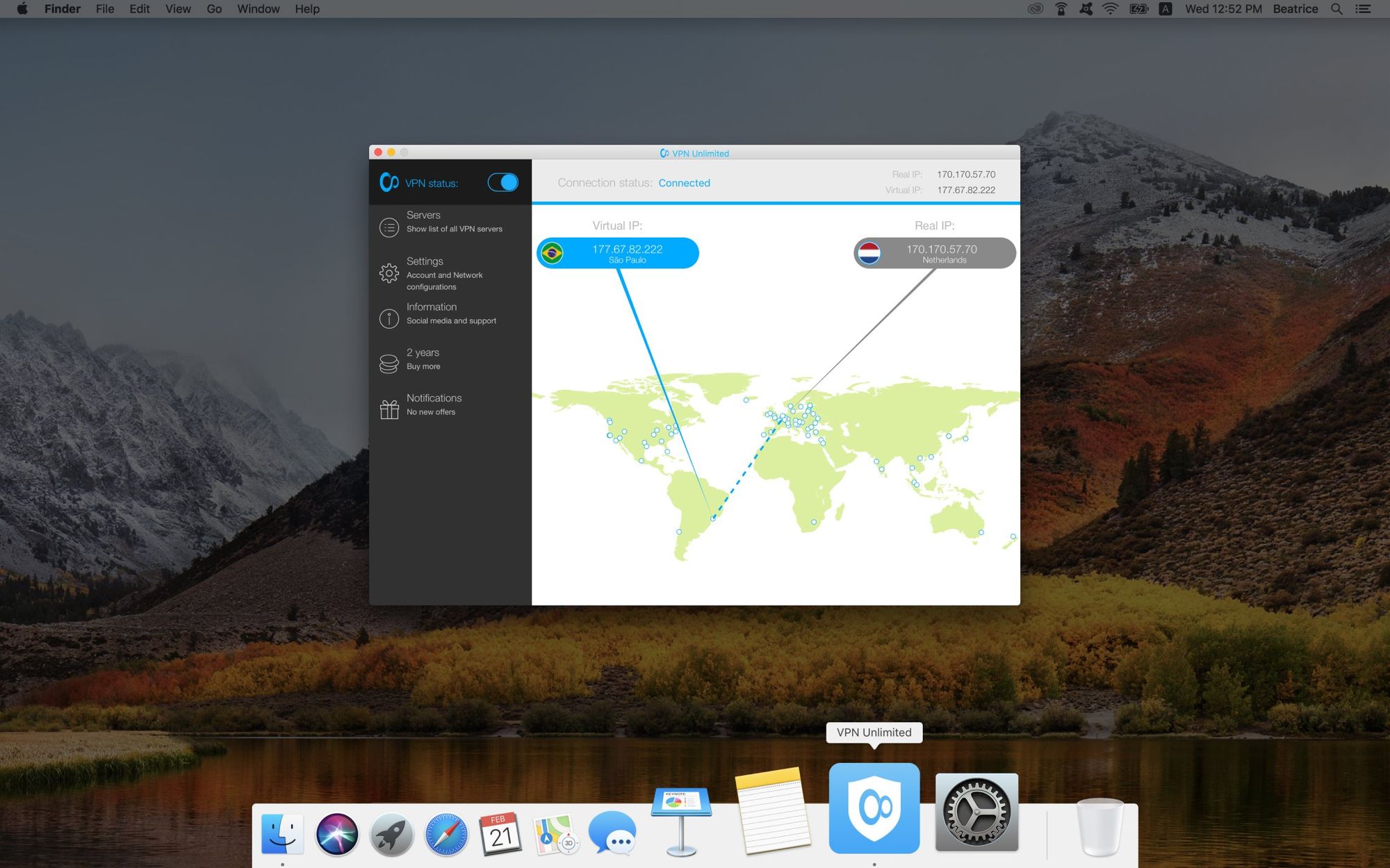 Despite the positives, VPN Unlimited is known for its data logging policies. While many VPN's have made zero logging their primary mission, VPN Unlimited collects client information such as connection attempt time, connection type, encryption type, device type, and possibly more.
👆 SPECS:
Price: $39.96/1 year
Number of servers: 400+
Server locations: 70+
Maximum devices supported: 3
Number of IP addresses: N/A
✅ PROS:
Wide Range of Supported Devices
7-day Free Trial
Impressive Speeds
Great Range of Clients
Bitcoin Supported
⛔️ CONS:
Limited Device Support, Configuration and Privacy Options
Failed to Stream BBC iPlayer
Not Good for Torrent Users
Some Session Logging
No Kill Switch on Windows
Unlimited VPN Collects Client Information Such as Connection Attempt Time, Connection Type, Encryption Type, Device Type, and Possibly More
---
One of the most popular VPN's out there, Nord VPN offers users access to over 5000 different servers in over 62 countries around the world. While certainly not cheap, Nord VPN makes up for its price with its integrity and a wide array of services.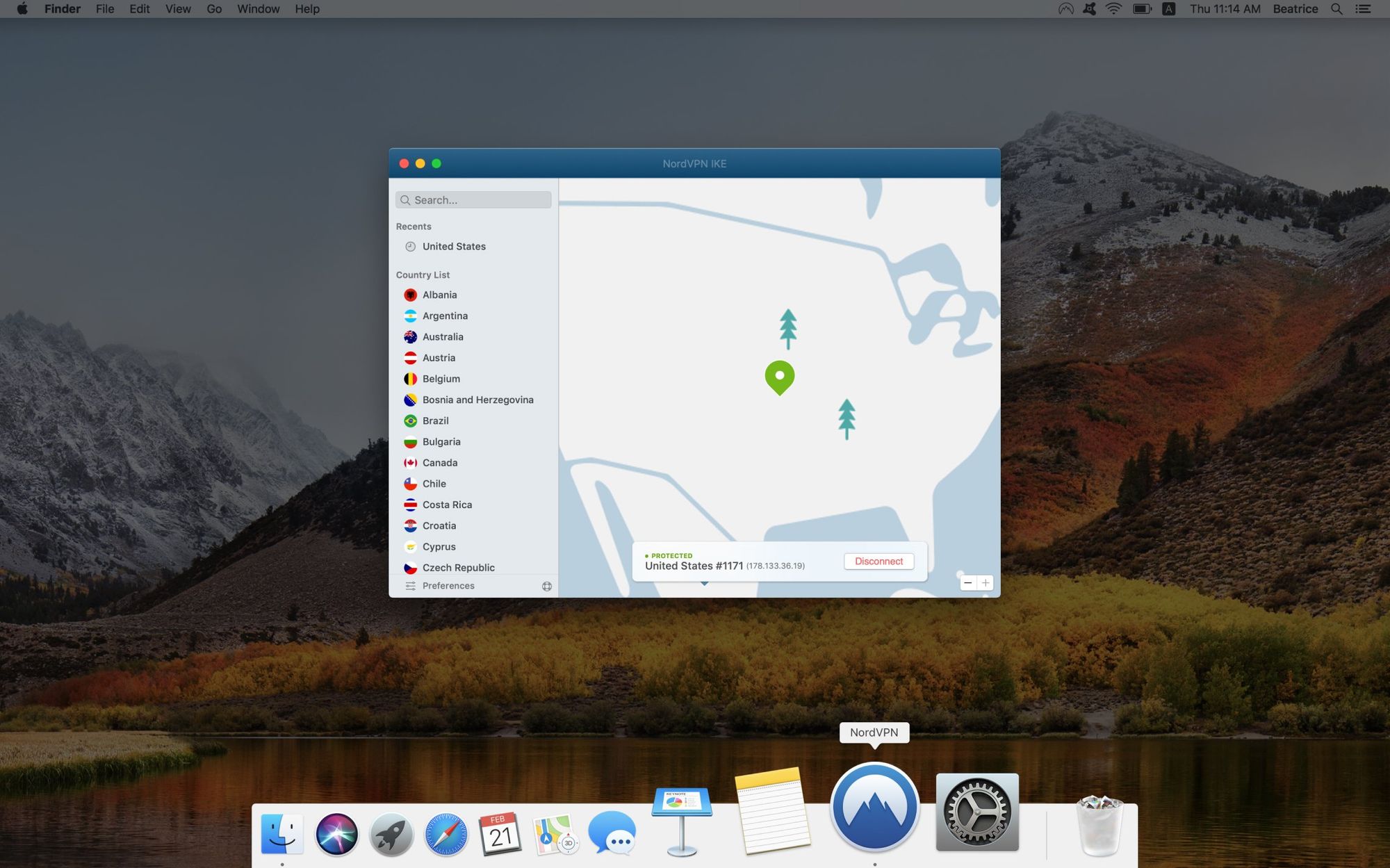 As of November 2018, Nord VPN was the first VPN to conduct a successful independent audit of its no logging policy. Nord VPN's P2P support, clear no data logging policy, and Panama registration give users confidence that their online activity won't be visible to anyone.
👆 SPECS:
Price: $83.88/1 year
Number of servers: 5064+
Server locations: 62+
Maximum devices supported: 6
Number of IP addresses: 5,000
✅ PROS:
Large Number of Servers
Wide Range of Privacy and Security Features
Wide Range of Endpoint Countries
Clear No-logging Policy
Typically Fast Performance in Transfer Speed Tests
Supports Up to 6 Devices
Strong Performance
Quality Mobile and Desktop Clients
Double-hop VPN servers; Tor-over-VPN Servers
24/7 Live Chat Support
Works With Netflix and Other Streaming Services
CyberSec Ad-blocking Feature
Panama-based, Reliable Encryption, No Logs
P2P, HD Streaming, Unlimited Bandwidth
Automatic Kill Switch
DNS Leak Protection
⛔️ CONS:
Unclear Session Logging Policy
Variable Speeds With Some Servers
No Ads Blocking
Double Encryption Can be Sluggish
---
CyberGhost is a popular VPN provider who got more than ten million users due to its power and ease of use.
The good thing is that you don't need to guess which server to use to unblock a website (if you need to), but you can choose a geo-blocked service from the list - Netflix, BBC iPlayer, Hulu, YouTube and more - the app automatically connects you to the nearest and the best server and opens a browser window at the target site.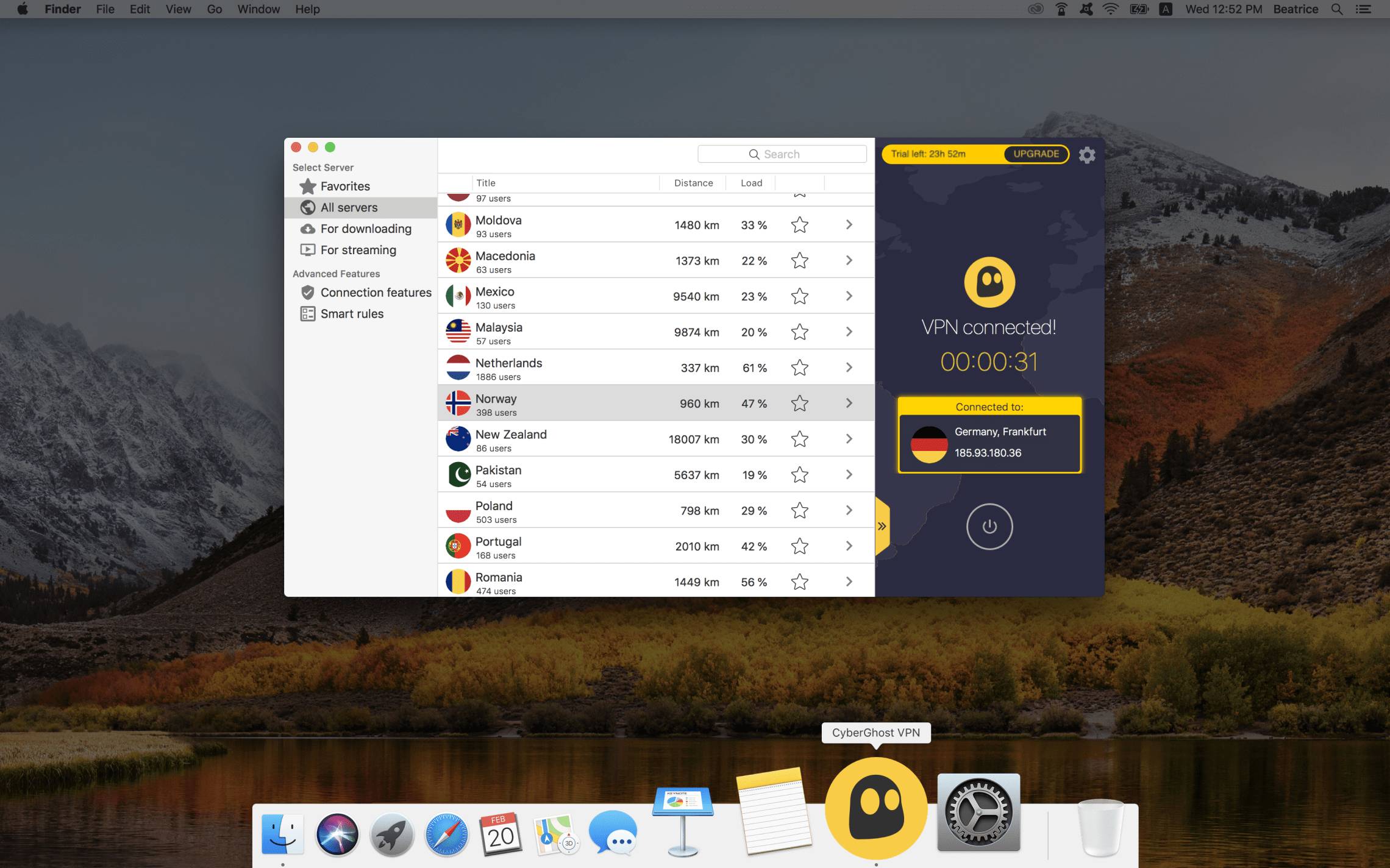 The company supports VPN via routers, has Linux support, and has a solution for the Kodi media player. It also supports VPN via routers, has Linux support, and has a solution for the Kodi media player. They picked up points for preserving anonymity by not logging connection data and support P2P and BitTorrent in most countries.
👆 SPECS:
Price: $63.00/1 year
Number of servers: 3500+
Server locations: 60+
Maximum devices supported: 7
Number of IP addresses: N/A
✅ PROS:
Large Number of Servers
Wide Range of Endpoint Countries
Clear No-logging Policy
Provides International Netflix and iPlayer
Clients Have Plenty of Smart Features
Good Performance Levels
⛔️ CONS:
Poor Performance in Speed Tests
Relatively Expensive Unless You Buy a Two or Three-year Subscription
---
Launched in 2005, Hotspot Shield has become a VPN for users who really value raw speed, and ease of use.
They support all the main platforms - macOS, iOS, Android, and Windows - but as Hotspot Shield only uses its own Catapult Hydra protocol and no longer supports standards like OpenVPN, you can't manually set it up on your router, games console, Chromebook, or anywhere else you might want to use the service.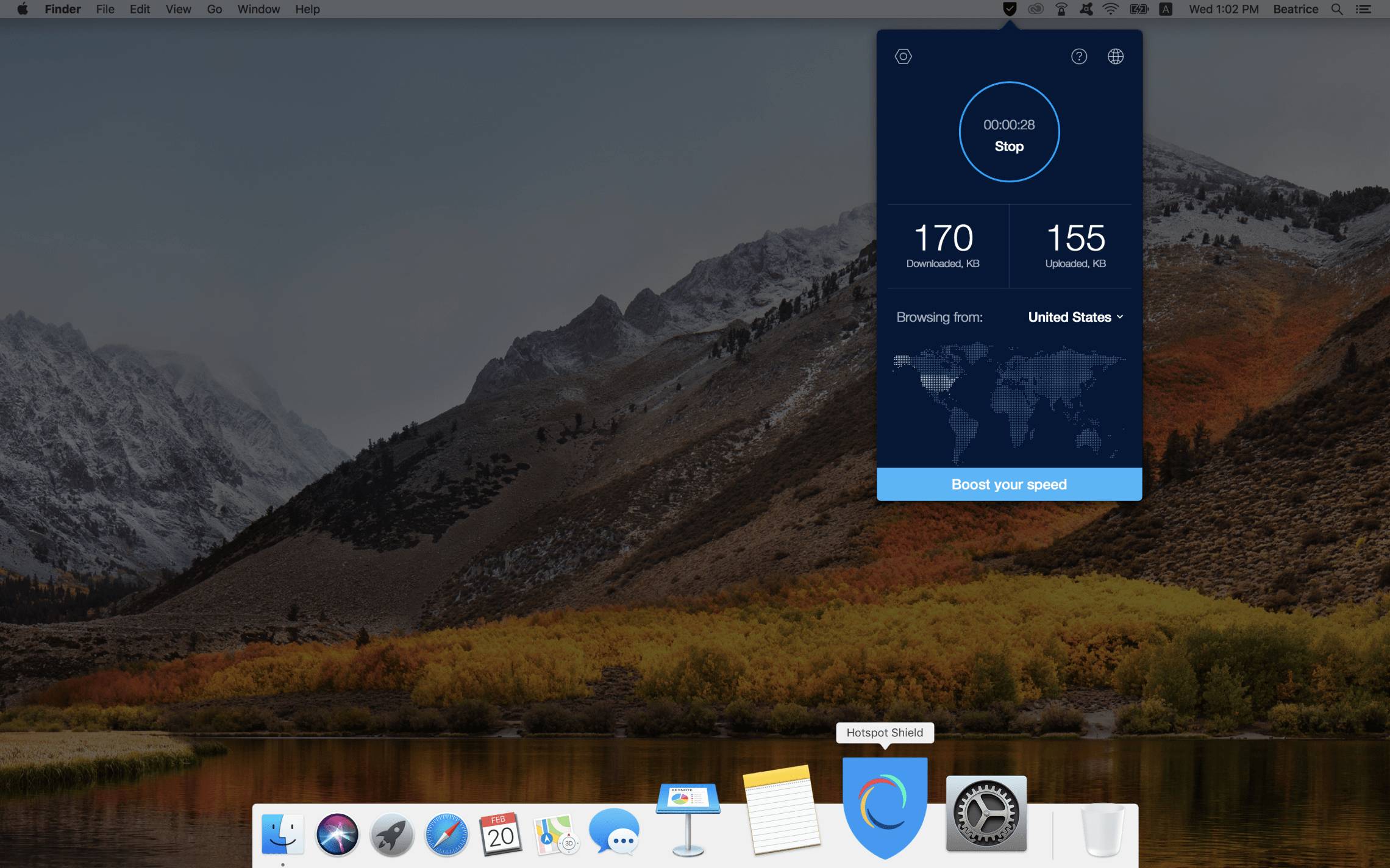 Is it totally free? There are two options for HotSpot Shield. The first option is completely free; however, it is supported by on-screen advertisements. The second one offers a 7-day trial of HotSpot Shield Elite, its flagship product.
Hotspot Shield is compatible with every operating system, has a no-logs policy, and offers dedicated tech support. You'll be able to access geo-restricted content from anywhere, using any device. However, if you're looking for low prices or router support or Netflix access, this VPN service is not an option.
👆 SPECS:
Price: $71.88/1 year
Number of servers: 2500+
Server locations: 26
Maximum devices supported: 5
Number of IP addresses: 50,000
✅ PROS:
Great Download Speeds
Super-easy to Use
7-day Trial
Robust Data Encryption
Protection Against Malware
⛔️ CONS:
Only Works With the Official Apps
The Free Version Limits Users to One Device and 500 Megabytes of Bandwidth Per Day
Netflix, Hulu, Amazon Prime, Essentially Any Premium Streaming Service Cannot be Accessed With the Free Version
On-screen Advertisements Could Inhibit the User Experience as Well
---
Ivacy is a Singapore-based VPN which – according to its website – offers just about every feature you need for almost no money at all.
They offer 450+ servers spread across more than 100 locations. The service is compatible with almost all devices including Android, iOS, Windows, Mac, Linux, routers, smart TVs and even Xbox.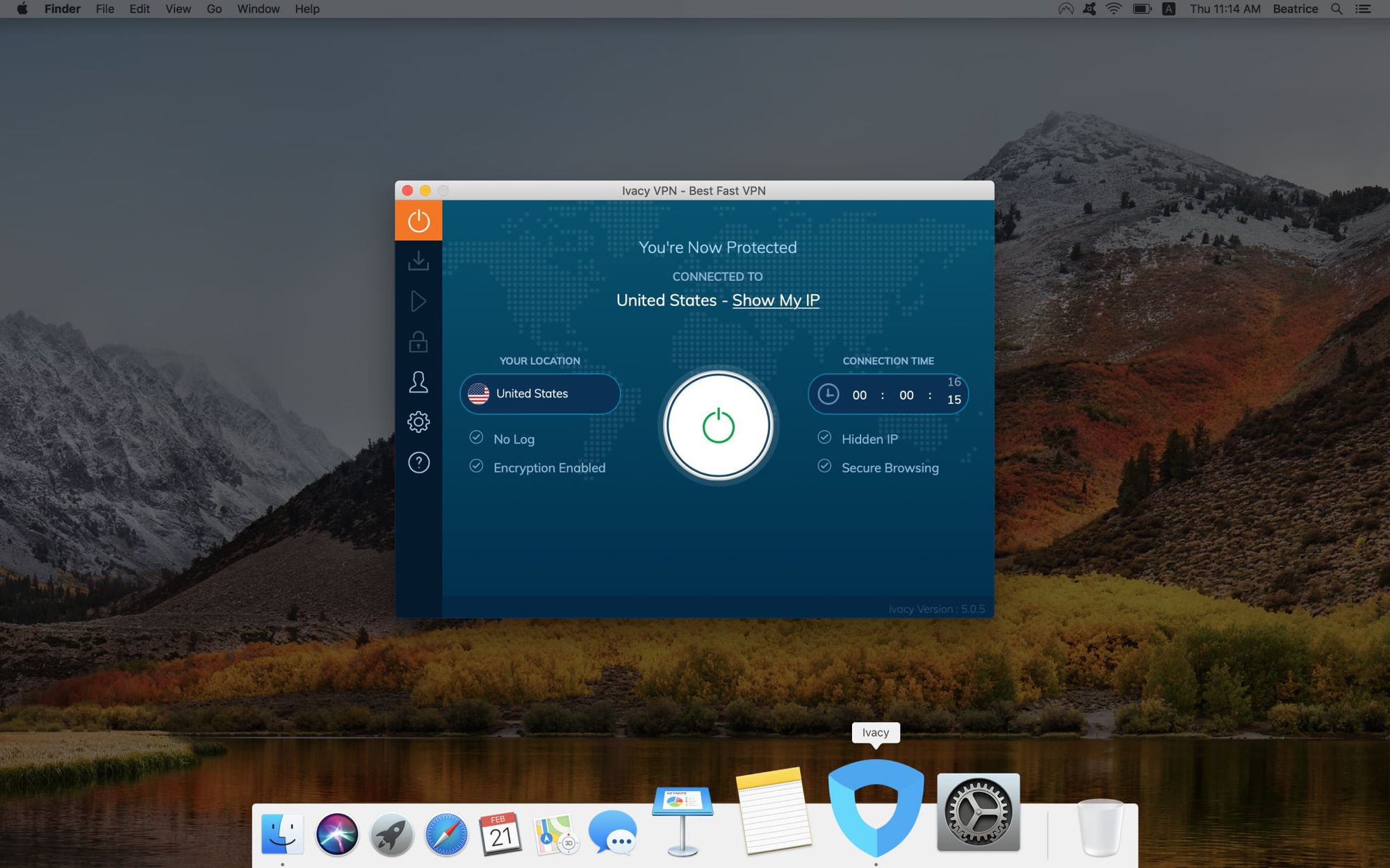 Technical pluses include support for PPTP, SSTP, L2TP, OpenVPN, and IKEv2 protocols, split tunneling support enables choosing which traffic you route through the tunnel, and the feature list goes on.
👆 SPECS:
Price: $40.00/1 year
Number of servers: 1000+
Server locations: 100 in 50 countries
Maximum devices supported: 5
Number of IP addresses: 125,000
✅ PROS:
Advanced IPsec & IKEV Protocols
Virus Protection
Smart Connect Feature
Military Grade 256-Bit Encryption
1000+ Servers in 100+ Locations
No Browsing Logs Policy
Internet Kill Switch
High Speed Downloading
Unlimited Bandwidth
Dedicated Kodi App
P2P Support
5 Devices Simultaneous Logins
⛔️ CONS:
No TOR or Proxy Compatibility
Zero Out of Four Netflix Servers Worked
Doesn't Unblock BBC iPlayer
---
TunnelBear is a Canadian-based VPN service combining some unique features of other VPNs. It has an extremely user-friendly and good-looking interface, allows you to connect to servers in 22+ countries, and enjoy fair connection speeds.
As for security and anonymity, TunnelBear takes it seriously. The company guarantees no data logging and uses AES 256-bit encryption. This means your data will never be stored and your identity will always stay private.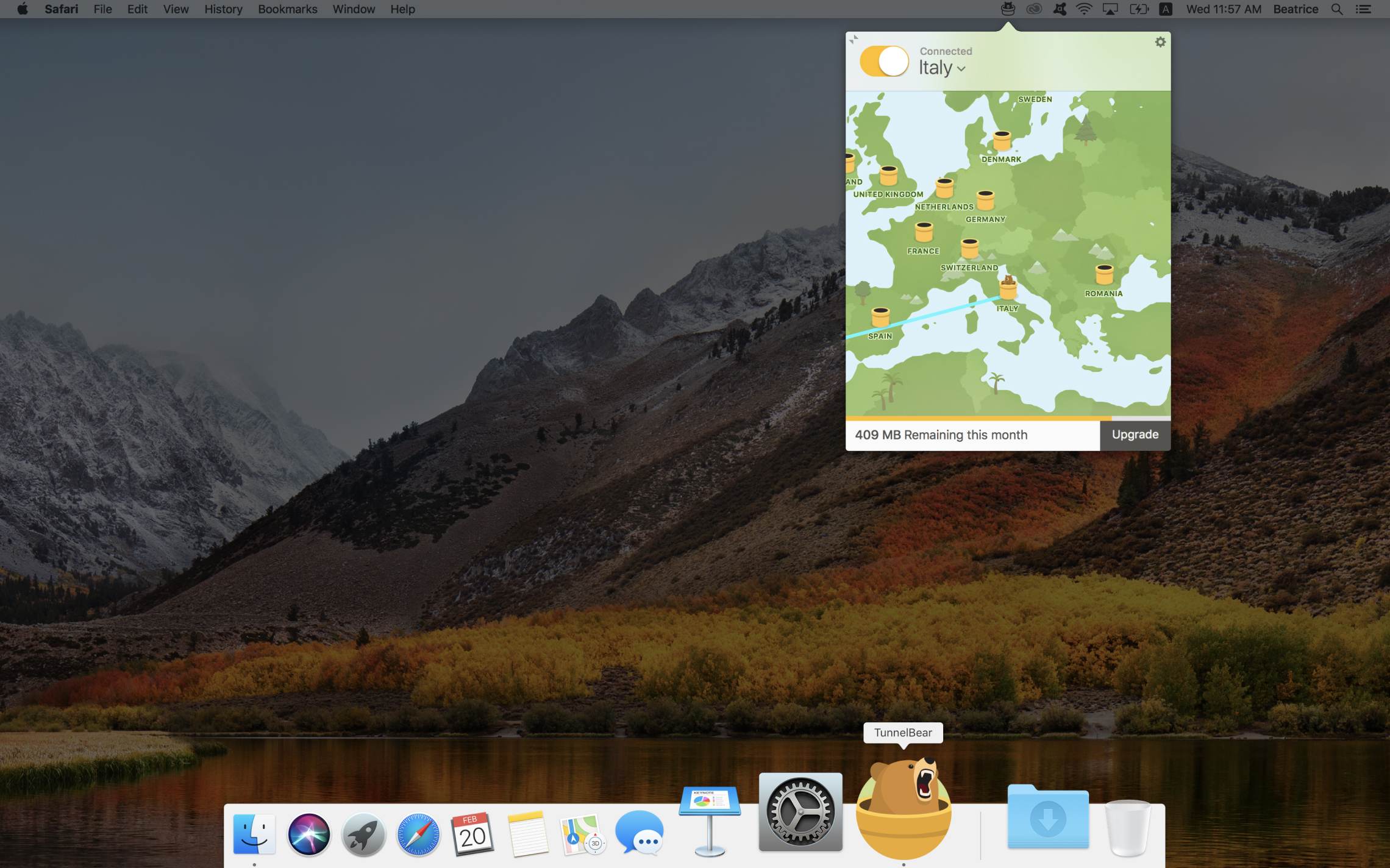 A free TunnelBear account provides you with just 500 MB of data every month (although you can tweet them for an extra 1 GB). This VPN doesn't work with Netflix and other streaming sites, torrent websites so it won't help you access geo-blocked video content.
👆 SPECS:
Price: $59.88/1 year
Number of servers: 1000+
Server locations: 20+
Maximum devices supported: 5
Number of IP addresses: N/A
✅ PROS:
Extremely User-friendly
Wide Range of Client Software
Transparent Privacy Policy
Free Version Available
Clear No-logging Policy
Wide Range of Privacy and Security Features
Good Connection Speeds
No Logging and Powerful Encryption
No Ads
⛔️ CONS:
Long-distance Connections Can be Slower
Poor FTP Performance From UK Endpoints
Data Limit: 500 MB/month
No Streaming
Small Server Network
---
The real kicker of IPVanish is the fact that the company keeps zero logs and concerns a lot about privacy. You even can choose to pay in Bitcoin as a payment option.
A unique feature of IPVanish is the VPN's support of Kodi, an open-source media streaming app that was known as XBMC. This means that built Kodi or XBMC with the integrated IPVanish Kodi plugin into a media player, provides access to most media worldwide.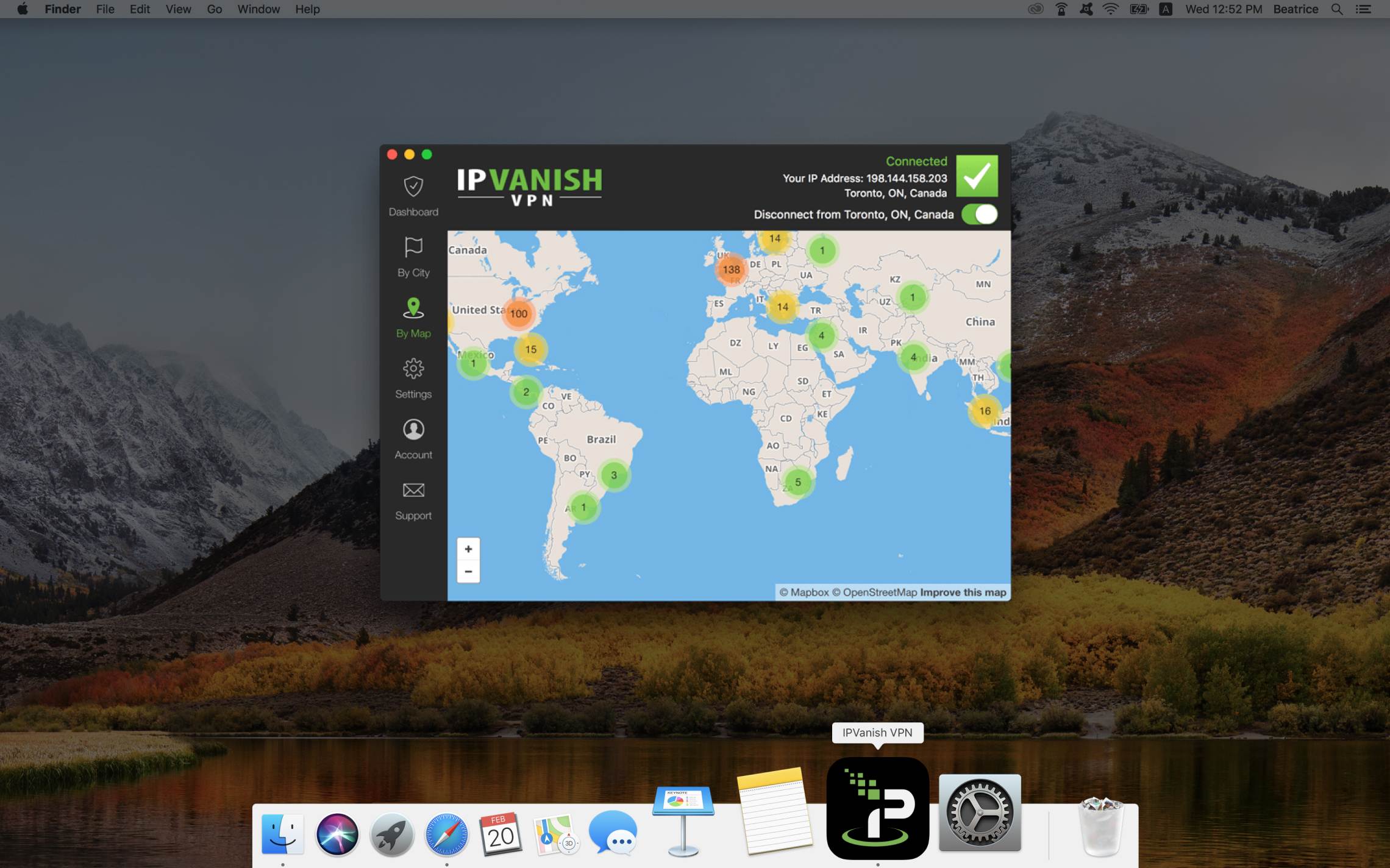 Their connection kill switch is a useful feature and a must for anyone serious about remaining anonymous while surfing. However, there is no free version, you can apply for a 7-day trial only.
👆 SPECS:
Price: $99.95/1 year
Number of servers: 950+
Server locations: 60+
Maximum devices supported: 10
Number of IP addresses: 40,000
✅ PROS:
Use 5 Devices At Once
No Traffic Logs
High Download Speeds
Adjustable Software
Owns and Manages It's Own Servers
Speedy Live Chat Support
Powerful, Configurable Apps
Bitcoin Support
⛔️ CONS:
High Cost
Apps Can be Awkward to Use
Doesn't Unblock Netflix, Hulu
---
A Swiss-based VyprVPN service has the largest number of IP addresses of any of the VPN services we've checked. The company offers a range of protocols, including its own high-performance Chameleon connection protocol, claims 73 server locations and a bunch of unusual pricey features.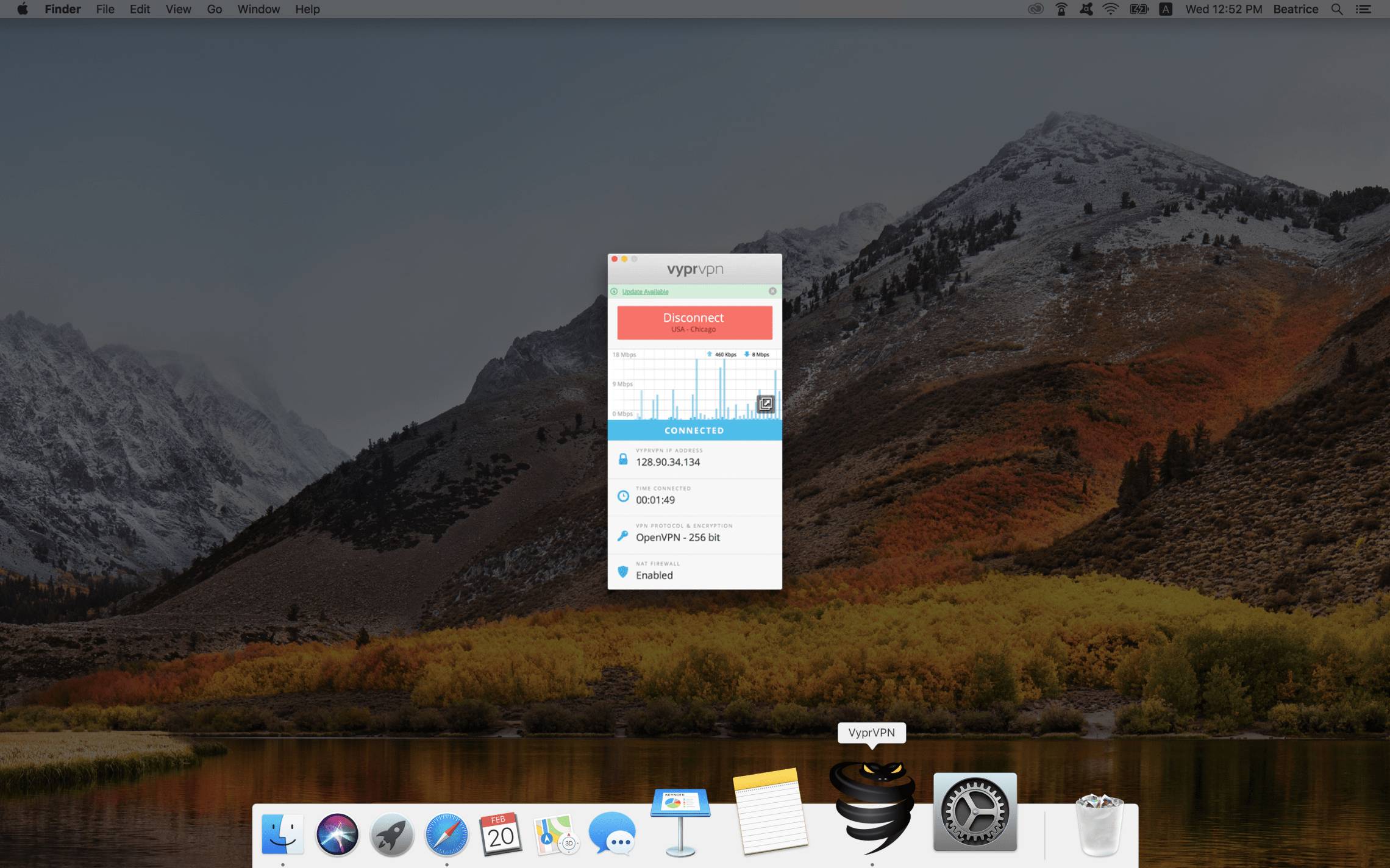 With its Chameleon protocol, you can get online even in VPN-blocking countries like China and Iran. As for the platform support, it covers everything from Windows, Mac, Android, and iOS apps, to routers, Android TV, QNAP, Anonabox, Blackphone, and more. Thus, if you're looking for website unblocking, with VyprVPN you can get easy access to US Netflix and BBC iPlayer.
VyprVPN is user-friendly, offers excellent speed and uptime but it's not the cheapest option.
👆 SPECS:
Price: $40.20/1 year
Number of servers: 700+
Server locations: 73+
Maximum devices supported: 3-5
Number of IP addresses: 200,000
✅ PROS:
Wide Range of Privacy and Security Features
Clear Data Security Policy
Works With Netflix & Other Streaming Services
Very Fast Performance
Powerful, Configurable Clients
Mobile Apps But no Browser Extensions
Unlimited Bandwidth, P2P Allowed
Cross-platform Client
3-day Free Trial
⛔️ CONS:
Poor US Transfer Speeds
Monthly Plans Can be Expensive
No Refunds
---
What is the Best Free VPN?
A number of VPN services are offered for free, however, these often come with limitations. Some limit users to only a few simultaneous connections per account, or they limit network traffic at 500MB-1GB per month. Others may limit you to only a few dedicated servers.
While one can hardly complain about freeware such as these, users looking to get serious about protecting their online footprint should consider upgrading to a paid VPN service if they require more data and increased server flexibility.
Try a VPN Today
Many paid VPN services offer free trial periods or money back guarantees. If you are interested in finding the best VPN for you, then it is worth experimenting a little bit by trying a few different providers. Regardless, VPN's offer users enhanced online privacy and security, giving you the confidence to browse anytime, anywhere.
Wondering how to use a VPN?