Want to protect your privacy and increase your online security? Safeguard all the data sent from and received by your iPhone using a virtual private network (VPN).
All iOS-powered devices are generally perceived as more secure than Android devices. Given that cyberattacks are becoming increasingly common these days, you can never be too safe. That's where VPNs come in. These apps provide you with a safe, encrypted space for sharing data securely.
If you want to boost your iOS device's security, you can download a VPN. There are different VPN service providers for Mac and iPhone devices.
Today, we'll delve into the three best VPN iPhone services.
The 3 Best VPN for iPhone
Arguably the best VPN for iOS, NordVPN has over 5,600 servers spread across 60 countries. This means you can delight in fast, safe, and secure online connections around the world. The app is easy to set up and use. You can connect to an ideal server with a tap of a finger.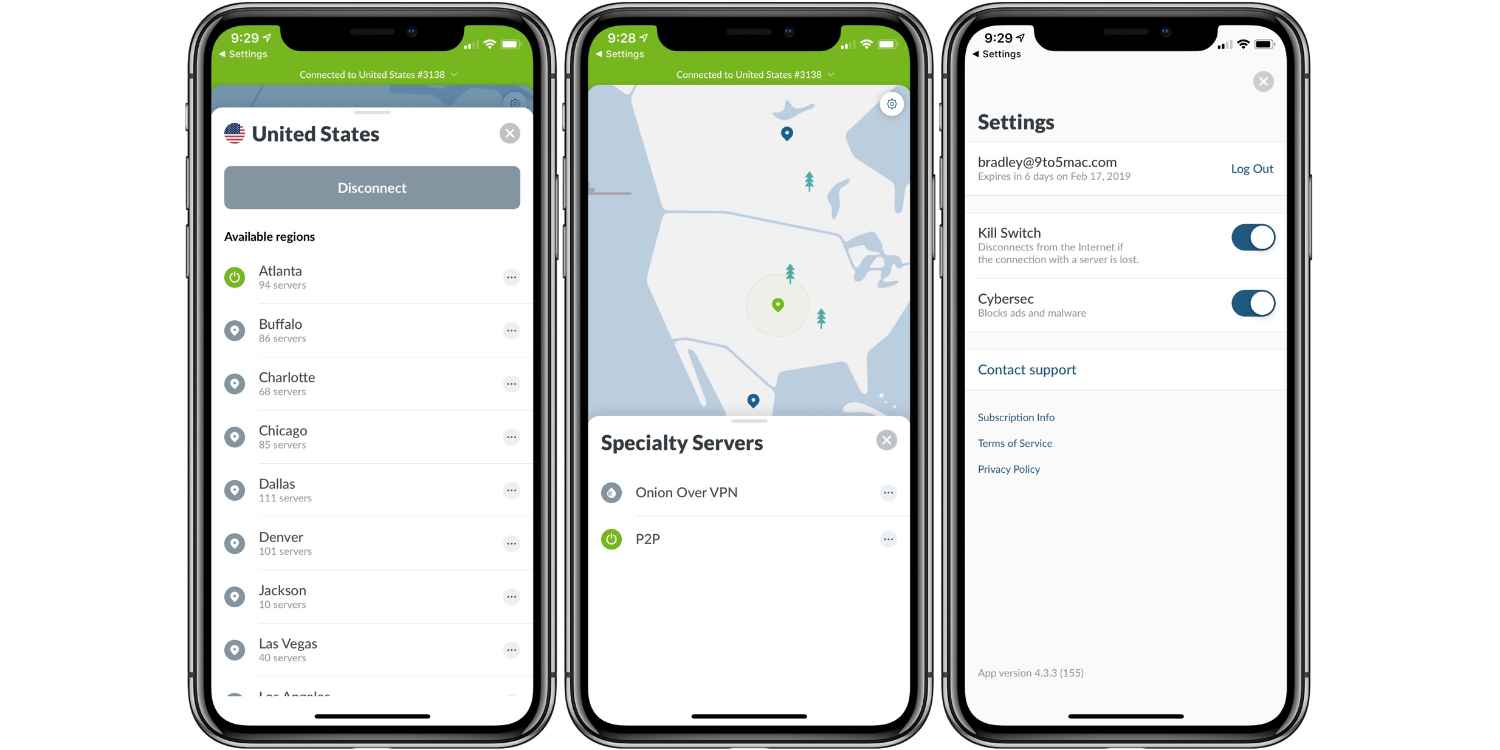 The app might be user-friendly, but it's packed with advanced features. It has a kill switch, an additional security measure that prevents your sensitive data from falling into the wrong hands.
NordVPN provides you with secure, unlimited access to entertainment sites, social media networks, and messaging apps, wherever you may be in the world. For $11.95 per month, you can enjoy complete privacy and high-speed security. Three other long-term plans can help you save a few bucks off the service.
✅ PROS:
Allows six simultaneous connections
Strong privacy policy
Offers free trial
30-day money-back guarantee
⛔️ CONS:
Hurry up to grab a NordVPN discount here, this page is always up to date.
---
ExpressVPN has one of the best VPN iPhone services. Having over 3,000 servers across 94 countries, it can deliver reliable, excellent speeds no matter where you are in the world. Even in Middle Eastern nations or in China, where internet usage is often restricted, ExpressVPN can give you a helping hand.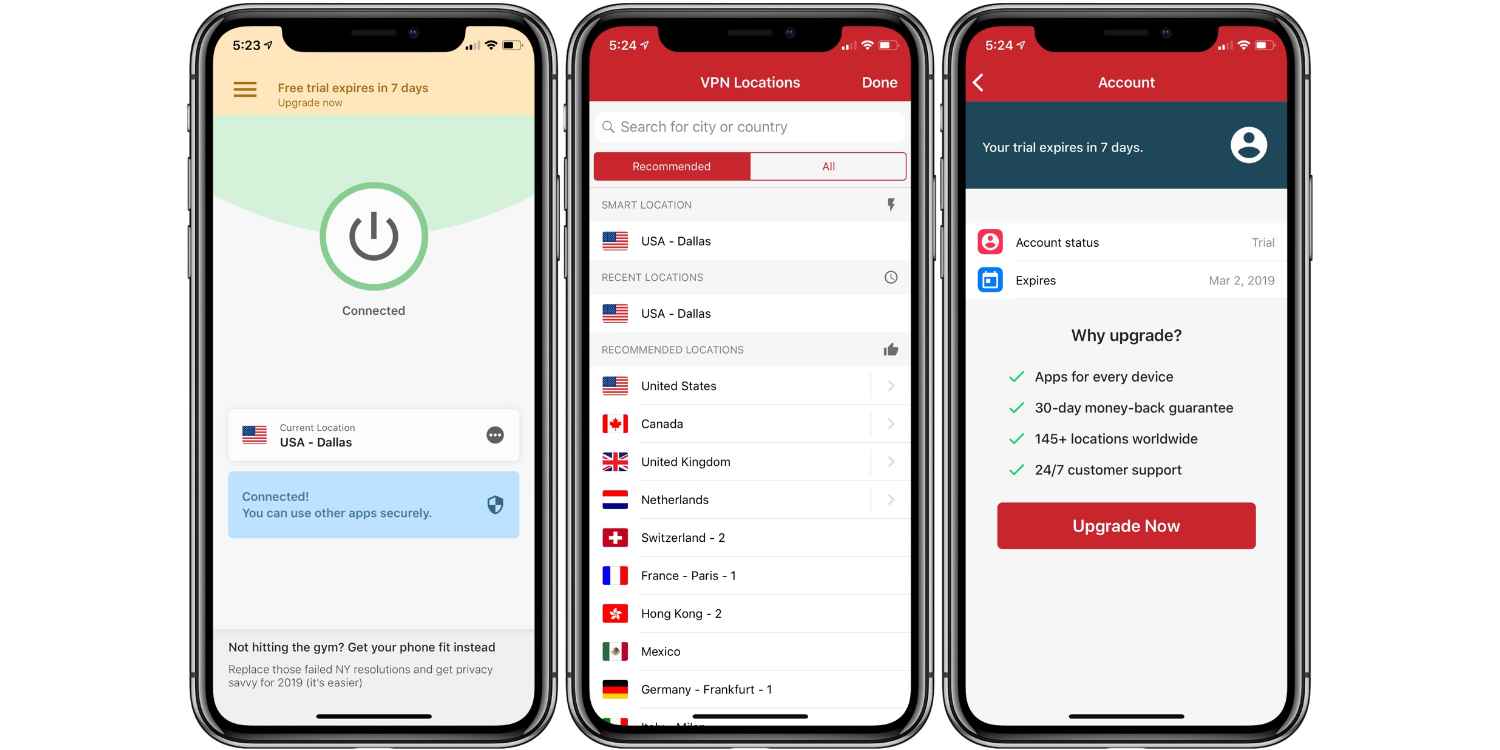 Designed for iOS 8 to 13, ExpressVPN is compatible with iPhone XS, XR, iPad Pro, and other previous earlier iterations of iOS products. If you encounter issues, a support team can answer any of your queries 24/7.
Bypass content restrictions, and gain unlimited access to videos, music, and social media networks from anywhere in the world for $12.95 per month. If you want to use it long-term, you can get their more affordable services.
✅ PROS:
Allows five simultaneous connections
5-minute setup
Strong privacy policy
30-day money-back guarantee
⛔️ CONS:
---
Another excellent VPN service provider worth considering is IPVanish VPN. It has more than 1300 servers in over 75 locations worldwide, making it the fastest-growing VPN network in the world. The app auto-connects to the VPN whenever internet traffic is detected.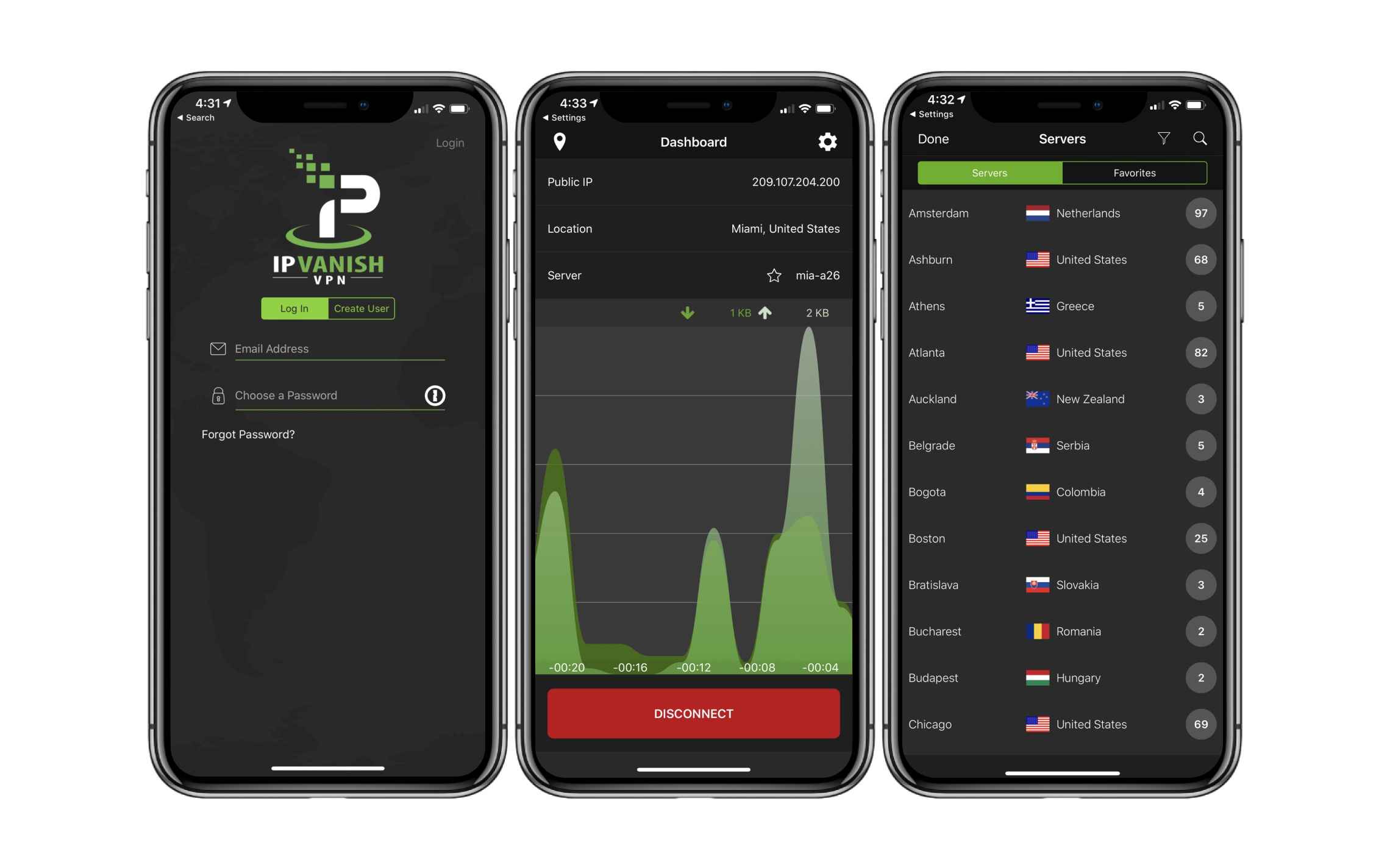 IPVanish VPN supports iOS 10 and higher versions. To activate the app on your iPhone, all you have to do is long-press the home screen. The app also allows you to set up 10 connections simultaneously on multiple devices.
For $10 per month, you can keep your iPhone protected. They also have long-term plans that can help you save up as much as 46% annually.
✅ PROS:
Strong privacy policy
Has 3D touch feature
7-day money-back guarantee
24/7 customer support
Allows 10 simultaneous connections
⛔️ CONS:
---
There's no shortage of VPN service providers. Apart from the top three, there's Surfshark VPN, VyprVPN, and SaferVPN. It's always best to invest in a premium provider instead of settling with free or cheap services to protect your data on unsecured Wi-Fi networks.
More importantly, a VPN service shields you from online activity monitoring by internet service providers or governments. In some countries, they even restrict the online content that their citizens can access. A VPN is an excellent solution that can help you overcome these realities.
However, a VPN also has its disadvantages. It's best to be aware of them before investing in any kind of VPN service.
4 Disadvantages of Using VPN for iPhone
VPN might be illegal in your country
Some countries, especially those that consider private networks as illegal, don't permit the use of VPN services. Hence, be aware of your local policies so you don't end up serving time or paying a hefty fine all for using VPN.

VPN service providers might monitor your data
Be wary of free VPN services. As they say, nothing in life is ever free. Such service providers might be using other means to earn revenue. For instance, they might be capturing and selling your data to other organizations. Hence, it's always best to invest in a good provider, specifically one that doesn't log your activity.

VPN service can be costly
Investing in a premium VPN service can be quite costly over time since it's going to be a separate expense from your regular network connection. Make sure you can afford to maintain it before getting one.

VPN can slow down the internet speed
Sometimes, VPN services require high-speed internet connections to deliver that extra layer of privacy. It could slow down your internet speed. To avoid this, make sure to pick a provider that can deliver services with minimal speed reduction.
Related Articles: