Antivirus software is a computer program that will prevent, discern and eliminate malware.
You may have heard that antivirus software is important to have on any personal computer. We all know that our personal computers hold our whole life and if attacked by a virus it could cause trouble for you and your computer. Now even your phone is at risk, but luckily there are antivirus apps that are powerful enough to stop the malware.
What are the Main Reasons for Using Antivirus Software?
Now that you know what antivirus software does, we'll dive deeper into why it is so important to have on your electronic devices. It's important not to overlook the value of an antivirus app or software no matter which device you plan on using. No device is safe from malicious malware ready to infect your computer, tablet, or phone and allow hackers to steal your information.
Your computer's performance can be tremendously affected once infected by a virus whether it is malware or trojans to blame. When your system is becoming sluggish, you will notice that the windows take forever to load no matter how simple the task. That is because viruses can eat away at hard drive space, deny connection to the Internet, and block valuable programs. Antivirus software will block them from entering your computer system and their attempts to install nuisances that will cause the previously mentioned issues.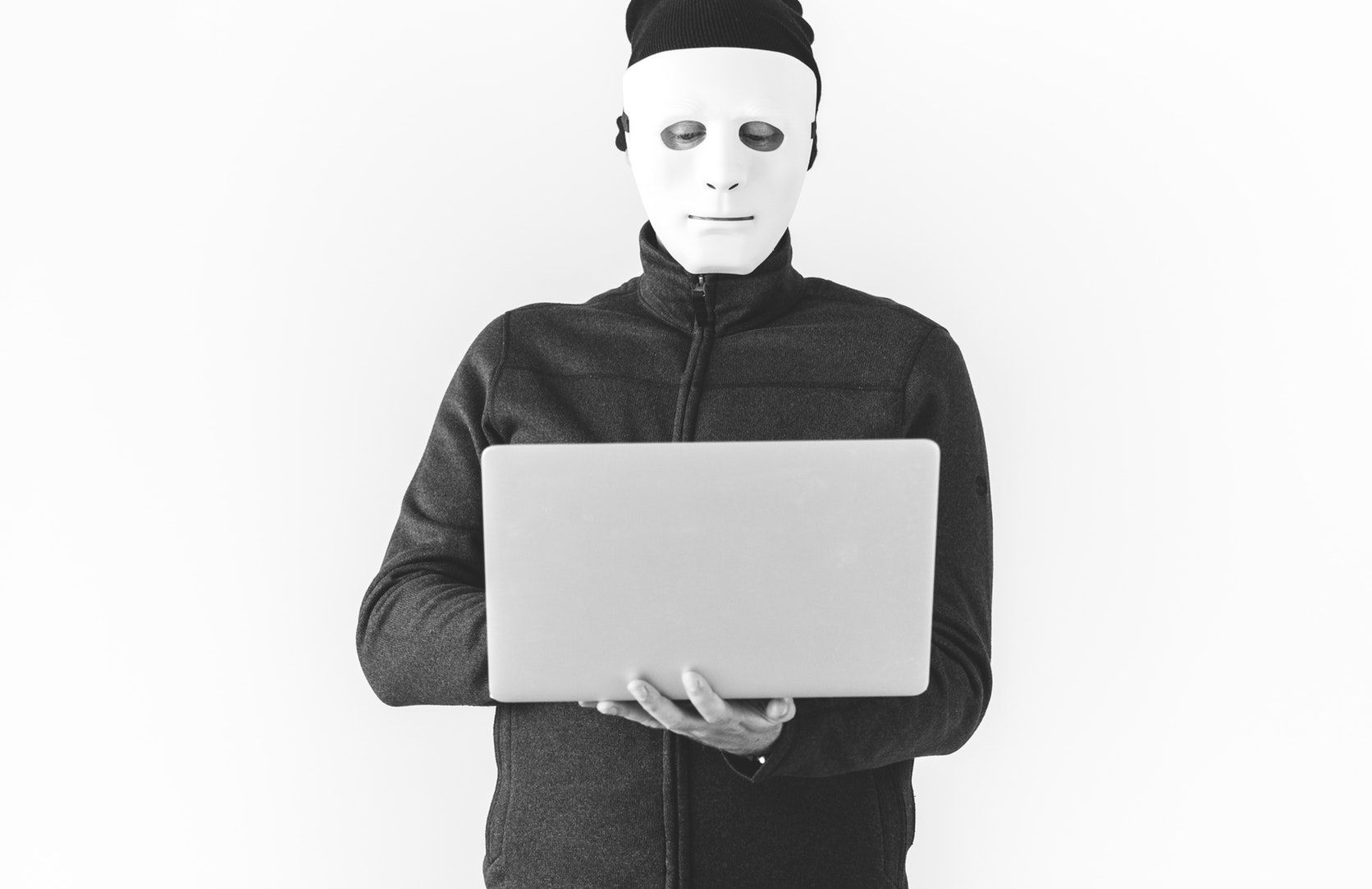 Having the appropriate software can even protect you from identity theft and prevent a breach in personal data. Cybercrime is a serious offense and growing at a rapid pace. Without an antivirus, hackers can view your personal data such as banking information and emails that may have sensitive information. The malware aids them when it enters your system and can even record what you input from your keyboard.
The best antivirus will also protect you from spam messages. It will deactivate and reduce the number of unsolicited emails you get on a regular basis. Spam messages are a product of viruses hidden in your hard disc and can impact your computer negatively.
These are just a few of the many reasons why you should have an antivirus on your computer. Make sure you get the peace of mind you need by installing top-of-the-line software to protect you and your computer. It is worth a couple of minutes to install the software and worth any cost it may bring to prevent future stress.
---
How do We Choose Free Antivirus Software?
You've decided to go with a free option for your antivirus and not sure how to decipher through all of the choices. There are many things to consider, but we'll narrow them down to a few. First, consider what kind of features your free antivirus software brings to the table. After you've compared features, you'll want to see if it is compatible with your computer system. Believe it or not, there are certain operating systems that require specific software in order to run smoothly and efficiently.
Another important factor is how many ads does the system have. Ads can be a hassle and inconvenient when using a program. They mostly get in the way rather than add anything to the program you're on. It's good to see what kind of additional tools and display ads will be added to your system when using free antivirus software. These are the top things to consider with your free antivirus download.
We've chosen the best free antivirus software in 2021 for you. Our top 10:
Read on for the detailed analysis of each antivirus.
---
Top 10 Best Antivirus Software
So what antivirus is the best for your computer or other electronic devices? There are tons of antivirus out there and we have figured out the best antivirus for your device. We've broken down the top ten antivirus best for preventing malware and has other features that will be beneficial to you and your system.
---
Avast Antivirus is hands down the best antivirus and most popular software around. It is easy to use, has great protection, is a transparent brand, doesn't have too many ads promoting itself, and is reasonably priced.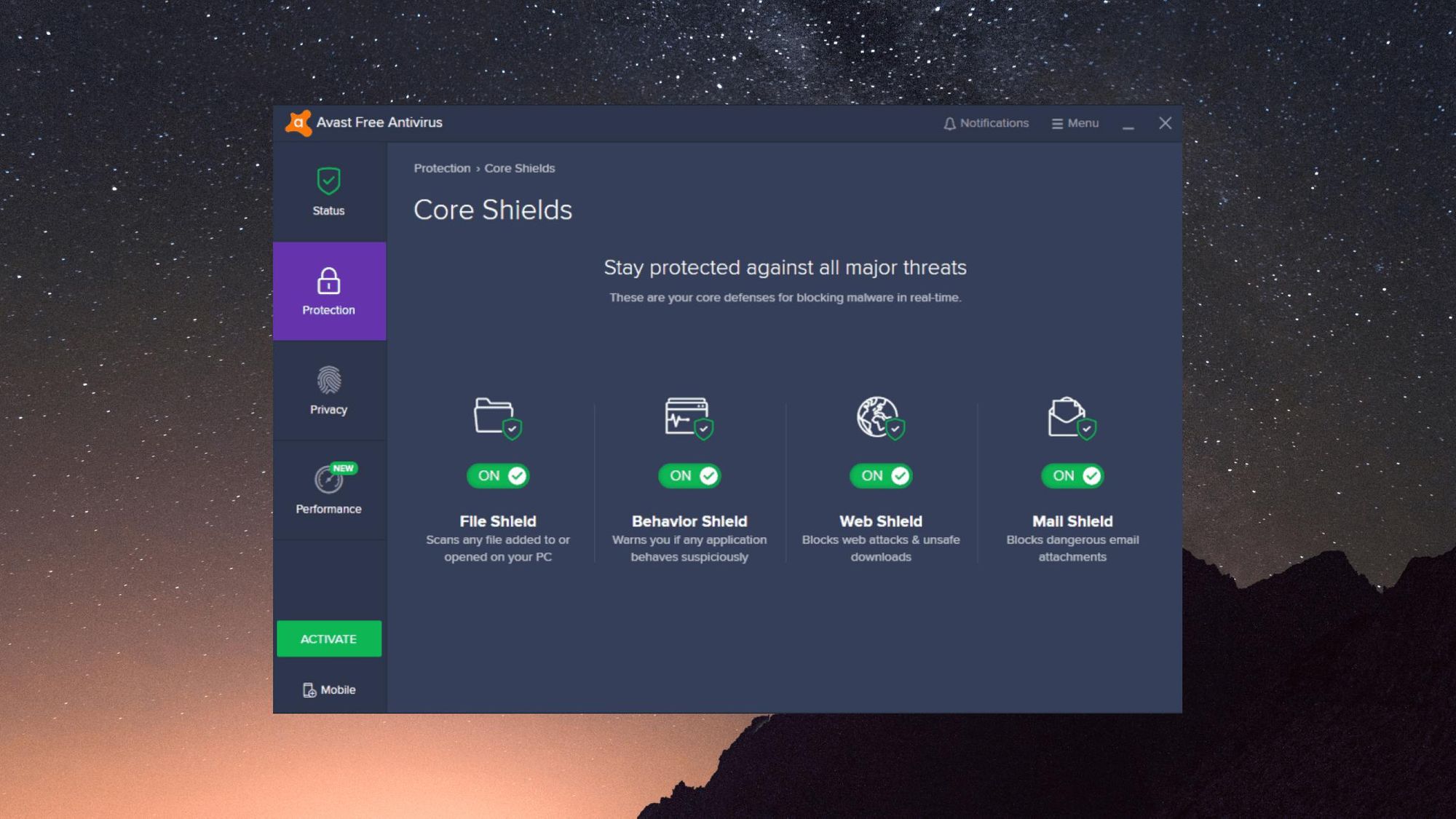 It does have some drawbacks that you should be aware of before purchasing this free antivirus software. There could be more detail as to what the features do and the subscription offers can be confusing.
👆 SPECS:
Price: Free
Operating Systems: Windows 7/8/10
Maximum Devices Supported: 5
✅ PROS:
Dependable Protection
Low Price
Muted Sales Pitch
Customizable Privacy Settings
⛔️ CONS:
More Explanation for Settings
Subscription Offers Need More Clarity
---
Being a scaled down version of its paid counterpart doesn't mean it's not still a great system. It's very user-friendly and has an accurate, reliable antivirus engine.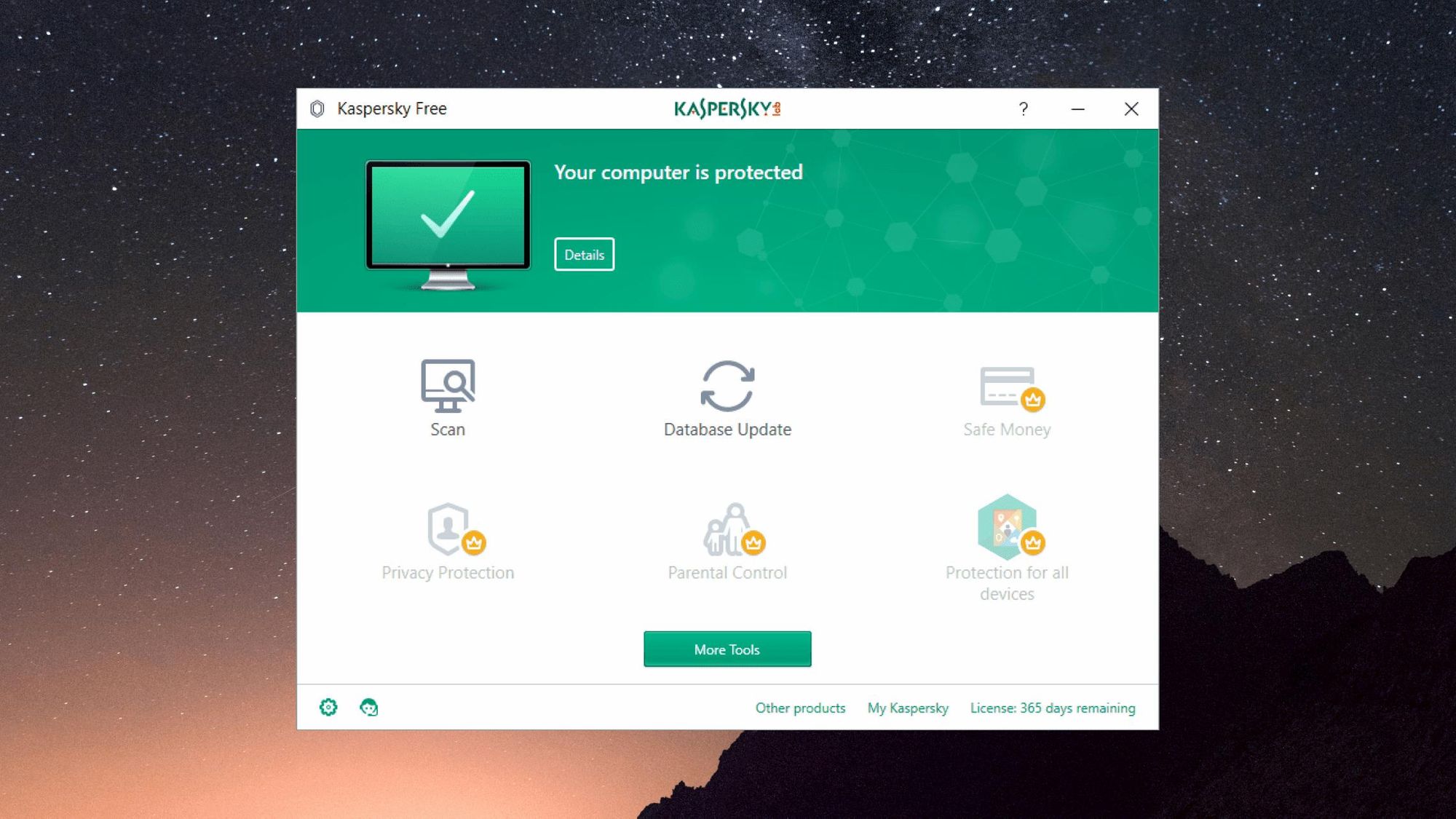 You can still do real-time scans and get protection from spyware and fishing as the paid version. The only cons are that you get basic features so you won't be able to get privacy protection or much technical support.
👆 SPECS:
Price: Free/$29.99/$59.99
Operating Systems: Windows
Maximum Devices Supported: 3
✅ PROS:
User-Friendly
Error-Free, Reliable Antivirus Engine
Email Scans
Spyware Protection
⛔️ CONS:
Limited Features
Inadequate Technical Support
---
The BitDefender Antivirus has to be one of the fastest scanning mechanisms based on the industry average for free antivirus software. It is great at detecting viruses that can attack your hard drive and will fight against them to keep your computer protected.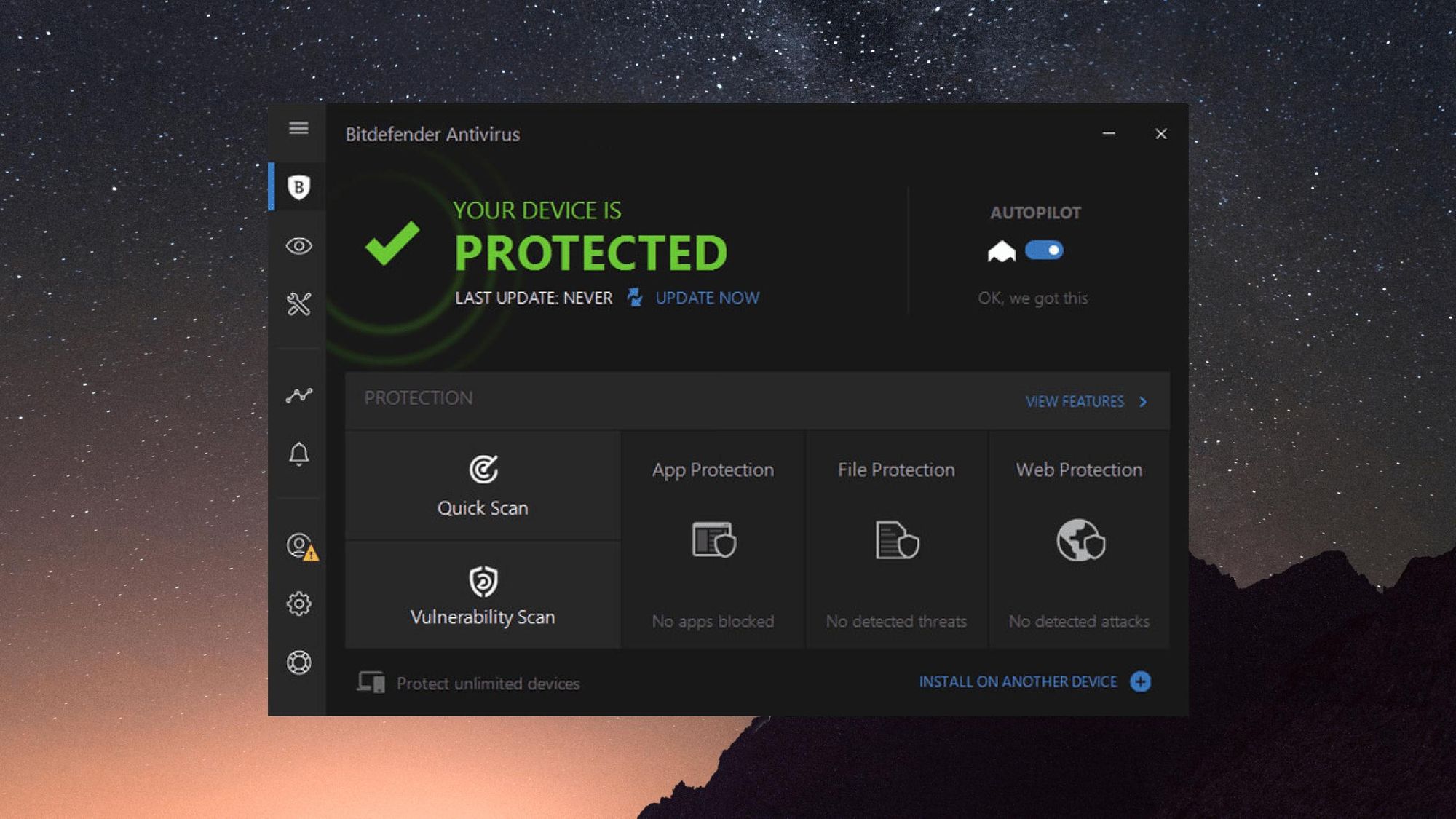 The antivirus app is lacking in options for advanced users and scheduling scans.
👆 SPECS:
Price: Free
Operating Systems: Windows, Mac, Android
Maximum Devices Supported: Unlimited
✅ PROS:
Fast Automatic Scanning
Phishing Protection
Behavioral Analysis
Stellar Virus Detection
⛔️ CONS:
Needs More Control for Advanced Users
Inability to Schedule Scans
---
AVG Antivirus is a popular free antivirus that allows you to choose what you install and will keep you updated with the latest version. You can always be sure that your computer will be protected with the most up-to-date software.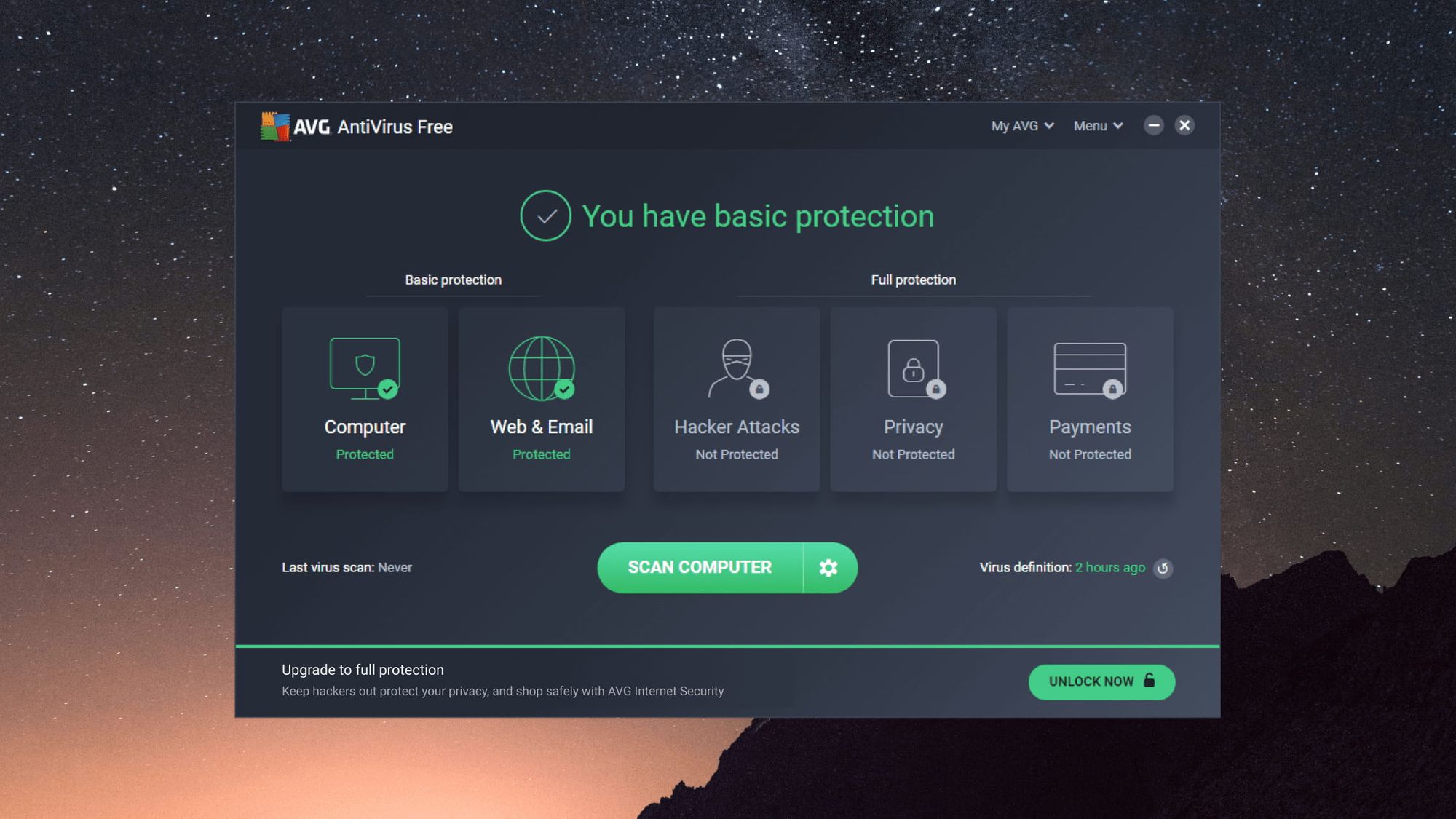 The only downsides are that there are other paid versions of the product and one wrong click can literally cost you. It also has issues with the PC analysis from time to time meaning it doesn't always detect and delete junk files or shortcuts.
👆 SPECS:
Price: Free
Operating Systems: Windows
Maximum Devices Supported: 4
✅ PROS:
Always Have the Latest Version
Regulate Installation
⛔️ CONS:
Issues With PC Analyzer
Similar Company Products that Come With a Fee
---
Avira Antivirus is great at eliminating 99.7% of tested threats and having a minor impact on system performance. Its great detection rates make this antivirus app stand out from the rest.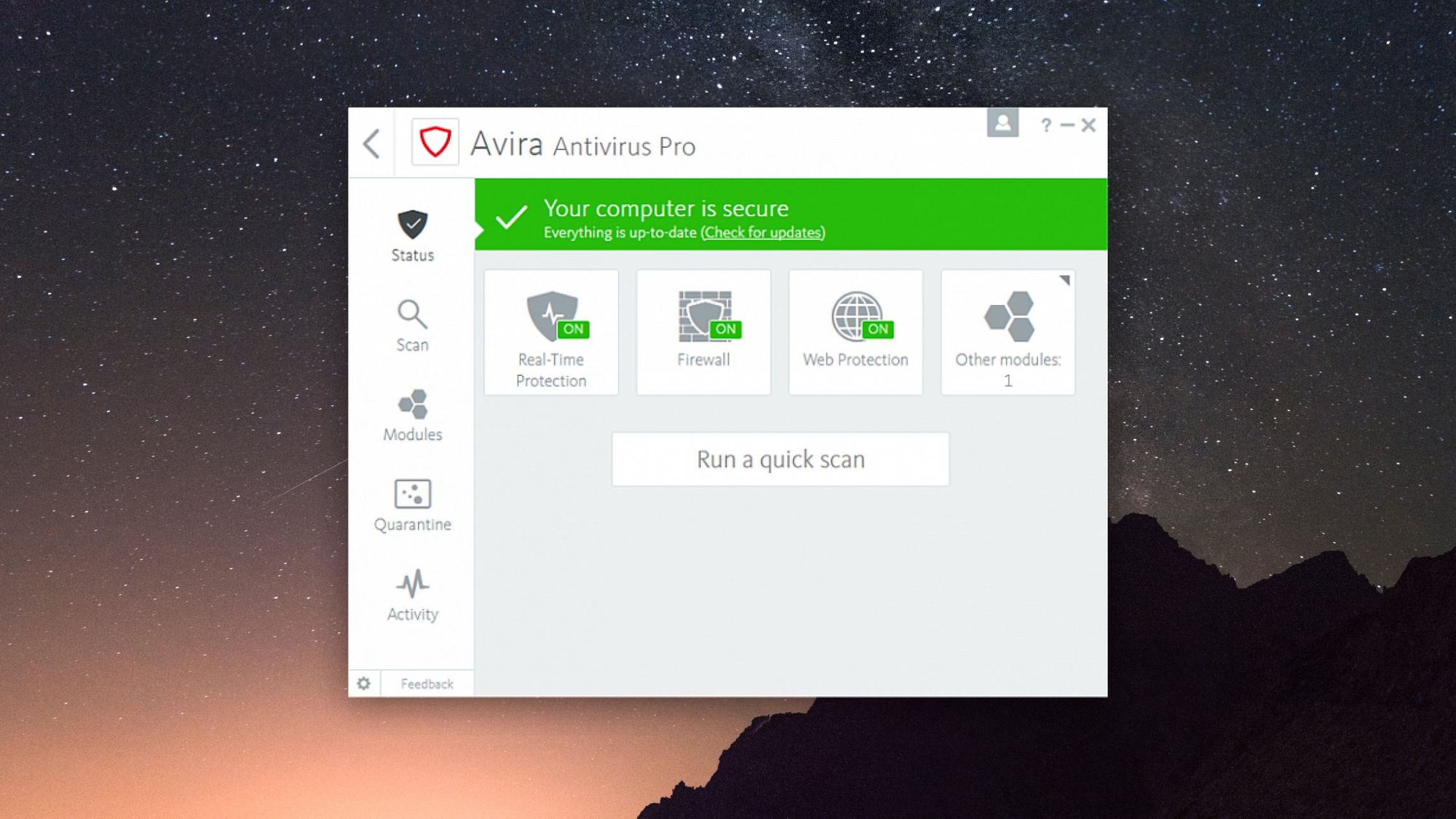 Because there are paid versions of the free antivirus software, you'll see many popups and ads promoting them which can get in the way of the user experience.
👆 SPECS:
Price: Free/$36.00
Operating Systems: Windows, Mac, Android, IOS
Maximum Devices Supported: 50
✅ PROS:
Distinguished Detection Rates
Trivial Impact on System Performance
⛔️ CONS:
Too Many Avira Product Promotions
Many Popups While Running
---
Adaware Antivirus is a top-notch antivirus that is user-friendly and works well with other software. On the other hand, you don't have the ability to web filter. You also have limited behavioral monitoring capabilities.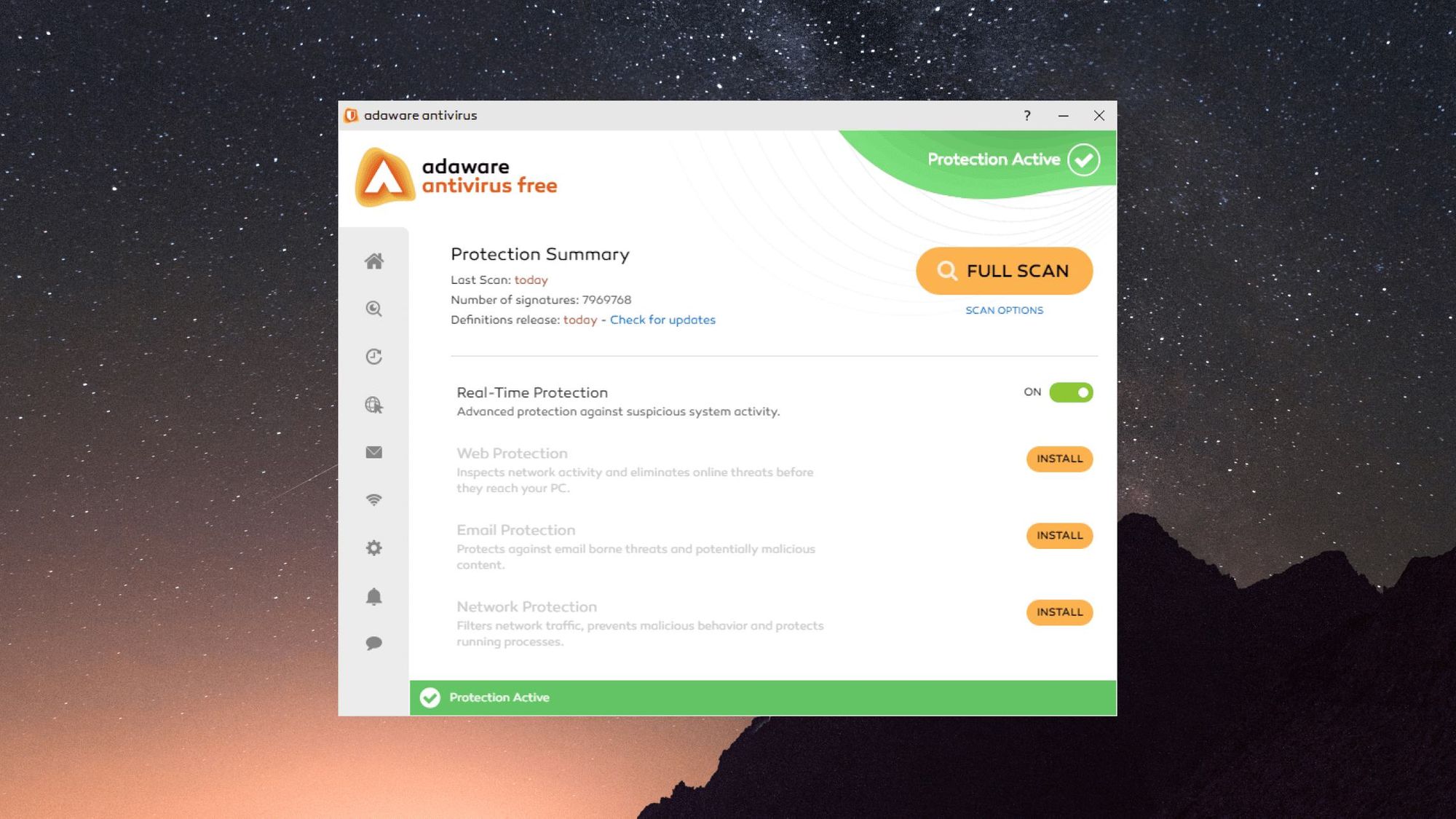 👆 SPECS:
Price: Free
Operating Systems: Windows
Maximum Devices Supported: 5
✅ PROS:
User-Friendly
Works With Other Antivirus
⛔️ CONS:
No Web Filtering
Limited Behavioral Monitoring
---
The Panda Antivirus is the best antivirus to protect against malicious websites and give real-time malware protection. It only supports Windows operating systems and has limited firewall protection. However, this system is great for those who like to have a ton of features to choose from and a system that is easy to use.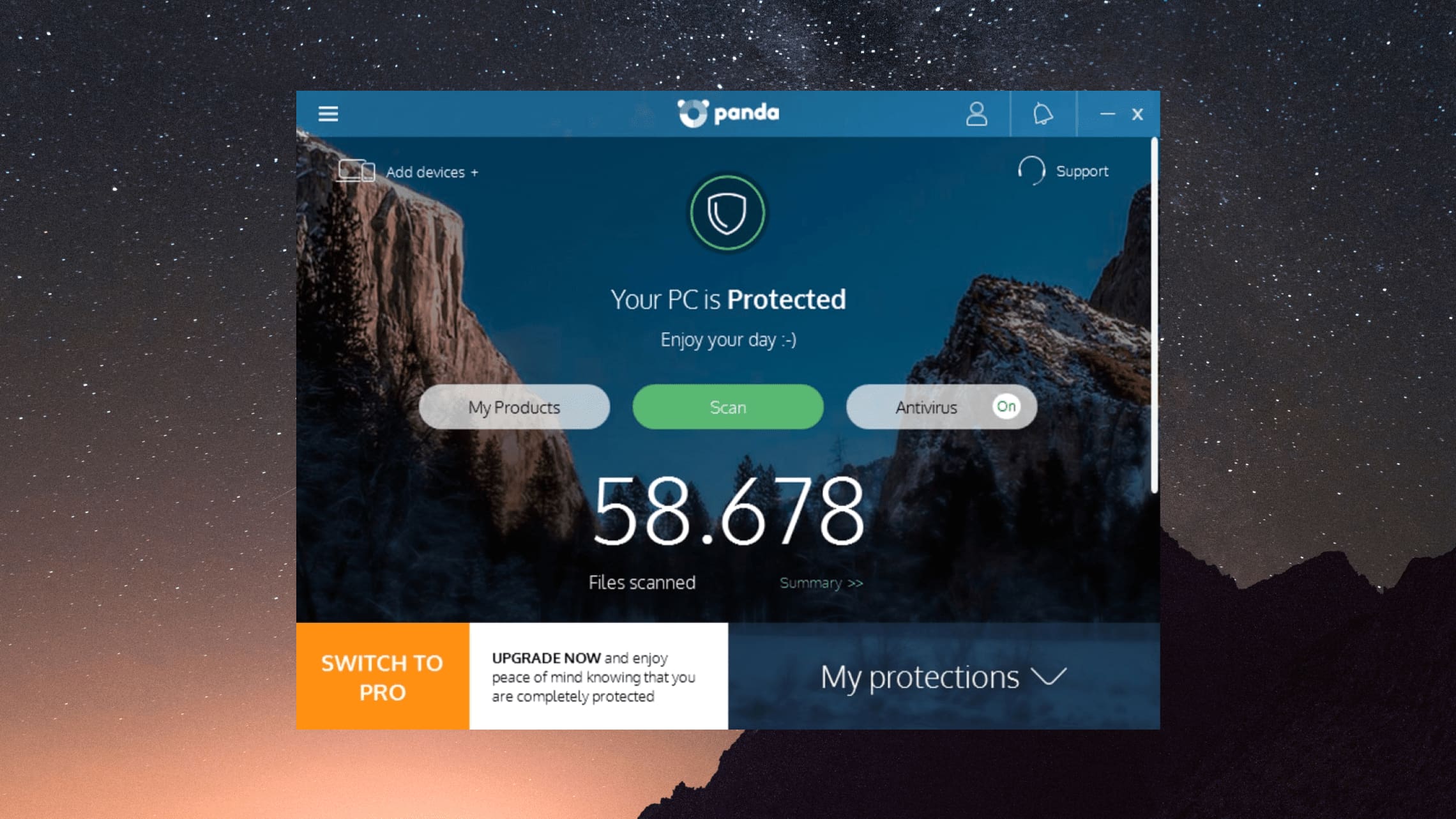 👆 SPECS:
Price: Free/$29.99/$39.99
Operating Systems: Windows
Maximum Devices Supported: 5
✅ PROS:
An Abundance of Features
Simple to Use
URL FIltering
⛔️ CONS:
Limited Firewall
Only Protects Windows Operating Systems
---
Sophos Antivirus is great for families with its ability to support up to 10 devices and control your kids' browsing options through central management. It is simple to use and non-intrusive while providing the protection you need against phishing and malware. The only negative things are that you don't have the ability to schedule scans and there are limited controls for advanced users.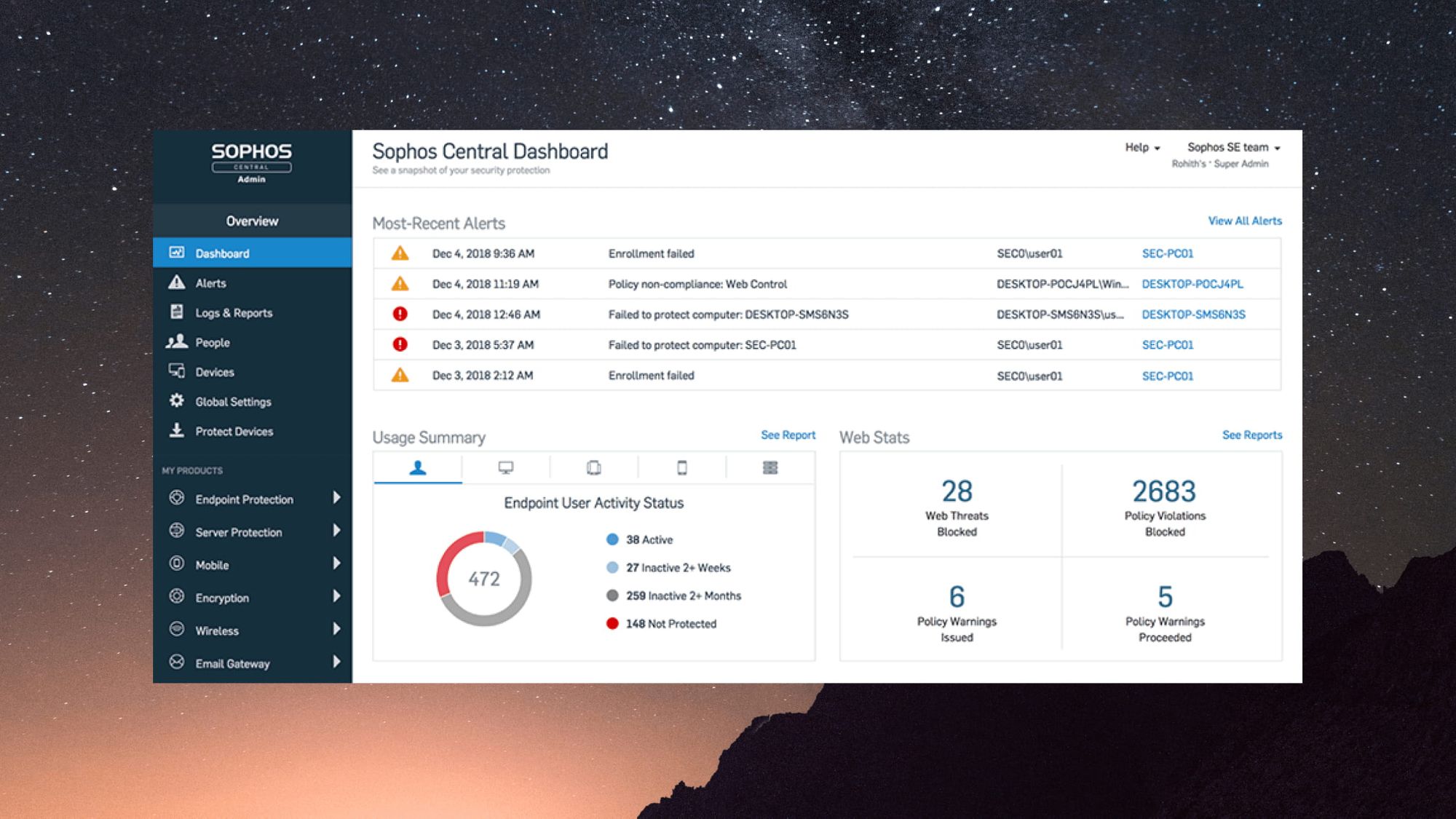 👆 SPECS:
Price: Free
Operating Systems: Windows, Mac
Maximum Devices Supported: 10
✅ PROS:
Non-intrusive and Ease of Use
Cloud-based Control
⛔️ CONS:
Can't Schedule Scans
Advanced Users are Limited
---
Comodo Antivirus uses multiple security layers to prevent your computer from being affected by malicious malware. It has a ton of features that at times are hard for the average user to understand. It is great at being highly configurable and has an effective sandbox. Unfortunately, it doesn't have web filtering.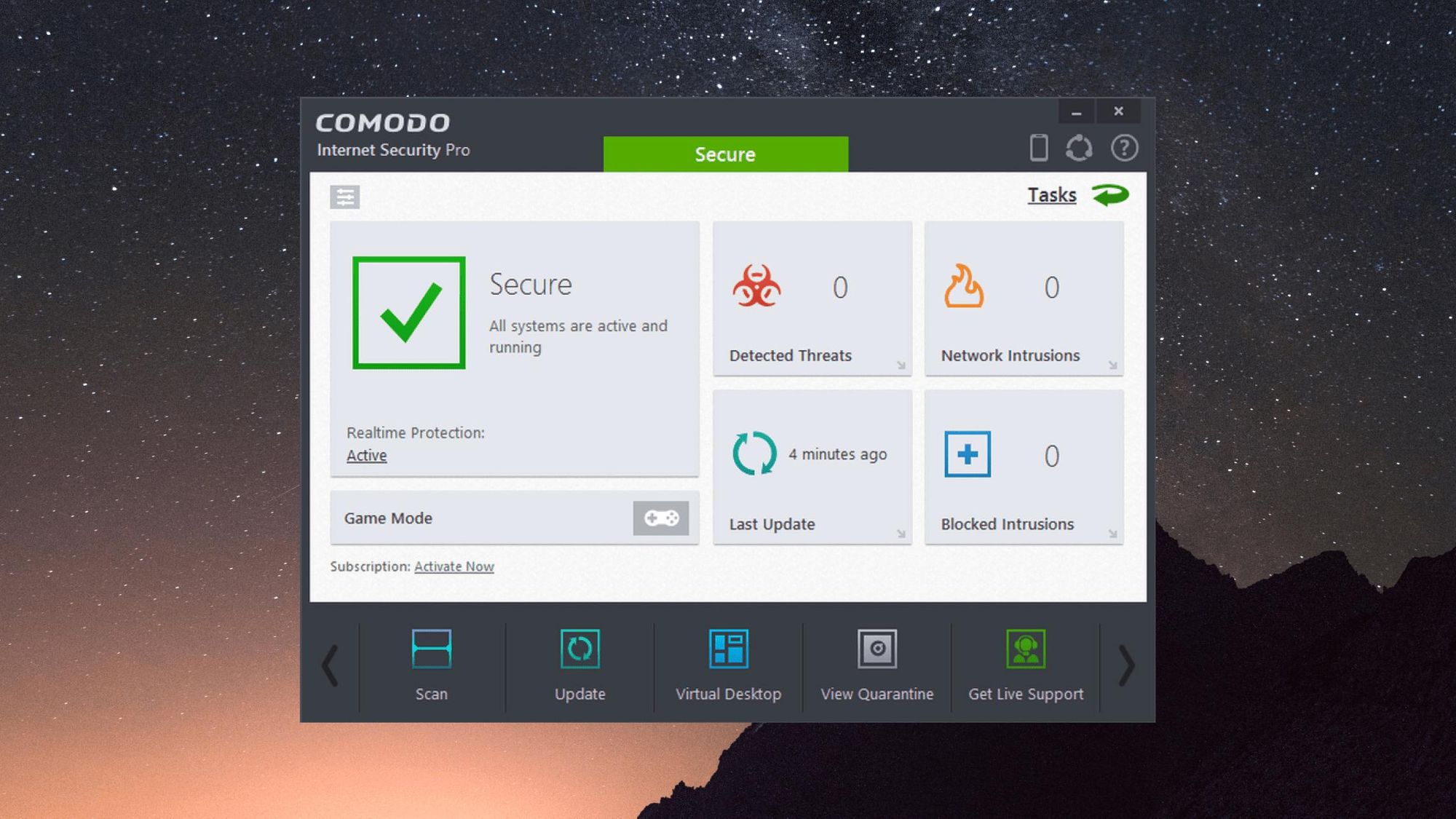 👆 SPECS:
Price: Free/$39.99/$67.98/$95.98
Operating Systems: Windows
Maximum Devices Supported: 6
✅ PROS:
Effective Sandbox
A Variety of Features
Highly Configurable
⛔️ CONS:
Features are Hard for the Average User to Understand
No Web Filtering
---
Windows Defender Antivirus does a great job at keeping things simple while still making sure your computer is protected. It has a built-in firewall and protects against phishing.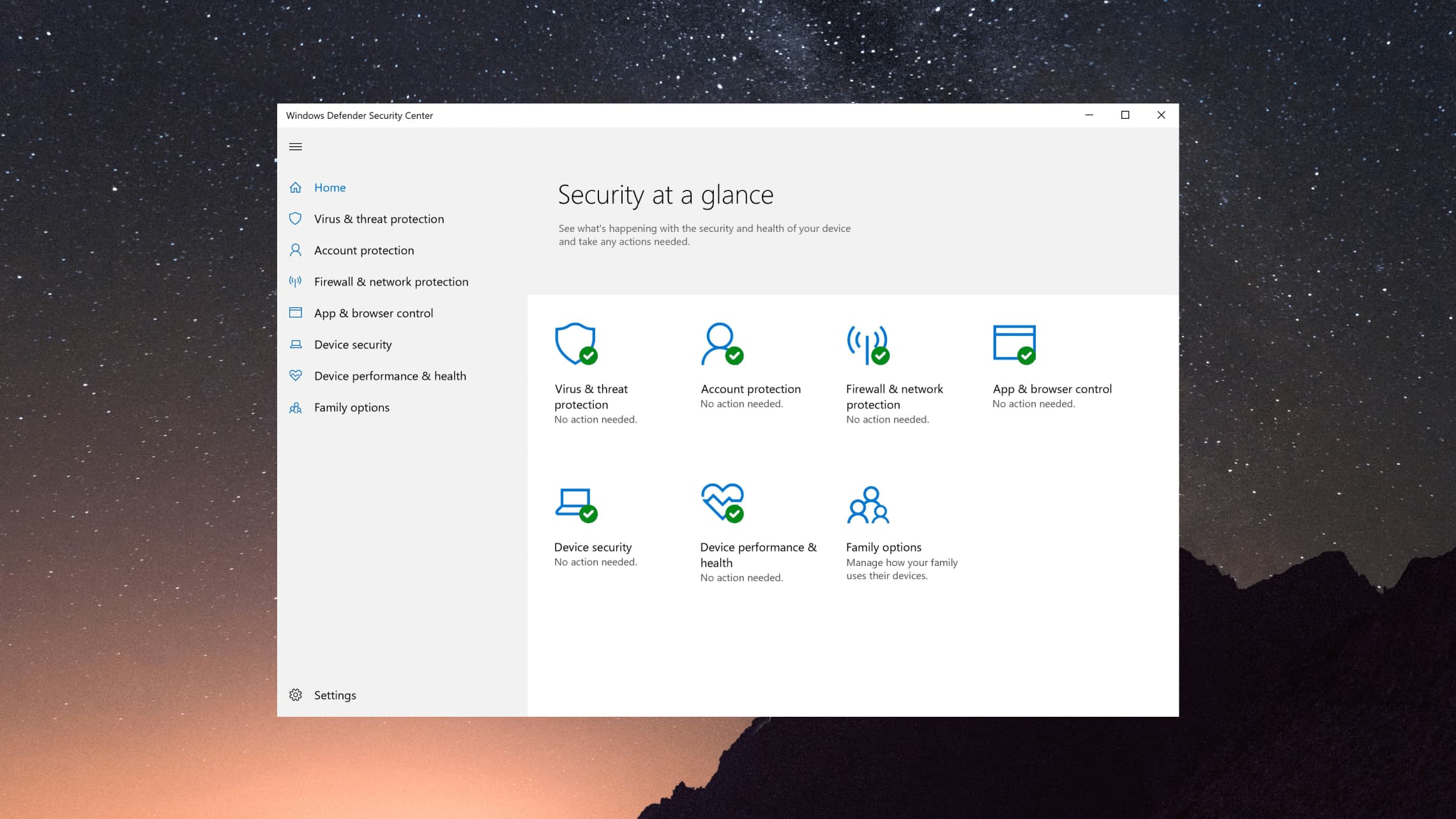 There are even features for parents to monitor what their kids do online. Unfortunately, this antivirus has average detection rates and limited configuration options.
👆 SPECS:
Price: Free
Operating Systems: Windows
Maximum Devices Supported: 5
✅ PROS:
Built-in Firewall
Phishing Protection
Parental Controls
⛔️ CONS:
Average Detection Rates
Limited Configuration Options
---
Free Antivirus vs Paid Antivirus
So you want an antivirus for your computer and now you have to pick between if you want to pay for a service or stick with free software. You may wonder what the difference between the two and if a free antivirus can perform as well as a paid antivirus. We've figured out the pros and cons to help you make this important decision.
With a free antivirus, you are able to cut down on costs to save you money. Many antivirus software has free versions so you can try out a few of the many features of the paid version before making the commitment. If you're a heavy online user you may want to go with a paid version, but if you're a light user a free antivirus will do the trick. Although you won't have all the features as software you paid for, it can still be beneficial because you'll have less virtual clutter to sort through making it more user-friendly.
The downside to a free antivirus is that you'll find that some of the free versions are just a tactic to get you to buy the full antivirus software and also means you get more ads. Free software is typically utilized after there is a problem more than to prevent a problem from happening.
Paid antivirus are also great because they come with additional features such as parental control or an email scanner. Also if you find the ads on the free software annoying, you no longer have to deal with it on the paid version. They are also better at preventing issues from happening because of its comprehensive defense against malware attempts to infect your computer and steal your personal information.
The biggest con for a paid antivirus is the cost. They can get up to hundreds of dollars that most people are reluctant to spend. Also due to the complexity of the software, it can take up tons of space leaving little room for personal photos and documents. It is nice to have a lot of options when it comes to features, but it can also be a disadvantage if you don't need to use one or more of them regularly.
Try An Antivirus Software Today
There are great paid and free antivirus around that can protect your computer from malware and phishing. We recommend trying a variety of antivirus free versions first before picking a paid software. Regardless of what you decide to purchase, it is important to keep your hard drive safe from malicious viruses ready to attack and take your personal information.
Related Articles: