Using a photo editor app can help you edit your photos with ease and allow you to create high-quality small size images to share on the web.
Here we will consider the list of the top 10 best free photo editor apps to get a perfect job done:
Read on for the detailed analysis of each app.
---
Why You Should Edit Your Photos
There are many reasons why you should edit your photos before you publish them. Whether you're an amateur or a professional photographer, you will find a photo editor app extremely useful for photo retouching, color correction, old photo restoration, resizing etc.
Photo Retouching
A photo editor app is commonly used to retouch photos that need small enhancements. Let's say you took a great picture, however, there are some improvements like blemishes, wrinkles, not enough white teeth, or spots there. Using a photo editing app makes the process just a piece of cake. Zoom in, retouch and voila!
Color Correction
Color correction is necessary when there is insufficient lighting or color reformation due to light, camera settings, environment, and perspective during the time you shot your photos. It is essential to balance colors in your pictures to get a great photo and a photo editor can be useful.
Old Photo Restoration
Old photo restoration is excellent for those old photos you have in your family albums. With an online photo editing app, you can bring that old photo back to life by repairing any scratches, dust, spots, tears, etc. You can keep your memories and admire the eye-appeal they have.
---
How to Choose The Best Free Photo Editor?
When it comes to choosing the best photo editor software, there are many things to take into account. The top features to look at are the file formats, organizing tools, photo sharing, and standard editing tools. These items are significant for those who're interested in doing photo editing whether it is for pleasure or career.
File Formats
File formats like jpg, gif, and png are essential to have if you're uploading your photos to the Internet. These formats allow you to compress the file size of the images to publish them on the web.
Organizing Tools
Having a free online photo editor should come with tools to help keep you organized. It is essential to have features that will keep track of your photos by using thumbnail previews, search, and naming schemes.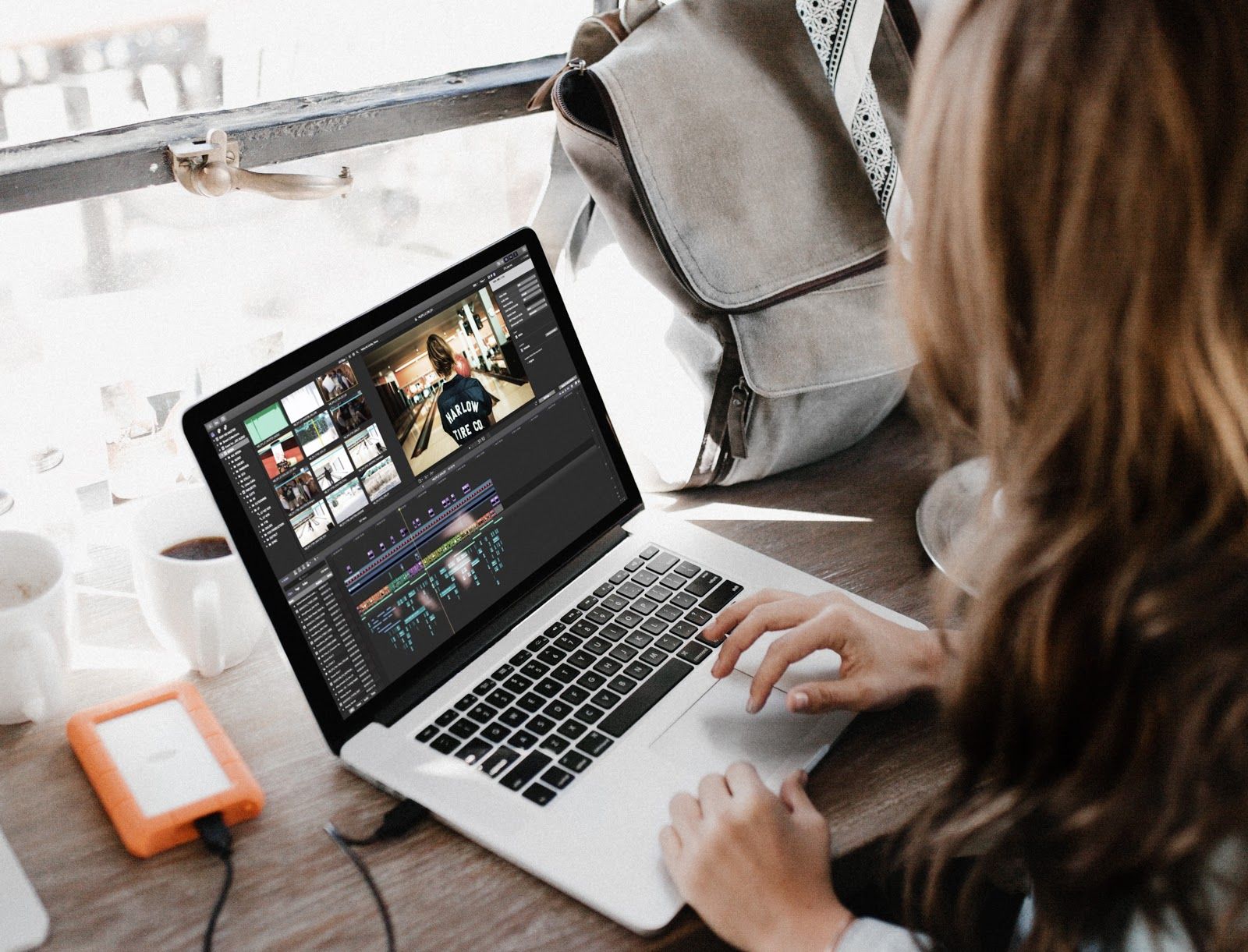 Standard Editing Tools
Having the basics is vital to being successful at photo editing and utilizing the photo editor software of your choice. Some of the typical tools you'll need are adjusting brightness and contrast in your photos, crop, resize, and rotating the images. They should be easy to catch onto and fast to use.
Photo Sharing
We all know how eager we get to post our work and personal photos online. With the right program, it will reduce the time it'll take to upload the image online. That will decrease the need to have a photo editor software that has blogging tools to get your photos posted.
---
Top 10 Best Free Photo Editor Apps
You're convinced that you want to get a photo editor software, but not sure where to start. There are many free online photo editor programs to choose from. We've narrowed down the best free photo editor that you can use without paying a hefty price.
Canva is an easy to use photo editor app that allows users to create graphics and edit photos by merely dragging and dropping. It takes no time at all to build a design from scratch, and you don't have to be a pro to learn how to use this free photo editor. It has tons of features that will help you create the ultimate design or touch up your pre-existing photos.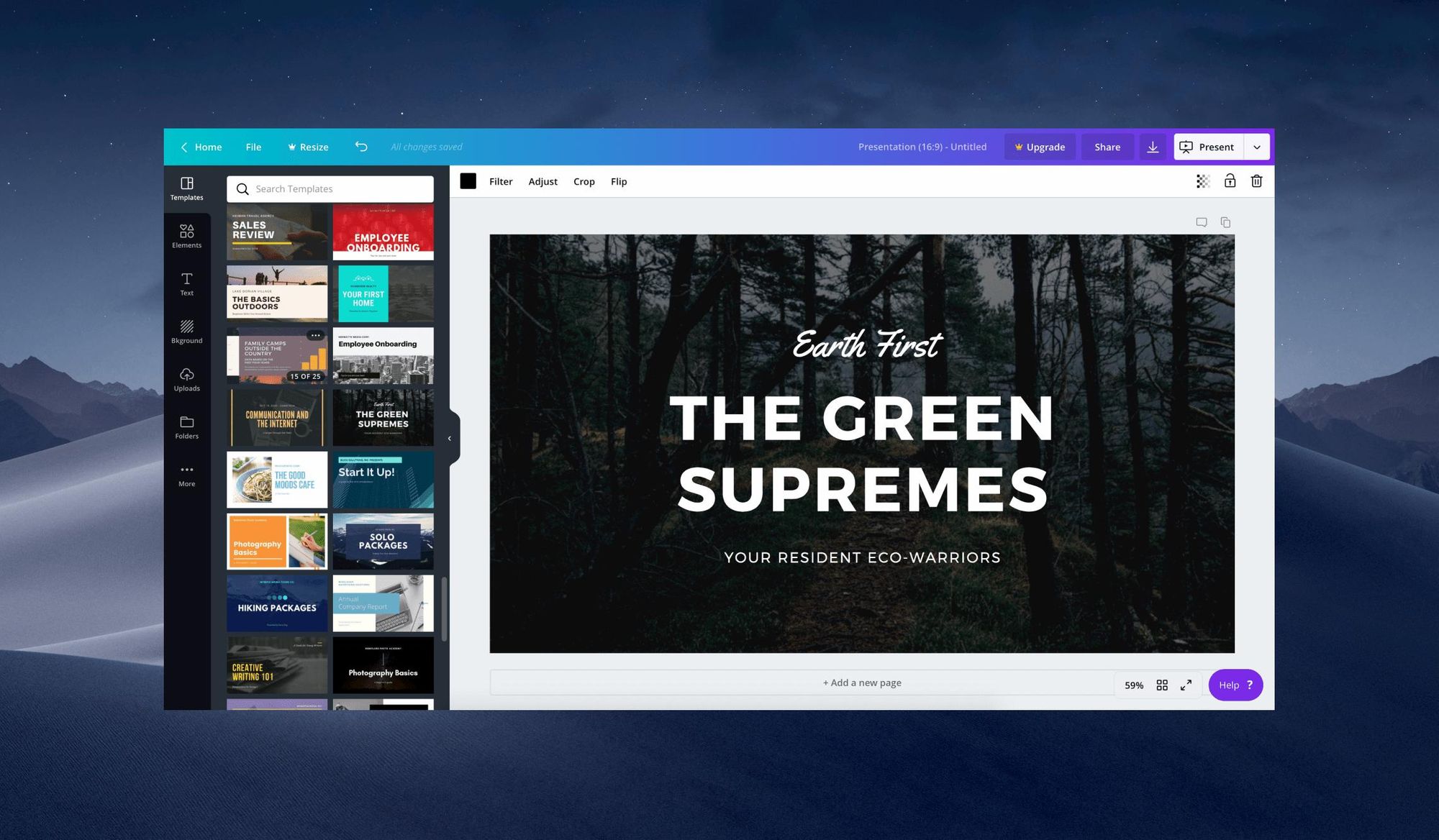 👆 Special Features:
Photo Straightener
Image Cropper
The Ability To Add Text
Speech Bubble Maker
Transparency tool
Photo Enhancer
Photo Blur
Photo Vignette
Design Grids
Free Icons
Photo Frames
Web Wireframe
Stickers
Badges
Add Texture
✅ PROS:
Great for Marketing Photos on Social Media
Make and Design Ebooks
Excellent for Web Presentations
Tons of Great Features For Free
Saves Project History
⛔️ CONS:
Unable to Remove An Image's Background
Needs to Increase Font Size
---
Adobe Photoshop Express Editor is a free photo editor from Adobe Suites. It is jam-packed with features that will allow you to make your images pop. You will be able to remove red-eye, resize images, make color corrections, and more.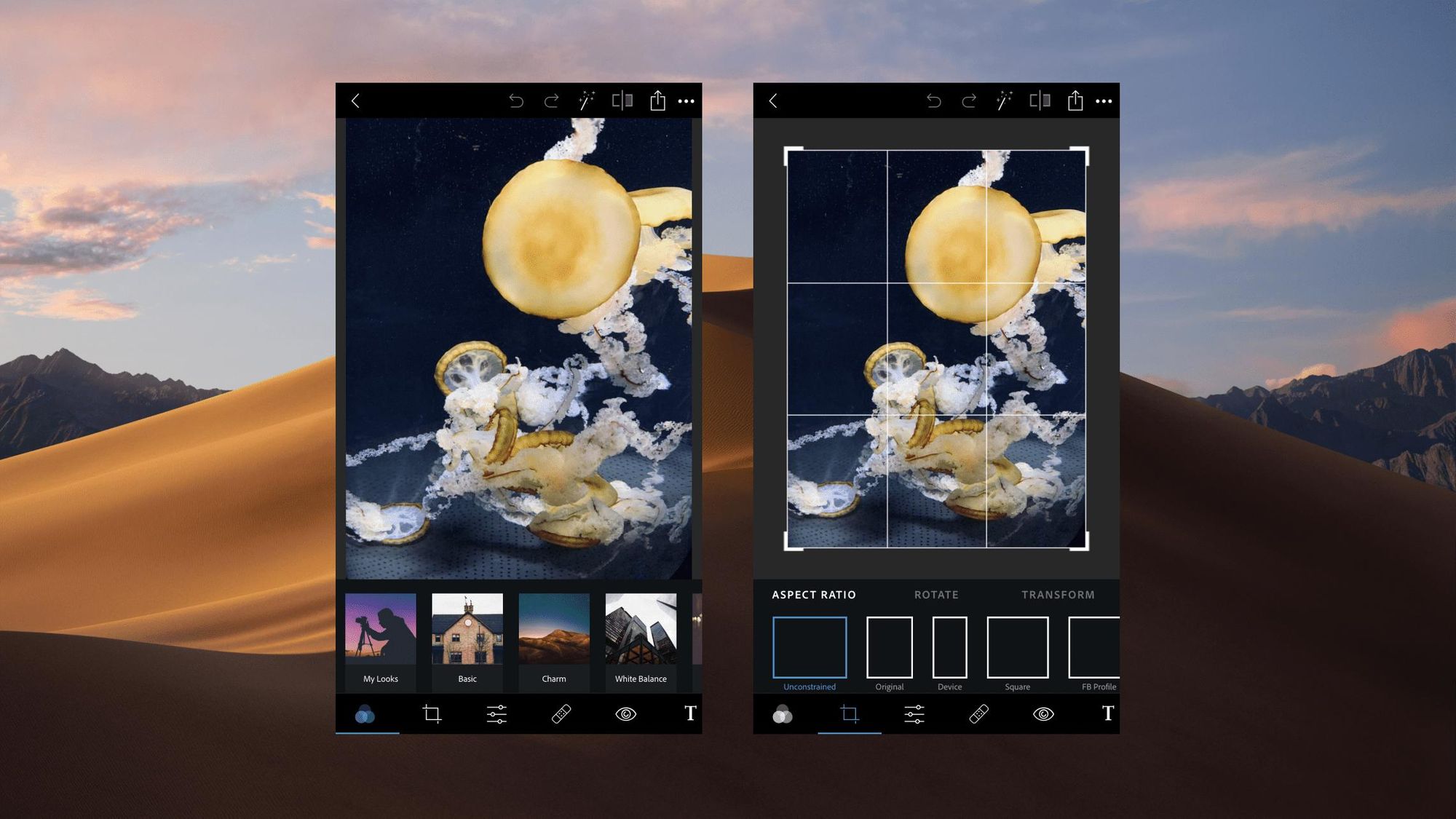 👆 Special Features:
Crop
Rotate
Remove Red and pet-eye
Auto-Fix
Text Tool
Blemish Removal
Corrections
Customization
Perspective Correction
Pop-Color Tool
Image Resize
Watermark Images
JPEG Quality Output
Looks
Borders
✅ PROS:
Simple and Complex Customization
Easy to Use
Compatible with Other Adobe Products
Gives You The Edits You Need to Improve Photos Significantly
⛔️ CONS:
Some Features Require Creative Cloud Membership that has a Fee
The Photo Organizer Tool is A Separate App
---
BeFunky is a great photo editor that will give your photos the flair it needs to stand out. With easy to use features, this photo editor app provides high-quality results whenever you use it to edit photos or make collages. You'll have fun using this software for years to come.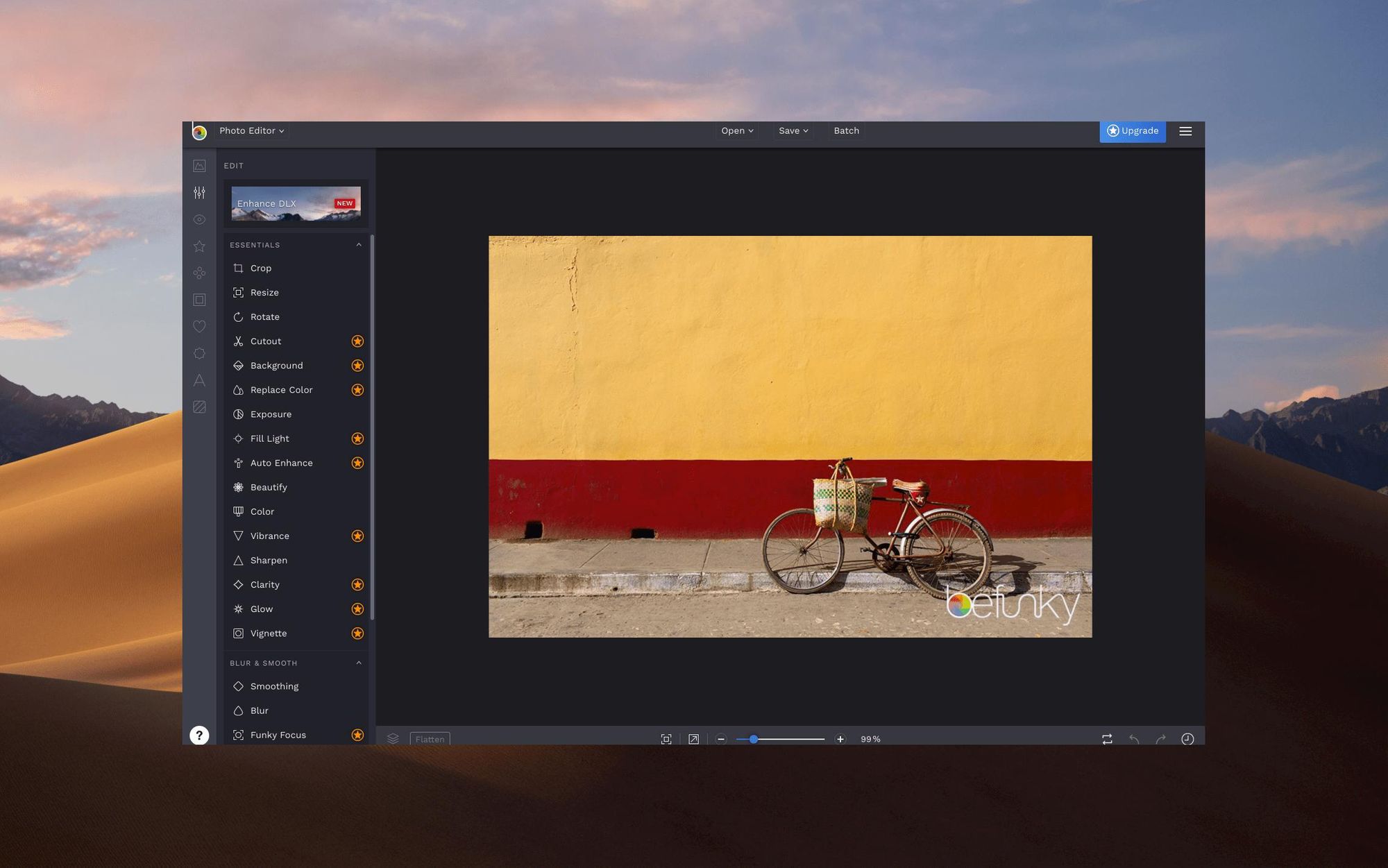 👆 Special Features:
Collage
Crop
Resize
Digital Art
Cartoonizer
Enhance DLX
Font Pairing
Create Wallpapers for Your Device
Edit and Replace Colors
Batch Processing
✅ PROS:
Complete Control of Your Work
Easier Than Most Programs To Use
Privacy
Editing Tools have Variety
⛔️ CONS:
No Eraser Tool
Additional Content Has A Cost
---
PhotoScape gives you the ability to create stunning images with access to multiple tools. Enhancing your photos becomes more convenient, and you aren't disappointed by a system that doesn't deliver. It has your basic features and more advanced ones such as Batch Processing, Font pairing, and Digital Art.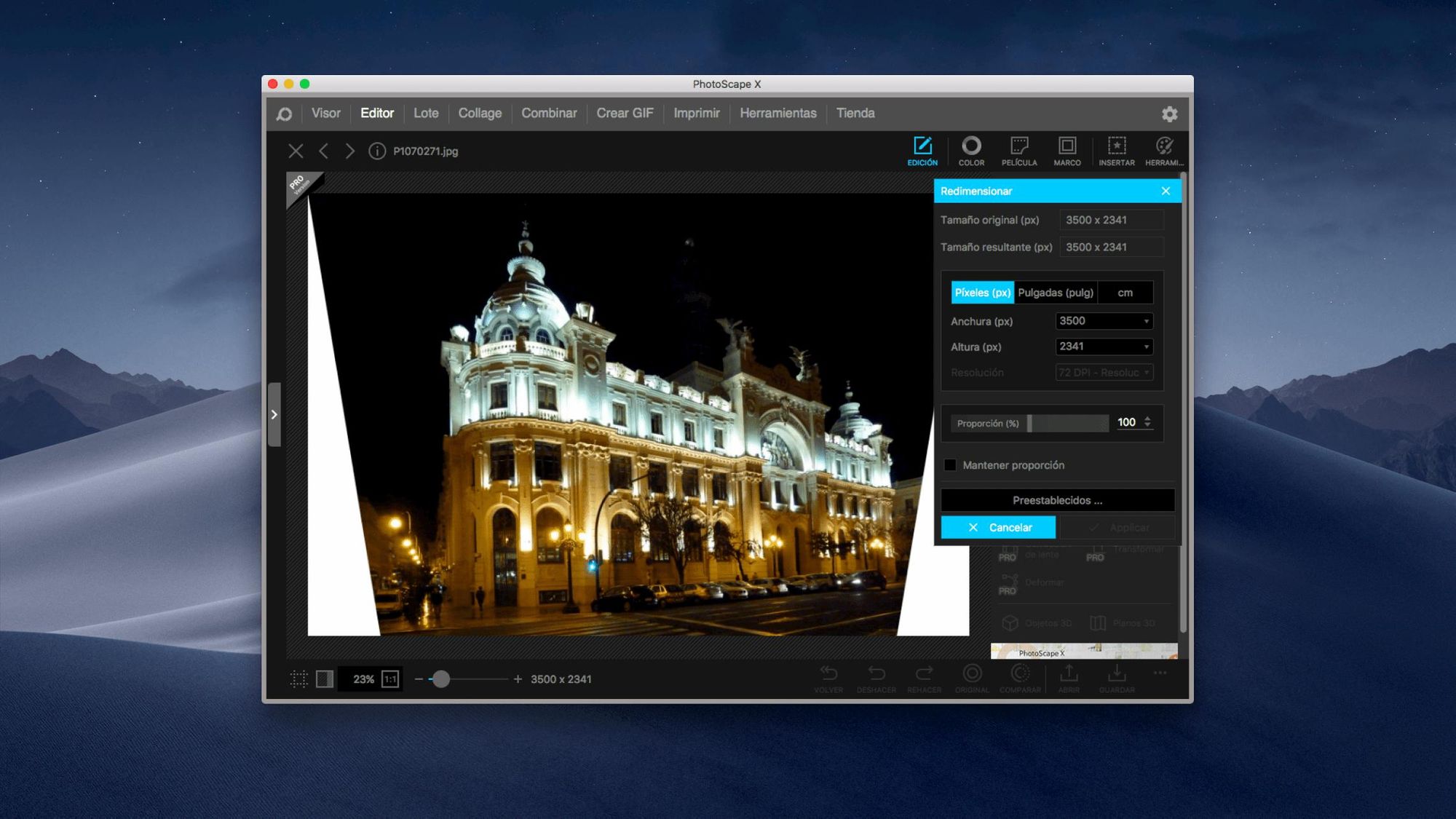 👆 Special Features:
Viewer
Editor
Batch Editor
Page
Combine
Animated GIF
Print
Splitter
Screen Capture
Color Picker
Rename
Raw Converter
Paper Print
Face Search
✅ PROS:
Plenty of Features
Effects Preview
⛔️ CONS:
---
Fotor is a photo editor software that allows you to utilize its photo editing suite to create top-notch photos. In just a few clicks you can adjust the color, size, lighting and more. It also has an HDR effect for your advanced editing needs.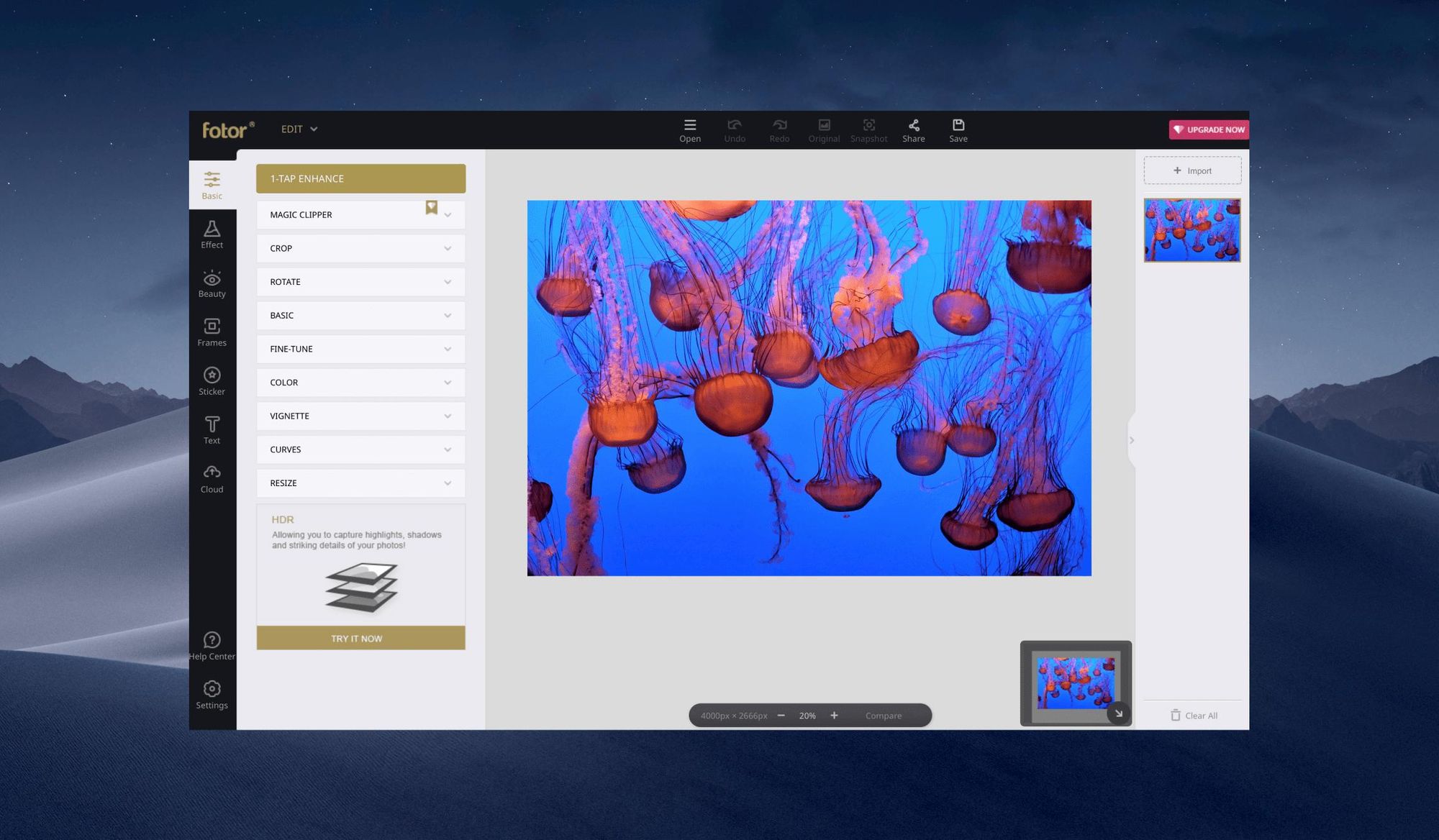 👆 Special Features:
Image Shape
Fonts
Stickers
Align
Drop Shadow
Transparency
CLone
Color Picker
Photo Collage
Filters
HDR
Beauty Retouching
✅ PROS:
Has Web, Mobile and Desktop Version
Smart Filters and Effects
Collage Maker
Raw File Converter
Has a Social Network
⛔️ CONS:
Lots of Ads
Inability to Edit Photos At A Deeper Level
Incompatible With Creating Images From Scratch
---
Paint.Net is a top-of-the-line photo editor software that has an innovative user interface that supports many features. This photo editor can be extended through plug-ins to give a wide variety to what the photo editor app can do. It proves that it is more than a simple drawing application.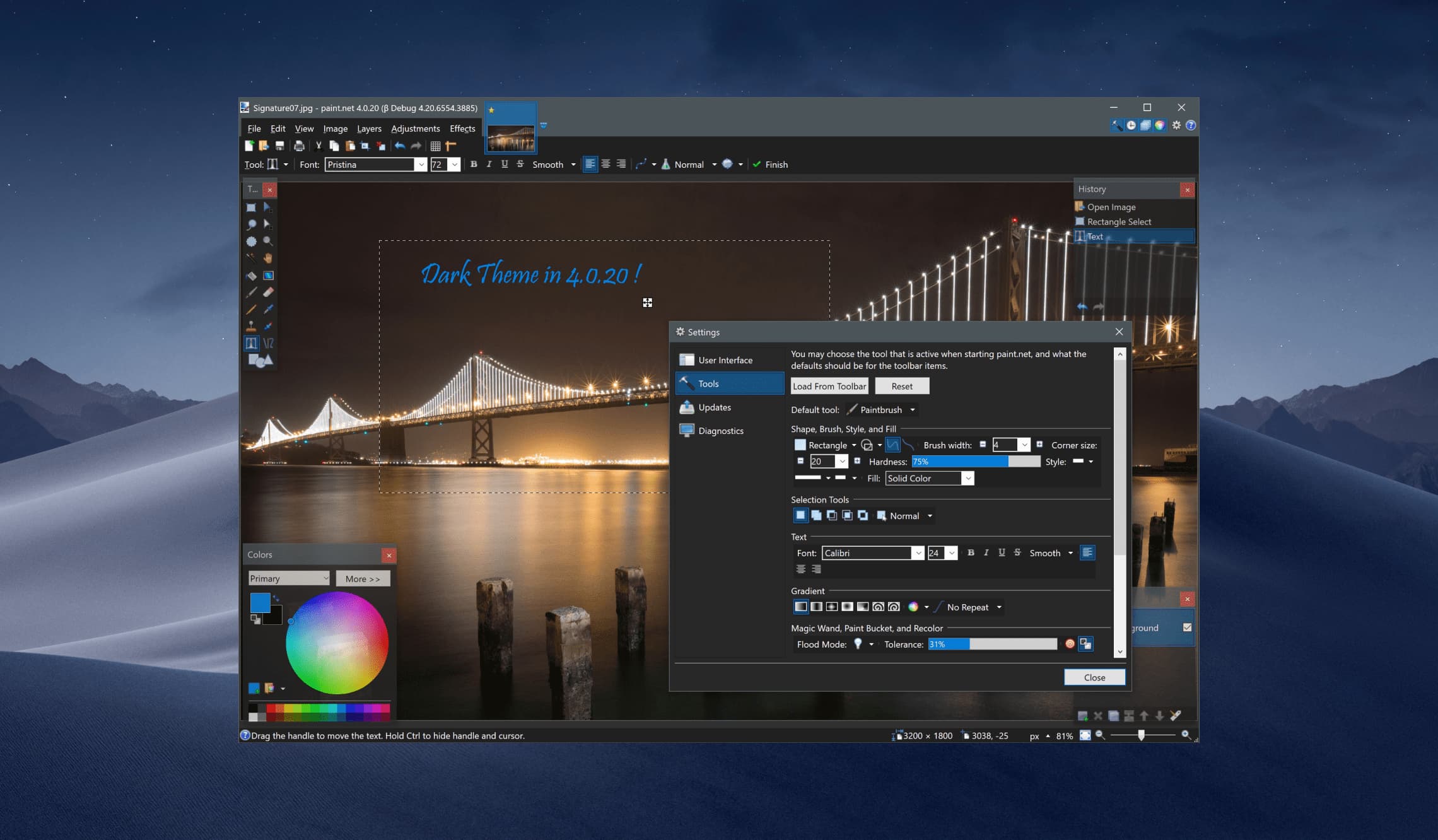 👆 Special Features:
Layers
Unlimited Undo
Special Effects
Powerful Tools
Unlimited History
✅ PROS:
Innovative Interface
Keyboard Shortcuts for Tools and Menu Items
Font Previews
⛔️ CONS:
Little Control Over Text
Minimal Layer Effects
Few Brush Options
---
GIMP is a Multi-Platform photo editor software that is compatible with a variety of operating systems. You can change its source code and send out the changes. With this photo editor, you can increase productivity by using the customization options and 3rd party plugins.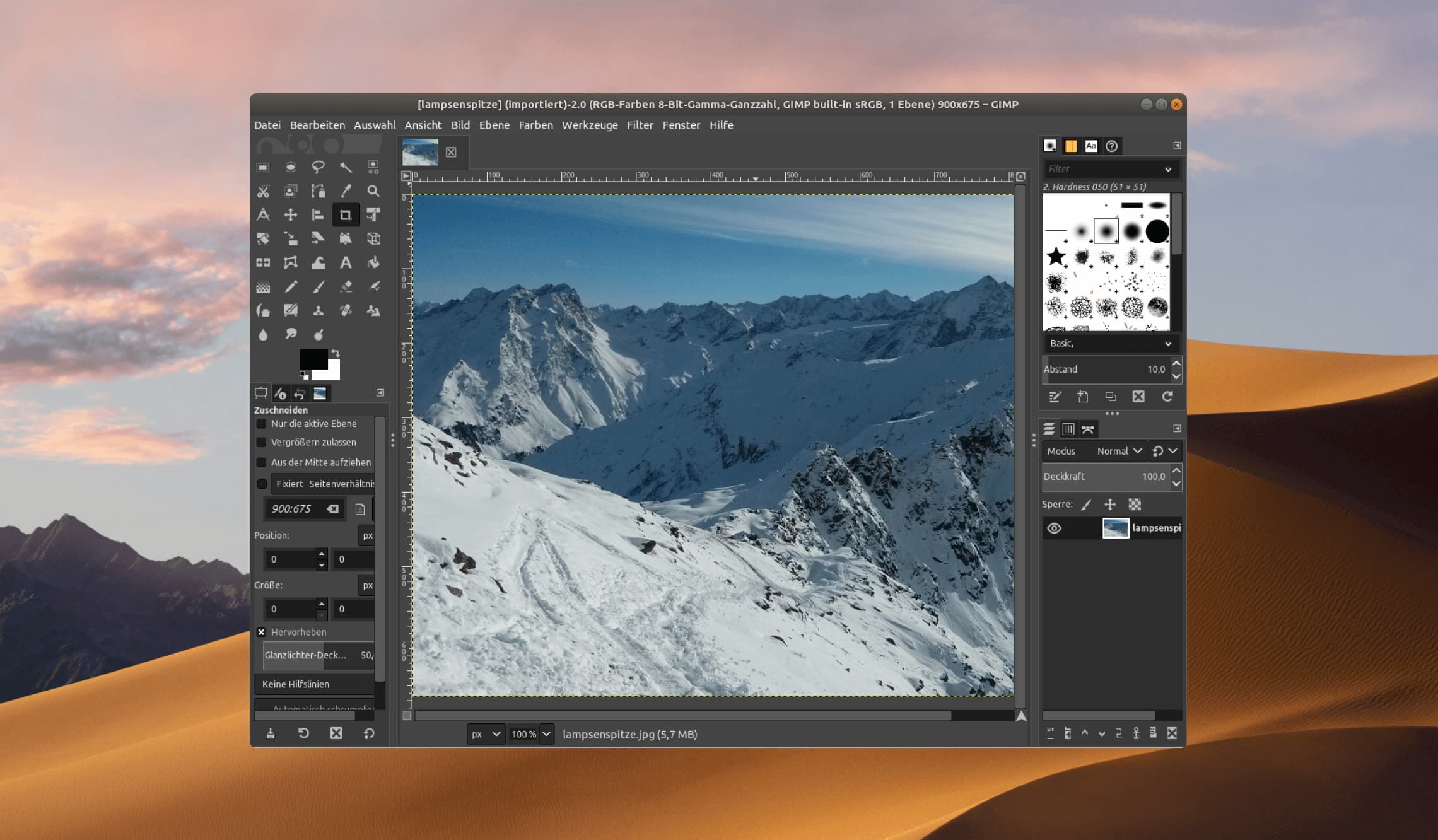 👆 Special Features:
Color Correction
Skin Retouching
Eyes Brightening
Customizable Interface
Graphic Design Elements
Original Artwork
Photo Enhancement
Inkscape
Swatch booker
✅ PROS:
Compatible With Many File Types
Developer Support
User-Friendly Interface
Open Source Code
⛔️ CONS:
---
Snapseed is a free online photo editor that can enhance any photo you choose. Its primary focus is on providing filters that will change the effects. You can also share your creations with its export tool.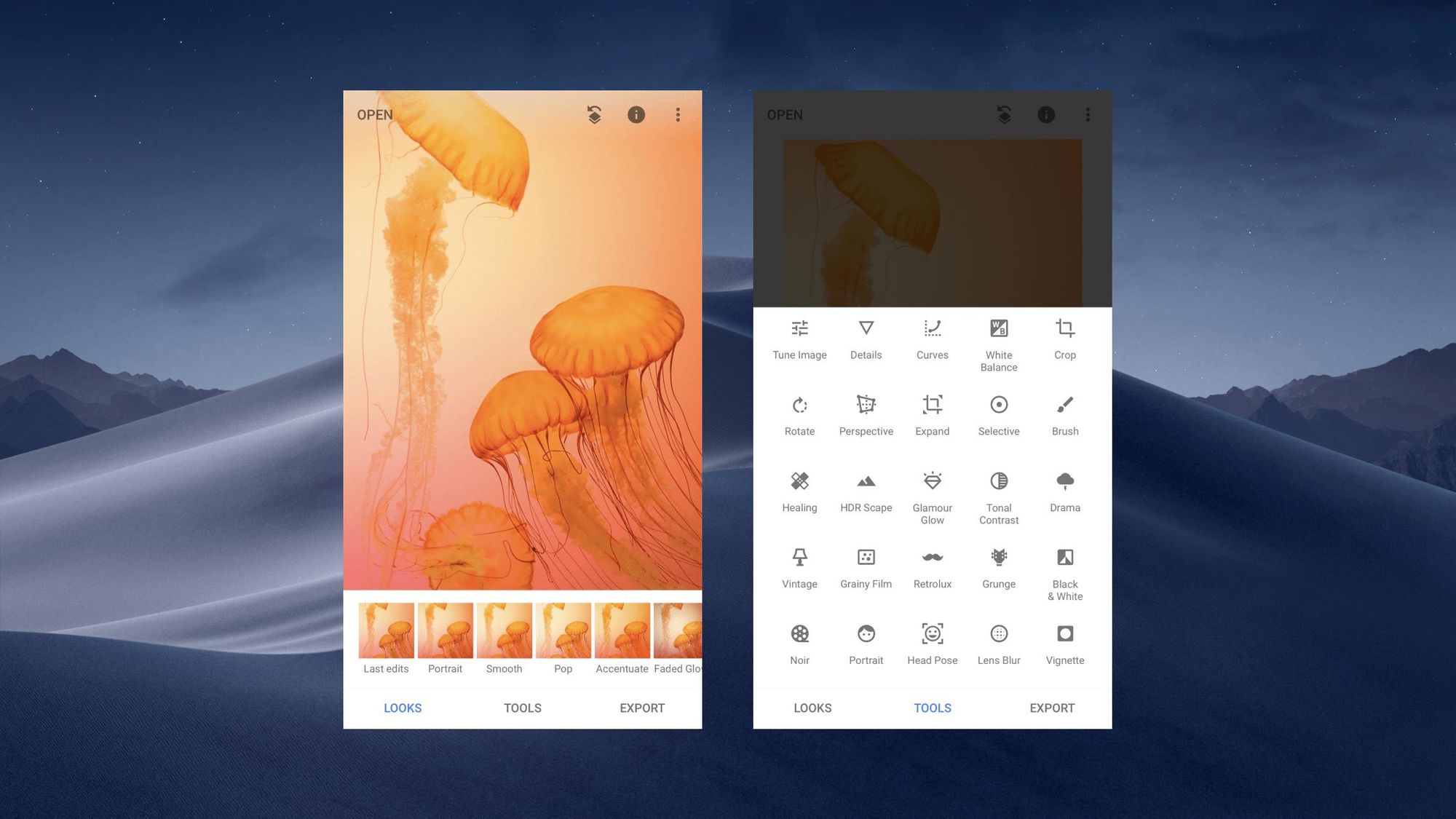 👆 Special Features:
Pre-Made Filters
Looks
Tools
Export
✅ PROS:
Nondestructive Editing
Selective Edit Brushes
Photographic Filters
⛔️ CONS:
More Suitable for Experienced Users
No Auto-Save
---
Pixlr is different than other photo editors because you can access it through your browser rather than a desktop app. You can open photos from an URL or create a project from scratch than when your done upload it straight to social media. Pixlr is a great way to have a convenient photo editor at your fingertips that is user-friendly and can provide the professional looking images you imagined.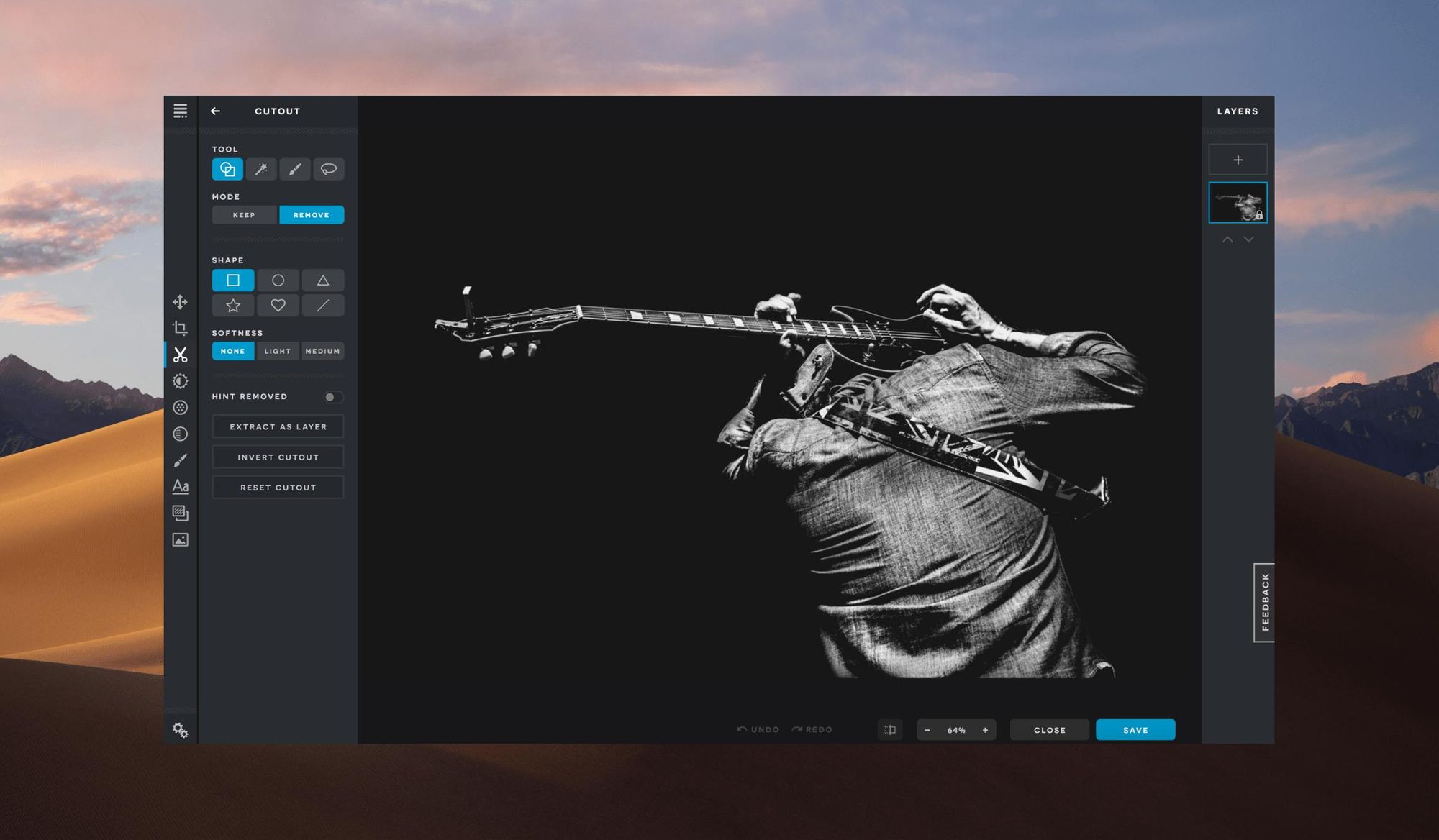 👆 Special Features:
Edit Photos Using Dropbox
Layers
Filters
Adjustments
Texts
Fonts
Magic Wand
Lasso
Brushes
Eraser
Object Transform
Color Replace
Digital Painting
Image Retouching
Digital Inking
Photo Collage
Effects
✅ PROS:
Available on Desktop and Mobile
Supports layers and masks
Customize The Interface
⛔️ CONS:
Flash is A Requirement
Some Ads
---
Photo Pos Pro is excellent for creating computer graphic designs and text that will pop. It is a powerful software that can be mastered by advanced and beginner photo editors. The system has a program that offers assistance for beginners who need step by step instructions.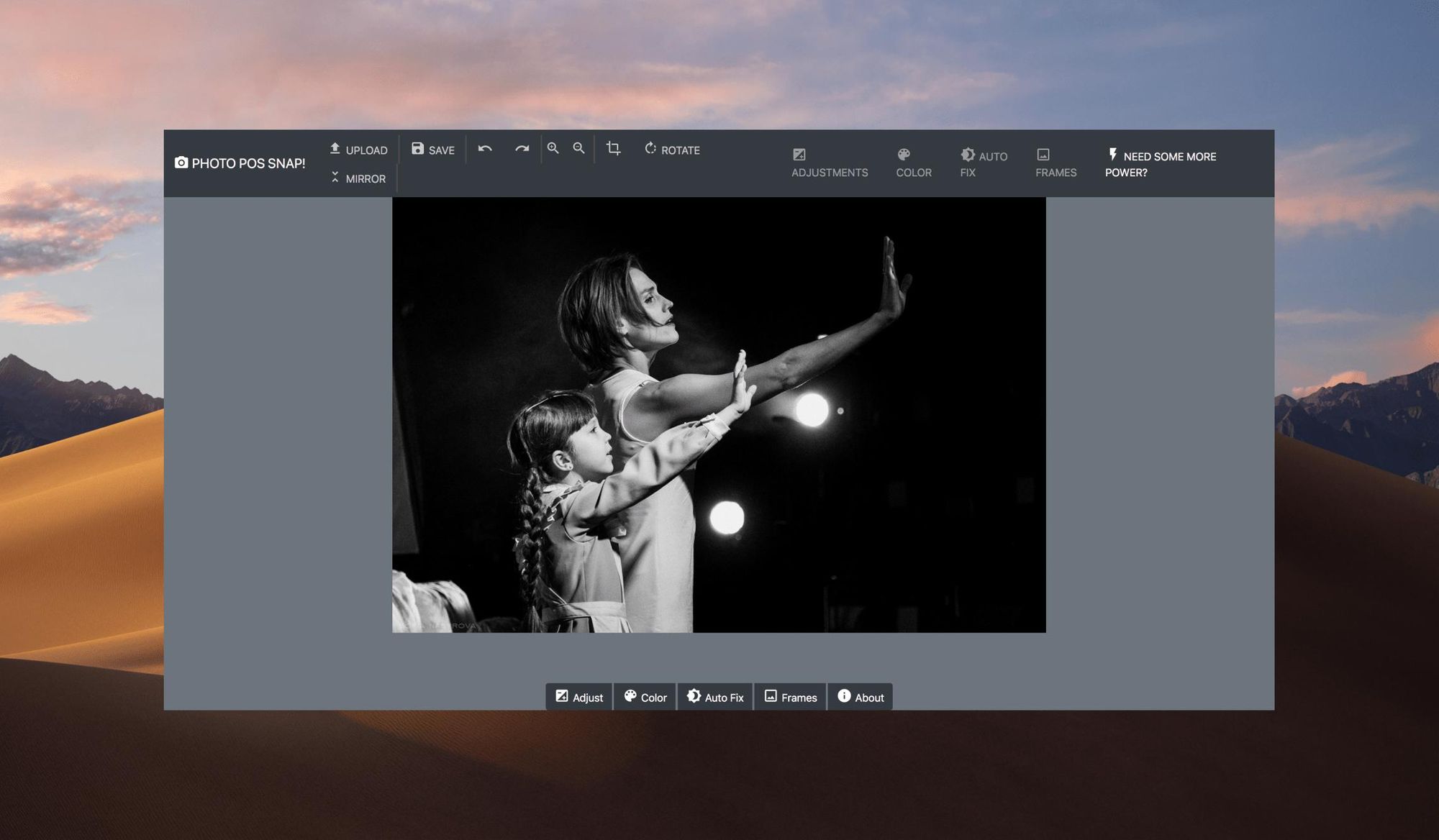 👆 Special Features:
Filters
Layers
Masks
Curves
Scripts
Effects
Brushes
Frames and Collages
Text Effects
RAW Files Support
Remove, Erase, and Replace Backgrounds
✅ PROS:
Great For Any Level of Experience
Superb Help and Tutorials
Manual Editing and Automatic One-Click Editing Balance
⛔️ CONS:
Large Learning Curve
Software Glitches
---
Finding the best free photo editor is what will set you apart with your photography whether it's a hobby or your career. Choose from these free online photo editor apps to enhance your photos with a few simple clicks. The best part about photo editor online software is that you don't have to break the bank with these free, high-quality programs and can do it from any device, because they are web-based.