If you want a fun way to zip around town that is also eco-friendly, you need an electric bike.
Read on to learn about the 5 best electric bikes on the market today.
The Pedego City Commuter electric bike kit is a must-have for city dwellers. The bike boasts of a strong motor with plenty of power for steep hills, a big monochrome LCD with USB port, a Panasonic powered battery with a good range of 28 miles in hilly areas and 45-50 on flat ground.
The riding experience of the Pedego City Commuter is comfortable because of the Schwalbe balloon tires and smooth suspension. Pedego uses mechanical disc brakes, which does boost the price a bit. The bike is also equipped with front and rear lights, a rack for storage, and Shimano Acera 7 Speed gears.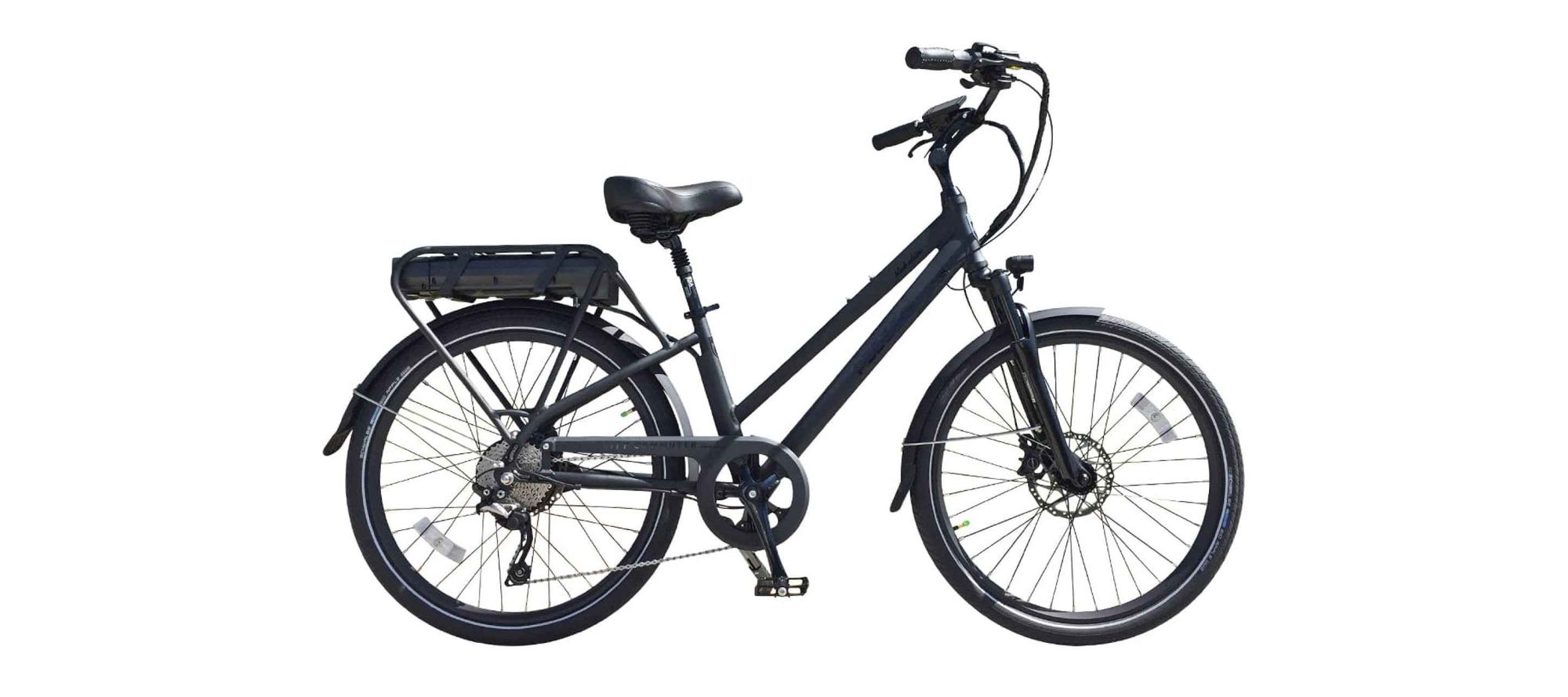 The City Commuter bike is a bit on the heavy side, chiming in at 63 lbs., and the price is also quite steep at $3300. Other than that, we like this bike a lot!
---
2. Super73-Z1 - The Best No-Frills Electric Bicycle
If you are looking for fast and fun, the Super 73-S1 is for you. It has a simple yet rugged design making it the ideal electric mountain bike. The frame is very bare-bones looking, and there are no gears for shifting, the bike does it all for you. It features a 500 W nominal motor and will go about 25mph. You can get 35-40 miles out of a single battery charge if you aren't loaded down with gear.
The battery uses Panasonic cells and is a 48V 14.5Ah. The Super 73-S1 is built on a steel frame with Tektro hydraulic disc brakes, featuring headlights, taillights, brake lights, an LCD with all the goodies, and three levels of pedal assist. This bike has plenty of torque to handle the tough hills and is super-fast on flat roads.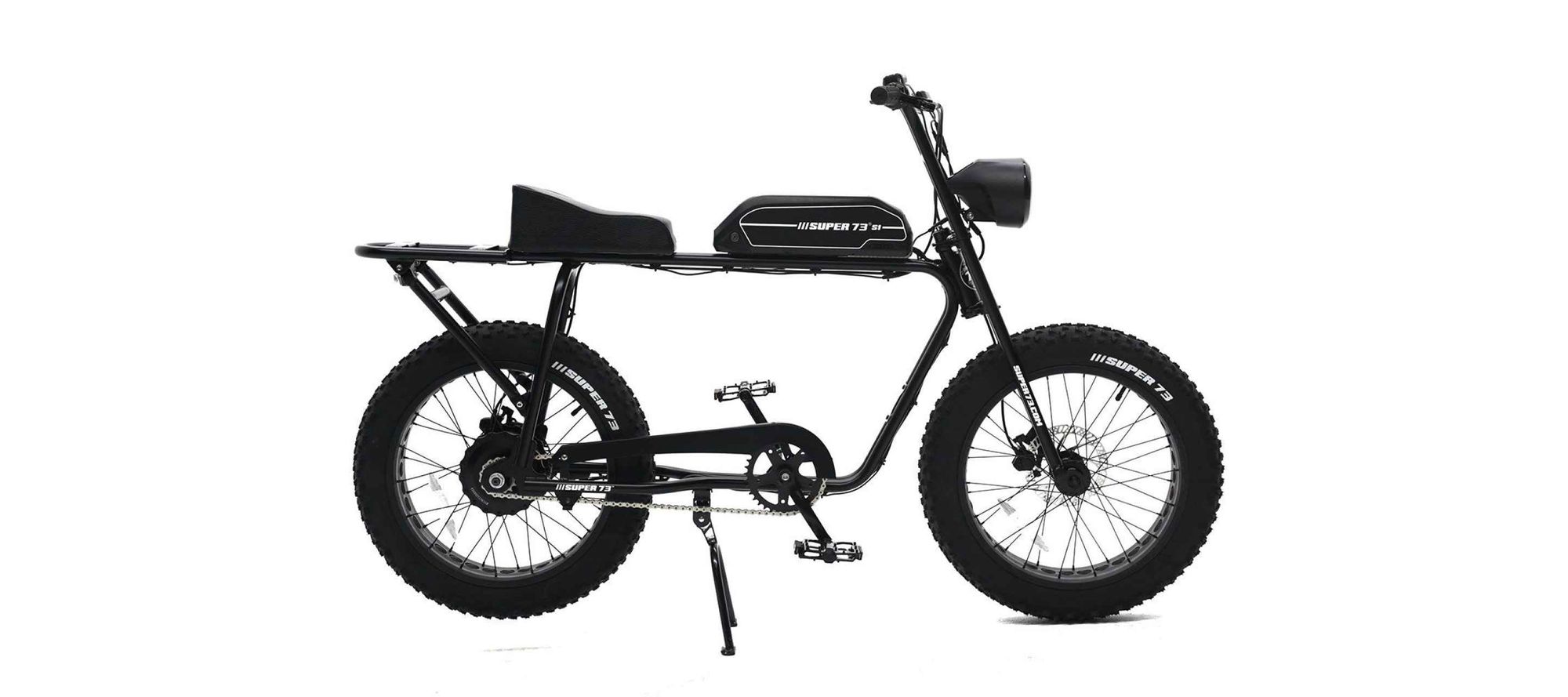 Our only gripes are that it is extremely heavy (70lbs), and the oversized, knobby tires are made for off-road, so it's not an ideal city or road bike. The wedge seat is not overly comfortable, and the price of $2,200 is more than some competitors. The lack of suspension means you are going to feel every pothole. However, the included high-power, 5A solid-state charger makes up for the downsides.
---
3. Juiced Bikes - The Best Custom Electric Bikes
Juiced Bikes was founded by Tora Harris, who is an aerospace engineer. Their line of electric bicycles is renowned for custom accessories and features not found anywhere else. These bikes are considered a good value for the price.
Although Juiced bikes offer a range of products from fat bikes, and road bikes to cruisers, we really love the OceanCurrent model. The OceanCurrent comes in a variety of cool colors; it's an affordable high-speed cruiser model that looks great and performs even better. It features a traditional cantilever high-step or relaxed mid-step design for mounting.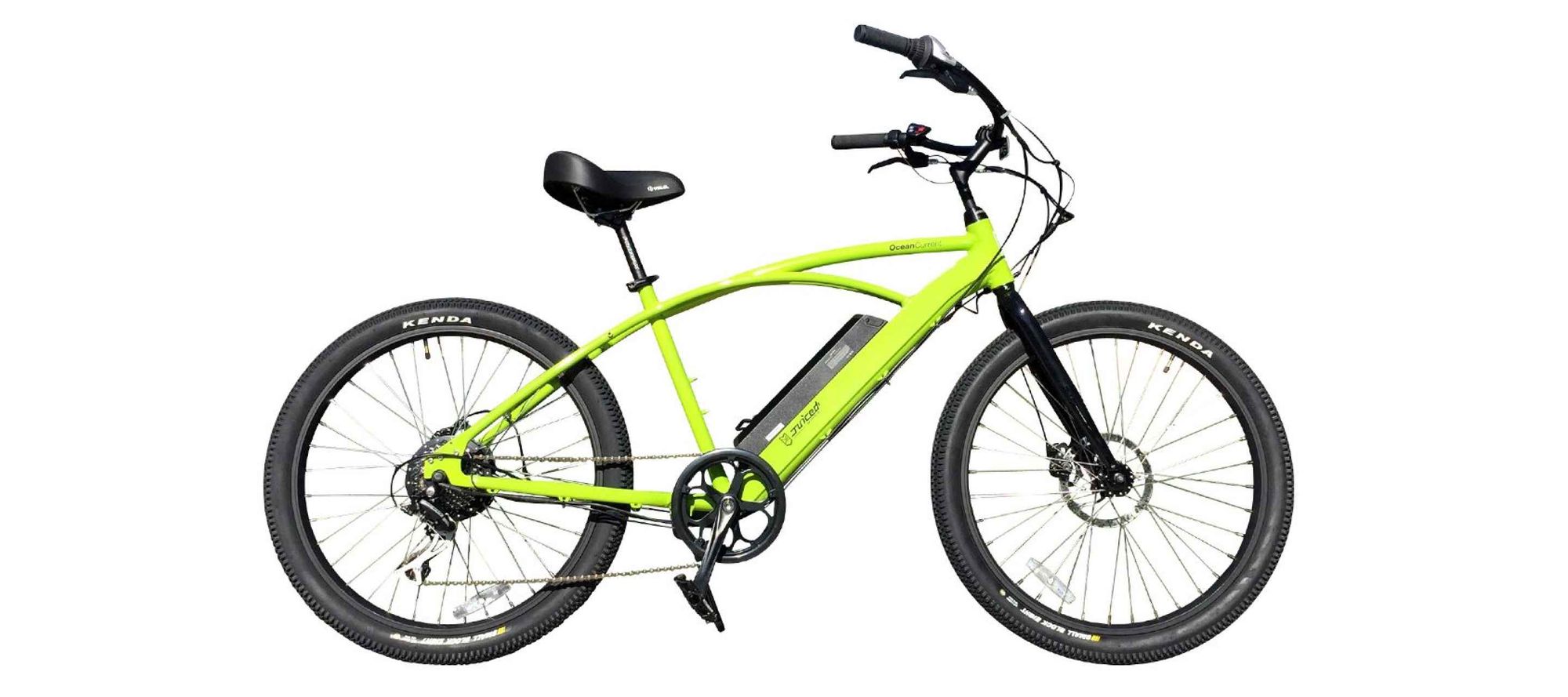 The frame is built on an aluminum alloy, helping to keep the weight down to 51 lbs. Also included are Shimano Revo Grip Shifter, Shimano brakes, a lock on the removable battery pack, with a ride range of 20-40 miles on a single charge. Oversized pedals come standard and make the ride more comfortable. At $1,300, this one is a steal.
The negatives to this cruiser are a basic LCD, mechanical rather than hydraulic brakes, an awkward kickstand mounting, and the ride feels a bit stiff.
---
4. Ancheer - The Best Budget Mountain e-Bikes
Ancheer is known for cheap electric bikes, and although some critics complain of subpar quality, most consumers love them and the price. Ancheer models range from mountain bikes and road bikes to beach cruisers. Their most popular model is the Power Plus Electric Mountain Bike, which gives you a good battery with 18 hours of ride time, and a top speed of 22 mph.
With three speed modes (low, medium, and high), you can also choose between throttle only and Pedal Assist operations. This mountain bike offers full suspension for a comfortable ride, mechanical disk brakes, and features a very bright LED headlight.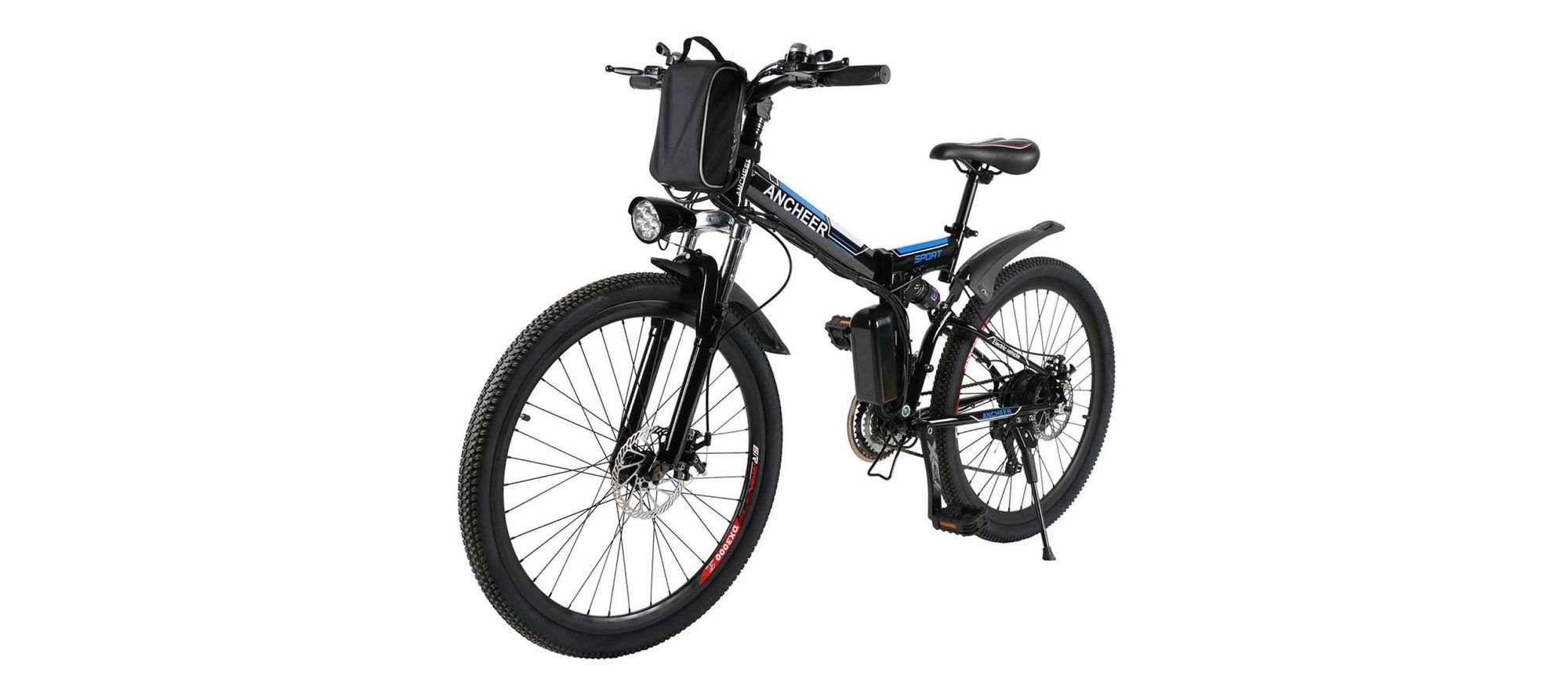 Unless you have it assembled professionally, be careful, the fork is put on backward for shipping, and the brakes need some adjustments. The small LCD is not high quality, and some users complained it did not correctly calculate battery charge. Most Ancheer electric bikes cost less than $1,000, which more than makes up for its shortcomings.
---
Busy commuters often need to conserve space, so a folding electric bike is a perfect solution. SONDORS Fold Sport is an excellent option with everything tucked away neatly to make folding and unfolding a simple task. The SONDORS Fold Sport costs just under $1000, and although it's not the most powerful bike out there, it can handle most hills and tight spots with ease.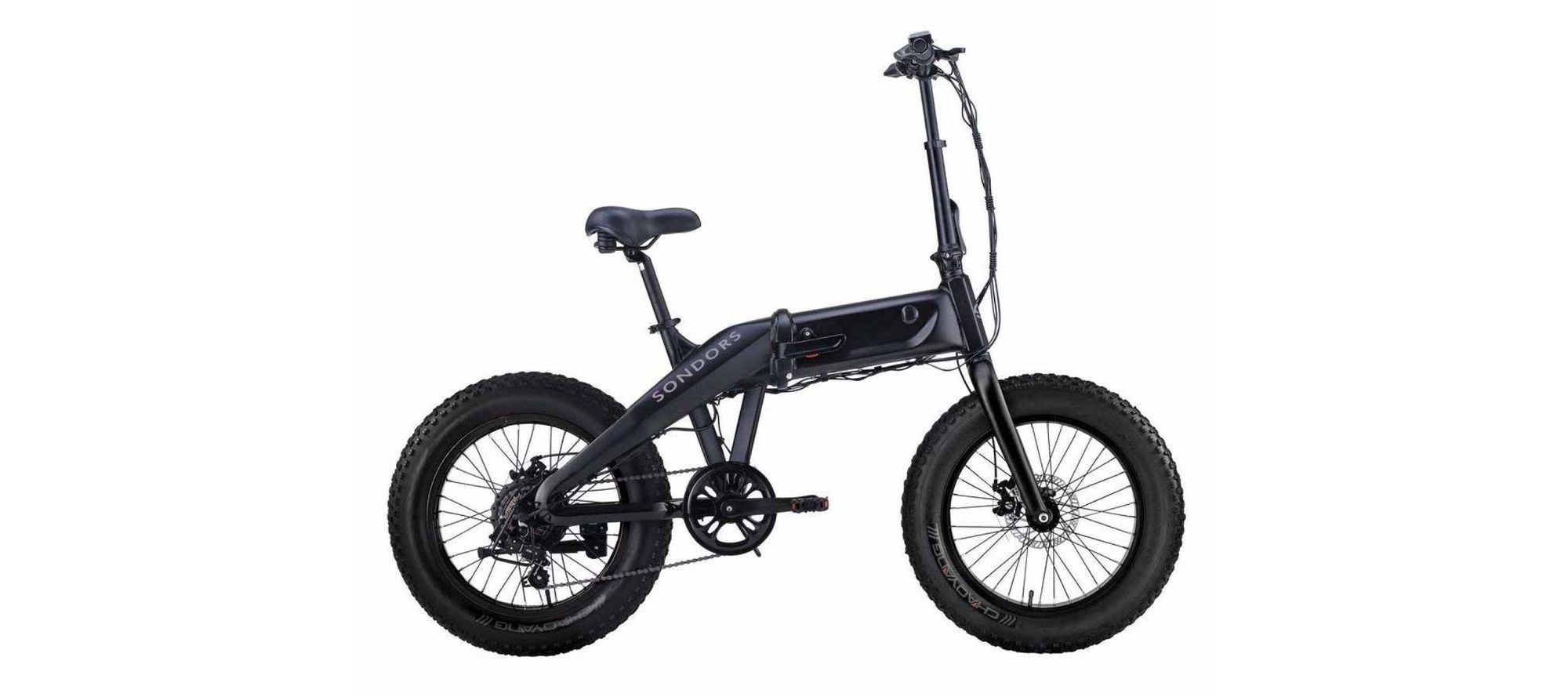 The Fold Sport features six levels of pedal assist with a 6-speed Shimano Tourney drivetrain. It also sports a nice, big LCD, which is easy to read with helpful gauges. Ergonomic grips, a gel saddle, and headset complete the picture and make this an amazing e-bike. The aluminum alloy frame weighs in at 55 lbs. Four hours of charging time should give you 20-40 miles of ride with a top speed of 20 mph.
Unfortunately, the assembly can be tricky, especially the headset feature, so you might need professional help. The charger could be faster, and the bike is somewhat heavy for a folding model, but other than that, it's a great bike.
---
How to Choose the Best Electric Bike
There are a lot of facets to consider when purchasing an e-bike. Comfort, fit, design, and durability are just a few. In our electric bike review, we examined the following factors:
Battery capacity - how long does the battery lasts on a single charge? How many batteries does the bike come with?
Design/style - You can buy the best bike on the market, but if the style leaves you wanting, then it's not the right fit for you. E-bike manufacturers offer many different styles from fat bikes, road bikes, sleek, elite designs to off-road and specialty frames.
Speed vs. range - each electric bike will be rated by how fast it goes and how far on a single battery charge.
Battery charge time - most batteries will take a few hours to charge, generally three to five.
Assembly - consider how difficult or easy it is to assemble once it arrives.
Durability - is the frame made to last? Are the components cheap, and do they wear easily?
Weight - some electric bikes weight upwards of 50 pounds, which may not make owning one feasible in an upstairs apartment.
Display - compare LCD displays and whether or not they are removable.
Frame quality - frames come in aluminum, carbon-fiber, and steel. Lighter frames will move easier and faster, where heavy-duty materials will slow you down.
A couple of other niceties to have are integrated cell phone capabilities and security features like rear-wheel or battery locks to keep thieves out.
Although we can't say which is the best electric bike for you, we can say it's a very personal choice. Whether your desire is mountain biking, beach cruising or city travel, there is a model to fit your needs and your budget.
Related Articles:
Launchberg editors pick and review products independently. We may earn affiliate commissions when you purchase an item via our links—it helps support our testing.